Arte, Mostra personale, Milano
Informazione
Press image
Biografie
Dates
02.10.2020
14.11.2020
Category
Arte, Mostra personale
Sophie Jung lavora tra testo, scultura e performance. Si interessa di questioni concernenti le tecniche di rappresentazione, prediligendo il romanticismo e l'assurdità, e rimpiazzando narrazioni chiare con storie effimere ed enigmatiche. Le sculture e gli oggetti di Sophie Jung sono costituiti da oggetti di uso quotidiano trovati e ricercati. I suoi testi sono allo stesso tempo giocosi e profondamente complessi: combinano strutture narrative farsesche a riflessioni sull'attualità del pianeta. Camminando sopra il luminoso suolo specchiato, immagini, associazioni, e parole ronzano nella nostra testa.
Nella sua prima mostra personale in Italia, organizzata in collaborazione con Elena Radice, Sophie Jung espone nuovi lavori realizzati con testi, suoni e oggetti. Alcuni di questi rappresentano uno sviluppo ulteriore della sua attuale esposizione al Casino Luxembourg, ma sono allo stesso tempo arricchiti dal workshop che l'artista ha tenuto nello spazio espositivo a settembre, così come dall'esperienza del lockdown della primavera 2020, e le derivanti domande sulle possibilità e l'urgenza della produzione artistica.
Le mostre di Sophie Unsetting all'Istituto Svizzero Milano e They Might Stay The Night al Casino Luxembourg funzionano come componenti indipendenti per quanto connesse. Forse le voci sentite in Unsetting appartengono alle figure silenziose che si trovano a Lussemburgo. Come terza componente, un libro d'artista verrà pubblicato nella primavera 2021 da Mousse Publishing a Milano.
Clicca qui per scaricare il comunicato stampa.
Unsetting_Unset
Unsetting, mostra personale di Sophie Jung in collaborazione con Elena Radice, a cura di Gioia Dal Molin.
Video di Enrico Boccioletti e Elena Radice.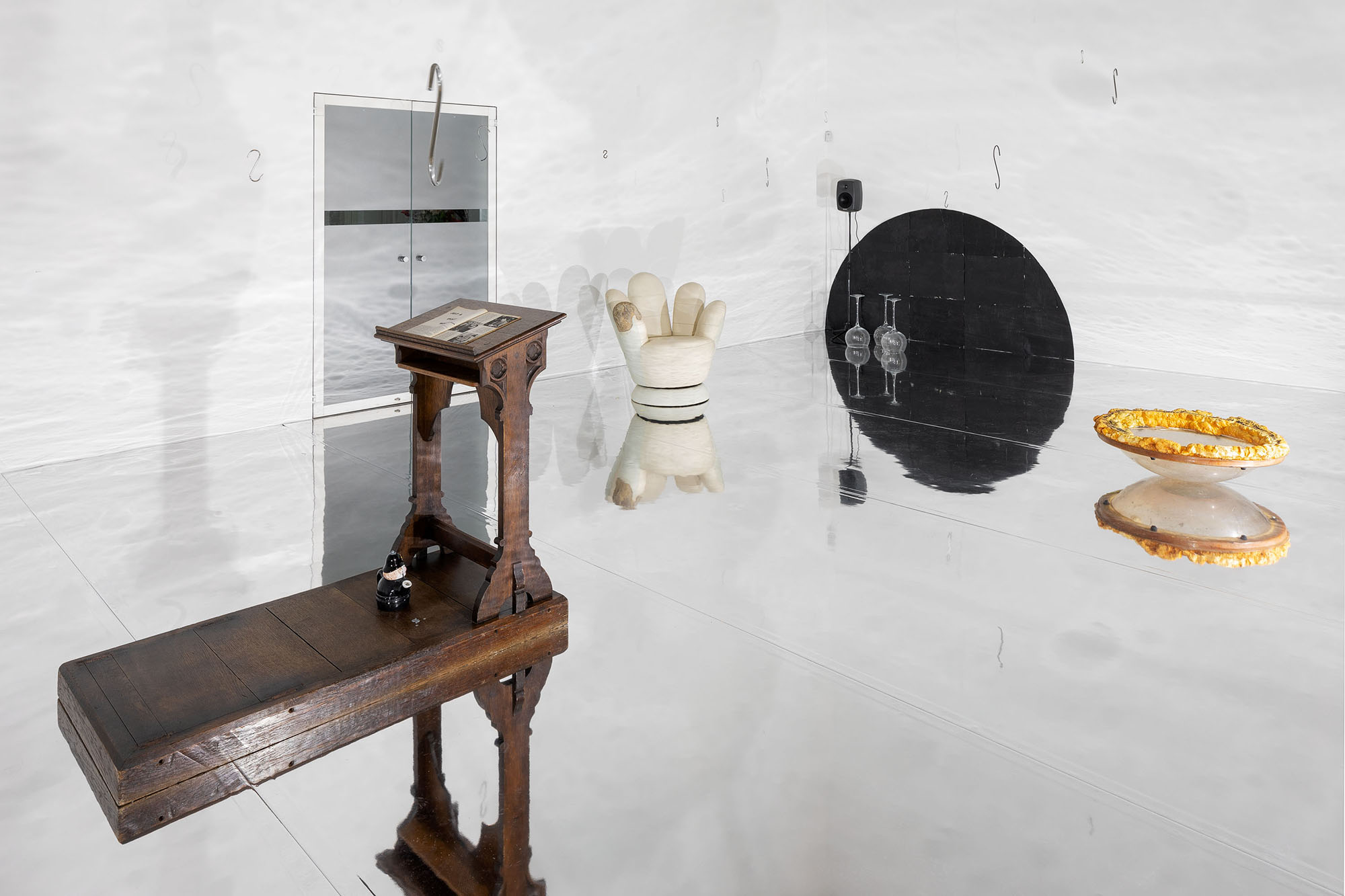 Sophie Jung (1982, vive a Londra e a Basilea) lavora attraverso testo, scultura e performance, esplorando le politiche di ri-rappresentazione e sfidando il silenzio selettivo che segue la conclusione. Utilizza l'umorismo, la vergogna, l'assurdo, la rabbia, il ritmo, la farsa, le difficoltà, l'amicizia e un costante slittamento di piani. I suoi lavori scultorei consistono in corpi realizzati con materiale sia trovato, sia casualmente prodotto, e si definiscono in contrapposizione al dogma dell'Idea Originale o del Significato Universale. Al contrario, si pongono come reti di incompletezza duratura, un perenne coro di urgenze e piaceri, traumi e manifestazioni che risiedono tra temi dominanti e minori. È molto attenta a innescare una de-categorizzazione dei concetti e una de-concettualizzazione delle categorie, si augura una alleanza profana, incrocia solidarietà materiale e assemblaggi che sfidano la risoluzione. Il suo approccio alle "cose" – sia utensili comprensibili sia apparizioni metaforiche – risiede in un luogo tra la responsabilità materiale e il divenire selvaggio. La sua pratica di scrittura riprende la tradizione di écriture féminine e prende forma in un collage polivocale, spesso materializzato ed esteso in modo collaborativo. Le recenti mostre includono Sincerity Condition al Casino Luxembourg; Taxpayer's Money per Frieze LIVE, Dramatis Personae alla JOAN, LA; The Bigger Sleep al Kunstmuseum, Basilea; Come Fresh Hell or Fresh High Water alla Blain Southern, Londra; Producing My Credentials alla Kunstraum, Londra; Paramount VS Tantamount alla Kunsthalle, Basilea e Äppärät al Ballroom Marfa. Attualmente lavora a personali alla E.A. Shared Space a Tbilisi e alla Galerie Joseph Tang a Parigi. Nel 2016 e nel 2019 ha vinto lo Swiss Art Award e nel 2018 ha ricevuto il Manor Kunstpreis.
Elena Radice (1987, vive, lavora e pratica a Milano) le sue azioni attraversano diversi media, e sono guidate da un forte interesse per le forme estetiche dialogiche aperte, in cui dinamiche proprie di Internet e dell'economia dell'attenzione giocano un ruolo rilevante. La relazione con lo spazio, nelle sue accezioni più o meno astratte e geografiche, è un elemento centrale in ogni suo processo creativo, che si rivela lontano da un atto scultoreo violento. Lo spazio informa il lavoro e ne viene informato, il video diventa un portale e il suono una presenza che percorre distanze. Nel corso dell'ultimo anno e mezzo, Elena Radice ha insegnato fotografia e progettazione multimediale in due scuole superiori e costruito i mobili del proprio studio, modellato per diventare luogo di ricerca permeabile. Nel tempo ha sperimentato il piacere di aprire dialoghi costruttivi e collaborativi con: A gee in the fog, Enrico Boccioletti, Dafne Boggeri, Graham Burnett, Ed Clinamen, Mattia Capelletti, CasaGialla, Marina Cavadini, CM Gratitude, Jeff Dolven, Estar(Ser), EuroStandard, Giulia Mengozzi, Leonard Nalencz, O', SPRINT, Bianca Stoppani, Guido Tamino, Teatrum Botanicum.