Concert, Performance, Venezia
Palazzo Trevisan degli Ulivi | Campo S. Agnese, Dorsoduro 810
introduction and line-up
Anna Franceschini
Marie-Caroline Hominal
Martina Lussi
Category
Concert, Performance
Information
Palazzo Trevisan degli Ulivi | Campo S. Agnese, Dorsoduro 810
Istituto Svizzero is pleased to present "XMAS Performance Night Out", a three-day touring festival in Venice (17 Dec), Milan (18 Dec), and Rome (19 Dec).
Following previous years' success of "XMAS Market | Music Festival", this year we decided to give a different twist to our Xmas mood by inviting Swiss and Italian performers and live- act musicians.
This special evening will feature performances by Anna Franceschini, Marie-Caroline Hominal, and Martina Lussi.
Anna Franceschini (IT) will start this special evening with her performance JET SET, is a site-specific re-edition of DISCOLITE and related to the Venetian carnival with three performers. Following, Marie-Caroline Hominal (CH) invites the Venetian public to a stroll, which will be accompanied by the music of Sandro Rossetti on the bass drum and Samuel Pajand on the trumpet. The parade inspired by circus and carnival opens to a dreamlike dimension, with interludes proposed such as spoken or danced short stories. The honour of the closing XMAS Performance Night Out's act goes to the multidisciplinary artist Martina Lussi (CH), who will wrap-up the night with a live performance interweaving concrete music and sound art.
Line-up:
H19:00 Doors open
H19:15 Anna Franceschini, JET SET, 2019
H20:30 Marie-Caroline Hominal, Parad/isiaque, 2019
H21:00 Martina Lussi, live music act
Orient Experience will offer a variety of beverages and serve you quick and delicious food.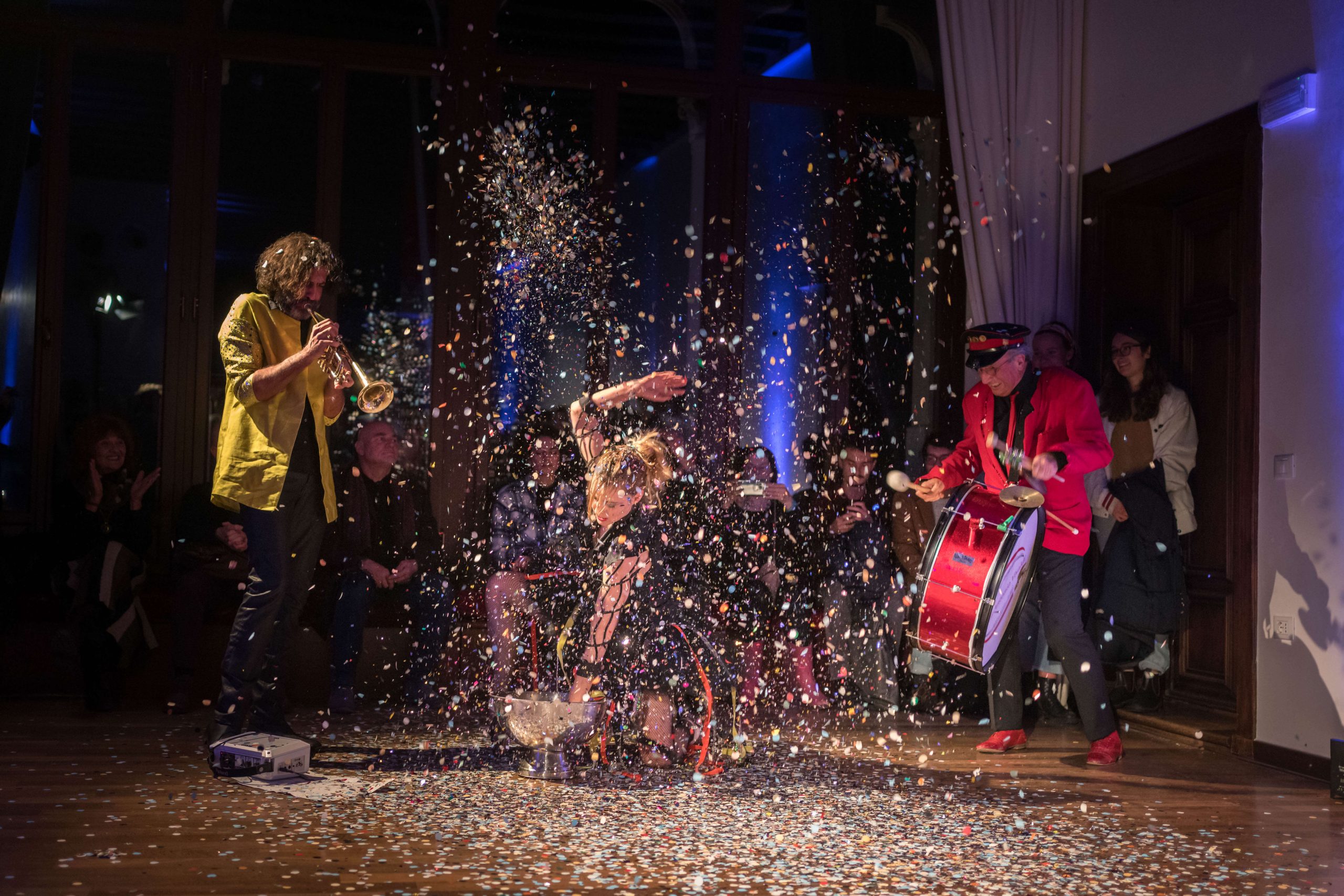 Anna Franceschini lives and works in Milan.
She is an artist, filmmaker and researcher. She works on the filmic representation of objects and the cinematic qualities of showcases for commodities. Institutional solo and group exhibitions include Dusseldorf Kunstverein, Spike Island in Bristol, MAXXI and MACRO a Roma, Museion in Bolzano, CAC – Vilnius, Centre Pompidou and Les Abattoirs in Toulouse, Fiorucci Art Trust, Quadriennale a Roma. In 2009 she has been commissioned a filmic project as the closing event of the Italian Pavilion at the 58º Biennale di Venezia. She is a fellow of the Rijkskademie van Beeldende Kunsten in Amsterdam and of the Italian Academy for Advanced Studies at Columbia University. She is a PhD candidate in Visual and Media Studies at Iulm University, Milano. Upcoming shows, performances and screening will take place at Witte de With in Rotterdam. Franceschini was a finalist for the Illy Prize 2019 for the Present/Future section at Artissima in Turin.

JET SET
performance for dancers and props, 2019
JET SET is a site-specific re-edition of DISCOLITE, a performative piece which Franceschini conceived in 2016 and continues to re-enact. It is a choreographic pattern that investigates the hybridisation between a human body and an object. In JET SET the object in question is semi-prosthetic and metonymic. The 'body-object' is a very tired product of class belonging.
Performers: Laura Pante, Lucrezia Buccigrossi, Anja Dimitrijevic
Props: Martina Rizzieri
We would like to thank Università Iuav di Venezia, Saul Marcadent, Gabriele Monti, Maria Luisa Frisa, Roberta Bernasconi, and Vistamare gallery / Vistamare Studio – Peschiera/Milano
Marie-Caroline Hominal received her Dance education at Janet Held Studio in Montreux, the Schweizerische Balletberufschule in Zurich and at the Rambert School of Ballet and Contemporary Dance in London. During this last period she was a member of the National Youth Dance Company. Her practice includes video, songwriting, music, choreography, and performance. She has collaborated with François Chaignaud, with whom she created Duchesses (2009), Clive Jenkins, Cristian Vogel, and visual artists Kim Boninsegni, David Hominal and Delphine Coindet. She has developed miniature one-to-one performances such as Hôtel Oloffson (2013) and Le Triomphe de la Renommée (2013), as well as full length performances such as Ballet (2014), Patricia Poses by the Pop Machine (2011) and the live concert performance Silver (2013). As a dancer she has worked with the Tanztheater Basel, Irène Tassembedo, Blanca Li, Gisèle Vienne, Gilles Jobin, La Ribot, and Marco Berrettini. She was a guest performer for Human Writes by William Forsythe and B.O.B. by Dick Wong. Since 2008, she has been showing her work, in both theaters and galleries, among other cities, Basel, Belgrade, Berlin, Beirut, Bilbao, Bogotá, Brussels, Chicago, Dresden, Genève, Los Angeles, New York City, Paris, Rome, San Francisco, Santa Cruz, Santiago de Chile, Warsaw, Wroclaw, Zagreb, and Zürich.
Parad/isiaque
Accompanied by Sandro Rossetti on the bass drum and Samuel Pajand on the trumpet, Marie-Caroline Hominal invites to a stroll. The parade inspired by circus and carnival opens to a dreamlike dimension, with interludes proposed such as spoken or danced short stories.
A performance by Marie-Caroline Hominal with Sandro Rossetti, Samuel Pajand, Marie-Caroline Hominal.
Martina Lussi lives and works in Lucerne. She holds a Master of Arts in Contemporary Arts Practice. Besides other releases Hallow Ground published her first Album Selected Ambient in 2017. Her latest Album Diffusion Is a Force is published by the french label Latency in January 2019. Lussi has presented installations and works in various exhibitions. Most recently at Swiss Art Awards 2019 in Basel. She has also performed work between the disciplines of sound art and music performance at Atonal Berlin, Oto Nove Swiss at London's Cafe Oto, Rhizom Festival Zurich, SOY Festival Nantes or OK LÀ Festival Montreal. Her activity at the intersection of these fields continues to shape her work to this day, she creates musical compositions, develops installations, and performs live in various contexts in order to continually review her material from different angles.
Besides pieces of her latest release Diffusion is a Force, Martina Lussi will present new field recordings that were produced during her residence at "Silo – Arte e Latitude Rural" in Serrinha do Alambari, Brazil. Lussi recorded most of the sounds with binaural microphones whilst walking: frogs, insects and birds, breath and wind sounds as well as electronic interference, to name but a few. The artist aims to explore the fluidity between the inner perception of the body and the sounds that surround us. The work was initially presented as a sound walk. In addition to field recordings Martina Lussi has a great interest in hypnotic induction speech as a way to lead the audience into deep listening.