Concert, Performance, Milano
Fondazione ICA MILANO | Via Orobia 26
H19:00
Introduction
Anna Franceschini
press
Gabriele Garavaglia
Jacopo Miliani
Rafal Skoczek
Tadleeh
Category
Concert, Performance
Information
Fondazione ICA MILANO | Via Orobia 26
H19:00
Istituto Svizzero is pleased to present "XMAS Performance Night Out", a three-day touring festival in  Venice (17 Dec), Milan (18 Dec), and Rome (19 Dec).
Following previous years' success of "XMAS Market | Music Festival", this year we decided to give a different twist to our Xmas mood by inviting Swiss and Italian performers and live-act musicians.
For this edition we are delighted to have partnered up with Fondazione ICA, Milan. The outside and lower space of the building will be taken over by:
Anna Franceschini (IT) presents JET SET is a site-specific re-edition of DISCOLITE; Gabriele Garavaglia (CH) + Miriam Laura Leonardi (CH) —infiltrates the space with his zombie-like performers having a custom made ringtone [Ultimo Impero (2019)]; Jacopo Miliani (IT) featuring Arcadia presents 2.2: "The picture has the logical form of representation in common with what it pictures."
The evening will wrap up with live acts featuring sound and video of: Tadleeh (IT) and Lumpex (CH).
Thanks to untitled association.
Line-up:
H19:00 Doors open
H19:30 Anna Franceschini, JET SET, 2019
H20:10 Jacopo Miliani, 2.2, 2019
H20:50 Gabriele Garavaglia + Miriam Laura Leonardi, Ultimo Impero, 2019
H21:30 Tadleeh, live music and video act
H22:10 Lumpex, live music and video act
Las Bravas Street Food will offer a variety of beverages and serve you quick and delicious food for all tastes and diets.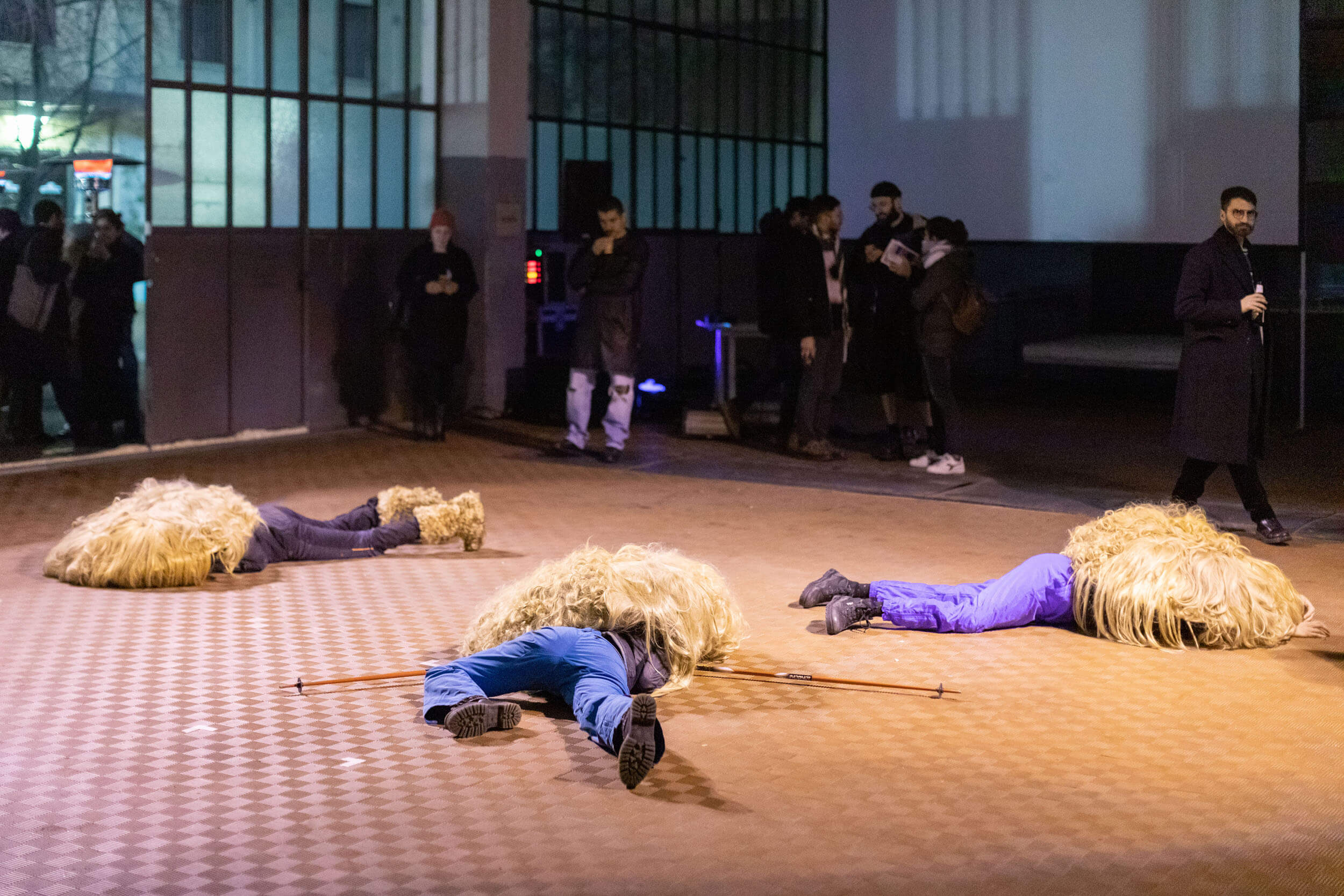 Anna Franceschini lives and works in Milan.
She is an artist, filmmaker and researcher. She works on the filmic representation of objects and the cinematic qualities of showcases for commodities. Institutional solo and group exhibitions include Dusseldorf Kunstverein, Spike Island in Bristol, MAXXI and MACRO a Roma, Museion in Bolzano, CAC – Vilnius, Centre Pompidou and Les Abattoirs in Toulouse, Fiorucci Art Trust, Quadriennale a Roma. In 2009 she has been commissioned a filmic project as the closing event of the Italian Pavilion at the 58º Biennale di Venezia. She is a fellow of the Rijkskademie van Beeldende Kunsten in Amsterdam and of the Italian Academy for Advanced Studies at Columbia University. She is a PhD candidate in Visual and Media Studies at Iulm University, Milano. Upcoming shows, performances and screening will take place at Witte de With in Rotterdam. Franceschini was a finalist for the Illy Prize 2019 for the Present/Future section at Artissima in Turin.

JET SET
performance for dancers and props, 2019
JET SET is a site-specific re-edition of DISCOLITE, a performative piece which Franceschini conceived in 2016 and continues to re-enact. It is a choreographic pattern that investigates the hybridisation between a human body and an object. In JET SET the object in question is semi-prosthetic and metonymic. The JET SET's "body" is a very tired product, belonging to social class.
Performers: Laura Pante, Leda Kraiderj, and Marta Malvestiti
Props production: Martina Rizzieri
We would like to thank Carmelo Rifici, director of the Luca Ronconi School of Theatre at the Piccolo Teatro di Milano and Vistamare gallery / Vistamare Studio – Peschiera/Milano
Gabriele Garavaglia lives and works in Zurich.
During the last two years Gabriele has been presenting his work at Luma Foundation (Arles – 2017), 45B Rue Ramponeau, curated by Julie Boukobza (Paris – 2018), Museum Folkwang (Essen – 2018), Kunsthaus Glarus, organized by Jan Vorisek (Glarus – 2019), Museum im Bellpark (Kriens – 2019), Museum Haus Konstruktiv (Zurich – 2019), Les Urbaines (Lausanne – 2019). He received the Swiss Art Awards 2019.
Ultimo Impero (2019) is enacted by a group of people from the local art scene who wear specific hand painted contact lenses on one eye. They show signs of a mutation which is halfway between human and transformed being. Moreover some of this attendees carry a custom made ring tone, which functions as a sort of live scattered soundtrack.
Jacopo Miliani lives and works in Milan.
Miliani is currently teaching 'Role of Creativity and Design' at Istituto Marangoni in Florence and 'Practice and theory of performance' at Accademia di Belle Arti di Verona. He participated in the program 'Exhibition as Medium' through the Vision Forum platform at Linköpings Universitet. He is one of the founding members of OuUnPO, a research group composed of artists, curators, and researchers who together look at the boundaries of performance by appropriating and stretching the language of workshops, seminars, and meetings. He has attended several workshops and residencies with artists from different generations, including Joan Jonas, the Otolith Group, Peter Friedl, and Cesare Pietroiusti. He has collaborated with different performers including Jacopo Jenna, Antonio Torres, DivaD, Benjamin Milan, Mathieu LaDurée, Eve Stainton, and Carima Neusser. His projects have featured professionals from various disciplines including the filmmaker Dario Argento, the fashion designers Boboutic, and the music producer Jean–Louis Hutha. He is the founder of an independent publishing project that focuses on homosexuality and language: Self Pleasure Publishing.
2.2 "The picture has the logical form of representation in common with what it pictures."(L'immagine ha in comune con il raffigurato la forma logica della raffigurazione).
Performance 2.2 is a possible translation of Ludwig Wittgeinstein's TRACTATUS LOGICO-PHILOSOPHICUS through a pure representation. Every time the performance is put into act, it avails itself of a new collaboration and a new interpretation. This time round Arcadia, singer and drag queen (alter ego of Stefano Filipponi), embodies the language of Wittgeinstein.
Rafal Skoczek lives and works in Zurich.
Rafal Skoczek is a polish multidisciplinary artist and under the name of Lumpex he has been DJing, exploring and decomposing various experimental music genres as Techno, Ambient, Hardcore, Noise, Jungle, Musique Concrete, and Black Metal, with releases on Forbidden Planet, Kashev Tapes, BRKN and a new E.P. coming out on the Zurich based Gentrified Underground Label.
As a visual artist Rafal Skoczek has shown his work in Kunsthalle Zurich, Kunsthalle Freibourg, and Kunsthalle Tbilisi. He has been nominated and won the Kadist – Kunsthalle Zürich Production Award (2016), The Kiefer Hablitzel │Göhner Art Prizes (2018).
Lumpex is the responsible virus for the musical de-composition of the 'straight' carcass.
The mold on the vinyl, and the fungus at the end of the world.
Jungle, forest, grotto music
red and black metals and rust
samples carving, re-appropriation and theft.
The blade that decapitates the minimalist bourgeoisie
Lumpexprolet represents the global union of the footworkers, the still standing workers in abandoned factories.
Recommended literature for listening:
Anna Lowenhaupt Tsing, The Mushroom at the End of the World, 2018; Scott Wilson, Melancology: Black Metal Theory and Ecology, 2014 and Riccardo Balli, Sbrang Gabba Gang, 2019.
Hazina Francia aka Tadleeh lives and works in Milan. In 2019 the Italian artist set out on a new path both in music (at the expense of her now ex-project Petit Singe) and in promoting events (Milanorovina project's closing and its reopening as Sine Confine). Ego Will Collapse is Hazina's release with the newborn Berlin label Yegorka, founded by Danish producer Why Be and Dan DeNorch of Janus.
Ego Will Collapse is a feat of complex and emotional confession. Six distinct tracks advocate a motif of chaos and disorder, a loss of balance and reason; of love destroying a heart from within. As s raw dark reminder, soaring red out of a void, Tadleeh moves with paced and firm urgency, her record is a rhythmic account of pain and transformation. Despite drawing from a variety of the artist's cultural heritages and extending from her previous work, Ego Will Collapse is true to itself, a denuded release.