Concert, Performance, Roma
Info
Marie-Caroline Hominal
Press image
Nils Amadeus Lange
Rafal Skoczek
Jacopo Miliani
Category
Concert, Performance
Istituto Svizzero is pleased to present "XMAS Performance Night Out", a three-day touring festival in Venice (17 Dec), Milan (18 Dec), and Rome (19 Dec).
Following previous years' success of "XMAS Market | Music Festival", this year we decided to give a different twist to our Xmas mood by inviting Swiss and Italian performers and live-act musicians.
This special evening will feature performances by Marie-Caroline Hominal, Nils Amadeus Lange and Lumpex, and Jacopo Miliani.
Line-up:
H19:00 Doors open
H19:15 Marie-Caroline Hominal, ONE, 2017
H19:55 Jacopo Miliani, Anyway not everyone will read it (updated), 2019*
H20:50 Marie-Caroline Hominal, Parad/isiaque, 2019
H21:30 Nils Amadeus Lange, Alte Meister, 2019
H22:30 Lumpex, live-music act
LookAround will offer a variety of beverages and serve you quick and delicious food for all tastes and diets.
*Jacopo Miliani's performance will take place in complete darkness. Visitors are compelled to switch their phone off or turned to silence mode. People who suffer from epilepsy should not attend.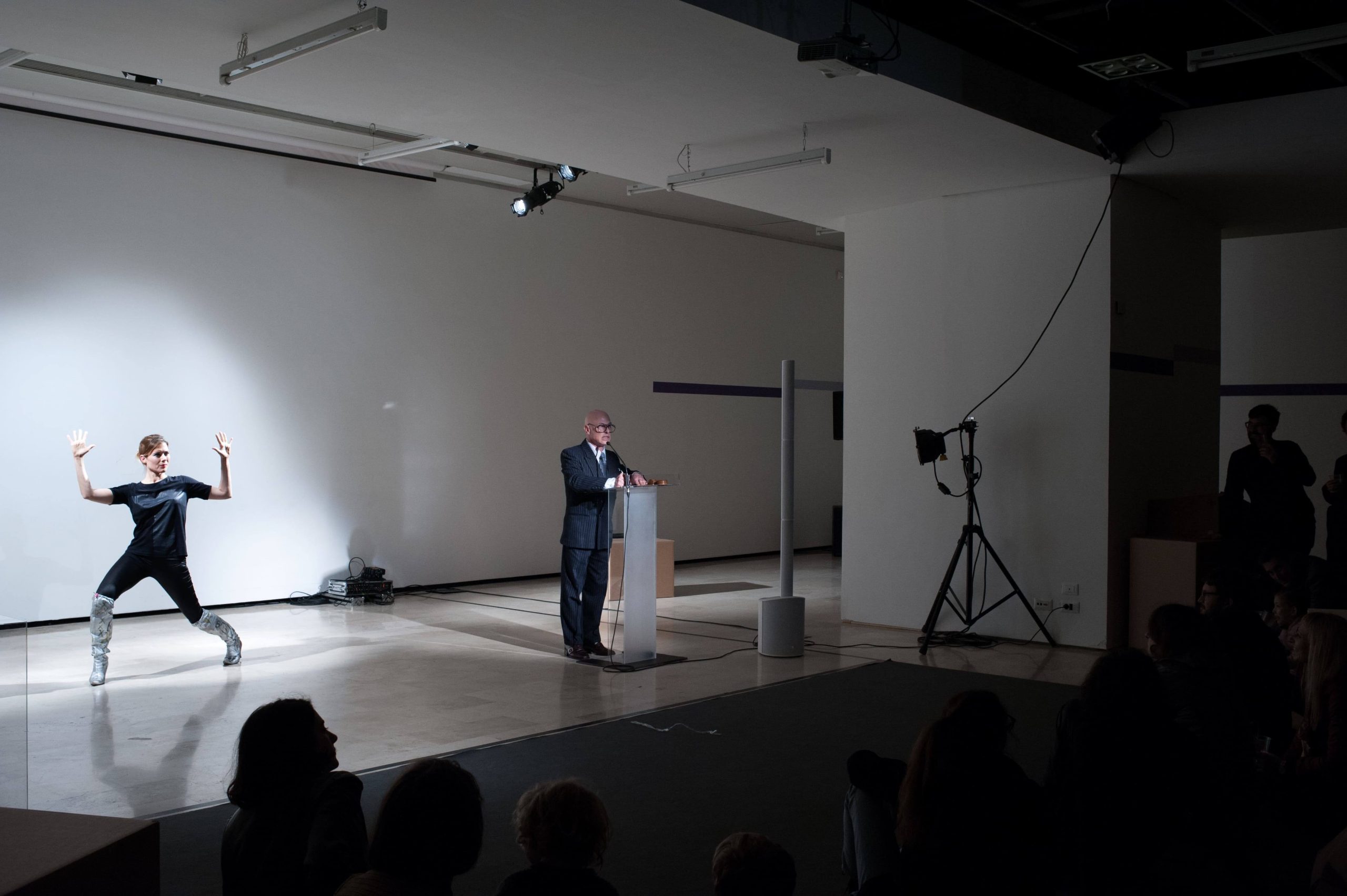 Marie-Caroline Hominal received her Dance education at Janet Held Studio in Montreux, the Schweizerische Balletberufschule in Zurich and at the Rambert School of Ballet and Contemporary Dance in London. During this last period she was a member of the National Youth Dance Company. Her practice includes video, songwriting, music, choreography, and performance. She has collaborated with François Chaignaud, with whom she created Duchesses (2009), Clive Jenkins, Cristian Vogel, and visual artists Kim Boninsegni, David Hominal and Delphine Coindet. She has developed miniature one-to-one performances such as Hôtel Oloffson (2013) and Le Triomphe de la Renommée (2013), as well as full length performances such as Ballet (2014), Patricia Poses by the Pop Machine (2011) and the live concert performance Silver (2013). As a dancer she has worked with the Tanztheater Basel, Irène Tassembedo, Blanca Li, Gisèle Vienne, Gilles Jobin, La Ribot, and Marco Berrettini. She was a guest performer for Human Writes by William Forsythe and B.O.B. by Dick Wong. Since 2008, she has been showing her work, in both theaters and galleries, among other cities, Basel, Belgrade, Berlin, Beirut, Bilbao, Bogotá, Bruxelles, Chicago, Dresde, Genève, Los Angeles, New York City, Paris, Rome, San Francisco, Santa Cruz, Santiago de Chile, Varsovie, Wroclaw, Zagreb, and Zürich.
ONE, 2019
ONE is a performance in 3 chapter, questioning the fall, the art market and the authorship, . Through gestures, Marie- Caroline Hominal conjures an absurd auction to reflect and question the commodification of performance. Commenting on cultural consumerism and capitalists systems, ONE incorporates the curator directly into the performance – objectifying and laying bare the role of the artist in relationship to the presenter.
A performance by & with Marie-Caroline Hominal and an auctioneer.
Parad/isiaque, 2017
Accompanied by Sandro Rossetti on the bass drum and Samuel Pajand on the trumpet, Marie-Caroline Hominal invites to a stroll. The parade inspired by circus and carnival opens to a dreamlike dimension, with interludes proposed such as spoken or danced short stories.
A performance by Marie-Caroline Hominal with Sandro Rossetti, Samuel Pajand, Marie-Caroline Hominal.
Nils Amadeus Lange works as a performer, artist and choreographer in Zurich. After completing his drama studies at Hochschule der Künste Bern, he began withdrawing from theatre, shifting his focus to more abstract forms of expression, dance and performance history while studying the Scenic Arts Practice Master's program that he completed at Hochschule der Künste Bern, too. Lange "uses his body as a weapon, with which he pierces through the audience's heads, in order to sub-sequently dissect memories of conventions, role models and gender stereotypes from their brains." Recent years have seen the emergence of not only his own work, but also various collaborations. Among other works, the online series and stage piece body and freedom was developed in collaboration with Florentina Holzinger, Vincent Riebeek, Annina Machaz and Manuel Scheiwiller, and premiered at Tanzhaus Zürich. Lange participated at the Lithuanian Pavilion during the Venice Biennale in 2015, as part of Young Boy Dancing Group. He's currently teaching at the fashion department at FHNW and works as a dramaturge for other productions. His work has been shown in institutions and festivals internationally, including Kunsthalle Basel; Centre d'Art Contemporain, Geneva; Swiss Dance Days; Zürich moves!, Gessnerallee, Zürich; Frascati Amsterdam; Berliner Festspiele; Kunsthalle Bern; Festival Les Urbaines, Lausanne; Südpol Luzern; Tanzhaus Zürich and CounterPulse, San Francisco. He was awarded with the Publikumspreis of the Swiss Performance Award in 2015 along with Janet Haufler for the piece under the influence. He is one of the 2019 Kiefer Hablitzel Göhner Kunstpreis awardees.
Alte Meister, 2019
by Nils Amadeus Lange (with guests)
"The museum is sad. It sinks down in an armchair and watches television. What a bizarre day.
A pizza is being ordered. In Rome they are particularly good.
Maybe Debord's The Society of the Spectacle will be thrown in a corner.
But maybe it won't. The interns have printed the images of the old masters on way too glossy paper, now it looks even more like a cheap fake.
What is this supposed to be?
A Wikipedia article about Elvis in the corner, the most important facts highlighted in green.
Zalando packages block the doorways. Absolutely nothing here is subject to copyright anymore.
The artists are late since the Uber JUMP-App is down. Everything seems to be falling apart.
At least the fog machine still works, fog as a sign of the good old days. It's hazy. What's real here? Isn't there anyone who can explain to me what this is all about?"
Rafal Skoczek lives and works in Zurich.
Rafal Skoczek is a polish multidisciplinary artist and under the name of Lumpex he has been DJing, exploring and decomposing various experimental music genres as Techno, Ambient, Hardcore, Noise, Jungle, Musique Concrete, and Black Metal, with releases on Forbidden Planet, Kashev Tapes, BRKN and a new E.P. coming out on the Zurich based Gentrified Underground Label. As a visual artist Rafal Skoczek has shown his work in Kunsthalle Zurich, Kunsthalle Freibourg, and Kunsthalle Tbilisi. He has been nominated and won the Kadist – Kunsthalle Zürich Production Award (2016), The Kiefer Hablitzel │Göhner Art Prizes (2018).
Lumpex is the responsible virus for the musical de-composition of the 'straight' carcass.
The mold on the vinyl, and the fungus at the end of the world.
Jungle, forest, grotto music,
red and black metals and rust
samples carving, re-appropriation and theft.
The blade that decapitates the minimalist bourgeoisie.
Lumpexprolet represents the global union of the footworkers, the still standing workers in abandoned factories.
Recommended literature for listening:
Anna Lowenhaupt Tsing, The Mushroom at the End of the World, 2018; Scott Wilson, Melancology: Black Metal Theory and Ecology, 2014 and Riccardo Balli, Sbrang Gabba Gang, 2019.
Jacopo Miliani lives and works in Milan.
Miliani is currently teaching 'Role of Creativity and Design' at Istituto Marangoni in Florence and 'Practice and theory of performance' at Accademia di Belle Arti di Verona. He participated in the program 'Exhibition as Medium' through the Vision Forum platform at Linköpings Universitet. He is one of the founding members of OuUnPO, a research group composed of artists, curators, and researchers who together look at the boundaries of performance by appropriating and stretching the language of workshops, seminars, and meetings. He has attended several workshops and residencies with artists from different generations, including Joan Jonas, the Otolith Group, Peter Friedl, and Cesare Pietroiusti. He has collaborated with different performers including Jacopo Jenna, Antonio Torres, DivaD, Benjamin Milan, Mathieu LaDurée, Eve Stainton, and Carima Neusser. His projects have featured professionals from various disciplines including the filmmaker Dario Argento, the fashion designers Boboutic, and the music producer Jean–Louis Hutha. He is the founder of an independent publishing project that focuses on homosexuality and language: Self Pleasure Publishing.
Anyway not everyone will read it (updated), 2019
ANEWRI is based on a dissociative escape, a rare psychiatric disorder characterised by total yet reversible amnesia. The patient loses all trace of his own memory and identity and can suddenly leave or wander aimlessly, recreating a new temporary identity.
The performance begins with inviting the audience to enter an indefinite and totally dark space; both the dancers and the spectators share together the feeling of darkness. The "escape" is investigated as a physical experience, and also as a sort of "institutional criticism" of the ongoing debate on dance and choreography without reaching though a precise identity of signs.
Credits:
Anyway not everyone will read it (updated), 2019 
Performance di Jacopo Miliani
With Sara Leghissa e Anna Maria Ajmone
Music: J.l. Hutha