Art, Performance, Sound, Milano - Fondazione Marconi
Location
Milano - Fondazione Marconi
Category
Art, Performance, Sound
The evening will take place on the 16.12.2021 from H19:00 to H23:00 at Fondazione Marconi, via Tadino 15, Milan. Free entrance.
Food and drinks can be purchased on-site.
Please register here to participate.
Christmas edition: sounds and performances in Milano, Palermo and Roma
This year, Istituto Svizzero celebrates the winter solstice through a series of performances and listening sessions in Roma, Milano and Palermo!
At first glance, the celebration of sunlight and the celebration of Christmas would appear to be two opposites: the luminous splendour of the day and the silvery glow of the winter moon, the warmth of sun's rays and the cold silence of Advent. Yet, Christmas festivities find their origins in the pagan festival dedicated to the sun, from Latin Sol Invictus, as the star that allows life on Earth, the light in the night, the one that defeats the darkness.
Performances by:
Eleonora Luccarini – Léonard Santé, 16 poems
Tobias Koch – The Flâneur
Tosh Basco – Untitled grief (in two parts)
Baransu – W.C.W.P. (What Can We Perceive), audio/visual set
Go back to the main page of the event.
The event is organized in collaboration with Fondazione Marconi, Fondazione ICA Milano, Radio Raheem.
Meteo-bar temporary set by Edizioni Brigantino (Valentina Lucchetti + Canedicoda). Food and drinks by El Caminante.
Biographies:
Tosh Basco (California, 1988) rose to prominence in the drag scene in San Francisco in the 2010's. Well known for her movement-based performances under the name boychild, Basco's photography and drawing accompany the performance practice. Viewed as a whole, all of Basco's work attempts to enfold language, representation and becoming together in spaces where they are presumed to exist as discrete entities. She is co-founder of the collaborative entity Moved by the Motion with Wu Tsang and collaboration remains a vital aspect to her work. Basco's work has been presented at the Venice Biennale; the Sydney Biennial, The Whitney Museum of American Art, New York; the Museum of Contemporary Art, Chicago; MOCA, Los Angeles; ICA London among other institutions.
Eleonora Luccarini (Bologna, 1993) lives and works in Amsterdam. She studied at the Academy of Fine Arts in Bologna, Università IUAV in Venice and Sandberg Institute. She has been shortlisted for the Pini Art Prize 2021-2022 at Fondazione Adolfo Pini in Milano. Recently she has exhibited at Manifattura Tabacchi, Firenze (2021), Fondazione Sandretto Re Rebaudengo, Torino (2021), MACRO – Museo D'Arte Contemporanea di Roma (2021), Quadriennale di Roma (2020), OGR Torino (2020) and Cripta747, Torino (2020). In 2021 she also took part in the residency project Nuovo Forno del Pane presso MAMbo – Museo d'Arte Moderna di Bologna and in Live Arts Week festival curated by XING in Bologna. 
Tobias Koch (Basel, 1986) lives and works in Basel and Berlin. He is a composer and sound artist working across performance, visual arts, film, and music. He studied at the Hochschule für Musik in Basel and has since exhibited and performed his own work at the Leopold Museum Vienna, Lateral Roma, CND Paris, and various theaters throughout Europe. His most recent work Such Sweet Thunder, with Thibault Lac and Tore Wallert, won the Young Choreographers Award at ImPulsTanz Festival in 2019. He previously scored works presented at MoMA New York, documenta 14, Frieze Art Fair, Tate Modern, Centre Pompidou, Maxim Gorki Theater, Volksbühne Berlin, and others. His sound design and music compositions were featured in several award winning films presented at Film Festival Cannes, Locarno Film Festival, IFFR Rotterdam, Berlinale and Toronto International Film Festival, and others.
Baransu (from Japanese: balance) is the collaboration between musician Matteo Gualeni and graphic designer Michael Barteloni. The dogma's project is to mould, through real-time interaction, the synesthesia between the world of the audible and the visible, creating a fertile perceptual dimension. Mainly influenced by raster-noton, 90's warp, r&s relases and also cyber and post-natural aesthetic, their research concern the reworking of symbiotic informations perceived in natural and digital structures into generative graphics and sound composition.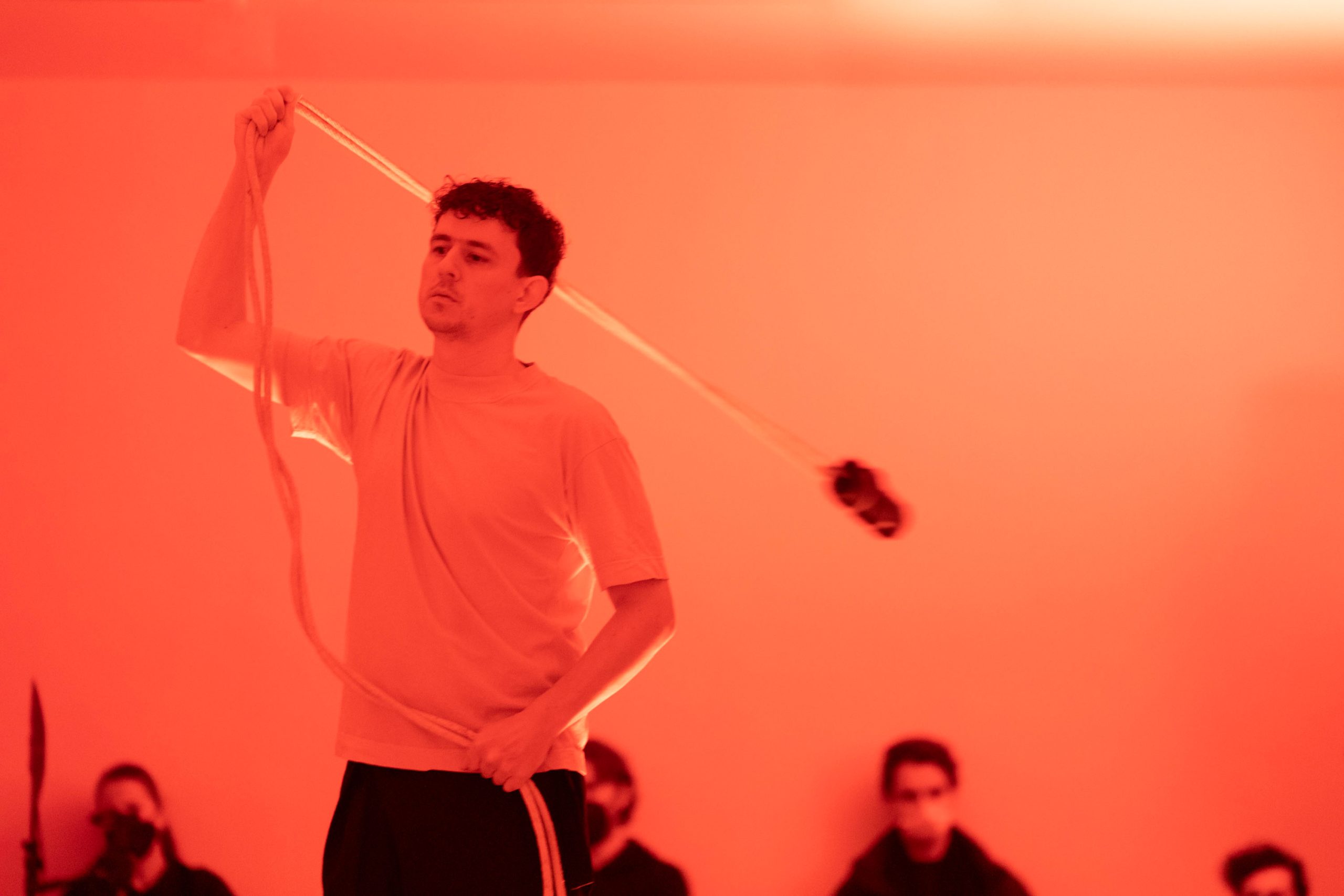 In accordance with current regulations, the public is required to present a strengthened Covid Green Certificate at the entrance in order to access the event. This includes one of the following:
• You have received the anti-COVID-19 vaccination, with proof that you have received the first dose of vaccine at least 15 days previously or that you have completed the vaccination cycle;
• Recovery from COVID-19 within 6 months prior to the date of the event.