Art, Music, Performance, Online
A x-mas edition of online performances
Introduction
Maïté Chénière
Schedule
Giulia Crispiani
Invernotmuto
Tersa Vittucci
Biographies
Invernomuto
Dates
17.12.2020
31.01.2021
Category
Art, Music, Performance
Information
A x-mas edition of online performances
1000 Spaces. A x-mas edition of online performances
1000 Spaces is this year's edition of Istituto Svizzero's Christmas performance and music programme, which takes place exclusively in the virtual space. 1000 Spaces, thus 1000 virtual, real or imagined spaces.
The last months have made us experience spaces in a different way. As the public space suddenly became less and less accessible, many of our activities shifted to the private one. Here we have worked, eaten, loved, hoped and doubted. The Zoom conference's window and our computer's camera provided insights into perhaps intimate, perhaps staged spaces. To the same extent in which the real space somehow moved away, the virtual space moved closer again, with all its promises and unfulfilled promises. In terms of artistic and curatorial work, it is both and it drives us to rethink about our practices.
1000 Spaces is a compilation of performative works developed specifically for the digital space, which in turn lead us into countless, possibly real or imagined spaces, even worlds.
Programme
17.12.2020
Lara Dâmaso (lives and works in Zurich)
Invernomuto (Simone Bertuzzi and Simone Trabucchi, live and work in Milan)
Maïté Chénière (lives and works in Geneva)
Giulia Crispiani (lives and works in Rome) – Facebook live H19:00
Teresa Vittucci (lives and works in Zurich)
Black Med simulation
Selection from the archive, 2018—2020
Black Med is an ongoing platform initiated by Invernomuto in 2018 for Manifesta 12, Palermo. The Mediterranean sea, once understood as a fluid entity aiding the formation of networks and exchange, is now the scenario of a humanitarian crisis and heated geopolitical dispute.
Black Med aims at intercepting the trajectories that sounds trace passing through this protean area, as migration routes leave sonic trails that, in the words of Iain Chambers, "resist representation, and propose an affective economy [that is] intrinsically diasporic."
In the occasion of Out.of.the.blue.map Invernomuto presents Black Med simulation, a stereo track of about an hour composed by a selection of audio files from the Black Med archive. The next outcome of the project (due to be released in 2021) is an algorithm which is able to "play" by itself all the musical contents collected so far; audio files are being processed, tagged and expanded in order to become instructions for the algorithm. Users will also be able to upload new sounds into the system: the goal is to have a growing archive, a Black Med magma, which evolves constantly. 
Black Med simulation is a test, one of many possible fragments of this not yet ready machine's output.
TRACKLIST
Ramsey Lewis, Wade In The Water from Wade In The Water (1966)
Sabah, Min Sayda la Jounieh
Ryuichi Sakamoto, Fullmoon from Async (2017)
Raul Lovisoni, Francesco Messina, Amon Ra from Prati Bagnati Del Monte Analogo (1979)
Alshareef Tor5y, 50dne (Hanroo7 El Nar mix)
Laurie Spiegel, The Unquestioned Answer from The Expanding Universe (2012)
Lamin Fofana, Another World from Another World (2015)
Eliane Radigue , Elemental I, Terre – Eau – Pluie from Jouet Electronique / Elemental I (2010)
El Rass & El Mahdy Jr, Lampedusa
YL – #MarseilleAllStar, Episode 2 feat. Dibson, Kofs, Djiha, Mazen (2016)
Makimakuk, Julmud, Ya Wardy (produced by Al Nather) from Ya Wardi / Ya Helwa (2019)
Wizkid, Pakurumo from Superstar (2011)
Bawin, Ya Binaya Goumi (Oh Girl, Stand Up) from VV. AA. Choubi Choubi! Folk And Pop Songs From Iraq (2005)
Faisal Alawi, Ana El Majrouh
Alan Lomax (recorded by), I Passiuna tu Christù (1954)
Paolo Fresu, Mediterraneo from Vinodentro (2013)
1127, Pannik
Mohammad Reza Mortazavi, Riding Time from Ritme Jaavdanegi (2019)
Khotin, Wheeler Road from New Tab (2017)
Iannis Xenakis, Persepolis (Part 1) from Persepolis (2018)
lamento, adagio: ode to dissonance (2020)
Body and voice the dancing, moving body and voice, shouting, singing. These are the elements that Lara Dâmaso uses again and again in her artistic work. Especially for 1000 Spaces she has created the video work lamento, adagio: ode to dissonance. The camera follows the artist through the exhibition spaces of the current exhibition WE HYBRIDS! at Istituto Svizzero in Rome. The slow movements of her body contrast, an indeed dissonance, with Lara Dâmaso's voice which, by screaming and singing, fills the exhibition spaces more and more, repeating itself through echoes, thus once again creating a new space all its own.
Costume: Arienne Birchler
Camera: Tommaso Cassinis
Sound technician: Giacomo Serri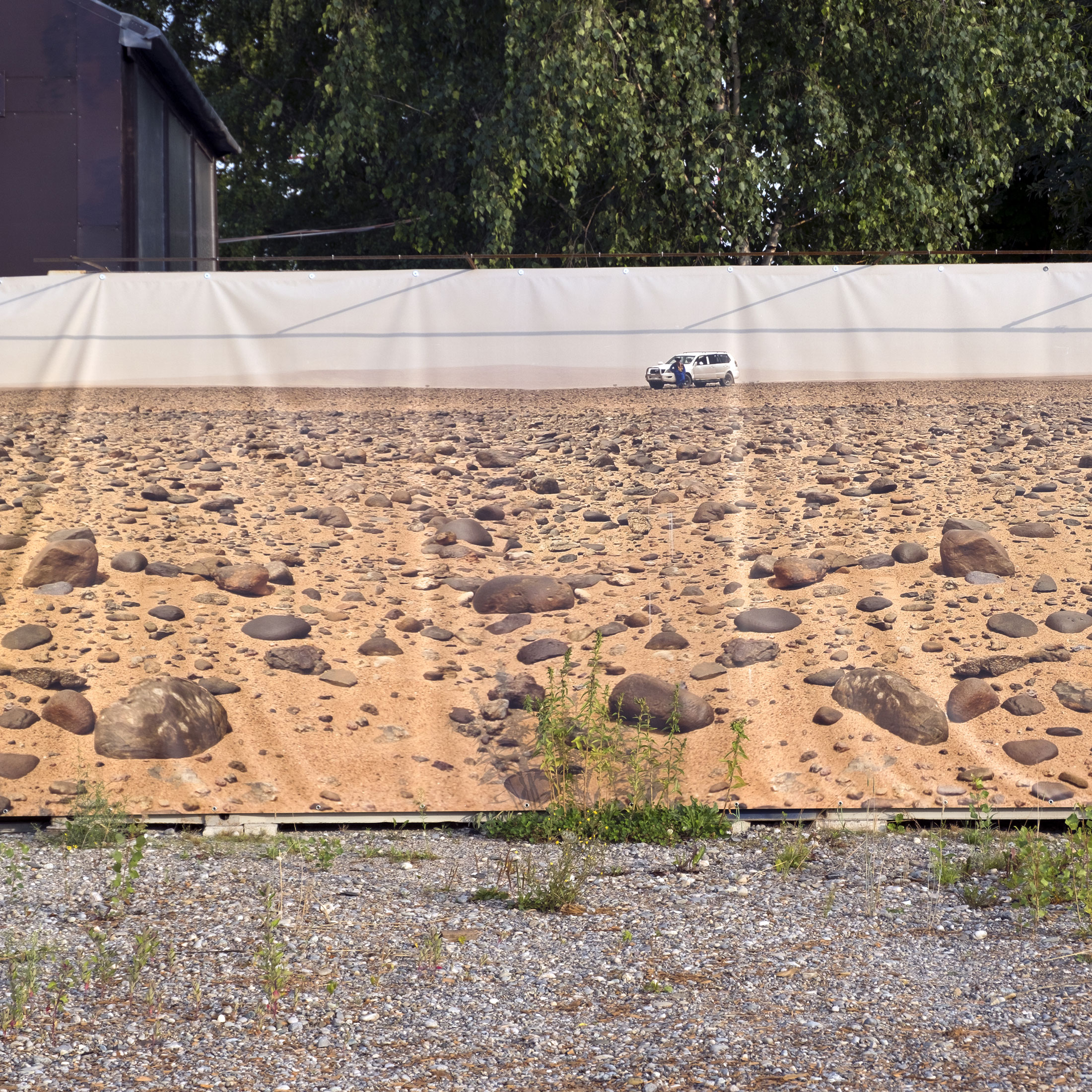 summons & parables, 2020
Maïté Chénière (a.k.a. Mighty) uses music, performance and video to create hybrid experiences. In their practice, they merge the cultural productions of racialised queer people, theoretical and popular knowledge to create emancipatory dialogues. For 1000 spaces Mighty create a work made up of interwoven spacial dimensions, through the mediums of sound and video. We are invited to explore these spaces and their extensions, new territories as portals, through the use of our trackpad or mouse. Once in, each video leads us potentially to another, an architecture composed of intertwined realms which unfold in front of our eyes. There is no perception on the scale and size of these scapes gravitating around the beats and visual graphics, what we are left with is an electrical charge and a sensation of wanting to explore more.
Tips for navigation
– To navigate, please use the arrows on your keyboard. It will allow you to go forward, or backward, zoom in or out.
– The blue circles all indicate videos. You can use the mouse or trackpad to activate the player.
– The soundtrack is ten minutes long.
– Play it loud.
summons & parables, 2020
Sangue freddo / cold blood (2020)
In her new work Sangue freddo / cold blood, Giulia Crispiani provides insight into a very intimate space: her bedroom. According to the artist, this has often served as a workplace over the past few months. The watchful eyes of the computer's camera omnipresent. Conceived as a live stream, however, Giulia Crispiani plays precisely with this ambiguity and gives us a (supposed?) glimpse into an intimate space. Bathed in red light, the bed sheets shimmer white while the artist reads out a love letter. TVB – the colloquial acronym for 'Ti voglio bene' ('I like you' or 'I love you' – and here we are in the middle of another ambiguity) shines behind the bed. We hear her voice: "Do you still know what is happening outside?" Or have we long forgotten the world out there?
Sangue freddo / cold blood (2020)
Musical selection: Giandomenico Carpentieri
Facebook live H19:00
Virgin Blood (2020)
A teaser for 'HATE ME, TENDER'.
Virgin Blood is Teresa Vittucci's latest teaser for HATE ME, TENDER (2019) created specially for 1000 spaces. As the work HATE ME, TENDER  and other teasers, it focuses on her research on hate and feminism. The protagonist is once again the Virgin Mary and with a gentle violence Vittucci begins to unravel the queer potential of a figure which is culturally seen as epitome of purity, innocence and perfection, icon of the compassionate woman and mourning mother.
Teresa, through the use of an ironic and metaphorically charged vocabulary, along with a strong presence of the body, describes the recipe for a dirty Virgin Mary. Celery whipping and squirting lemons are the few epithets mentioned during this playful description. In the background we pick-up parts of Donna Summer's I Feel Love hummed by the artist. The work softly concludes with Agni Parthene (O Virgin Pure) a Greek Marian Hymn, while we gaze into the black screen of the interface.
Commissioned by Istituto Svizzero, Roma and Impulse Festival Köln
by Teresa Vittucci
Special thanks to:
Benji Egger
Jasmin Wiesli
Rafal Pierzynski
Veza Fernandez
Istituto Svizzero, Tanzhaus Zürich, Impulse Theaterfestival
Espaco do Tempo Montemor, Premio Schweiz, ImPulsTanz Vienna
Biographies
Maïté Chénière (a.k.a. Mighty) adopts theoretical research, music, performance or video to create hybrid experiences. In their practice, they merge the cultural productions of racialized queer people, theoretical and popular knowledge to channel an emancipatory discourse. Mighty is an afrofuturist DJ, producer, and party curator based in Geneva . Through music, they manipulate space and time, inviting fluid and mutating bodies on the dancefloor. They have presented their work at gallery 1.1, Basel ; Un lieu pour respirer, Paris; Haus der Kulturen der Welt, Berlin; Festival Les Urbaines, Lausanne, Théâtre de l'Usine, Cinéma Spoutnik, Geneva; Mains d'œuvres, Paris or at the Ateliers Claus, Brussels. among others.
Giulia Crispiani is a writer and visual artist based in Rome, where she is an editor for NERO Editions and Teatro di Roma. Her favorite media for the written format are interviews, love letters and manifestos.
Lara Dâmaso (b. 1996) works and lives in Zurich. After several years of intensive training in ballet and contemporary dance, she studied at the Hochschule für Grafik und Buchkunst in Leipzig in the art and media section and at the Zurich University of the Arts, ZHDK, where she obtained her Bachelor of Fine Arts. Her artistic practice varies between performances, videos, appearances as a performer for various artists and DJ-sets. Lara's work balances between focused control and sensual chaos. She structures to destructure thus opening intimate spaces in which dialogue can occur. Her work has been shown in various institutions and off spaces such as Kunsthalle Zürich, Cabaret Voltaire, Plymouth Rock, Kunsthalle Bern, Centre Pasqu'Art. She was nominated for The Kiefer-Hablitzel Göhner Kunstpreis 2020 and is nominated for Plattform21.
Simone Bertuzzi (b. 1983) and Simone Trabucchi (b. 1982) have been collaborating as Invernomuto since 2003. Although their work focuses primarily on the moving image and sound, they also integrate sculpture, performance and publishing into their practice. Invernomuto explores what remains of subcultures by moving through different media. Observed through unashamedly affected eyes, oral cultures and minor histories are laid open, their vernacular forms examined. Inauthentic materials play a fundamental role within this process, emphasising the fictitious realities that inspire them. Bertuzzi and Trabucchi have developed individual lines of research into sound with the outlets Palm Wine and STILL, respectively. Currently Invernomuto are developing a new commission for the 2021 Liverpool Biennial and the 58th October Salon-Belgrade Biennial 2020. Another project, Black Med, was conceived in 2018 for Manifesta 12 (Palermo) and has recently been part of the performance programme at the 58th Venice Biennale in 2019; Black Med will be further developed in 2020 with Fondazione Morra Greco (Naples). Recent solo shows include: Auto Italia, London (2020) Galleria Nazionale, Rome (2019), NN Contemporary Art, Northampton (2019), MED T-1000, Pinksummer, Genoa (2019), Leto Gallery, Warsaw (2019), Artspeak, Vancouver (2015), among others. In 2017 Invernomuto wins the Museion Prize 1 (Bozen); in 2018 they are finalists of the MAXXI Bvlgari Prize (Rome) and MAC International 2018 (Belfast). Their work has been shown at TATE (London), Manifesta 12 (Palermo), Villa Medici (Rome), Alserkal Avenue (Dubai), Kunsthalle Wien (Wien), Galleria Nazionale (Rome), Nuit Blanche 2017 (Paris), MAXXI (Rome), Museion (Bozen), Unsound Festival (Krakow), Kunstverein München (Munich), among many others.
Teresa Vittucci is a Vienna born artist who is currently based in Zurich. Her practice crosses the fields of performance, contemporary dance, absurd comedy and film. It investigates feminist and queer perspectives on pop culture, history, religion etc. Bad jokes are always part of the process. She works as a solo artist, but chooses to collaborate from time to time: some collaborations include working with Nils Amadeus Lange, Marilu Mapengo Namoda, Claire Sobottke, Michael Turinsky and Colin Self. Also she has performed with Simone Aughterlony, Marie Caroline Hominal, Benny Claessens and many others—which also is part of her practice. Vittucci was awarded several prizes for her work including a recogniciton prize for her work as a performer by the City of Zurich and the federal Swiss Dance Prize for her piece HATE ME, TENDER. Teresa is Young Associate Artist at Tanzhaus Zürich. Her new work RECKLESS BITCH will premiere at Tanzhaus Zürich on February 24th 2021.