Arte, Workshop, Milano
CALL OUT
20.09.2020 H10:00-17:30
By signing-up on a first come, first serve basis
Information
Outline
Image
information
Information
CALL OUT
20.09.2020 H10:00-17:30
By signing-up on a first come, first serve basis
A workshop in which we will collectively try to dismantle fixed identity clusters, liberate voice(s) from physical selves, dig into alternative understandings of vocal embodiment, try to abandon the myth of the neoliberal "I" – independent and whole, and make space for the fluid "me", the collective self, in which the singular voice can safely, care- and joyfully dissolve and recollect without the fear of loss or lack. Becoming several, not for the hell of it but with the aim of practicing a lived opposition against internalized patriarchocapitalist ideology of the hermetic individual, alienated in singularity.
We are interested in thinking about how words come into being, historically, conceptually and physically.We aim at a collective writing that bounces off objects and writing that pierces and shatters said things.
We consider ways to take responsibility for our mouthed status as initiators, as body-objects, throwing linguistic suggestions at other objects that remain silent in return. While addressers name and claim, how can an addressed thing speak out otherly itself?
Most importantly, we will aim at composing a fluid "text sculpture" that we will playfully record in the space together, leaving traces expecting to be transformed and released again, within or without the exhibition.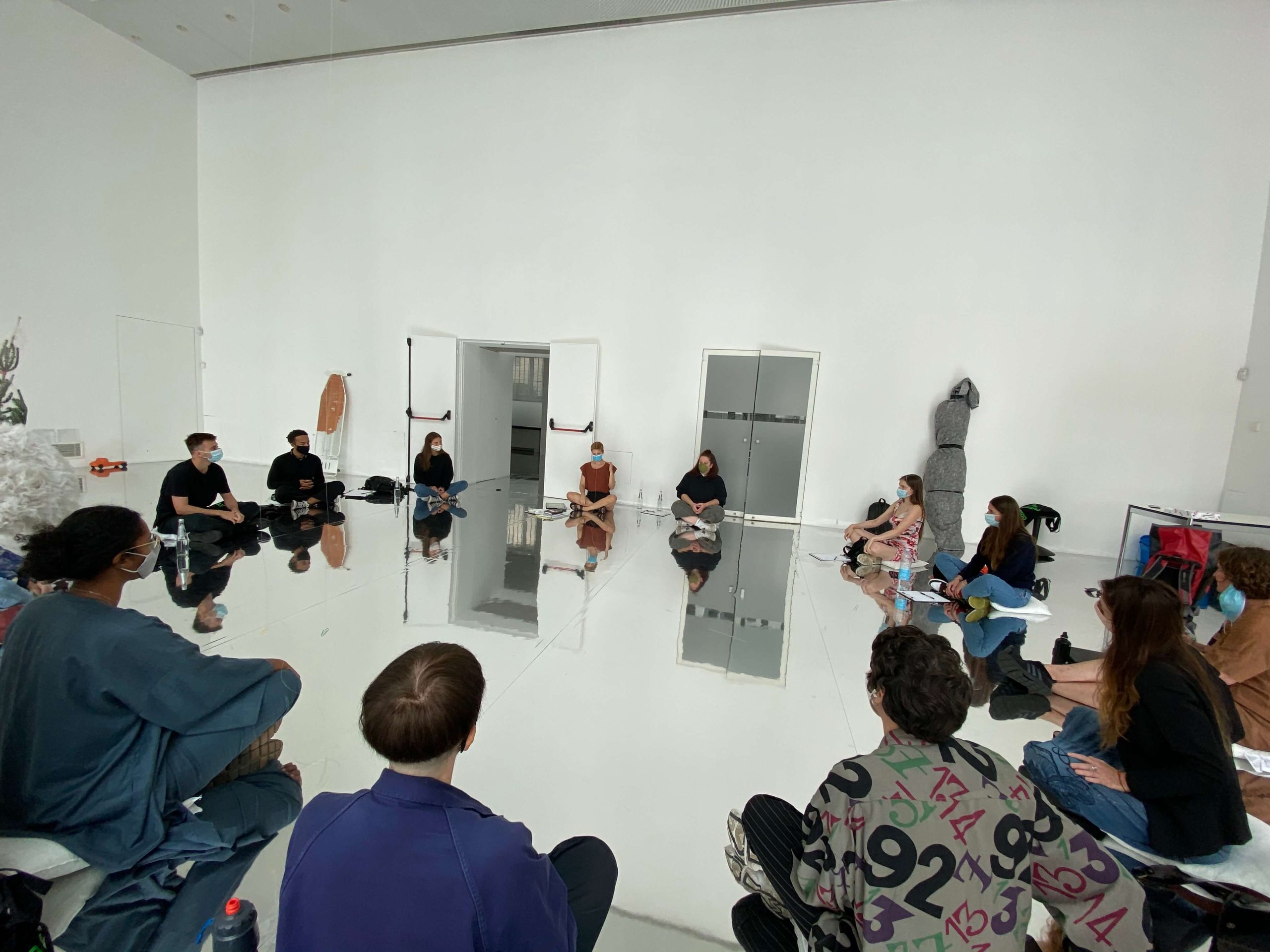 While rooted in analytical thought, the workshop will be primarily practical and involve games, exercises, a lot of spoken writing and a fair dose of cringe.
It will take place at the Swiss Institute in Milano, in the context of "UNSETTING" on Sunday September 20th.
We open at 9:30am to be ready to start at 10am and go on till 5:30 pm with the option of lingering together for longer.
Coffee and an easy vegetarian lunch (please let us know of any dietary requirements) will be offered.
Language is English, Italian and any language you bring into the space.
While it's important to us to create a safe space that embraces failure
wholeheartedly, we'd be grateful for your consent to record and share some material (always credited) from specific moments of the workshop.
It will be held and facilitated by Sophie Jung and Elena Radice and whatever it generates might, if all agree, be broadcast as a multi-layered audio collage, or, if so desired, be held as live performance in the context of Sophie's show "Unsetting".
If you are interested and you would like to join us, please send us an email at milano@istitutosvizzero.it
Participation on a first come, first serve basis
Sophie Jung (b. 1982, lives in London and Basel) works across text, sculpture and performance, navigating the politics of re/re/representation and challenging the selective silencing that happens by concluding.
She employs humor, shame, the absurd, raw anger, rhythm and rhyme, slapstick, hardship, friendship and a constant stream of slippages.
Her sculptural work consists of bodies made up of both found and haphazardly produced attributes and defines itself against the dogma of an Original Idea or a Universal Significance. Instead it stands as a network of abiding incompletion, an ever changing choir of urgencies and pleasures, traumas and manifestations that communally relay between dominant and minor themes.
She's invested in triggering a de-categorizing of concepts and a de-conceptualization of categories, hopes for unholy alliances, cross-material solidarity and assemblages that defy resolution. Her approach to "stuff"—both legible utensil and metaphoric apparition sits somewhere between materialist responsibility and wild becoming. Her writing exists in the tradition of écriture feminine and lives as polyvocal collage, often materialized and extended collaboratively.
Recent exhibitions include Sincerity Condition at Casino Luxembourg; Taxpayer's Money for Frieze LIVE, Dramatis Personae at JOAN, LA; The Bigger Sleep at Kunstmuseum Basel; Come Fresh Hell or Fresh High Water at Blain Southern, London; Producing My Credentials at Kunstraum London; Paramount VS Tantamount at Kunsthalle Basel and Äppärät at Ballroom Marfa. She is currently working on solo exhibitions at E.A. Shared Space in Tbilisi and Galerie Joseph Tang in Paris. In 2016 and in 2019 she won the Swiss Art Awards and in 2018 she was the recipient of the Manor Kunstpreis.
Elena Radice (b.1987, lives, works and practices in Milano) holds a BA in Visual Arts / Sculpture from Accademia di Belle Arti di Urbino, and an MFA in New Technologies of Art / Video & Cinema from Accademia di Belle Arti di Brera; she has been an exchange student at WORK.MASTER of Haute École des Art et Design in Geneva. Her actions cut across different media, and are led by a strong interest towards open and dialogical aesthetic forms, greatly influenced by the dynamics produced by attentional economy and the Internet. The relationship with the space, either considered as an abstract or as a geographical concept, is pivotal for her creative process. The space informs and gets informed by her work: videos become portals and sound becomes a presence that travels through distances. During the last two years Elena Radice has been teaching Multimedia in two different highschools and has been building the furniture for her studio, shaped to become–hopefully–a permeable research place. Through the years, she had the pleasure to start constructive and collaborative dialogues with A gee in the fog, Enrico Boccioletti, Dafne Boggeri, Graham Burnett, Ed.Clinamen, Mattia Capelletti, Marina Cavadini, CM Gratitude, Jeff Dolven, Estar(Ser), EuroStandard, Giulia Mengozzi, Leonard Nalencz, O', SPRINT, Bianca Stoppani, Guido Tamino, TeatrumBotanicum, Lucrezia Calabrò Visconti, Almare.