Proiezione, Residenze, Talk, Online
H18:00
Serie 'I venerdì pomeriggio'
Dates
20.04.2021
30.04.2021
Category
Proiezione, Residenze, Talk
Information
H18:00
Serie 'I venerdì pomeriggio'
I venerdì pomeriggio
I venerdì pomeriggio all'Istituto Svizzero sono dedicati ai nostri residenti. È un'occasione per il pubblico per conoscere in dettaglio i progetti ai quali stanno lavorando durante la residenza di quest'anno.
L'evento, curato da Meloe Gennai (Fellow Milano Calling 2020/2021), è «una favola contemporanea futuristica afro-trans*».
Includerà la proiezione di Venus ascending, un film di Meloe Gennai, e sarà seguito da un talk.
BEFORE THE EMPIRE THERE WAS
THE MERMAID
THE GODDESS
THE GREAT MOTHER
WHO GAVE BIRTH TO THE SUN & THE MOON
ACROSS THE SEAS
PROTECTING US
EVER PRESENT
IN OUR MOVEMENTS
SHAPESHIFTING THROUGH US
PROIEZIONE: 'Venus Ascending', un film di Meloe Gennai (ca. 30 min):
Con: Anonimo, Akudzwe Elsie Chiwa,Va-Bene Fiatsi, Meloe Gennai, Makeda Monnet, Fatou Niassa Gueye, Daniel Ojienon, Loredane Tschilombo
Sceneggiatura: Meloe Gennai
Voce: Makeda Monnet
Videografia: Sandulela Asanda, Eryka Dellenbach, Carbon (Wandile Dlamini), Silvi Plat, Edward Onsoh
Assistente tecnico: Martin Toloku
Musica di: Meloe Gennai, Makeda Monnet, Daniel Ojienon, Tracy September
Sound design: Omar Gabriel Delnevo
Costumi: Jazil Santschi
Hairstylist: Fatou Niassa Gueye
Graphic Design: Marvin Gabriele Nwachukwu, Emmanuel Yoro
TALK: 'Venus Ascending':
Akudzwe Elsie Chiwa – artista visuale, guaritrice generazionale narrativa, scultrice
Va-Bene Fiatsi (crazinisT artisT) – performer multidisciplinare
Meloe Gennai – poeta, scrittore/trice, performer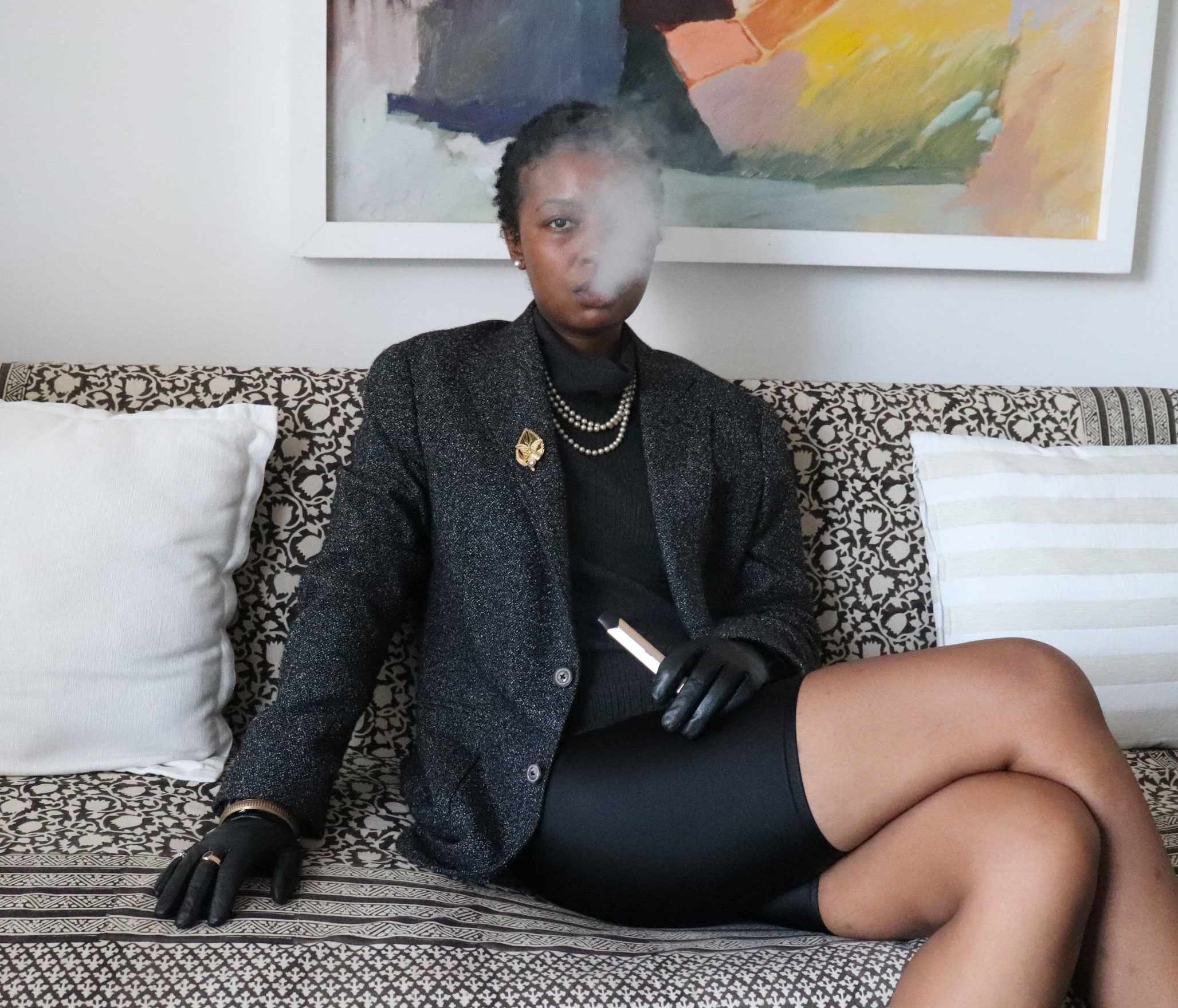 Biografie
Meloe Gennai (1986, Ginevra) è un.a poeta, scrittore.trice e sopravvissuto.a. Meloe è un.a autore.trice pubblicat* e premiat*. A Milano sta scrivendo il suo primo romanzo, On ne pleure plus, che tratta di ascendenza, antenati, culto e auto-determinazione. Inoltre, sta effettuando ricerche presso il Teatro alla Scala, all'interno del quale lavorarono i suoi bisnonni. Infine, sta realizzando un film, Venus Ascending, che prende in considerazione la posizione delle istituzioni artistiche nei confronti di queer, disabili, artisti di colore.
Scopri di più sul progetto di ricerca di Meloe Gennai, leggi il suo ultimo contributo sul blog dell'Istituto Svizzero sul sito del quotidiano svizzero Le Temps.
Akudzwe Elsie Chiwa nasce nel 1991 nella piccola città mineraria di Zvishavane (formalmente conosciuta come Shabane) nei pressi di Masvingo, Zimbabwe. È un'artista visuale diplomata alla Michaelis School of Fine Art. Nel suo lavoro sperimenta con le nozioni di Identità, Femminilità, Pratiche Migratorie, così come con il misticismo e lo storytelling all'interno della cultura Shona. Il suo metodo esplora le conoscenze generazionali e incarnate attraverso un processo artistico intuitivo. Questa modalità le permette di utilizzare capacità tanto consce quanto inconsce, per dare vita a una pratica scultorea evocativa che mira a ricostruire, re-immaginando, storie cancellate e dimenticate del suo passato e della sua cultura. I suoi premi includono il Simon Gerson Award, la Borsa Cecil Skotnes, e il McIver Award, ed è diventata la prima donna di colore a ricevere il Michealis Prize, vinto per il suo lavoro di diploma, Continuum, 2018.
Va-Bene Elikem Fiatsi, "sHit if not she". Nat* nel 1981 a Ho, Ghana, Va-Bene Elikem Fiatsi [crazinisT artisT] lavora a livello internazionale ma vive a Kumasi, Ghana. sHit è "attivista" multidisciplinare, fondatore.trice e direttore.trice artistico.a di perfocraZe International Artists Residency (pIAR), che ambisce a promuovere lo scambio tra artisti locali e internazionali, attivisti, ricercatori, curatori e pensatori. In qualità di performer e artista interattivo.a, crazinisT indaga stereotipi di genere, pregiudizi, omosessualità, politiche e conflitti identitari, stigmi sessuali e le loro conseguenze per gruppi o individui marginalizzati. Con rituali e una fattezza gender-fluid, sHit adotta il suo stesso corpo come strumento per provocare riflessioni in performance, fotografie, video e installazioni, 'life-and-live-art', confrontandosi con questioni di privazione del diritto di voto, giustizia sociale, violenza, oggettificazione, oppressione interiorizzata, razzismo, indottrinazione sistematica e molto altro. crazinisT si è esibit* e ha esposto in tutto il mondo, incluse nazioni come Nigeria, Togo, Ghana, Svizzera, Sudafrica, Germania, Paesi Bassi, Capo Verde, Stati Uniti, Spagna, Brasile, Francia, Regno Unito.