Danza, Performance, Roma
H18:30
Prenotazione richiesta – tutto esaurito
Ingresso: via Liguria 20
Entrata gratuita
Dates
10.06.2021
11.06.2021
Category
Danza, Performance
Information
H18:30
Prenotazione richiesta – tutto esaurito
Ingresso: via Liguria 20
Entrata gratuita
La performance si terrà alle H18:30 nella Sala Elvetica dell'Istituto Svizzero e avrà una durata di 60 minuti.

Prenotazione obbligatoria fino a esaurimento dei posti disponibili. Entrata gratuita.
Cliccare qui per prenotare un posto.
Istituto Svizzero
Via Liguria 20, Rome
Private Song
All'interno dell'edizione 2021 di BUFFALO, l'Istituto Svizzero è lieto di presentare Private Song, una performance dell'acclamata coreografa e artista visiva di Zurigo Alexandra Bachzetsis.
In Private Song – sviluppata per documenta 14 e messa in scena ad Atene e Kassel – Alexandra Bachzetsis attinge a fonti apparentemente eterogenee: confronta il pathos e i gesti codificati delle canzoni popolari greche rebetike con il wrestling, gli stereotipi di genere hollywoodiani e la storia visiva dell'amore e della guerra. L'arte, come suggerisce il filosofo francese Jacques Derrida, dipende dalla sua cornice: questa definisce ciò che può essere visto. Nel suo pezzo Private Song, Alexandra Bachzetsis propone il "framing" come strategia percettiva per interrogare, enfatizzare o neutralizzare la relazione tra il pubblico e i corpi in scena.
La performance si svolgerà presso l'Istituto Svizzero.
Private Song è programmata all'interno di BUFFALO, il festival di arti performative a cura di Michele Di Stefano per Teatro di Roma – Teatro Nazionale e Azienda Speciale Palaexpo.
Biografia
Alexandra Bachzetsis è una coreografa e artista visiva basata a Zurigo. La sua pratica si pone all'intersezione tra danza, performance, arti visuali e teatro, dando vita a una fusione di spazi in cui il corpo, inteso come un apparato artistico e critico, può manifestarsi. Da quando Bachzetsis ha iniziato a lavorare in modo indipendente nel 2001, ha creato, spesso collaborativamente, oltre 30 pezzi che sono stati esibiti in teatri, festival e spazi pubblici in tutto il mondo. Inoltre, il suo lavoro è stato esibito in numerosi spazi d'arte contemporanea e musei, inclusi la Kunsthalle Basel (Basilea, 2008), il Stedelijk Museum (Amsterdam, 2013 e 2015), la Tate Modern (Londra, 2014) e il Jumex Museum (Città del Messico, 2014); così come in molte biennali internazionali, come la Quinta Biennale di Berlino (Berlino, 2008), (d)OCUMENTA 13 (Kassel, 2012) e la Biennale dell'immagine in movimento (Ginevra, 2014). Bachzetsis è stata nominata per il Premio DESTE (2011) e ha ricevuto il Migros Kulturprozent Jubilee Award (2007), lo Swiss Art Award (2011 e 2016) e lo Swiss Performance Prize (2012). Nel 2016 ha partecipato a "The Parliament of Bodies" e "Continuum", Programmi Pubblici a documenta 14. Nel gennaio 2017 ha presentato Massacre: Variations on a Theme al Museum of Modern Art, New York. Più tardi lo stesso anno il suo lavoro è stato incluso nelle mostre di documenta 14 ad Atene e Kassel, così come nei programmi pubblici "The Parliament of Bodies" e "Continuum". Nel giugno 2018 Alexandra Bachzetsis ha presentato le sue performance Private: Wear a mask when you talk to me e Private Song all'High Line New York. Nel 2018 ha inaugurato la mostra An Ideal for Living (2018) al Centre culturel suisse di Parigi e la performance Escape Act ha debuttato al Pact Zollverein a Essen. Il suo ultimo lavoro, Chasing a Ghost (2019), è stato commissionato dall'Art Institute of Chicago ed è stato portato anche in Europa.
(Un estratto dal testo di Hendrik Folkerts)
Crediti
Concetto e coreografia Alexandra Bachzetsis // Performance e ricerca dei movimenti Alexandra Bachzetsis, Thibault Lac, Sotiris Vasiliou // Research Curator Paul B. Preciado // Drammaturgia Tom Engels // Collaborazione ricerca cultura rebetika Alkistis Poulopoulou, Sotiris Vasiliou // Musica Tobias Koch // Musicisti registrati Avgerini Gatsi, Kostis Kostakis, Fotis Vergopoulos, Giannis Zarias // Allenamento voce e Coaching Theodora Baka // Communication Design Julia Born // Coordina<ione editoriale libro Private Song Henriette Gallus // Edizione in greco libro Private Song Sotiris Vasiliou // Fotografia Otobong Nkanga e Nikolas Giakoumakis // Design Costumi Cosima Gadient in collaborazione con Yonatan Zohar // Design Luci e tecnica Patrik Rimann // Stage Design e assistente produzione Peter Baur // Produzione Association All Exclusive // Management produzione Regula Schelling & Franziska Schmidt // Supportato da Schering Stiftung and Stichting Ammodo // Cooperativo accordo finanziario tra la città di Zurigo, il Cantone Basilea Campagna, il Cantone Basilea Città e Pro Helvetia // Co-prodotto con Volksbühne Berlin, Frans Hals Museum | De Hallen Haarlem // Grazie a Adam Szymczyk, Paul B. Preciado, Hendrik Folkerts, Christoph Platz, Shannon Jackson, Mia Born, Oleg Houbrechts, Otobong Nkanga, Daphni Antoniou, Kelly Tsipni-Kolaza, Lenio Kaklea, Evangelia Karakatsani, Verena Bachzetsis, Jannis Tsingaris, Sakis Bachzetsis.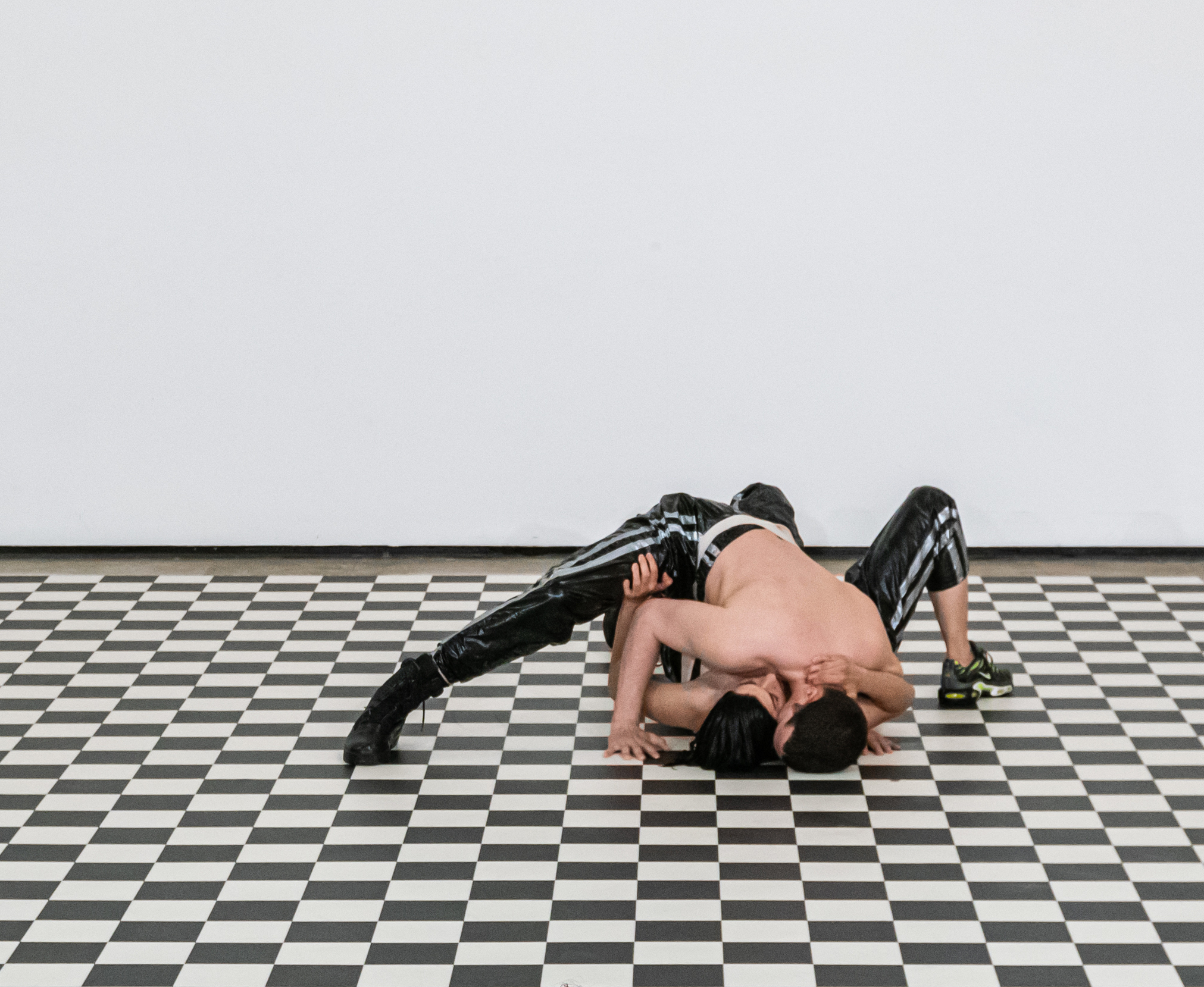 «Private Song sottolinea i distacchi all'interno di voce e gesto, spazio e tempo, affetto e significato, per interrogarsi su come certe cornici culturali e di genere legittimino azione e conoscenza – definendo cosa sia accettabile e cosa no, regolando un senso di realtà, e delimitando le possibilità di azione all'interno della scena a disposizione. Infine, questi atti di riformulazione producono una messa in scena fantasmatica, che agisce come strumento per canalizzare la percezione e l'affetto e che, in ultima istanza, modifica la posizione dello spettatore».
(Un estratto dal testo originale di Paul B. Preciado)