Tanz, Performance, Roma
H18:30
Booking required – Sold out
Entrance: via Liguria 20
Free entry
Dates
10.06.2021
11.06.2021
Category
Tanz, Performance
Information
H18:30
Booking required – Sold out
Entrance: via Liguria 20
Free entry
The performance will take place at H18:30 in the Sala Elvetica of Istituto Svizzero and it will last 60 minutes.
Registration required within the limited capacity of seats. Free entry.
Click here to book your seat.
Istituto Svizzero
Via Liguria 20, Rome
Private Song
Within the context of the 2021 edition of BUFFALO, Istituto Svizzero is pleased to present Private Song, a performance by Zurich-based acclaimed choreographer and visual artist Alexandra Bachzetsis.
In Private Song – developed for documenta 14 and premiered in Athens and Kassel – Alexandra Bachzetsis draws on seemingly heterogeneous sources: she confronts the pathos and codified gestures of popular Greek rebetiko songs with wrestling, Hollywood gender stereotypes, and the visual history of love and war. Art, as French philosopher Jacques Derrida suggests, depends on its frame: this defines what can be seen. In her piece Private Song, Alexandra Bachzetsis proposes "framing" as a perceptual strategy to interrogate, emphasize, or neutralize the relationship between the audience and the bodies on stage.
The performance will take place at Istituto Svizzero.
Private Song is part of BUFFALO, the festival of performing arts conceived for Teatro di Roma – Teatro Nazionale e Azienda Speciale Palaexpo, by artistic director Michele Di Stefano.
Biography:
Alexandra Bachzetsis is a choreographer and visual artist, based in Zurich (CH). Her practice unfolds at the intersection of dance, performance, the visual arts and theater, generating a conflation of the spaces in which the body, as an artistic and critical apparatus, can manifest. Since Bachzetsis started working independently in 2001, she has created over 24 pieces, often working collaboratively, which have been shown in theaters, festivals and public space venues worldwide. In addition to this, her work has been exhibited in a variety of contemporary art spaces and museums, including Kunsthalle Basel (Basel, 2008), the Stedelijk Museum (Amsterdam, 2013 and 2015), Tate Modern (London, 2014) and the Jumex Museum (Mexico City, 2014), as well as a number of international biennials, such as the 5th Berlin Biennial (Berlin, 2008), (d)OCUMENTA 13 (Kassel, 2012) and the Biennial of Moving Images (Geneva, 2014). Bachzetsis was nominated for the DESTE Prize (2011) and is a laureate of the Migros Kulturprozent Jubilee Award (2007), the Swiss Art Award (2011 and 2016) and Swiss Performance Prize (2012). In 2016, Bachzetsis participated in "The Parliament of Bodies" and "Continuum", Public Programmes at documenta 14. In January 2017, she presented Massacre: Variations on a Theme at MoMA, New York City. Later that year her work was included in documenta 14 exhibitions at Athens and Kassel. In June 2018 Alexandra Bachzetsis presented her performances Private: Wear a mask when you talk to me and Private Song at the High Line New York. An Ideal for Living (2018), a solo exhibition at the Centre culturel suisse in Paris opened and the performance Escape Act (2018) premiered at Pact Zollverein in Essen (DE). The latest work Chasing a Ghost (2019) has been commissioned by the Art Institute of Chicago and toured in Europe since.
(An extract from the text by Hendrik Folkerts)
Credits
Concept and Choreography Alexandra Bachzetsis // Performance and Movement Research Alexandra Bachzetsis, Thibault Lac, Sotiris Vasiliou // Research Curator Paul B. Preciado // Dramaturgy Tom Engels // Collaboration Research Rembetiko Culture Alkistis Poulopoulou, Sotiris Vasiliou // Music Tobias Koch // Recorded Musicians Avgerini Gatsi, Kostis Kostakis, Fotis Vergopoulos, Giannis Zarias // Voice Training and Coaching Theodora Baka // Communication Design Julia Born // Editorial Coordination Private Song Book Henriette Gallus // Greek Editing Private Song Book Sotiris Vasiliou // Photography Otobong Nkanga and Nikolas Giakoumakis // Costume Design Cosima Gadient in collaboration with Yonatan Zohar // Light Design and Technique Patrik Rimann // Stage Design and Production Assistant Peter Baur // Production Association All Exclusive // Production Management Anna Geering // Supported by Schering Stiftung and Stichting Ammodo // a cooperative funding agreement between the City of Zurich, Canton of Basel-Landschaft, Canton of Basel-Stadt and Pro Helvetia–Schweizer Kulturstiftung // Co-produced with Volksbühne Berlin, Frans Hals Museum | De Hallen Haarlem // Thanks to Adam Szymczyk, Paul B. Preciado, Hendrik Folkerts, Christoph Platz, Shannon Jackson, Mia Born, Oleg Houbrechts, Otobong Nkanga, Daphni Antoniou, Kelly Tsipni-Kolaza, Lenio Kaklea, Evangelia Karakatsani, Verena Bachzetsis, Jannis Tsingaris, Sakis Bachzetsis.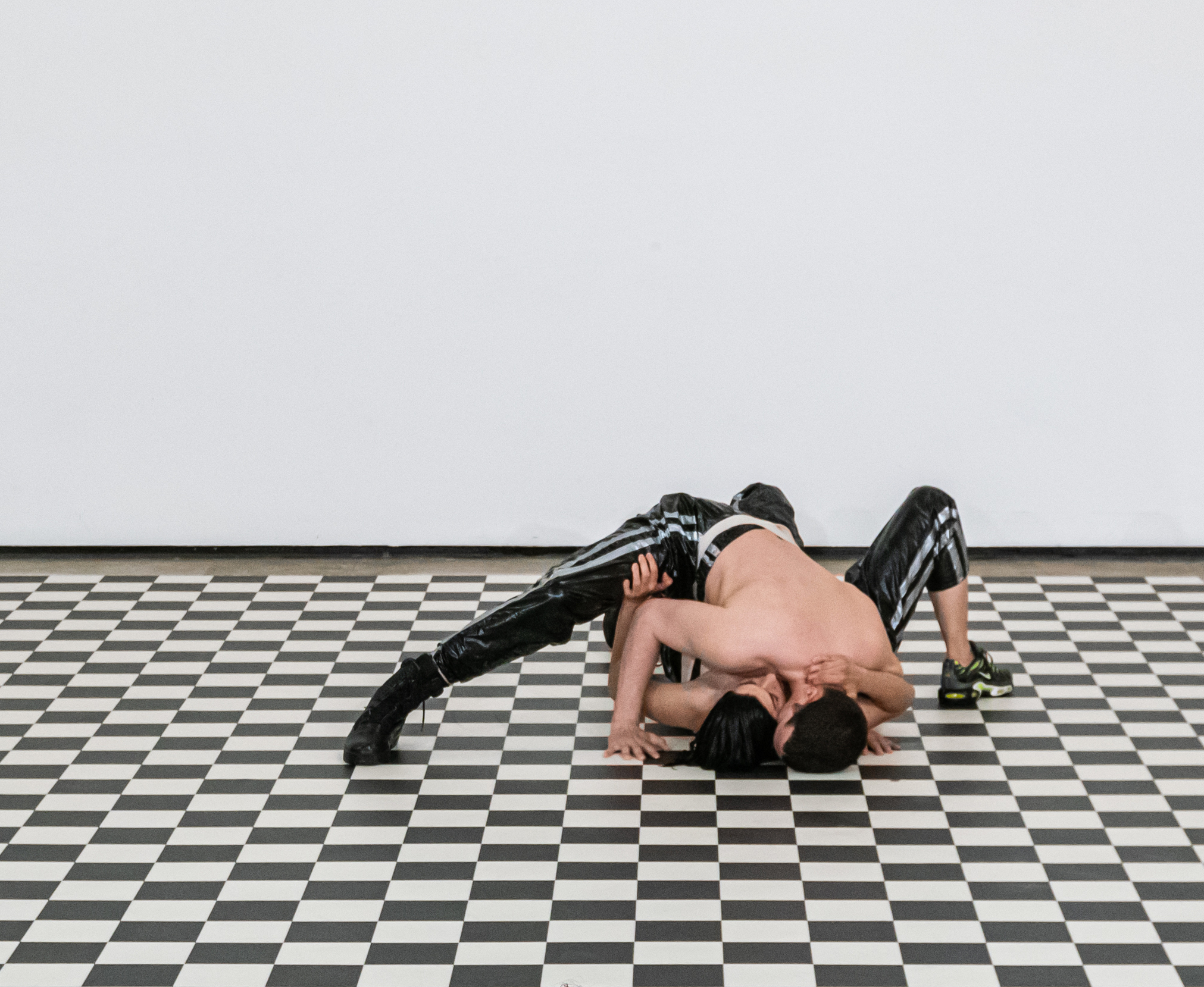 «Private Song stresses the jump cuts within voice and gesture, time and space, and affect and meaning to question how certain cultural and gender frames legitimate action and knowledge—defining what is acceptable or not, regulating a sense of reality, and also delimiting the possibilities for action within a given scene. Finally, these acts of reframing produce a phantasmic staging, working as a device for channeling perception and affect that ultimately transforms the position of the viewer».
(An extract from the text by Paul B. Preciado)