Mostra personale, Milano
Opening 23.05.2018 H18:30
Introduzione
Biografia
Immagini
Dates
24.05.2018
06.07.2018
Category
Mostra personale
Information
Opening 23.05.2018 H18:30
L'Istituto Svizzero presenta "Mister Sun and Missis Moon revisited" personale dell'artista Claude Sandoz.
Sandoz prende come punto di partenza per la mostra una serie di disegni creati negli anni 70' per un nuovo ciclo di dipinti su seta intitolato "Mister Sun and Missis Moon revisited". I grandi disegni lineari che spesso si ispiravano a temi e soggetti dei suoi viaggi in Europa e India, diventano centrali nel corpus di lavoro delle opere originarie. Le immagini tratte da questi diversi luoghi sono raffigurate in modo fluido ed espressivo. L'artista afferma: "In essi appare un mondo fantastico in movimento popolato da strani esseri. Li ho inventati in modo analogo alle realtà della mia vita, che all'epoca erano molto sensibili ".
Rivisitando i disegni originari, Sandoz attinge da questi per estrapolare un importante dizionario di forme e narrazioni, un libro di sogni. Lungi dall'essere il suo corpo di lavoro più conosciuto, rappresenta comunque una pietra miliare nella sua carriera. " Mister Sun and Missis Moon revisited" offre allo spettatore la possibilità di vedere sia i vecchi che i nuovi lavori dell'artista. Attraverso l'utilizzo di pattern Sandoz si muove nel tempo in maniera sincrona; all'interno di essi sono rappresentate scene epiche, microcosmi del suo immaginario. L'artista ravviva la sua memoria: le fantasticherie di oggi si intrecciano a quelle del passato.
Dipingere su seta è una tecnica antica e complessa; Sandoz la padroneggia con colore e gioia, aggiungendo degli elementi personali. Il dipinto è decorato con colpi di pennello color oro e altri colori di terra. Animali e persone o figure antropomorfiche coesistono, storie di cieli e di mare da paesi lontani.
Il movimento nell'opera d'arte ci porta a ripensare alla domanda archetipica sulla sopravvivenza delle narrazioni. Si può rievocare ripetutamente un singolo soggetto legato a molte storie. La libertà permette alla nostra mente di navigare all'interno dei nostri sogni e di incontrare un'immagine del nostro passato. L'opera d'arte si propone come mero supporto di questo processo continuo e infinito.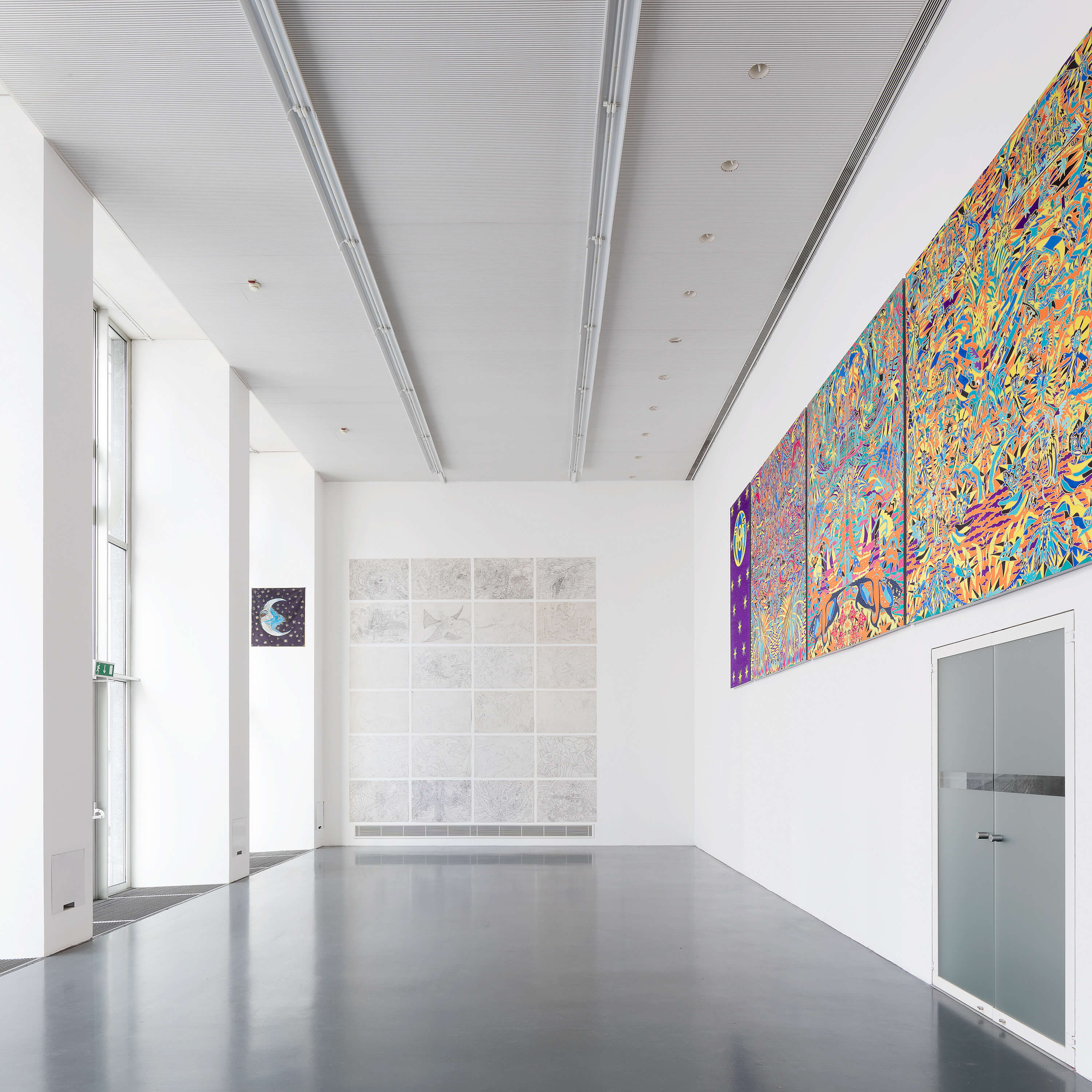 Claude Sandoz
Nato nel 1946 a Neuenburg e cresciuto a Friburgo, Zurigo, Berna. Vive e lavora a Lucerna e Santa Lucia, nelle Indie Occidentali. Dal 1966 lavora come artista visivo freelance su un vasto lavoro che comprende dipinti, disegni, acquerelli, litografie, incisioni su linoleum, vetrate, sculture in ceramica e altri oggetti scultorei, libri d'artista, pitture murali, fotografie, video e installazioni.