Exhibition personelle, Milano
Opening Reception
23.05.2018 H18:30
Intro
Biography
Gallery
Dates
24.05.2018
06.07.2018
Category
Exhibition personelle
Information
Opening Reception
23.05.2018 H18:30
Istituto Svizzero is pleased to present "Mister Sun and Missis Moon revisited" a solo presentation by artist Claude Sandoz.
For his exhibition, Sandoz takes a series of drawings created in the 70's as the foundation for a new cycle of paintings on silk entitled "Mister Sun and Missis Moon revisited".
In the original works, big linear drawings are central to the corpus which often sourced themes and subjects from his travels around Europe and India.  The imagery drawn from these diverse places are portrayed in a very flowing and expressive way. In the artist's words: "In them appear a fantastic world in movement with strange beings in it. I invented them in an analogous way to the realities of my life, which at the time were very sensitive".
By revisiting these drawings, Sandoz taps into them, drawing out an important dictionary of forms and narratives—a book of dreams. Far from being his most known body of work, they still signify a milestone in his career.
"Mister Sun and Missis Moon revisited" offers the viewer a chance to see both old and new works. Sandoz synchronously slides through time periods using patterns; within them are represented epics scenes, microcosms of his imagery. The artist jogs his own memory: today's reveries are interwoven with the ones from the past.
Painting on silk is a complex and antique technique, Sandoz masters it with colour and joy, adding some elements of his own. The painting is embellished with thick brush strokes of gold and other earthy colours. Animals and people or anthropomorphic figures co-exist, stories from faraway lands of skies and seas.
The movement in the artwork brings us back to rethink about the archetypical question of the survival of narratives. One can re-enact over and over a single subject tied to many stories. Freedom allows our mind to navigate within our dreams and encounter an image from our past. The artwork proposes itself as a mere support of this continuous and infinite process.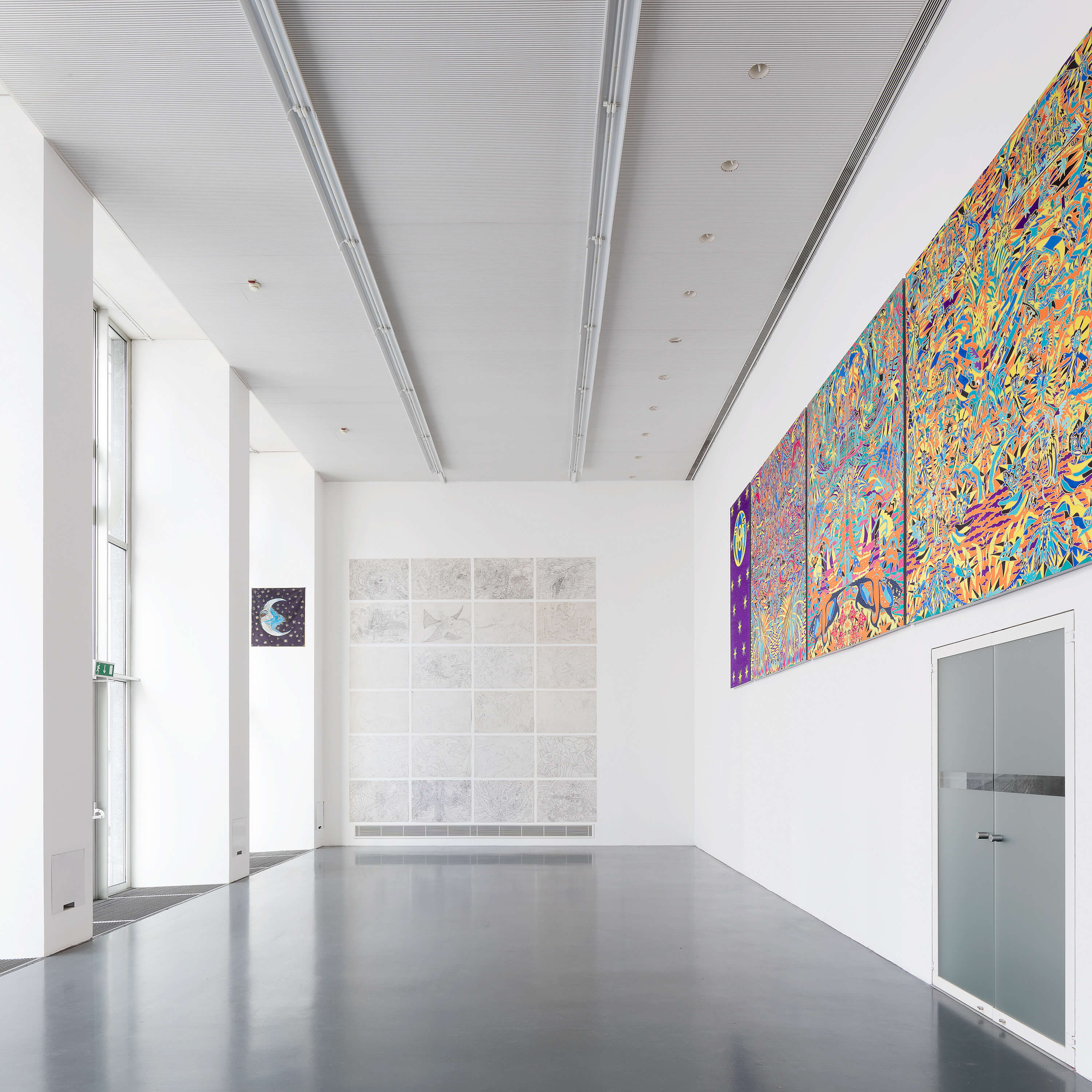 Claude Sandoz
Was born in 1946 in Neuenburg and grew up in Freiburg, Zurich, and Bern. He lives and works in Luzern and Santa Lucia, in Dutch West Indies. Since 1966 he has been working as a freelance visual artist on a big body of work which comprises of paintings, drawings, watercolours, lithographs, linoleum etchings, stained glass windows, ceramic sculptures and other sculptural objects, artist's books, murals, photographs, videos, and installations.