Arte, Mostra collettiva, Milano
Fondazione ICA Milano
GIO-VE: H14:00-19:00
SA: H15:00-19:00
Prenotazione richiesta
Dates
06.05.2021
24.06.2021
Category
Arte, Mostra collettiva
Information
Fondazione ICA Milano
GIO-VE: H14:00-19:00
SA: H15:00-19:00
Prenotazione richiesta
Fondazione ICA Milano e Istituto Svizzero presentano Trovate Ortensia, mostra collettiva delle artiste e degli artisti partecipanti all'edizione 2019-2020 di Roma Calling, il programma di residenza transdisciplinare dell'Istituto Svizzero. L'esposizione è concepita e curata dal collettivo curatoriale Il Colorificio (Michele Bertolino, Bernardo Follini, Giulia Gregnanin, Sebastiano Pala).
Artiste e artisti: Johanna Bruckner, Pauline Julier, Real Madrid, Nastasia Meyrat, Urs August Steiner e Anaïs Wenger.
Il progetto trae spunto da La Libellula (Panegirico della libertà, 1958), "poemetto politico, femminista oltre che poetico" di Amelia Rosselli (1930-1996), poetessa, organista ed etnomusicista. Nel testo di Rosselli, la figura spettrale e ambigua di Ortensia, ereditata dal poema in prosa di Rimbaud, oscilla tra una tensione verso l'esterno e un ritirarsi intimo e riparato. Il vibrare tra queste dimensioni, insieme alla rivendicazione di una libertà espressiva capace di soverchiare le convenzioni linguistiche e ai temi relativi alla cura, alla sessualità e alla morte che appaiono nel poema come tracce fantasmatiche, costituiscono la grammatica della mostra.
Biografie
Johanna Bruckner
Johanna Bruckner (1984, Vienna; vive e lavora a Zurigo) ha conseguito un MA alla Hochschule für Bildende Künste (HFBK) di Amburgo. Le mostre in corso e future includono SCHIRN Kunsthalle (Francoforte), LUMA Westbau (Zurigo), Mediterranea Biennale (San Marino), Istituto Svizzero (Milano), Digital Art Center (Taipei), Haus der Kulturen der Welt (Berlino), il Kunstraum Niederösterreich (Vienna), la 57esima Biennale di Venezia, il CAC Centre d'art contemporain (Ginevra), il MAMCO, il Museo d'arte moderna e contemporanea (Ginevra), KW, Institute for Contemporary Art (Berlino), il Migros Musem für Gegenwartskunst (Zurigo), Cabaret Voltaire (Zurigo). Bruckner è stata nominata per una borsa di studio alla Harvard University, MIT, Cambridge. È stata artist-in-residence all'Akademie Schloss Solitude, al Banff Center for Visual Arts in Canada, alla Sommerakademie Paul Klee e attualmente è borsista alla Jan Van Eyck Academie. Bruckner sta attualmente lavorando a una prossima commissione per Swissnex San Francisco e ha ricevuto il Premio di Riconoscimento per le Belle Arti della Bassa Austria, 2020. Nel 2021 Bruckner ha ottenuto il re:humanism Prize for Art & Artificial Intelligence, che si traduce in una mostra al MAXXI, Museo Nazionale d'Arte Contemporanea, Roma.
Pauline Julier
Pauline Julier (1981) ha studiato all'École Nationale Supérieure de la Photographie d'Arles e ha ottenuto il Master SPEAP a Science Po (Parigi). I suoi film sono stati mostrati in numerosi centri d'arte contemporanea, istituzioni e festival, tra cui il Centre Pompidou (Parigi); Loop Festival (Barcellona); Tokyo Wonder Site; Geneva Contemporary Art Center; la Cinémathèque (Toronto), il Pera Museum (Istanbul), Mona (Tanzanie) tra gli altri. Julier ha ricevuto il Prix d'Art Fédéral Suisse nel 2010 e ha avuto una mostra personale al Centre culturel suisse di Parigi (2017).
Real Madrid
Real Madrid è una pratica artistica avviata nel 2015 a Ginevra.
 Il loro lavoro è stato esposto in istituzioni private e pubbliche come il Migros Museum (Zurigo), Centre d'Art Contemporain (Ginevra), GAK (Brema), Auto Italia South East (Londra). Nel maggio 2021 esporranno al Centre culturel suisse (Parigi). Hanno ottenuto lo Swiss Art Award 2018.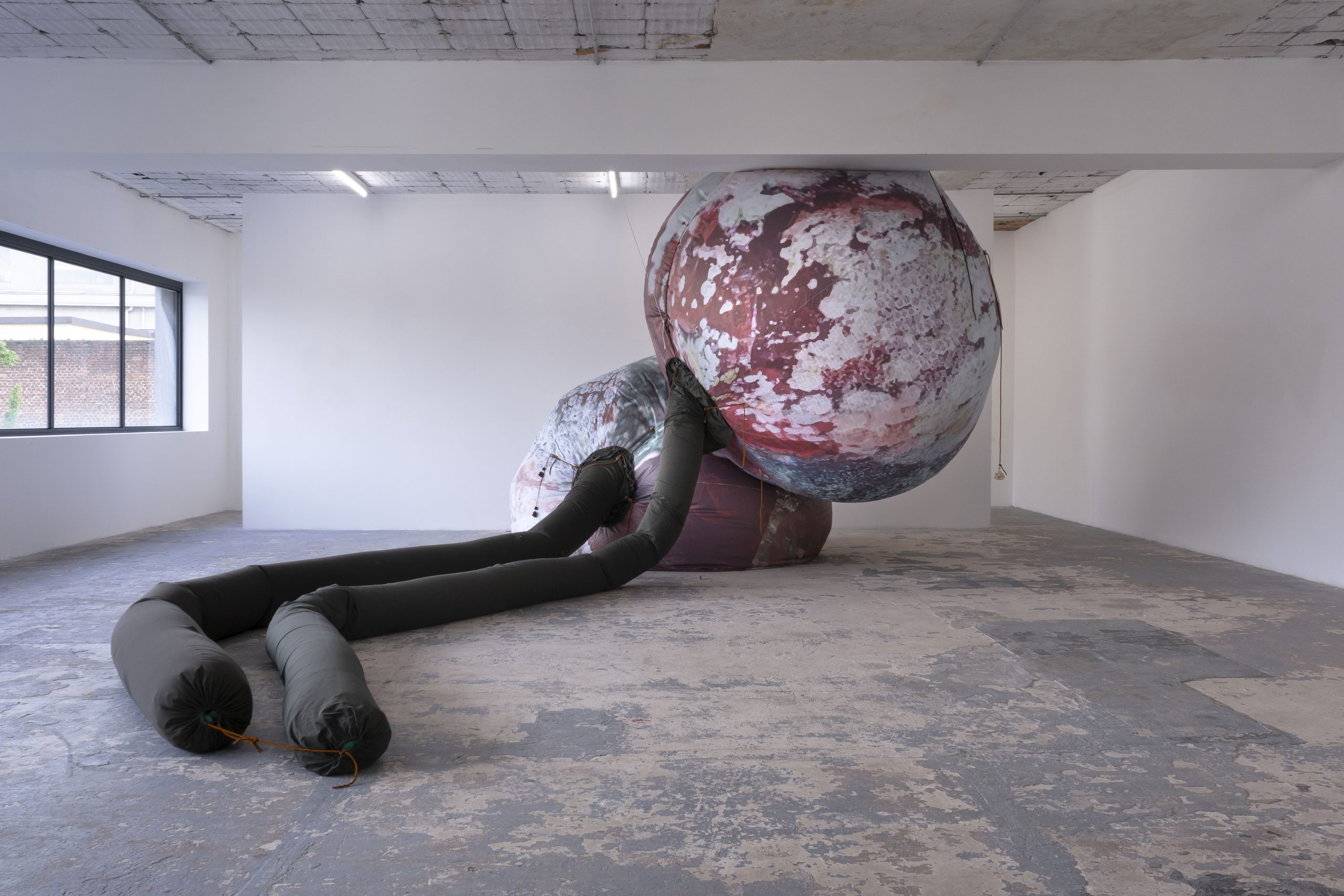 Nastasia Meyrat
Nastasia Meyrat (1991, Svizzera; vive e lavora a Losanna) ha ricevuto un MA alla Haute Ecole d'Art et de Design de Genève (HEAD) nel 2015. Nel 2020 è stata invitata a esporre a Marsiglia per Manifesta 13. Dal 2018-2019 ha co-diretto lo spazio progetto Tunnel Tunnel, con sede a Losanna. Meyrat è stata selezionata nel 2018 per il premio Kiefer Hablitzel e il suo lavoro è stato esposto agli Swiss Art Awards nello stesso anno. Ha partecipato alla residenza Davidoff Art Initiative nel 2017, nella Repubblica Dominicana. Nel 2015, ha esposto il suo lavoro a Port-au-Prince (Haiti), dopo aver partecipato alla residenza Ghetto Biennale. Nel 2015 ha esposto al Musée Cantonal des Beaux-Arts di Losanna ed è stata selezionata per il premio New HEADS – BNP Paribas Foundation Art Awards nel 2015, in concomitanza con la mostra collettiva GET OUT, curata da Latifa Echakhch.
Urs August Steiner
Urs August Steiner (vive e lavora a Zurigo) ha studiato alla Zürcher Hochschule der Künste (ZHdK) (Zurigo), al California College of the Arts (San Francisco) e ha completato un MA in Fine Arts all'École cantonale d'art de Lausanne (ECAL) nel 2011. Ha esposto a Splatterpool (New York), al Grand Palais (Berna), al Museum of Contemporary Art – MoCA (Shanghai), Despacio (San José, Costa Rica), Kunsthaus Glarus, Dienstgebäude (Zurigo), Bombay Beach Biennale (California), Last Tango (Zurigo), Istituto Svizzero (Roma). È stato artista in residenza nel 2015 a Shanghai (Pro Helvetia), nel 2012 a New York (Residency Unlimited), nel 2019-2020 a Roma (Istituto Svizzero). Nel 2018 ha vinto il Werkbeitrag Pro Helvetia, nel 2018 e nel 2016 il Werkbeitrag Kanton St. Gallen e nel 2014 il Fokus-Preis Kunsthaus Glarus.
Anais Wenger
Anaïs Wenger vive e lavora a Ginevra. Ha ottenuto un BA e un MA alla Haute Ecole d'Art et de Design de Genève (HEAD) e ha studiato al National College of Art and Design di Dublino. Ha avuto l'opportunità di sviluppare il suo lavoro in varie istituzioni e spazi indipendenti come il Solstice Art Center (Navan), Zabriskie Point (Ginevra), Badenfarht (Baden), LIYH (Ginevra), Kunstmuseum Langenthal, Théâtre du Loup (Ginevra), Espace Libre (Biel), CAC (Ginevra), CAN (Neuchâtel), FriArt (Friburgo), Kaserne (Basilea), 3353 (Carouge), Alienze (Losanna), Point Chaud (Losanna), Festival Antigel (Ginevra), WallRiss (Friburgo), La Comédie (Ginevra), Motrat (Pristhina), Espace Témoin (Ginevra), Palais de l'Athénée (Ginevra). Ha ottenuto il Premio Hirzel nel 2019-20, il Grant di Ginevra nel 2018 e il Premio Studer/Ganz Stiftung nel 2017. È stata nominata per il Premio Mobilière nel 2020, il Kiefer Hablitzel nel 2019 e lo Swiss Performance Awards nel 2018.