Art, Exhibition collective, Milano
Fondazione ICA Milano
THU-FRI: H14:00-19:00
SAT: H15:00-19:00
Booking required
Dates
06.05.2021
24.06.2021
Category
Art, Exhibition collective
Information
Fondazione ICA Milano
THU-FRI: H14:00-19:00
SAT: H15:00-19:00
Booking required
Fondazione ICA Milano and Istituto Svizzero present Trovate Ortensia, a group show with the artists participating to the 2019-2020 edition of Roma Calling, the transdisciplinary residency program organized by Istituto Svizzero. The exhibition is conceived and curated by the curatorial collective Il Colorificio (Michele Bertolino, Bernardo Follini, Giulia Gregnanin, Sebastiano Pala).
Artists: Johanna Bruckner, Pauline Julier, Real Madrid, Nastasia Meyrat, Urs August Steiner and Anaïs Wenger. 
The project takes its origins from La Libellula (Panegirico della libertà, 1958), "political short poem, feminist as well as poetic" by Amelia Rosselli (1930-1996), poetess, organist and etno-musician. In the text by Rosselli, the ghostly figure of Ortensia, inherited from the poem in prose by Rimbaud, oscillates between a tension toward the outside and an intimate and repaired withdrawing. The resonating between these dimensions, together with the claim of an expressive freedom able to overpower the linguistic conventions and with topics related to care, sexuality and death, which appear within the poem as ghostly traces, constitute the grammar of the show.
Biographies:
Johanna Bruckner
Johanna Bruckner (1984, Wien; lives and works in Zurich) has gained an MA at Hochschule für Bildende Künste (HFBK) in Hamburg. Recent and upcoming exhibitions include SCHIRN Kunsthalle (Frankfurt), LUMA Westbau (Zurich), Mediterranea Biennale (San Marino), Istituto Svizzero (Milan), Digital Art Center (Taipei), Haus der Kulturen der Welt (Berlin), the Kunstraum Niederösterreich (Wien), the 57th Venice Biennial, CAC Centre d'art contemporain (Geneva), MAMCO, the Museum of Modern and Contemporary Art (Geneva), KW, Institute for Contemporary Art (Berlin), the Migros Musem für Gegenwartskunst (Zurich), Cabaret Voltaire (Zurich). She has been nominated for a fellowship at Harvard University, MIT, Cambridge. She was artist-in-residence at Akademie Schloss Solitude, the Banff Center for Visual Arts in Canada, the Sommerakademie Paul Klee and is currently a fellow at the Jan Van Eyck Academie. Bruckner is currently working on an upcoming commission for Swissnex San Francisco and received the Recognition Award for Fine Arts of Lower Austria, 2020. Bruckner won the re:humanism Prize for Art & Artificial Intelligence in 2021, which results in an exhibition at the MAXXI, National Museum of Contemporary Art, Rome. 
Pauline Julier
Pauline Julier (1981, Geneva; lives and works in Geneva) studied at the École Nationale Supérieure de la Photographie d'Arles and obtained the Master SPEAP at the Science Po (Paris). Her films have been shown in the Centre Pompidou (Paris); Loop Festival (Barcelona); Tokyo Wonder Site; Geneva Contemporary Art Center; the Cinémathèque (Toronto), the Pera Museum (Istanbul), Mona (Tanzanie) among others. Julier received the Prix d'Art Fédéral Suisse in 2010 and had a solo exhibition at the Centre culturel suisse in Paris (2017).
Real Madrid
Real Madrid is an artist practice started 2015 in Geneva. 
Their work has been exhibited in private and public institutions like Migros Museum (Zurich), Centre d'Art Contemporain (Geneva), GAK (Bremen), Auto Italia South East (London). In May 2021 they will exhibit at Centre culturel suisse (Paris). They won the Swiss Art Award 2018.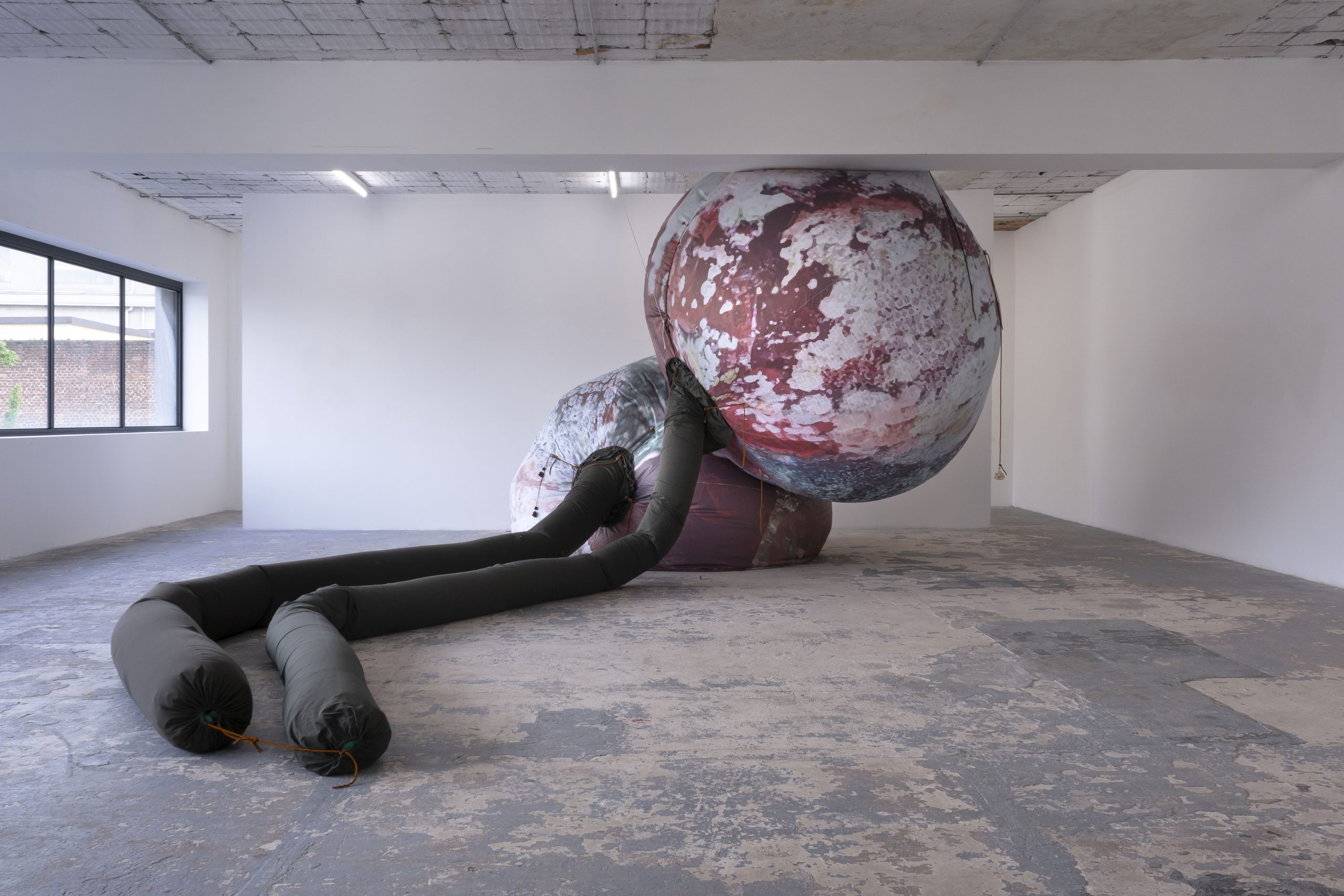 Nastasia Meyrat
Nastasia Meyrat (1991, Switzerland; lives and works in Lausanne) received an MA with honours from the Haute Ecole d'Art et de Design de Genève (HEAD) in 2015. In 2020, she was invited to exhibit in Marseille for Manifesta 13. From 2018-2019 she co-directed a project-space based in Lausanne, Tunnel Tunnel. Meyrat was selected in 2018 for the Kiefer Hablitzel prize and her work was exhibited at the Swiss Art Awards the same year. She was in residency with the Davidoff Art Initiative in 2017, in the Dominican Republic. In 2015, she exhibited her work in Port-au-Prince (Haiti), after she did the residency Ghetto Biennale. In 2015, she exhibited at the Musée Cantonal des Beaux-Arts of Lausanne and was selected for the New HEADS – BNP Paribas Foundation Art Awards prize in 2015, concurrent with the group exhibition GET OUT, curated by Latifa Echakhch.
Urs August Steiner
Urs August Steiner (1980, lives and works in Zurich) studied at the Zürcher Hochschule der Künste (ZHdK) (Zurich), at the California College of the Arts (San Francisco) and completed an MA degree in Fine Arts at the École cantonale d'art de Lausanne (ECAL) in 2011. Among others, he has exhibited at Splatterpool (New York), Grand Palais (Bern), Museum of Contemporary Art – MoCA (Shanghai), Despacio (San José, Costa Rica), Kunsthaus Glarus, Dienstgebäude (Zurich), Bombay Beach Biennale (California), Last Tango (Zurich), Istituto Svizzero (Rome). He was artist in residence in 2015 in Shanghai (Pro Helvetia), in 2012 in New York (Residency Unlimited) and in 2019/20 in Rome (Istituto Svizzero). In 2018 he won the Werkbeitrag Pro Helvetia, in 2018 and 2016 the Werkbeitrag Kanton St. Gallen, and in 2014 the Fokus-Preis Kunsthaus Glarus.
Anaïs Wenger
Anaïs Wenger (1991, lives and works in Geneva) holds a BFA and an MFA obtained at the Haute Ecole d'Art et de Design de Genève (HEAD), she also studied at the National College of Art and Design of Dublin. Since then, she had the opportunity to develop her work in various institutions and independent structures such as the Solstice Art Center (Navan), Zabriskie Point (Geneva), Badenfarht (Baden), LIYH (Geneva), Kunstmuseum Langenthal, Théâtre du Loup (Geneva), Espace Libre (Biel), CAC (Geneva), CAN (Neuchâtel), FriArt (Fribourg), Kaserne (Basel), 3353 (Carouge), Alienze (Lausanne), Point Chaud (Lausanne), Festival Antigel (Geneva), WallRiss (Fribourg), La Comédie (Geneva), Motrat (Pristhina), Espace Témoin (Geneva), Palais de l'Athénée (Geneva). She gained the Hirzel Prize, the Grant of Geneva in 2018 and the Studer/Ganz Stiftung Prize in 2017. She has been nominated for the Mobilière Prize in 2020, the Kiefer Hablitzel in 2019, and the Swiss Performance Awards in 2018.