For the finissage of Dominic Michel's exhibition Then, Oh Then, Oh Then, Istituto Svizzero, in collaboration with the Zurich publishing platform Fromheretillnow, presents an evening with sound by Nina Emge and Heith.
The title of the event – Echo Shelves – is an allusion to Dominic Michel's interest in the scenic nature of public inventory and in the stories inscribed in objects and places, which are thus carriers of echoes of very different kinds. For Dominic, Echo Shelves also means the slow fading out of his exhibition, which, as he says, is put into a «dark mode», that befits the exhibition's conclusion. The balls of the light chain remain switched off and the screen prints slowly disappear in the twilight. The exhibition is repurposed and becomes the backdrop for the musical contributions of Nina Emge and Heith (Daniele Guerrini). The two musicians and artists bring their own stories and approaches into the exhibition. And they let the exhibition fade out with their sound.
Programme:
H19:00 ― Doors open
H19:30 ― DJ set by Nina Emge
H20:30 ― Live set by Heith
Istituto Svizzero
Via del Vecchio Politecnico 3, Milano
Free entrance
Drinks available on site
On the day preceding the finissage (Friday, 03.11.2023) the curator Gioia Dal Molin will provide guided tours of the exhibition from 16:30 to 18:00.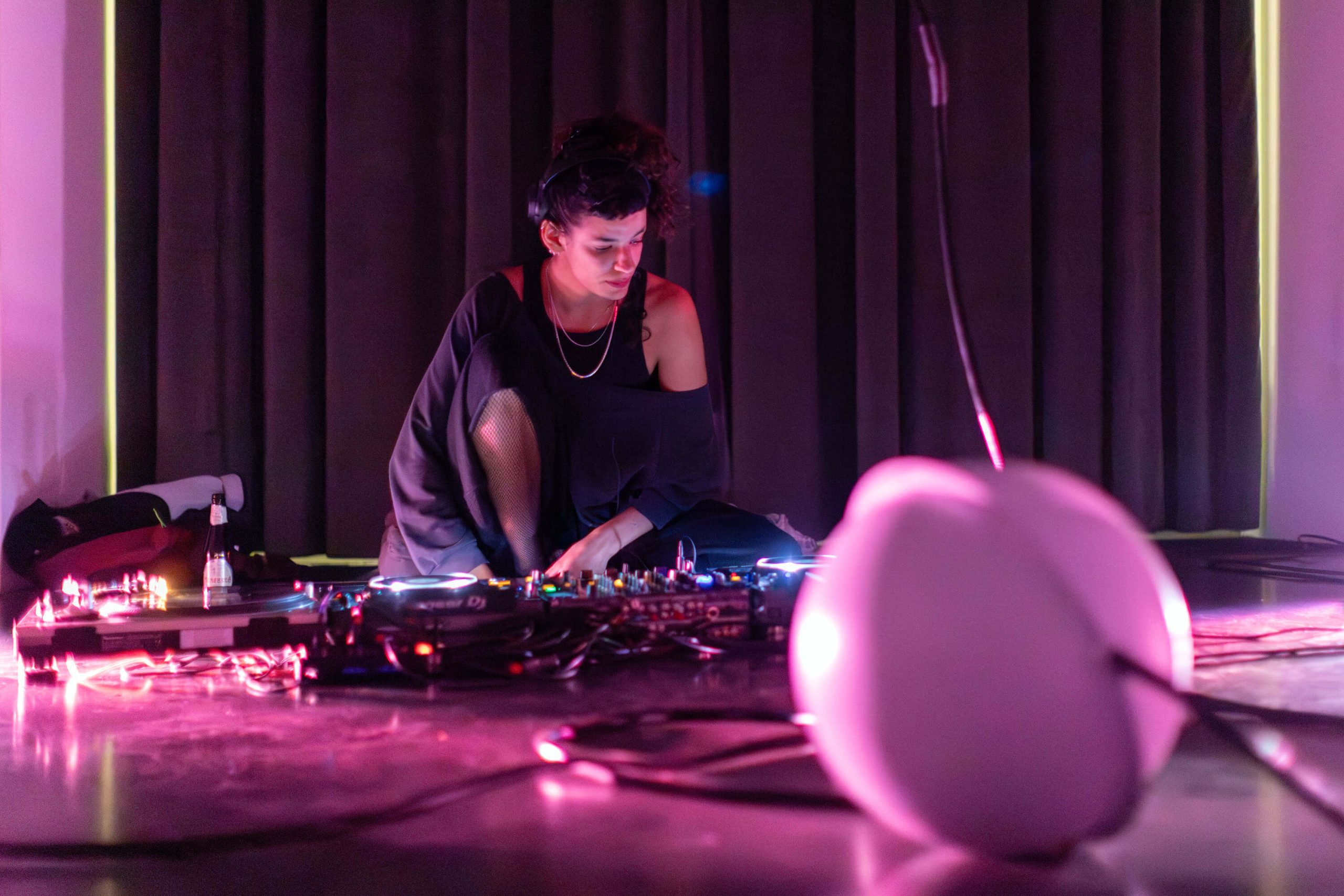 Nina Emge (1995, lives and works in Berlin and Zurich) often examines organic forms, sound and its effect in her practice. In addition, questions around the concept of listening play a central role. This is evident in her research and archival work, her installations and drawings, and in the often collaborative working and creation processes of her works, among others. Nina Emge is an active member of the Transnational Sound Initiative, DAAD Fellow. Her works have been shown at Les Complices Zurich, Les Urbaines Lausanne, Shedhalle Zurich, Kunsthalle Zurich and other national and international project spaces.
Heith's music crosses many different sonic landscapes, but it sets ground on a no man's land of electronic music, where organic and digital clash thoroughly and constantly. Often reminiscing confusion and puzzlement, his music sets the ground for a mediated conflict between different practices, something that was extremely clear in his latest opus X, wheel, released by PAN in October 2022, where synths, percussion and electronic often occupy and dispute the same space as organic elements, such as guitar. This renders his music extremely textural, thus visual and rhythmic, surpassing the over-explored European tradition of melody-harmony above all, in a contemporary ritualistic form yet to be mapped. After the establishment of his label Haunter Records in 2013, he became part of the curatorial team of Milan's legendary space Macao. He released a bunch of EPs (Laguna 2018, Mud 2019, Lo Zoo di Venere 2020) and collaborated with several artists including Puce Mary, Visio, Kareem Lotfy and Jesse Osborne-Lanthier.
Fromheretillnow is a Zurich-based publishing platform exploring the evolving musical landscape through imagery, sound and multidisciplinary collaborations. Focusing on various outputs around the fields of experimental music, DIY aesthetics and underground culture, artists, writers and musicians are invited to participate with their everyday practices. From site-specific events and off-space exhibitions to ongoing research projects, fromheretillnow offers space for the unknown. Since being founded, the platform has expanded its network and provides a selection of articles, interviews and music related contributions.
The event may be photographed and/or video recorded for archival, educational, and related promotional purposes. By attending this event, you are giving your consent to be photographed and/or video recorded.