Art, Performance, Sound, Palermo - Loggiato di San Bartolomeo
Location
Palermo - Loggiato di San Bartolomeo
Category
Art, Performance, Sound
Also this year, Istituto Svizzero celebrates the winter solstice with a programme of performances and live-sets in Palermo, Milan and Rome.
The shortest day of the year: the winter solstice, by convention, is the moment in which, due to the position of the Sun with respect to the equator, the longest night and the shortest day correspond. An astronomical event rich in symbolic meanings – sometimes even controversial – that was celebrated in antiquity by pagan populations before the advent of Christianity: the Romans celebrated Sol Invictus, the Egyptians the birth of Horus, the Greeks worshipped Helios. After the prevailing hours of winter darkness, the Sun seemed to be reborn and became invincible (from Latin Sol Invictus). A time of year that, ancestrally, marks the passage from darkness to light. And it is precisely to the search for light, for the divine that is in the air, for the myth and the beauty of nature that Istituto Svizzero revolves these three evenings of movement and sound experimentation.
Curated by Gioia Dal Molin.
---
14.12.2023 H20:30-24:00
Loggiato di San Bartolomeo, via Vittorio Emanuele 25, Palermo
Free entry within the limited capacity 
Food and drinks can be purchased on-site

PERFORMANCES BY:
Julie Monot & Léonore Brunner, Changing Room, 35 min
With the participation of Antoine Schalk Simaeo and Ramaya Tegegne
Tiran Willemse, blackmilk, 45 min
Live set: knarzy in collaboration with Fluidae, Fluidae presents knarzy (live), 55 min
The event is organized in collaboration with Fondazione Sant'Elia Palermo.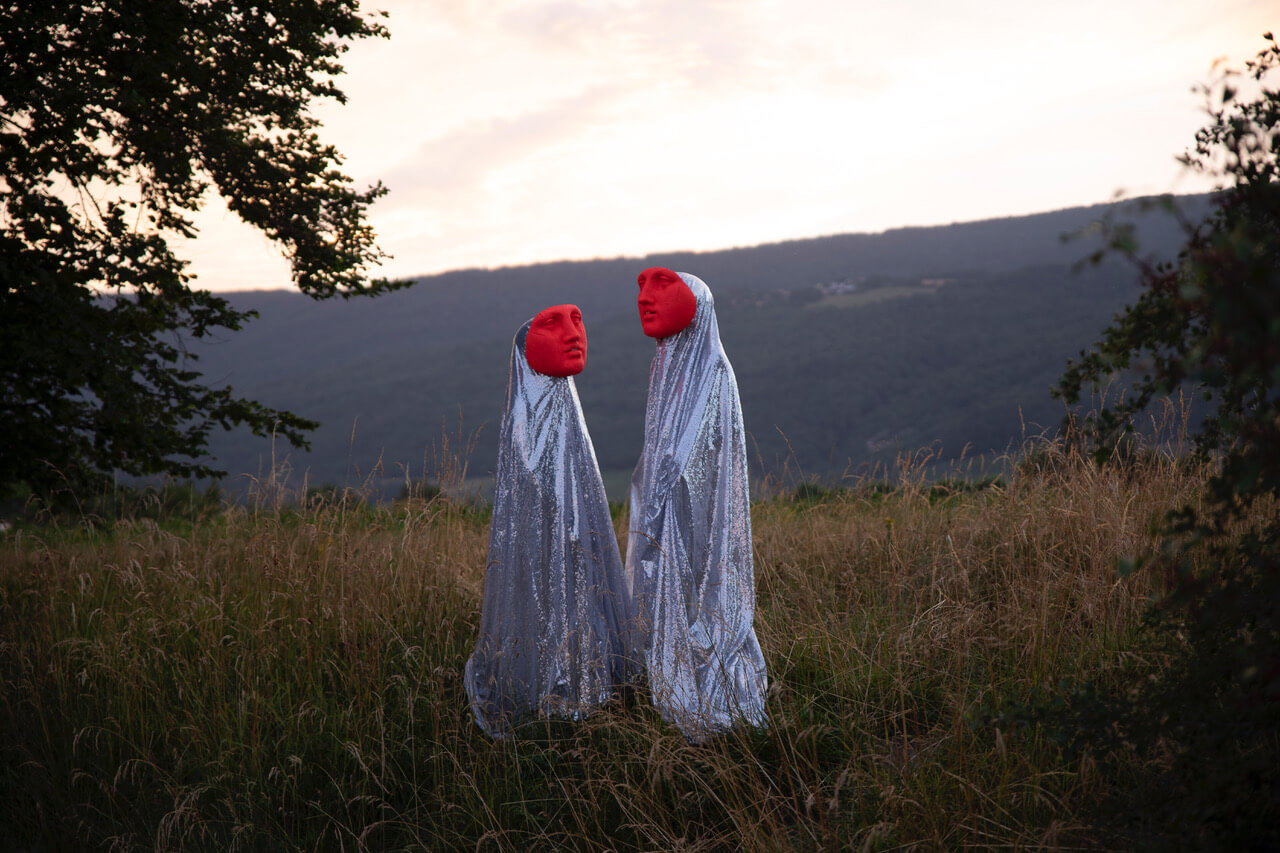 Julie Monot holds a Bachelor's degree in Visual Arts from HEAD in Geneva (2017) and a Master's degree in Visual Arts from ECAL in Lausanne (2019). Her artistic practice is inscribed in different mediums such as installation, sculpture, performance and video. Her research has, among other things, focused on the limit zones of bodily exteriority and its modes of representation. The notion of figure is part of her specific interests, because this notion is polysemic and shifting, but especially, because it allows a figural space, a critique on our social constructions. The accessory of transformation, the costume, the prosthesis, the body "furniture" and its objects in connection with a praxis are part of her daily reflections.
Léonore Brunner obtained her Bachelor's degree in Visual Art from the Geneva University of Art and Design in 2019. She is currently completing a Master's degree in Museology at the University of Neuchâtel. Her artistic practice focuses on live sound, which she combines with visual scenography to create innovative sensory experiences. Her approach involves composing images and sounds that are integrated into the spaces in which she performs, placing the notions of texture, noise, harmony, repetition and rhythm at the heart of her research and interests.
Tiran Willemse is a dancer, choreographer and researcher from South-Africa based in Zurich. Their performance based practice is rooted in a careful attention to space, imagination, gesture and sound, focusing on how they relate to the ways in which construction of race and gender are performed, communicated and challenged. They are artist in residence at Gessnerallee in Zürich and their work continues touring internationally.
The identity of knarzy – from Modica and based in Bologna – takes shape during her 3 years at the G. B. Martini Conservatory in Bologna. Her activity as a producer begins in 2020, when she releases his first record MVMNT EP with the label Timeless Records. At the same time she gives life to his project entitled ACIDM in which she combines Acid basslines with the sounds and rhythms of IDM, in a live set that starts from slow tempos to typical dancefloor rhythms. 2023 is the year of the release of her EP Mental Breakbeats which confirms knarzy as one of the most interesting artists of the Sicilian underground scene.
Fluidae, founded by the three Sicilian DJs – by origin and adoption – Emilia Callari, Federica Vita, Mariana Bek, is a space of fluid creative experimentation, a community of interconnected souls and bodies to thin the gender gap in the world of underground music and culture. Fluidae's soundsystem is a one-of-a-kind experience: the heterogeneous sounds of the three DJs converge into a unique synergy of female artists and dancefloor, creating a fluid continuum between the community and the DJ booth, in a journey to be discovered. Not only DJs, but also organizers of parties and safe spaces for anyone who wants to discover a different, diverse, free and inclusive world.