Art, Performance, Sound, Milano - Fondazione Feltrinelli
Location
Milano - Fondazione Feltrinelli
Category
Art, Performance, Sound
Also this year, Istituto Svizzero celebrates the winter solstice with a programme of performances and live-sets in Palermo, Milan and Rome.
The shortest day of the year: the winter solstice, by convention, is the moment in which, due to the position of the Sun with respect to the equator, the longest night and the shortest day correspond. An astronomical event rich in symbolic meanings – sometimes even controversial – that was celebrated in antiquity by pagan populations before the advent of Christianity: the Romans celebrated Sol Invictus, the Egyptians the birth of Horus, the Greeks worshipped Helios. After the prevailing hours of winter darkness, the Sun seemed to be reborn and became invincible (from Latin Sol Invictus). A time of year that, ancestrally, marks the passage from darkness to light. And it is precisely to the search for light, for the divine that is in the air, for the myth and the beauty of nature that Istituto Svizzero revolves these three evenings of movement and sound experimentation.
Curated by Gioia Dal Molin.
---
15.12.2023 H18:30-23:00
Fondazione Giangiacomo Feltrinelli, viale Pasubio 5, Milano
Free entry, book here
Food and drinks can be purchased on-site

PERFORMANCES BY:
Valerie Reding, Lovefool, 22 min
Caterina Gobbi, Returning to the party after a good cry, 20 min
Murat Adash, Correspondance (Threshold), 25 min
Élie Autin, Antichambre, 25 min
DJ set: Leila Moon
The event is organized in collaboration with Fondazione Giangiacomo Feltrinelli.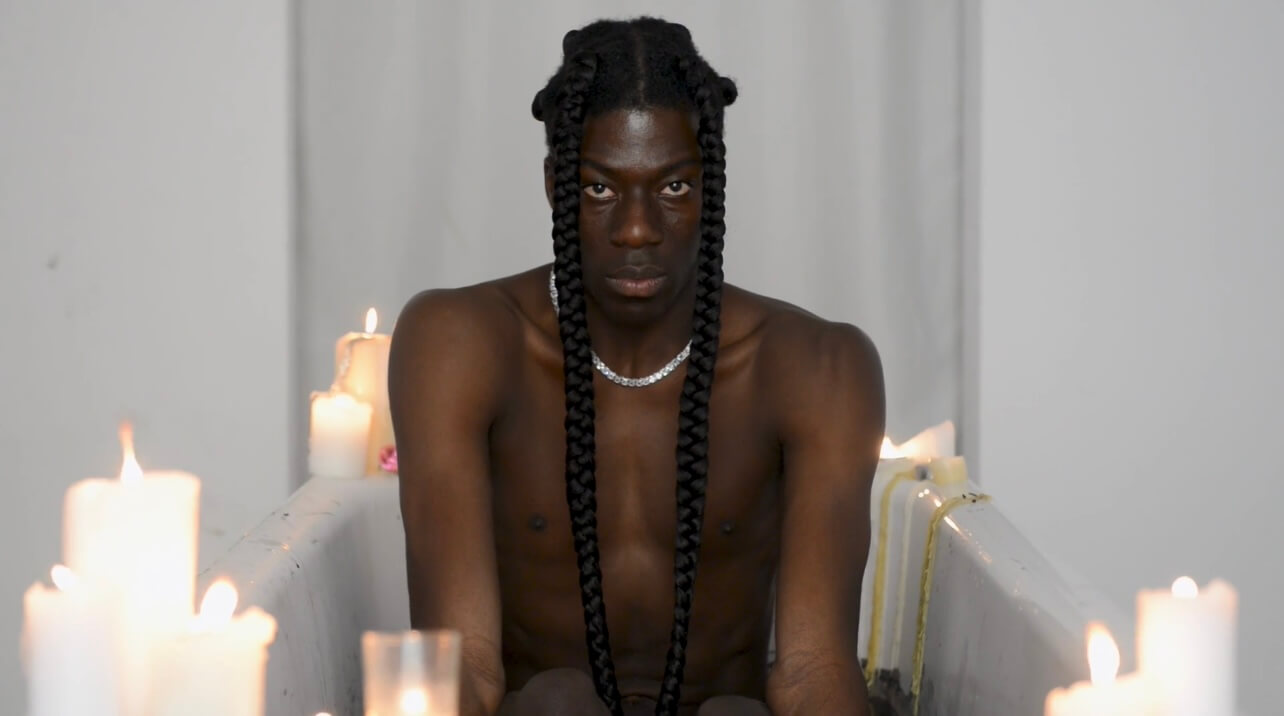 Valerie Reding is a transdisciplinary artist based in Switzerland and Luxembourg. After training as a classical ballet dancer in Luxembourg, they studied Architecture at ETH Zurich and Media Arts at the Universities of the Arts in Zurich and Vienna. Besides their academic studies, they worked internationally as a makeup artist in fashion and film, and explored the art of drag in San Francisco's and Zurich's nightclubs. Today, they combine all these experiences in their eclectic artistic practice oscillating between performance, photography, video, text, installation, costume design, event curation and drag. Intrigued by the complexities of human psychology, interpersonal relationships, societal power dynamics and pop culture, they explore the potential of vulnerability, auto-fiction, togetherness, transformation and camp to explore questions around subjectivity and relationality. Their works have been shown internationally. In Milano she is presenting a site specific adaptation of Lovefool.
Caterina Gobbi is an Italian artist based in the italian Alps. She has a background in product and set design and completed a Master of Fine Art at the Royal College of Art in London. Recent solo exhibitions and performances include: Castello Gamba, Italy; Chalton Gallery, London; Soundscape #2. Chiaravalle, Milan; AliveLab Aterliersì. Art City, Bologna. Recent group exhibitions include Matrix Bodies Kunstraum Niederoesterreich, Vienna; Ende Neu KINDL, Berlin; Binary Code Saeger Gallery, London; OUTPOST Open Sound, Outpost Gallery, Norwich; Artnight. Public market place, Nine Elms, London.
Murat Adash is a German-Turkish visual artist and researcher whose expanded choreographic practice develops works across a range of media and formats encompassing performance, moving image, installation, and writing. Beyond the notion of animal mimicry, Murat has been developing a choreographic research body on the phenomenon of 'camouflage' understood as a spatio-temporal act: a process through which bodies are negotiated in correspondence with their surrounding environments, processes that are intrinsic to choreography as well. Murat holds an MFA in Visual Arts and Performance from the School of the Art Institute of Chicago and a practice-based PhD on camouflage from Goldsmiths, University of London.
Élie Autin is a multidisciplinary artist who works across several artistic media: choreography, modelling, performance and the visual arts. Her first solo, Présage, premiered at the Arsenic in autumn 2022. Antichambre is another solo that commemorates past bacchanals but within a narrative order it plays out a new ritual of power and seduction. As a performer and dancer, Élie works with a number of artists, including Tamara Alegre, caner teker, Marvin Mtoumo, the Ouinch Ouinch collective, and Natasza Gerlach and others. As a model and photo model, she regularly performs and poses for various artists and brands, including Dior for DAZED. In parallel, the artist is also developing her visual work, with exhibitions at Circuit (Lausanne), Hamlet (Zurich) and La rada (Locarno), Like A Little Disaster (Polignano a mare), Amore (Basel), La Becque (Vevey) and other places.
Leila Moon is an international DJ, resident at radio Alhara, producer and coach. She mixes her favorite tracks of various genres, capturing her current mood and state of mind. Her North African heritage has influenced all of her work and can't go unrecognized during her performance.