Art, Performance, Mattatoio di Roma - Pelanda
Dates
26.05.2022
27.05.2022
Location
Mattatoio di Roma - Pelanda
Category
Art, Performance
Everything fits in the room
Performance, 75'
H20:00
Foyer 1, Pelanda
Admission free while places last
No admission under the age of 14
The performance includes scenes with nudity
Inside the room, dungeon-esque encounters and ordinary domestic lingering exercise a politic that comes with care taking, danger and amnesia.  Aughterlony and Rosenblit alongside Gutierrez and Self on sound, maintain a complicated relationship to order that encourages cracks and leaks inside architectures for gathering. A free-standing wall, a roaming kitchen island and decaying bodies are part of a disruptive ecology that needs constant adjustment. Rhythmic sorcery drives the effort despite the un-governability of ingredients. Is this a construction site or a cooking show? The room offers an expanded horizon, no longer obliged to rid oneself of the things that supposedly suspend progress.
Simone Aughterlony is an independent artist based in Zurich and Berlin, working predominantly in dance and performance and visual art contexts. Simone has received the KFV funding from Stadt Zürich, Kanton Zürich and Pro Helvetia between the years 2006 to 2020. Simone was the recipient of the Stadt Zürich recognition prize in 2011 and the prizewinner for the BAK award for best performer in 2015. Simone regularly teachers at academic institutions such as ZHdK and Manufacture in Lausanne as well devising and facilitating elaborate laboratory formats and frames for sharing and producing knowledge.
Jen Rosenblit (1983, USA) makes performances based in Berlin after many years in New York City surrounding architectures, bodies and ideas concerned with problems that arise inside of agendas for togetherness. Rosenblit's works lean toward the uncanny and maintenance of care, locating ways of being together amidst (un) familiar and impossible contradictions. Rosenblit looks for meaning as it emerges between things and toward an unwinding or possible collapse rather than world building methods. Rosenblit is a 2018 Guggenheim Fellow, a recipient of a 2014 New York Dance and Performance 'Bessie' Award, a 2023 La Becque (Vevey, CH) artist in residence and has collaborated with artists including Simone Aughterlony, Miguel Gutierrez, A.K.Burns and Philipp Gehmacher. Rosenblit's newest work, <ElseWhere Rhapsody> is a 2023 co-production of Tanzfabrik Berlin and Tanzquartier Wien, offering distraction as a guide to speak toward the illegibility of desire and forgetfulness as a way to shift toward something else, away from the damaging repetition.
The performance is part of the programme re-creatures (5-28 May 2022) curated by Ilaria Mancia at La Pelanda, an invitation to publicly share in a multifaceted network of proposals linked to the different languages of the performance arts, in the belief that artistic research and discursive and critical practices are the most effective tools for overcoming identity-related prejudice, for activating dialogue (including among different species), for preventing conflict escalation and for working on coming to terms with the lunacy of human destructiveness. Today more than ever before.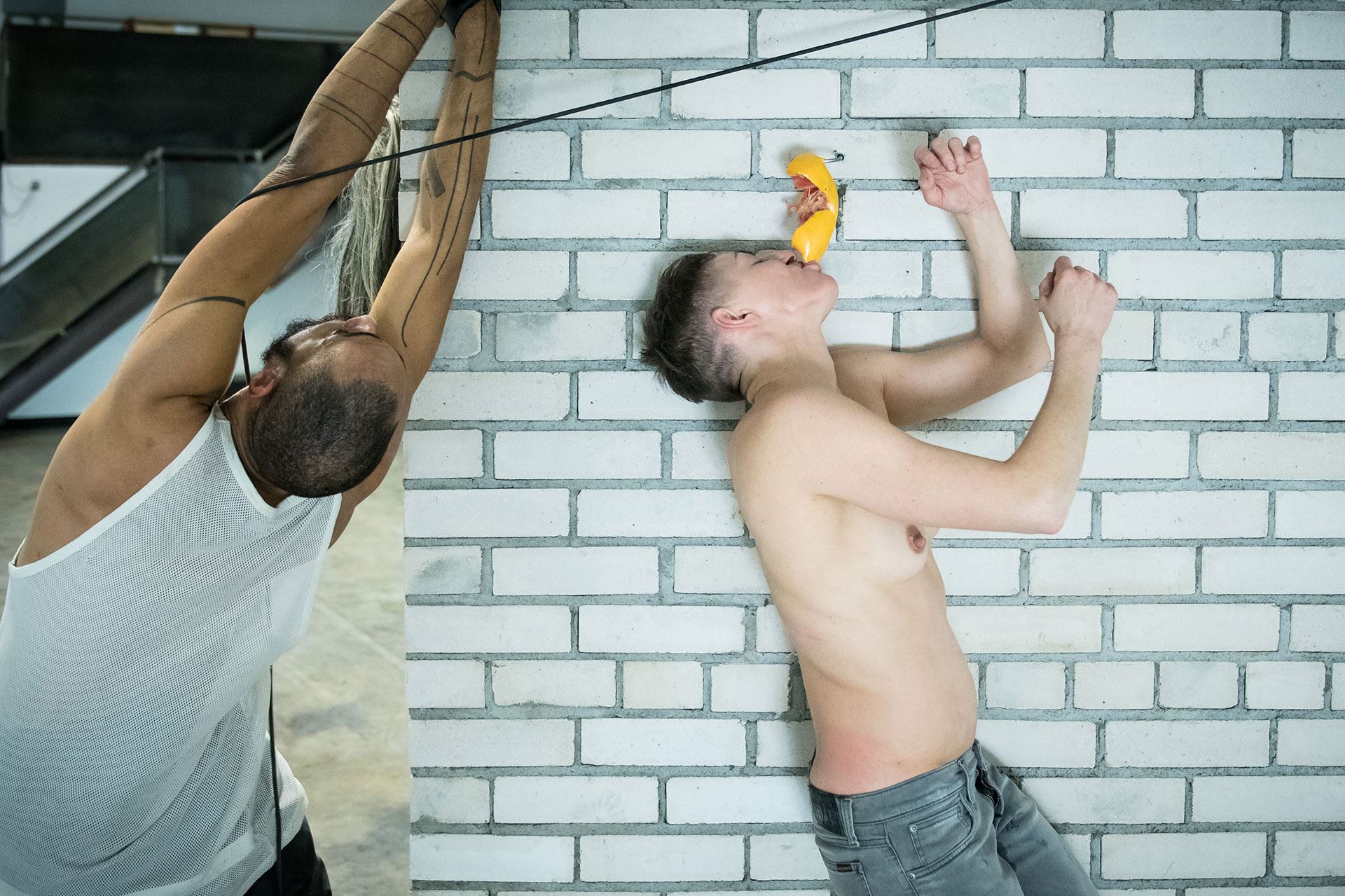 Everything fits in the room  
Composition / soundbody: Miguel Gutierrez, Colin Self
Guest performer: Slim Soledad
Light Design: Florian Bach
Music Kitchen Sculpture: Nik Emch
Dramaturgical advice: Jorge León, Joshua Lubin-Levy, Anna Mülter, Saša Bozic
Technical management: Marie Prédour
Technical support: Hugo Cahn
A commission and co-production by HAU Hebbel am Ufer
Production: Imbricated Real
Co-production: Gessnerallee Zürich, Arsenic – Lausanne
Supported by: City of Zurich, Canton of Zurich Fachstelle Kultur und Pro Helvetia – Swiss Cultural Foundation, Tanzhaus Zurich, ImpulsTanz Wien, Ernst Göhner Stiftung, Fête de la Danse – Genev, Tanzhaus Zurich, George and Jenny Bloch Foundation
Created in the frame of 'Utopian Realities', a co-production of HAU Hebbel am Ufer and Haus der Kulturen der Welt as part of '100 Years of Now', curated by HAU Hebbel am Ufer. Funded by the Federal Government Commissioner for Culture and the Media
In collaboration with the MAP_PA postgrad course in performance arts and the Accademia di Belle Arti di Roma. With the support of Istituto Svizzero.