The front courtyard of Istituto Svizzero in Milan is pleased to host Nada, the mobile exhibition space of the Sonnenstube collective, touring between northern Italy and Switzerland with an itinerant exhibition celebrating the collective's first 10 years of activity.
Su sei ruote is the exhibition which presents the works by Giacomo Galletti, Marta Margnetti, Giada Olivotto, Sebastién Peter, Sandro Pianetti, Gabriel Stöckli, Salvatore Vitale and Gianmaria Zanda inside the mobile Nada space. The latter, a '78 Tabbert Silver Edition caravan, will be dragged on a tour from Lugano to the courtyard of Istituto Svizzero and then on to Lausanne, Basel and Zurich to present the exhibition. Su sei ruote is an opportunity to discover the individual practices that are catalyzed by the magnet called Sonnenstube.
The exhibition will be on view from H15:00 to H21:00, and at H18:00 the Sonnesntube collective will offer a presentation in small groups inside the caravan.
A convivial moment will follow.
On the occasion of the event the exhibition C&G, currently on view at Istituto Svizzero, will be open until H21:00.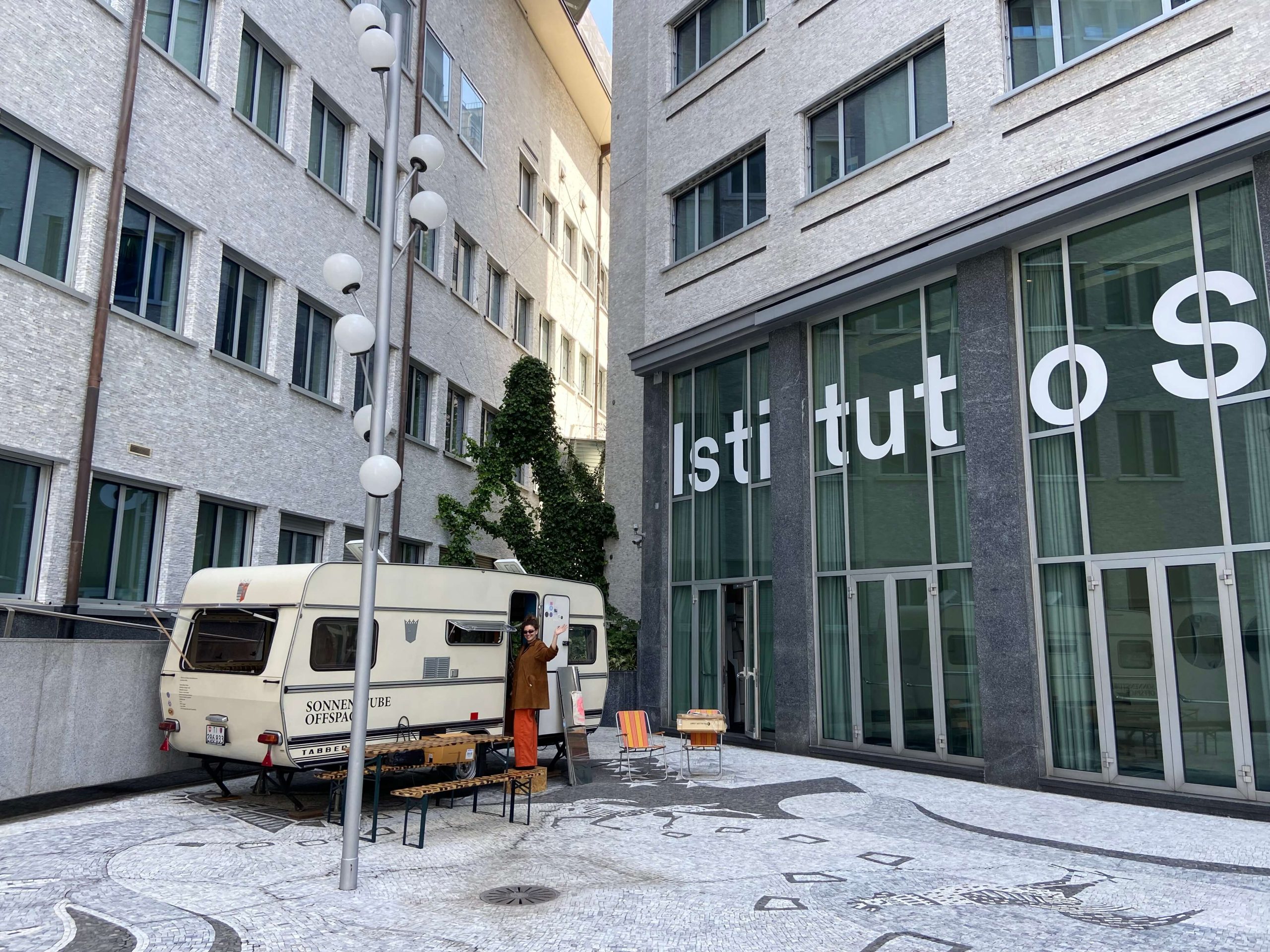 Biographies:
Giacomo Galletti (1993) has been part of the Sonnenstube collective since 2017. He graduated in Art Graphics from the Academy of Fine Arts in Urbino. He works as an independent curator and printmaker in his own atelier in Lugano, his research focuses on the phenomena of underground cultural self-productions as political, technical and iconographic laboratories of autonomy.
Marta Margnetti (1990) was part of the Sonnenstube collective until 2018. Through sculpture, installation, and drawing she reworks techniques and stories of inhabiting imagined marginal places, making them coincide with her body and the natural world around her, Marta thus provokes assonances between biographical, collective, and political aspects. She studied at HEAD in Geneva and HKB in Bern and has received several awards and was a 2021 Fellow at Istituto Svizzero in Rome.
Giada Olivotto (1990) has been part of the Sonnenstube collective since 2017. Giada is an independent curator, her research oscillates between investigating community phenomena and feminist collectives. Co-founder of La Fornace (Milan), the web-radio project CANALE MILVA (Biel) and the association ACXSI (Lugano) with which she co-directs La Regionale. Giada is part of the board team of Plattform (Zurich) and was a 2021 Fellow at Istituto Svizzero in Rome.
Sébastien Peter (1984) was part of the Sonnenstube collective until 2017. An art historian with degrees from the Universities of Fribourg and Zurich, Sébastien is a curator and cultural promoter. He has worked at Pro Helvetia, was deputy delegate for culture in Biel and has been director of Cultural Services of the City of Locarno since May 2023. From 2021 he will co-direct La Regionale, and from 2022, the FEM – Festival for exploratory music.
Sandro Pianetti (1987) has been part of the Sonnenstube collective since 2017. After earning a Bachelor's degree in Visual Arts from ÉCAL Lausanne (CH), he pursued an MA in Interaction Design at SUPSI in Lugano. He currently lives in Solduno, develops his art practice in Brione sopra Minusio, works as an interaction designer for Markus Zohner Arts Company and has an independent business in art services.
Gabriel Stöckli (1991) has been part of the Sonnenstube collective since 2014. Gabriel is a visual artist who graduated in painting and visual arts from NABA in Milan. He regularly exhibits in nonprofit and institutional art spaces in Switzerland and abroad. He has participated in several residency programs and is currently at the Cité Internationale des Art in Paris. This year he was awarded the Cahiers d'Artistes prize (Pro Helvetia) for which a monograph published by Jungle Books (St. Gallen) will be produced.
Salvatore Vitale (1986) was part of the Sonnenstube collective until 2013. Vitale's work focuses on the complexity of modern societies, exploring power structures, political cosmologies and technological mediation through his artistic practice and research. He uses documentary analysis that includes elements of fiction, speculative narratives and multiple visual forms. He has won several awards and been exhibited in various institutional settings. Since 2020 he has been artistic director of FUTURES Photography and since 2023 of the Turin International Photography Festival.
Gianmaria Zanda (1985) has been a member of the Sonnenstube collective since 2013. Gianmaria is a cultural promoter, musician and visual artist, a graduate of NABA in Visual Arts and Curatorial Studies. Gianmaria's current projects include Forse, Lugano Buskers Festival and Fresh Festival. In the past he was co-organizer of Gwenstival, Radio Gwendalyn's music and radio festival, and part of several collectives active in cultural promotion in the underground sphere.