Archeologia, Architettura, Residenze, Online
H17:00
Registrazione online
Serie 'I venerdì pomeriggio'
Category
Archeologia, Architettura, Residenze
Information
H17:00
Registrazione online
Serie 'I venerdì pomeriggio'
I venerdì pomeriggio
I venerdì pomeriggio all'Istituto Svizzero sono dedicati ai nostri residenti. È un'occasione per il pubblico per conoscere in dettaglio i progetti ai quali stanno lavorando durante la residenza di quest'anno.
Evento a cura di Ginny Wheeler (Fellow Roma Calling 2020/2021).
Productive encounters between archaeology and architecture
Ispirata dalla composizione del gruppo di residenti dell'Istituto Svizzero di quest'anno, la discussione vuole unire archeologi, architetti e storici dell'architettura per discutere le sovrapposizioni metodologiche intercorrenti tra questi campi. L'obiettivo consiste nell'esplorare come l'applicazione di pratiche architettoniche e strumenti digitali influenzi le nostre domande di ricerca e le nostre modalità di presentazione del materiale nelle pubblicazioni. La domanda che guiderà la tavola rotonda è: a quale livello e/o come possono aiutarci i moderni metodi architettonici (come l'architettura sostenibile, gli approcci computazionali e la visualizzazione digitale) a ricostruire le evidenze frammentarie circa la percezione spaziale antica (inclusi aspetti di confort termale, esperienza sensoriale e visibilità)?
Dopo una breve introduzione, l'evento proseguirà con tre presentazioni di 20 minuti. Rosa Schiano-Phan discuterà le strategie di raffreddamento naturali nell'architettura vernacolare e pre-moderna, così come i metodi per la qualificazione e quantificazione delle performance ambientali dei siti storici. L'attenzione sarà poi rivolta al mondo romano con Phil Stinson, che parlerà del disegno a mano libera e del disegno computerizzato o della costruzione tridimensionale riguardo la rappresentazione della conoscenza e dello spazio. Infine, Kelly McClinton dimostrerà come la progettazione digitale può contribuire nel processo di illustrazione e analisi di un programma decorativo in una casa romana, avvalendosi della Casa di Marco Lucrezio a Pompei come caso di studio. Sebbene i tre soggetti siano diversi, tutti collegano il passato con il futuro – combinando architettura antica con tecnologie moderne – per ispirazione, analisi o presentazione.
Le presentazioni sono concepite per costituire i punti di partenza per la discussione successiva. Si incoraggia la partecipazione del pubblico durante la seconda parte dell'evento.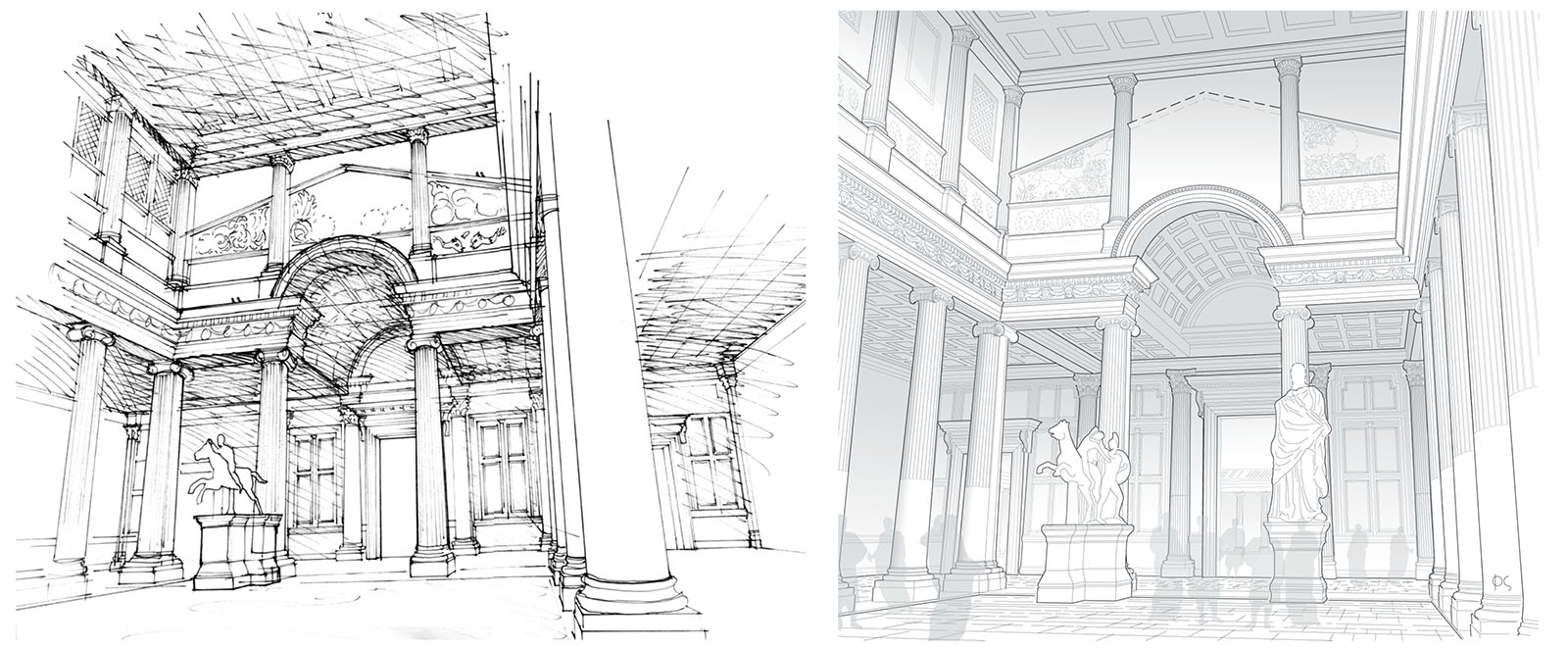 Programma:
H17:00 – Adrian Brändli (Istituto Svizzero): Benvenuto 
H17:05 – Ginny Wheeler: Introduzione
H17:15 – Rosa Schiano-Phan: Natural Cooling Strategies in Vernacular and Pre-modern Architecture
H17:35 – Phil Stinson: Drawing on the Mind: Spatial Representation for the Architect-Archaeologist
H17:55 – Kelly McClinton: Revitalizing the Roman Garden: The Application of 3D Computational Modeling to the House of Marcus Lucretius in Pompeii
H18:15-19:00 – Discussione
Relatori:
Ginny Wheeler (Università di Berna / Fellow Roma Calling 2020/21)
Ginny Wheeler ha ottenuto un BA in Studi Europei presso il Amherst College e un MPhil in Archeologia Classica all'Università di Oxford. Attualemente è PhD Candidate e parte del progetto FNS Transforming the Past all'Università di Berna. A Roma continua a lavorare sulla sua tesi, che si concentra sulle fontane e sui giochi d'acqua della Tarda Antichità nell'Impero Romano d'Occidente.
Scopri di più sul progetto di ricerca di Ginny Wheeler, leggi il suo ultimo contributo sul blog dell'Istituto Svizzero sul sito del quotidiano svizzero Le Temps.
Kelly E. McClinton (Università di Oxford)
La ricerca di Kelly E. McClinton si focalizza sull'arte e l'architettura romana, la percezione degli spazi antichi, e l'archeologia delle case romane. È particolarmente interessata al ruolo che possono ricoprire materiali antichi ed evidenze visive, così come le fonti letterarie, per aiutarci a comprendere pienamente come le persone effettivamente vivevano e facevano esperienza dell'arte e dell'architettura che li circondava. Recentemente ha completato un dottorato in Digital Humanities sull'applicazione dei metodi computazionali allo studio  di arte e architettura domestica romana. A Oxford, Kelly attualmente lavora a un progetto DPhil che considera il mantenimento estetico degli spazi domestici nella Roma Tardoantica.
Rosa Schiano-Phan (Università di Westminster)
Rosa Schiano-Phan è Principal Lecturer in Architecture and Environmental Design e responsabile del programma di Master of Science e PhD in Architecture and Environmental Design alla School of Architecture and Cities all'Università di Westminster. Prima di completare il suo PhD alla Architectural Association (Londra), ha lavorato come architetto e consulente di design ambientale dopo aver studiato Architettura a Napoli. È co-direttore di Natural Cooling Ltd, uno studio di consulenza di design ambientale e co-autrice di The Architecture of Natural Cooling (2020, 2 ed.) e The Architecture and Engineering of Downdraught Cooling (2010). I suoi interessi di ricerca includono il raffreddamento passivo, le performance termali degli edifici e l'architettura sostenibile più in generale.
Philip Stinson (Università del Kansas)
Phil Stinson è Associate Professor di Classics all'Università del Kansas e Curatore del Wilcox Classical Museum. Phil ha studiato sia Architettura, sia Storia/Teoria dell'Architettura prima di completare il suo PhD in Storia dell'Arte e Archeologia Classica all'università di New York (2007). I suoi interessi di ricerca spaziano dall'architettura e urbanismo del mondo Greco-Romano alle digital humanities. È autore di Aphrodisias VII. The Civil Basilica (2016).