Arte, Performance, Sound, Palermo - Fondazione Sant'Elia
Location
Palermo - Fondazione Sant'Elia
Category
Arte, Performance, Sound
Anche quest'anno l'Istituto Svizzero celebra il solstizio d'inverno attraverso una programmazione di performance e live-set a Palermo, Milano e Roma. Il giorno più corto dell'anno: il solstizio d'inverno è, per convenzione, il momento al quale corrisponde, a causa della posizione che il Sole ha rispetto all'equatore, la notte più lunga e il giorno più breve. Un evento astronomico ricco di significati simbolici – a volte anche controversi – che veniva festeggiato in antichità dalle popolazioni pagane prima dell'avvento del Cristianesimo: I Romani, festeggiavano Sol Invictus, gli Egizi la nascita di Horus, i Greci veneravano Helios. Dopo la prevalenza delle ore di buio invernali, il Sole sembrava rinascere e diventava appunto invincibile (dal latino Sol Invictus). Un momento dell'anno che, ancestralmente, segna il passaggio dalle tenebre alla luce. Ed è proprio alla ricerca della luce, del divino che è nell'aria, del mito e della bellezza della natura che l'Istituto Svizzero dedica queste tre serate di movimento e sperimentazione sonora.
Curato da Gioia Dal Molin.
---
14.12.2022 H20:00-H23:30
Fondazione Sant'Elia, via Maqueda 81, Palermo
Ingresso gratuito
Performance di:
Latefa Wiersch & Emma Murray – Pudding Club
PRICE – I Try My Tongue (sequences)
Fluidae Collective & QUiET!: audio/visual show – A Woman Odissey 
L'evento è organizzato a Palermo, in collaborazione con la Fondazione Sant'Elia Palermo, nel salone del Trionfo di Diana.
Rosaelia, la Caffetteria del Palazzo, rimarrà aperta fino a tarda sera.
Tornare alla pagina generale dell'evento SOL INVICTUS.
---
La ballerina e coreografa Emma Murray vive a Berna. All'età di 19 anni ha ballato come prima ballerina con il Royal New Zealand Ballet. Dal 1997 vive in Europa. Per otto anni ha danzato con lo Stadt Theater Bern e dal 2008 lavora sulla scena indipendente come coreografa e artista performativa. Oltre alle attività nel campo della performance e alla produzione di opere proprie, insegna, si esibisce o assiste in progetti teatrali in tutta la Svizzera. Nel 2013-2015 è stata artista associata della Dampfzentrale Bern e di Pro Helvetia che, grazie alla sua crescente presenza in contesti nazionali e internazionali, hanno regolarmente coprodotto il suo lavoro. Il lavoro di Emma Murray include My Body is (not) an Island (2008), naturalcauses (2011), Made to Order (2015), the way you look tonight (2016), Mother*Fuckers (2017), PARTICIPATION (2017) e, in collaborazione con Latefa Wiersch, ne pas de deux, MONSTERHOOD (2019) e PUDDING CLUB (2022).
Latefa Wiersch vive e lavora a Zurigo. Ha studiato arte all'Universität der Künste Berlin e alla Hochschule der Künste Bern. Le installazioni, le performance e i video di Latefa Wiersch affrontano questioni relative al corpo, alle relazioni oggetto-soggetto, alla feticizzazione, alla sessualizzazione e all'esoticizzazione sullo sfondo del presente postcoloniale. Nel 2022 è stata vincitrice dello Swiss Performance Art Award in collaborazione con Rhoda Davids Abel e Dandara Modesto e nel 2021 è stata nominata per lo Swiss Art Award. Wiersch ha ricevuto borse di studio e premi dal Cantone di Zurigo e dalla Città di Zurigo, tra gli altri. Le sue opere sono state esposte, tra l'altro, al Centre d'Art Contemporain Genève (2022), alla Kunsthaus Langenthal (2022, solo e 2018), allo Schauspiel Dortmund (2021 e 2022), alla Helmhaus Zürich (2022 e 2020), al Theater Südpol Luzern (con Emma Murray, 2020) e alla Dampfzentrale Bern (2022 e 2020, con Emma Murray), al Museum Haus Konstruktiv (2019 e 2021), agli Swiss Art Awards (2021), alla Stadtgalerie Bern (2021), alla Shedhalle Zürich (2018), alla Dortmunder U (2015).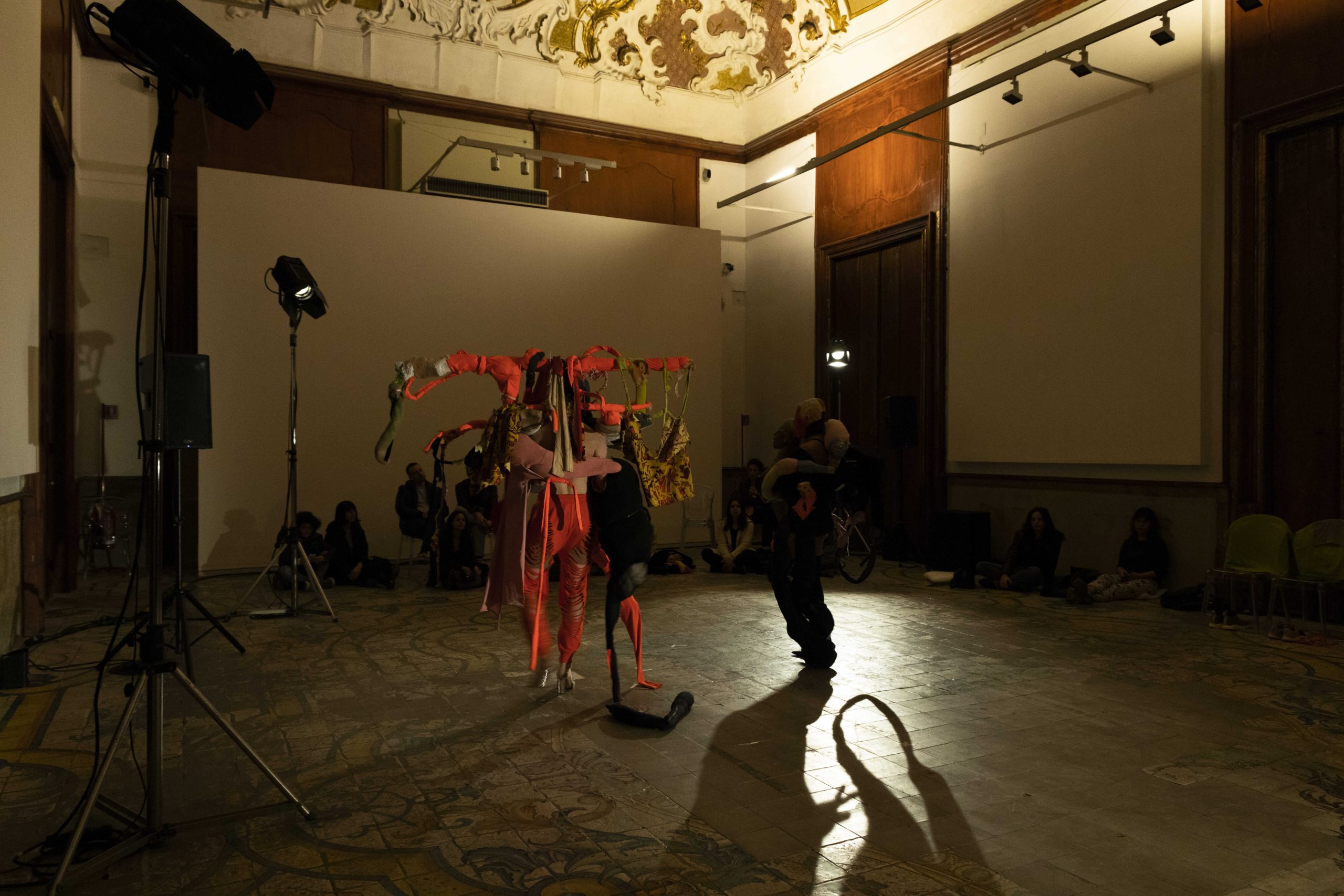 Il lavoro di PRICE è caratterizzato da elaborati paesaggi sonori, costumi e scenografie spesso sviluppati in costellazioni collaborative. Le sue produzioni giocano con le aspettative del pubblico nei confronti dell'io esposto e apparentemente autentico del performer, che emoziona davanti ai loro occhi. Sono intervallati da scenografie pop-culturali, suoni meccanici, ritmi e dalla sua stessa voce. La voce è un elemento centrale del suo lavoro. PRICE la considera una forma acustica di comunicazione emotiva al di fuori dell'imperativo del linguaggio di creare significato.
Fluidae Collective, fondato dalle tre DJ siciliane – d'origine e adozione – Emilia Callari, Federica Vita, Mariana Bek, è uno spazio di fluida sperimentazione creativa, una community di anime e corpi interconnessi per assottigliare il divario di genere nel mondo della musica e della cultura underground. Il soundsystem di Fluidae è un'esperienza unica nel suo genere: i suoni eterogenei delle tre DJ confluiscono in un'unica sinergia tra artiste e dancefloor, creando un continuum fluido tra la community e il DJ booth, in un viaggio tutto da scoprire. Non solo DJ, ma anche organizer di party e safe space per chiunque voglia scoprire un mondo diverso, vario, libero e inclusivo.