Mostra personale, Milano
Opening
21.09.2018 H18:30
Introduzione
Biografia
images
Dates
22.09.2018
27.10.2018
Category
Mostra personale
Information
Opening
21.09.2018 H18:30
L'Istituto Svizzero presenta "Delve of Spade", la prima mostra in Italia dell'artista svizzero Mathis Altmann.
"Delve of Spade" è un'espressione desueta e non più utilizzata, che tuttavia evoca un desiderio obsoleto. Raramente utilizzato nell'inglese contemporaneo, il suo equivalente in lingua tedesca è Spatenstich, comunemente usato per indicare la "posa della prima pietra", il gesto cerimoniale che inaugura la costruzione di un nuovo edificio. È l'unica azione compiuta manualmente prima dell'intervento dei mezzi meccanici. È un gesto dal sapore nostalgico che riporta al presente lo sforzo del lavoro a mani nude, segnate dalla fatica.
Nella mostra convivono elementi provenienti da progetti ai quali Altmann ha lavorato durante l'ultimo anno: la crescente presenza dell'estetica tech nell'architettura urbana, nel commercio e nelle relazioni sociali. Le sue sculture non sono assertive, al contrario la loro funzione è di mostrare come inefficienti gli oggetti commercialmente desiderabili. Le posizioni nette scompaiono sullo sfondo, a favore di una critica sulle modalità di rifiuto e accettazione.
La mostra è composta da una serie di nuove sculture e da un'installazione di modelli che ricostruiscono spazi di coworking, oggi ampiamente diffusi nelle grandi città e accomunati dalle stesse caratteristiche. Questi ambienti sono progettati secondo le nuove esigenze di flessibilità tipiche del lavoro temporaneo. Omogenei e modulari, sono riconoscibili e concepiti in modo da limitare la distrazione e sono razionalizzati secondo un'idea di efficienza e accessibilità.
Altmann riflette sull'esplosione urbana che ha interessato l'area – ultimo luogo della città oggetto di sperimentazione – mentre percorre la strada verso il suo studio a Los Angeles. Una di queste aree è conosciuta come "The Arts-District", una ex zona industriale abbandonata che l'artista chiama ironicamente "Fallout zone", come se design ed edilizia fossero vitamine, integratori e steroidi che sovralimentano la zona, a discapito delle città circostanti.
Immortalando gli incontri nella "Fallout zone", Altmann raccoglie materiali diversi accorpandoli nelle sue sculture in forma di narrazioni. In "Delve of Spade", gli oggetti diventano elementi scenografici, come accade in un film o in uno spettacolo teatrale.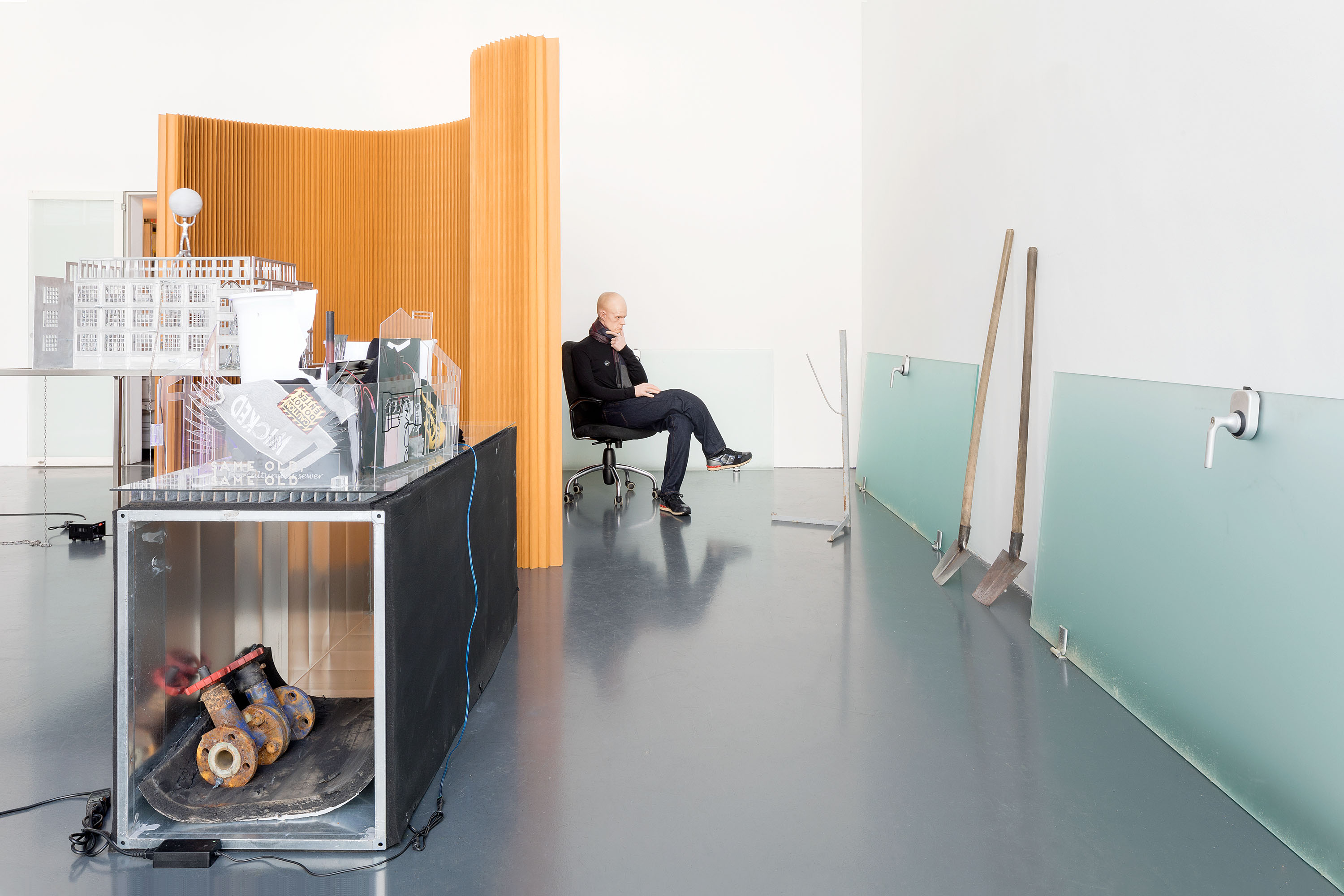 Mathis Altmann (nato a Monaco, 1987) vive e lavora a Los Angeles e Zurigo.
Recenti mostre personali includono: Art Basel: Statements, Basilea (2018), Freedman Fitzpatrick, Parigi (2018); Freedman Fitzpatrick, Los Angeles (2017); Swiss Institute, New York (2016); Truth & Consequences, Ginevra (2016); Paramount Ranch 3, Los Angeles (2016); e Halle für Kunst, Lüneburg (2015). Recenti mostre collettive includono: October Salon, Belgrado (2018); MD72/Galerie Neu, Berlino (2017); MAAT, Lisbona (2017); e Palais de Tokyo, Parigi (2016).
Il suo lavoro fa parte delle collezioni di Fonds Cantonal d'Art Contemporain de Genève, Ginevra; il Hammer Museum, Los Angeles; Mobilière, Berna; e The Rubell Family Collection, Miami. Ha ricevuto il Prix Mobilière (2016); il Swiss Art Award (2015); Zurich Atelierstipendium (2014); e ZKB Art Award (2013).