Arte, Mostra personale, Roma
Parte di Openings Out to Reality
Introduction
Biografia
Programma
Dates
06.06.2015
19.09.2015
Category
Arte, Mostra personale
Information
Parte di Openings Out to Reality
PROLUNGATA fino al 14 dicembre 2015
Un'opera d'arte e un artista possono giocare diversi ruoli. Fred Lonidier ha assunto la posizione dell'artista visivo nel movimento operaio, proponendo questa prospettiva come modello da indagare. Per Lonidier il lavoro intellettuale e artistico dovrebbero essere guidati dalle lotte sociali e dalle sue sfide organizzative. La sua esperienza nei movimenti di emancipazione razziale, sessuale e di genere a San Diego negli anni Settanta, gli studi in Sociologia e in Arte, l'amicizia con gli artisti Martha Rosler, Allan Sekula e Phel Steinmetz hanno influenzato il sua pratica che esplora le possibilità della fotografia come mezzo orientato al cambiamento sociale.
Per oltre quarant'anni Lonider ha prodotto installazioni con testi, immagini, video per osservare da vicino, e rendere visibile, l'istituzione sindacato e il mondo del lavoro. Ha sviluppato uno specifico linguaggio visivo influenzato dalla grammatica politica del movimento di protesta contro la guerra in Vietnam, del movimento femminista nel campus dell'Università della California a San Diego, del ruolo del sindacato di San Diego e della lotta dei lavoratori nelle maquiladora al confine tra Stati Uniti e Messico tra gli altri. Prima personale dell'artista in istituzioni artistiche europee, Strike è simultaneamente realizzata in spazi differenti di Roma, Ginevra e Zurigo.
Accanto a un'ampia selezione di lavori esposta all'Istituto Svizzero, secondo l'attitudine dell'artista a presentare le sue ricerche in luoghi dove le lotte sociali si organizzano e si producono, alcuni lavori saranno istallati nella sala riunioni di CLAP, un'organizzazione costituita nel 2013 da lavoratori autonomi e precari per dare assistenza a chi è senza difesa sul luogo di lavoro, chi è stato licenziato, freelance e precari senza accesso al welfare.
Al Centre de la photographie di Ginevra, la mostra percorre l'ampia gamma di metodi sperimentati da Lonidier nella fotografia: i primi lavori che usano il documentario per mostrare la rappresentazione sessista della donna nell'industria fotografica, fino alle inchieste sul mondo del lavoro. A Zurigo invece sarà possibile osservare la riproposizione del lavoro di laurea in Belle Arti realizzato da Lonidier nel 1972: un'opera in quattro parti (29 Arrests, Pornography, Surveillance e Conceptual War) installata da settembre 2015 a giugno 2016 all'interno del nuovo Toni-Areal Campus della ZHdK.
Strike è organizzato in collaborazione con CLAP – Camere del lavoro autonomo e precario, Centre de la photographie Genève, Zürich University of the Arts. La mostra è parte del ciclo di progetti di Openings Out to Reality, in concomitanza con la mostra THE STREET (Est1863) di Tobias Kaspar.
Openings Out to Reality è una ricerca aperta sul rapporto tra arte, istituzioni e società iniziata nel 2012 dall'Istituto Svizzero di Roma.
Nato nel 1942 Fred Lonidier è artista, attivista e membro del sindacato. Ha insegnato fotografia per 45 anni all'università di San Diego, dove tutt'ora vive. I suoi lavori sono stati esposti tra gli anni settanta e novanta in istituzioni artistiche e spazi sociali quali l'Oakland Museum, Whitney Museum of American Art, New Museum of Contemporary Art di New York, Los Angeles Institute for Contemporary Art, San Diego/Imperial Counties Labor Council, Amalgamated Clothing & Textile Workers, Los Angeles, Ironworkers Union, Local 627, Norwal e Centro Cultural de la Raza, San Diego tra gli altri. Negli ultimi anni ha partecipato a varie mostre collettive quali: inSite_05 San Diego/Tijuana transborder mobile archive project (2005), The Whitney Biennial 2014, Not Yet On the Reinvention of Documentary and the Critique of Modernism al Museo Nazionale Reina Sofía di Madrid (2015) tra le altre.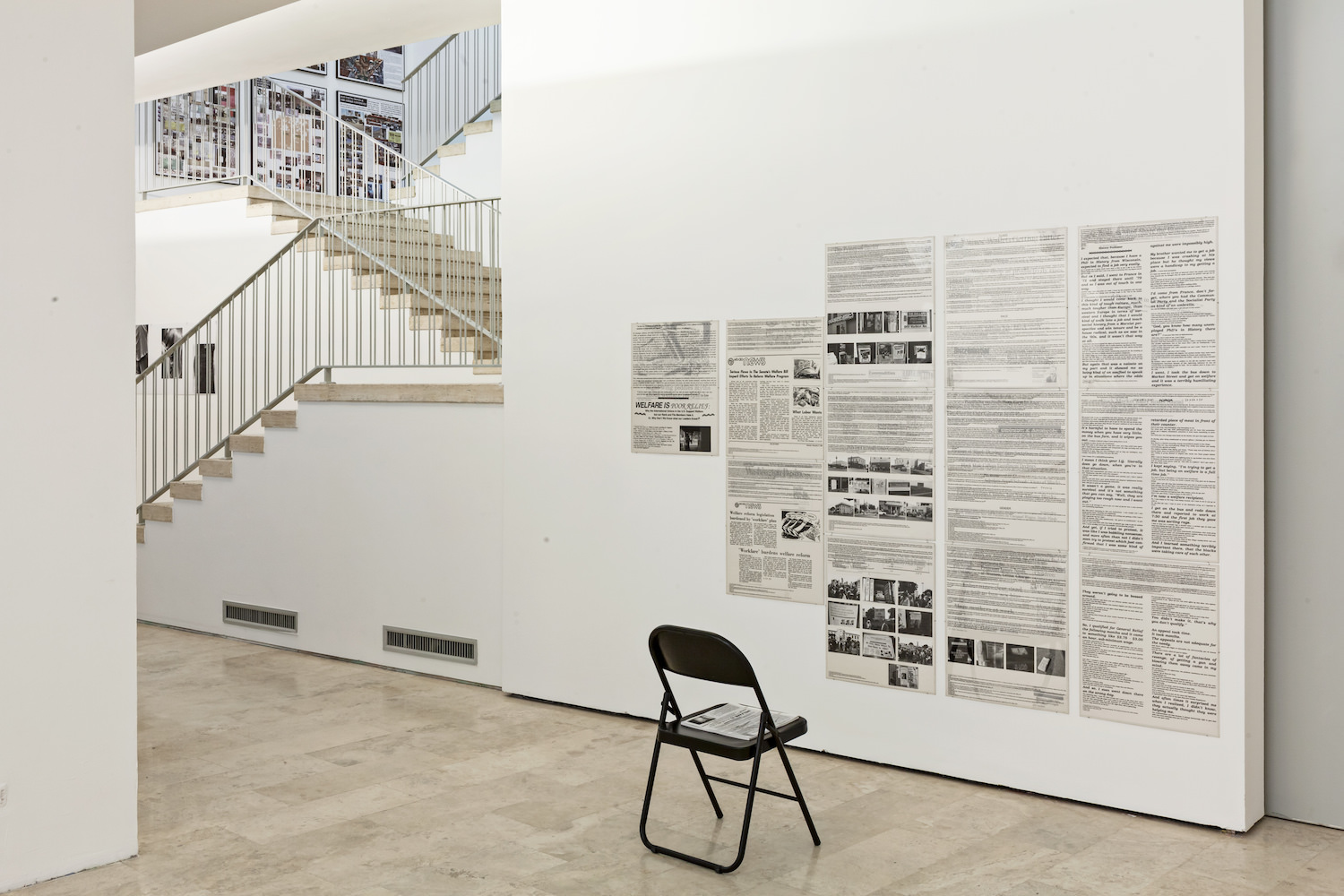 Programma completo:
____________________
Zurigo
30 settembre 2015 – 29 giugno 2016
Lavoro di laurea in Belle Arti di Fred Lonidier del 1972
Toni-Areal, Zürich University of the Arts
Terzo piano, entrata "Kino"
Pfingstweidstrasse 96
Per tutta la durata della mostra, sarà possibile visitare la mostra con tour guidati, con Egija Inzule, Fred Lonidier e altri ospiti.
Per informazioni scrivere a egija.inzule(at)istitutosvizzero.it
Il primo tour si svolgerà mercoledì 9 dicembre, ore 18.00
____________________
Ginevra
12 giugno – 30 agosto
Inaugurazione giovedì 11 giugno, ore 18.00
Centre de la photographie Genève
rue des Bains 28
10 Luglio – 21 Agosto
Inaugurazione giovedì 9 luglio, ore 18.00
I Like Everything Nothing but Union (1983)
UNOG, United Nations Office a Ginevra, Palais des Nations
____________________
Roma
28 maggio – 6 luglio (PROLUNGATA fino al 14 dicembre 2015)
I Like Everything Nothing but Union (1983)
Sala riunioni CLAP
Officine Zero
via Umberto Partini 20
Orari di apertura: lunedi ore 17.30 – 20.00
Ingresso libero
6 giugno – 19 settembre
Inaugurazione venerdì 5 giugno, ore 18.30
Istituto Svizzero di Roma
via Liguria 20
Giovedì 28 maggio, ore 18.30
Lotta di classe, sindacati e immaginario negli USA
Discussione con Sergio Bologna, Bruno Cartosio, Fred Lonidier
Officine Zero
via Umberto Partini, 20
____________________