Arte, Mostra personale, Milano
Inaugurazione venerdì 20 settembre H18:30
Party STARTMilano H22:00-24:00
Introduzione
Biografia
Dates
20.09.2013
09.11.2013
Category
Arte, Mostra personale
Information
Inaugurazione venerdì 20 settembre H18:30
Party STARTMilano H22:00-24:00
L'età industriale e la vita moderna addensata nelle città è stata caratterizzata dal consumo di massa e dalla sovrapproduzione di beni: siamo circondati e sommersi da oggetti, strumenti e protesi più che in qualunque altra epoca. Oggetti funzionali, quotidiani, usa e getta: quale valore hanno per la società occidentale contemporanea? Come influenzano la nostra vita quotidiana? A quali funzioni rispondono? A quali bisogni?
Dunja Herzog, dopo un percorso che l'ha condotta ad attraversare per anni varie culture del continente africano, si reimmerge nell'Occidente prendendo il punto di vista delle cose; riassembla materiali che trova per lo più abbandonati nelle strade e in ambienti familiari e, come un moderno creatore di favole, gli dona nuova esistenza.
Questa mostra è un mondo di creature che potremmo definire ibride – in attesa di trovare un termine più preciso – apparentemente fragili, prive di funzionalità definite, forse inutili, senza fissa dimora fatte dagli scarti della nostra vita quotidiana. Se qualcuno è disposto a prestare loro attenzione, si possono animare, possono anche parlare. Di solito, come per l'Odradek di Kafka, la conversazione finisce con una risata – ma è soltanto una risata simile a quella di una creatura senza polmoni. Assomiglia all'incirca al fruscìo delle foglie che calpestiamo.
Qualcuno dirà al re che è nudo?
Venerdì 20 settembre 2013
18.30 Opening
22.00-24.00 Party START Milano
DJ BORIS BECKER (The Take Away Tape)
DJ TZAZIKY & CRACK (Tomboys Don't Cry)
Live-sets by
AÏSHA DEVI
18+
La mostra è realizzata con il sostegno del dipartimento cultura del Canton Basilea Città.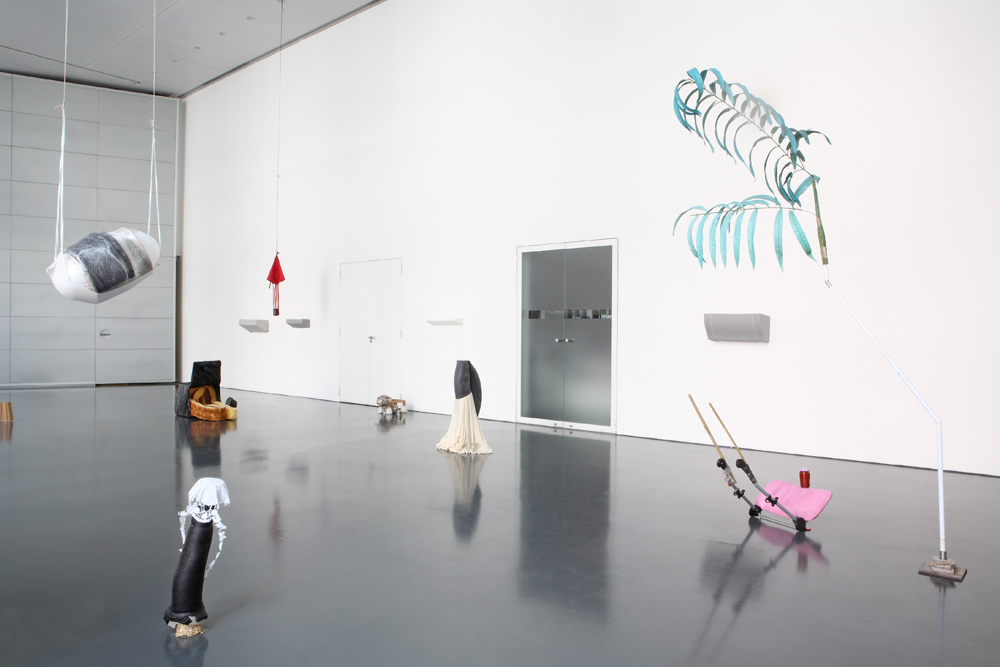 Dunja Herzog realizza sculture e installazioni assemblando materiali industriali con oggetti recuperati nei luoghi che appartengono alla sua quotidianità. Le sue opere agiscono come sistemi autonomi che si relazionano con lo spazio limitato di un ambiente domestico o con un particolare estrapolato dalla routine di tutti i giorni. Il lavoro dell'artista affronta temi legati al concetto di corpo, intimità, vulnerabilità ed equilibrio, attraverso un processo intuitivo e allo stesso tempo ludico.
Dopo gli studi alla Hochschule für Gestaltung und Kunst alla FHNW di Basilea, Herzog si è formata alla Glasgow School of Art, dove ha ottenuto un MA nel 2012.
"Laughter is usually the end of the conversation" è la sua prima mostra personale in Italia. Dunja Herzog vive e lavora a Basilea e a Berlino.
Principali mostre personali: 2013: Ausstellungsraum Klingental, Basilea (con G. Küng). 2011: Ribordy contemporary, Ginevra. 2009: Aargauer Kunsthaus, Aarau, Svizzera; CRAC Alsace, Altkirch, Francia.
Principali mostre collettive: 2013: "Garten-Kunst-Architektur I", Sic! Raum für Kunst, Lucerna. 2012: "Balises", Piano Nobile, Ginevra; "Auswahl 12", Aargauer Kunsthaus, Aarau, Svizzera; "At Home IX", Galerie J, Ginevra; "Stay Vector, Stay!", Albion street, Glasgow; "Manufacture", CentrePasquArt, Bienne, Svizzera. 2011: "Meubler la solitude", Kunsthaus Baselland, Muttenz, Svizzera; "The Wonders of the Invisible World", Northern Gallery for Contemporary Art, Sunderland, Gran Bretagna; "Territoires", BEX & ARTS, Bex, Svizzera; "Ernte", Kunstankäufe Kantons Basel-Landschaft, Kunsthaus Baselland, Muttenz, Svizzera; "Il n'y a que les montagnes qui ne se rencontrent pas", Agent Double, Ginevra. 2010: Swiss Art Awards, Basilea; "Basel Stardust in a Nutshell", Savvy Contemporary, Berlino; "Strange Comfort (Afforded by the Profession)", Istituto Svizzero di Roma e Kunsthalle Basel, Basilea. 2009: "Prolog", Frohe Aussicht, Zurigo; "US", Johannesburg Art Gallery, Johannesburg. 2008: "Regionale 9", Kunsthaus Baselland, Basilea.