Conferenza, Scienza, Roma/online
Serie DISPUTE
10.11.2022 H14:45-20:30
11.11.2022 H10:30-18:00
Ingresso: via Liguria 20
Dates
10.11.2022
11.11.2022
Category
Conferenza, Scienza
Information
Serie DISPUTE
10.11.2022 H14:45-20:30
11.11.2022 H10:30-18:00
Ingresso: via Liguria 20
Overbooking: Rethinking 'sustainable tourism' in the 21st Century
La crisi sanitaria globale causata dal Covid-19 a partire dal 2020 ha colpito gravemente le economie nazionali e l'industria turistica mondiale. Le restrizioni nazionali ai viaggi, insieme alle misure di quarantena e agli obblighi di test, hanno temporaneamente interrotto la libera circolazione delle persone. Di conseguenza, il settore del turismo ha sofferto di danni mai visti prima. Ciò ha reso evidente quanto il nostro mondo globale, e in particolare le nostre città, si affidino al turismo e alla mobilità come stile di vita e fonte di reddito. In Italia, in Svizzera e altrove, il fatto che il turismo sia stato assente è stato un peso per molti attori economici, ma è stato anche percepito come un sollievo da molte popolazioni locali, interessate alla preservazione del loro habitat sociale e naturale. La crisi del turismo causata dalla pandemia ha riportato alla nostra attenzione alcuni problemi strutturali inerenti al turismo moderno, tra cui gli effetti negativi del (sovra)turismo sulla qualità della vita delle popolazioni locali, l'impatto ambientale o le condizioni di lavoro precarie delle classi sociali che dipendono dal turismo. A livello individuale, l'esperienza delle restrizioni ai viaggi ha provocato riflessioni sulle nostre abitudini ed esigenze in materia di tempo libero e condizioni di lavoro. Le aspettative erano alte: la crisi avrebbe potuto rivelarsi un'opportunità per un cambiamento fondamentale nel turismo globale.
L'edizione 2022 della serie DISPUTE mette in discussione il futuro del turismo. Invita esperte/i del mondo accademico, del settore pubblico e privato e cittadine/i a valutare criticamente e a discutere lo stato del turismo dopo la crisi. Come sarà la 'nuova normalità' del turismo? Come rispondono l'industria del turismo, i decisori politici e le/gli attiviste/i delle ONG al ritorno rafforzato delle/dei turiste/i nei nostri centri urbani? Infine: l'industria turistica in continuo aumento, e noi turiste/i, siamo in grado di imparare? E quali decisioni devono essere prese per trasformare il turismo in crescita in forme di turismo più responsabili in futuro, che si prendano cura sia delle persone sia del pianeta?
L'evento sarà aperto da una keynote tra Marco D'Eramo e Lucia Tozzi. Per consentire una comprensione più approfondita delle dinamiche locali e delle ambivalenze del turismo globale moderno, l'evento presenta tre sessioni incentrate su tre singoli casi di studio in Italia e in Svizzera: Venezia, Roma e Lucerna. Ognuna delle sessioni discute le diverse sfide del turismo moderno che sono emblematiche degli specifici contesti urbani. La sessione su Venezia è integrata da una proiezione cinematografica che avrà luogo alla Casa del Cinema. Una quarta sessione presenta una tavola rotonda in cui le/gli stakeholder italiane/i e svizzere/i discutono le sfide e le possibili soluzioni per forme di turismo più sostenibili.
L'evento è organizzato in collaborazione con l'Ambasciata di Svizzera in Italia, l'Università Ca' Foscari di Venezia, l'Università di Losanna e l'Università di Lucerna.
L'annuale serie DISPUTE dell'Istituto Svizzero fornisce una piattaforma per l'impegno delle/dei cittadine/i in relazione alla globalizzazione e al futuro delle società contemporanee. Proponendo ogni anno un nuovo tema, il forum mira a rafforzare la partecipazione civica e il dibattito pubblico. Le precedenti edizioni hanno visto dibattiti su migrazione, democrazia, diritto umanitario e futuro del lavoro.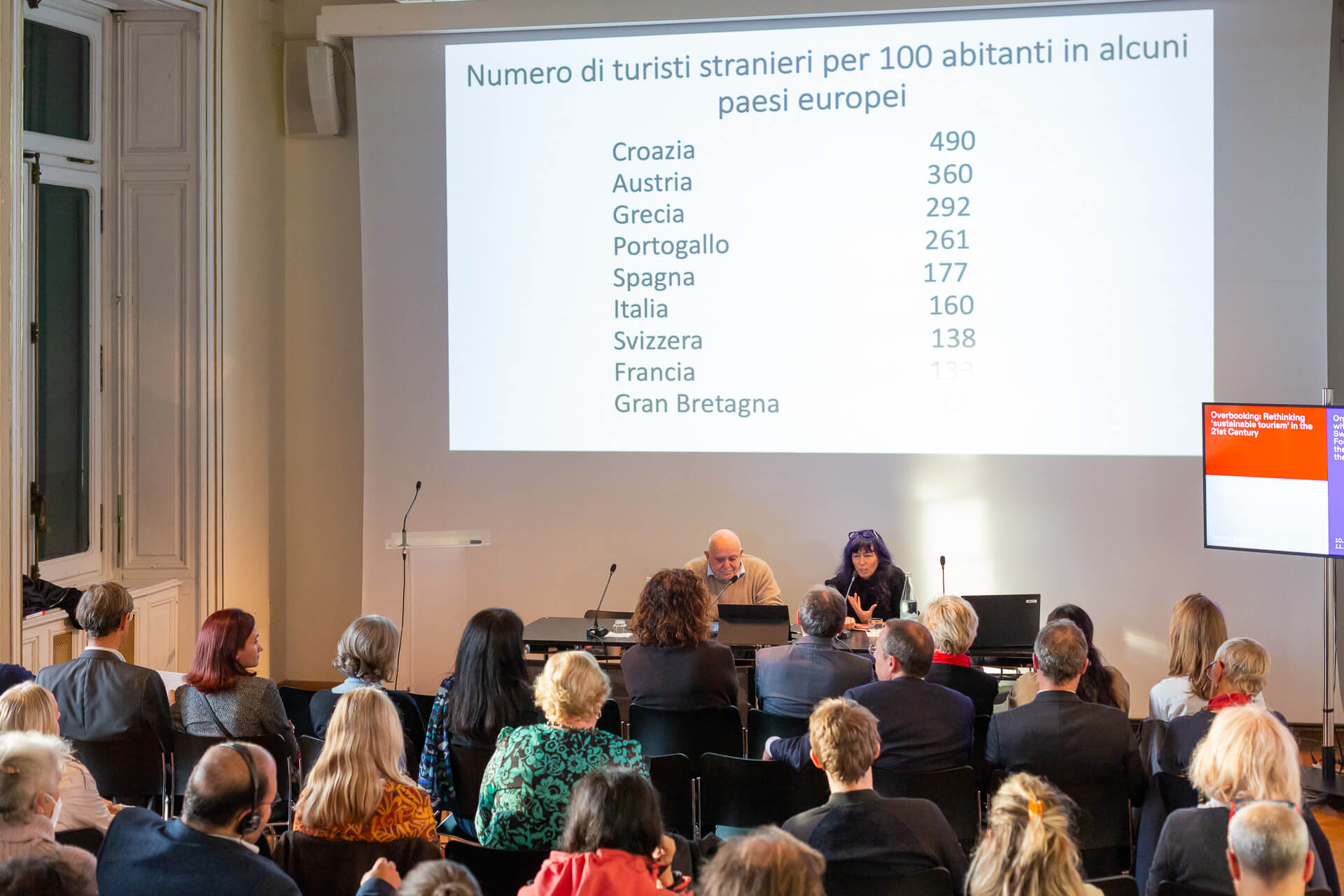 Programma:
Giovedì 10.11.2022
H14:45 – Caffè di benvenuto
H15:15 – Benvenuto
Joëlle Comé, Direttrice Istituto Svizzero e Maria Böhmer, Responsabile del programma scientifico Istituto Svizzero
Julien Stauffer, Incaricato d'Affari, Ambasciata di Svizzera in Italia, Malta e San Marino
H15:30 – Keynote
Marco D'Eramo, autore, in conversazione con Lucia Tozzi, giornalista
H16:30 – SESSIONE 1
Venice: overtourism between carnevale, cruisers, and the right to housing
Moderazione: Petra Reski, autrice e giornalista, Venezia
Giovanni Favero, Professore alla Venice School of Management, University Ca' Foscari, Venezia, At the origin of overtourism in Venice: Winter tourism and the invention of the modern Carnival
Giacomo-Maria Salerno, ricercatore post-dottorale in Engineering-based architecture and urban planning, La Sapienza Università di Roma, Right to the city and tourist monocolture: a social movements perspective from Venice
Anna Moretti, Professoressa alla Venice School of Management, University Ca' Foscari, Venezia, Exploring collaborative dynamics in times of crisis: the case of Venice
H18:00 – Aperitivo
H19:30 – Proiezione del film Welcome Venice (2021) di Andrea Segre (in presenza) alla Casa del Cinema, Largo Marcello Mastroianni 1
H21:00 –  Aperitivo
---
Venerdì 11.11.2022
H10:30 – Caffè di benvenuto
H11:00 – SESSIONE 2
Rome: eternal tourism between cultural heritage and 'airbnbzation'
Moderazione: Isabella Clough Marinaro, John Cabot University Rome
Roberta Gemmiti, Professoressa di Economic and Political Geography, La Sapienza Università di Roma, La città di tutti, la città di nessuno. Il ruolo del turismo nello sviluppo di Roma
Sarah Gainsforth, autrice e giornalista, The perfect place to be: Airbnb's growth and impact in Rome
Filippo Celata, Professore di Economic and Political Geography, La Sapienza Università di Roma, Is it just tourism? Overtouristification and temporary populations in the short-term city
H12:30 – Pausa
H14:30 – SESSIONE 3
Lucerne: global tourism between luxury shopping, parking lots, and citizen engagement
Moderazione: Anja Nora Schulthess, autrice e giornalista, Lucerna
Timo Ohnmacht, Professore di Transport Sociology all'Institute of Tourism and Mobility, Hochschule Luzern (HSLU), From Over-Tourism to Zero-Tourism and back? Opportunities for a New Beginning in Lucerne
Mario Stübi, membro del parlamento cittadino di Lucerna (Grossstadtrat, SP), Stopping the 'avalanche of sheet metal': local democratic resistance to tour busses
Marija Bucher-Djordjevic, lic. iur., dipl. Hotelmanager HF, Boutique Hotel Schlüssel | since 1545, Lucerne, titolo tbc
H16:00 – Pausa 
16:30 – SESSIONE 4
Sustainable tourism – challenges and solutions in Italy and Switzerland
Moderazione: Chiara Rabbiosi, Professoressa di Economic and Political Geography, Università di Padova
Pierluigi Musarò, Professore di Sociologia, Università di Bologna, direttore Festival IT.A.CÀ, Encouraging creativity and innovation to tackle over-and under-tourism problems: the case of IT.A.CÀ_Festival of Responsible Tourism
Claudio Visentin, giornalista e professore, Università della Svizzera Italiana, (Tourist) Switzerland: Heaven or Hell?
Piccarda Frulli, Svizzera Turismo, Vicedirettrice Italia, Swisstainable, viaggiare sostenibile
H17:45 – Wrap-up
Mathis Stock, Professore di Geografia, Università di Losanna
H18:00 – Aperitivo finale
---
Mostra di poster
Presentazione progetto: Overtourism: Cities Count
Fabrice Bardet, Professore, École nationale des travaux publics de l'État (ENTPE)
Victor Anduze Rivero, candidato dottorando, École nationale des travaux publics de l'État (ENTPE)
Valérian Geffroy, Postdoc, Università di Losanna
Davide Ceccato, candidato dottorando, Università di Losanna