Ciclo di conferenze, Scienza, Roma
Introduction
Programma
Biografia
Category
Ciclo di conferenze, Scienza
Una recente valutazione della storia dell'arte "digitale" propone due osservazioni critiche: la prima, che "le immagini non hanno un equivalente 'naturale' nella forma digitale" (Drucker 2015); la seconda, che "digitalizzazione non equivale a rappresentazione, ma è interpretazione" (ibid.). Il secondo laboratorio del ciclo "Ways of Seeing" parte da questi punti critici per affrontare le sfaccettate relazioni tra lo status ontologico delle immagini e i dati empirici, da una parte, e l'orientamento epistemologico delle discipline dall'altra. Il laboratorio riunisce rilevanti esponenti della storia dell'arte, dell'archeologia e della storia delle scienze per riflettere sulla questione a partire da casi di studio particolari, letti nel contesto più ampio delle digital humanities. A questo scopo, il laboratorio intende affrontare la questione che lo ispira "verso il digitale?" nei termini delle molteplici relazioni che le immagini intrattengono con i dati empirici della ricerca e gli immaginari in cui si muovono le discipline.
Con: Pasquale Beneduce, Henrik Boman, Guelfo Carbone, Lars Berggren, Alessandro di Pietro, Marc Duret, Alessandra Giovenco, Michael Hagner, Thomas Hänsli, Lindsay Harris, Toni Hildebrandt, Christoph Hoffmann, Maria Kraft, Federica Martini, Alessia Mistretta, Ana Shametaj, Philippe Sormani, Letizia Tedeschi, Ariane Varela Braga
Conferenza serale, 23 marzo 2016:
Prof. Giolo Fele (Università di Trento)
Considerare il gusto. Analisi video di sessioni di degustazione
PROGRAMMA
Mercoledì, 23 marzo
14.30 Benvenuto e introduzione
Michele Luminati e Philippe Sormani
(Istituto Svizzero di Roma)
15.00  Digitalizing images, revisiting art history
Thomas Hänsli (Art history, ETHZ / UNIZH, Zurich)
15.45   Digitalizing and exhibiting art: some practical and art historical insights
Ariane Varela Braga (Storia dell'arte, UNIZH, Zurich)
16.45 Imagining a Nation's Capital: The John Henry Parker Photography Collection (1864-79) in the Digital Age
Lindsay Harris (Storia della fotografia, American Academy in Rome)
18.15 Conferenza serale:
Digital or digitalism – another chapter in the history of the humanities?
Michael Hagner (Storia della Scienza, ETH, Zurich)
Giovedì, 24 marzo
10.00 From image interpretation to archeological finding: techniques of aerial archeology and geophysical prospection
Alessia Mistretta (Archeologia, Università di Genova)
10.45 What is data? Notions of Data in Research Activities
Christoph Hoffmann (Storia della Scienza, University of Lucerne)
11.45  Photography and cinema as a form of proof between esthetical and judicial truths
Pasquale Beneduce (Storia del Diritto, Università di Cassino)
13.30  Trasferimento verso l'Istituto Svedese di Roma (via Omero, 14)
15.00  Tavola rotonda: Digital humanities, quo vadis? Tutti i relatori
16.00 Digital Deserts – proiezione cinematografica:
NEW VOID (A. Di Pietro e A. Shametaj – 2014, 30′) e conversazione finale
Toni Hildebrandt (Storia dell'Arte, Università di Berna)
Alessandro Di Pietro (artista visivo) e Ana Shametaj (regista teatrale)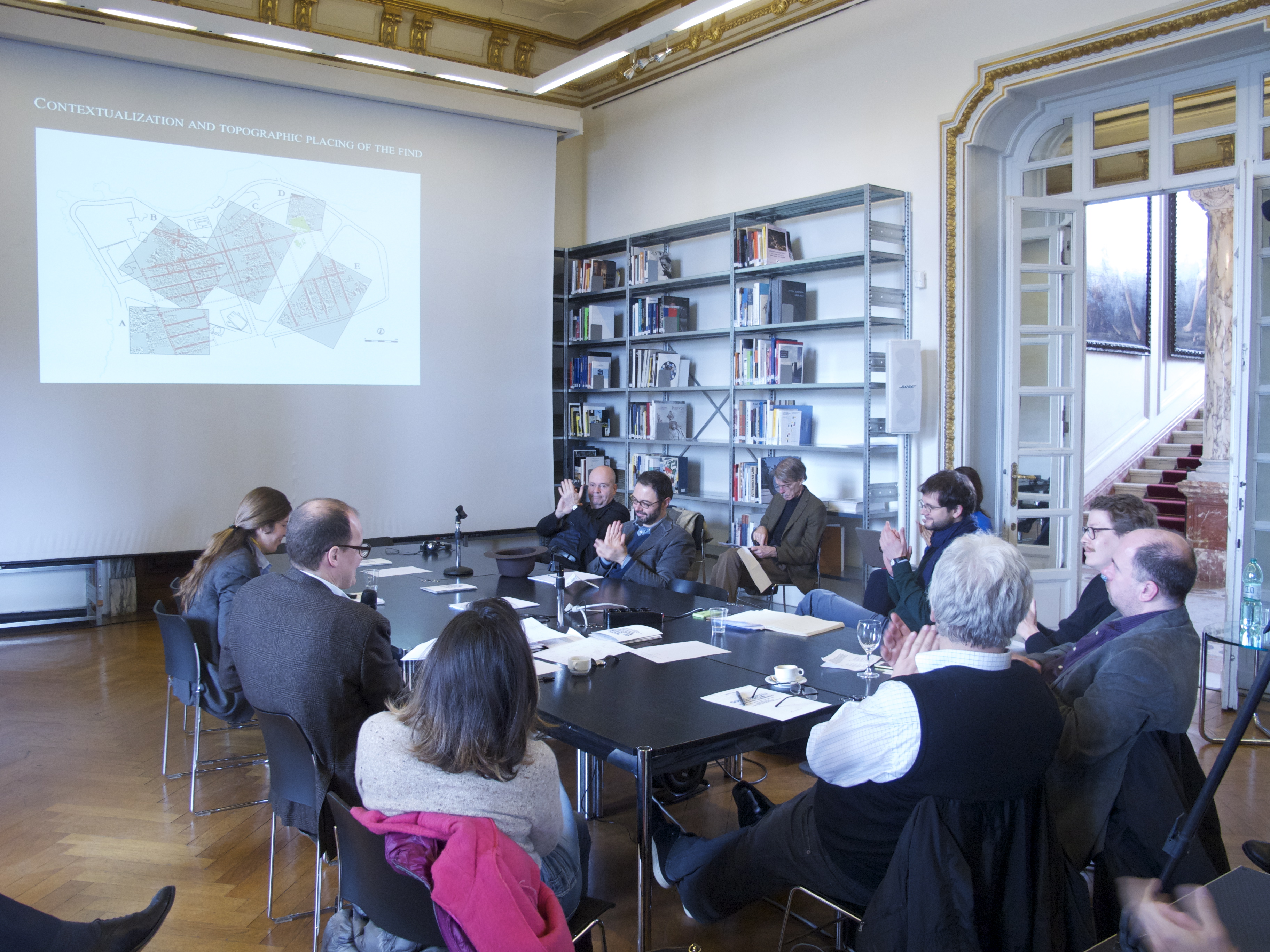 Michael Hagner, nato nel 1960, è professore di Studi Scientifici al Politecnico di Zurigo. I suoi studi si interessano di storia della ricerca sul cervello e della sua importanza nell'ambito delle scienze dell'uomo, del ruolo delle immagini nella ricerca scientifica e più recentemente della storia del libro nelle scienze. Dopo aver studiato medicina e filosofia alla Freie Universität di Berlino, nel 1986 vi ha lavorato come neurofisiologo. Ha insegnato all'Istituto di Storia della Medicina e della Scienza di Lubecca e all'Istituto per la Storia della Medicina di Gottinga. Michel Hagner è stato visiting professor presso le Università di Salisburgo, Tel Aviv, Francoforte e Colonia, oltre che visiting scholar all'Istituto Wellcome per la Storia della Medicina di Londra. È stato ricercatore del Collegium Elvetica, del Zentrum fur Literatur und Kulturforschung di Berlino, e della Maison des Sciences de l'Homme di Parigi. Dal 1997 ricopre la posizione di ricercatore senior all'Istituto Max Planck. Per il suo lavoro ha ricevuto numerosi premi, tra cui il Sigmund Freud per la prosa scientifica dall'Accademia Tedesca di Lingua e Letteratura, di cui è associato. Michael Hagner è inoltre membro della Leopoldina e della ‪Accademia delle Scienze di Gottinga.
Tra le sue pubblicazioni: Homo cerebralis. Der Wandel vom Seelenorgan zum Gehirn (Berlin, 1997), Der Geist bei der Arbeit. Historische Untersuchungen zur Hirnforschung (Wallstein, 2006) e Der Hauslehrer. Die Geschichte eines Kriminalfalls. Erziehung, Sexualität und Medien um 1900 (Suhrkamp, 2010).