Ciclo di conferenze, Scienza, Roma
Introduzione
Programma
Video
Biografia
Dates
25.02.2016
26.02.2016
Category
Ciclo di conferenze, Scienza
Come sono trattate oggi le immagini nelle scienze umane e sociali? Quali problemi di ricerca segnalano? E, in questo contesto, cosa imparano le scienze umane e sociali dalle immagini analizzate e dalla analisi visuale? In breve, quale innovazione vi è contenuta? Il laboratorio che inaugura il ciclo invita i partecipanti – archeologi, storici, filosofi e sociologi, tra gli altri – a cimentarsi con un dialogo interdisciplinare che si indirizzi tanto ai contesti dei differenti usi delle immagini che alle circostanze della analisi visuale. Questo doppio "ritorno alle pratiche" vorrebbe inoltre contribuire alla ricontestualizzazione del dibattito attuale sull'orientamento (o: ri-orientamento) delle scienze umane e sociali, avendo in vista le "digital humanities".
Con: Henrik Boman, Guelfo Carbone, Dario Cecchi, Marc Duret, Malvina Giordana, Lindsay Harris, Toni Hildebrandt, Vladimir Ivanovici, Maria Kraft, Angela Maiello, Federica Martini, Martina Merz, Cyrill Miksch, Barbara Pentimalli, Philippe Sormani, Andrea Spreafico, Ariane Varela Braga
Conferenza serale, 25 febbraio 2016:
Prof. Dr. Martina Merz (Università Alpen-Adria Klagenfurt, Vienna)
Images and imaging in inquiry and innovation: a view from Science and Technology Studies
PROGRAMMA
Giovedì 25 Febbraio
10.00 Benvenuto e apertura lavori
Philippe Sormani (Sociology, Istituto Svizzero di Roma)
e Guelfo Carbone (Philosophy, Istituto Svizzero di Roma)
10.45 Imaginaries of a solitary walker: doing archeology of Calabrian landscapes
Marc Duret (Archeology, University of Geneva – ISR fellow)
11.45 Possibilities and limits of visualization within archeology and architecture
Henrik Boman (Archeology, Swedish Institute in Rome)
e Marie Kraft (Urban Studies, Swedish Institute in Rome)
12.30 Finding the possible in an impossible relation: analysing the medieval Gesamtkunstwerk through images
Vladimir Ivanovici (History of Art, USI, Mendrisio)
15.00 Producing the archive
Federica Martini (History of Art, ECAV, Sierre – ISR fellow)
15.45 Video analysis of interaction: conversational, multimodal,and "esoteric"
Philippe Sormani (Sociology, Istituto Svizzero di Roma)
16.45 Video-based research in Workplace Studies
Barbara Pentimalli (Sociology, University of La Sapienza, Rome)
18.00 Conferenza serale:
Images and imaging in inquiry and innovation: a view from science and technology studies
Martina Merz (Alpen-Adria University Klagenfurt, Vienna)
Venerdì 26 Febbraio
10.00 Making space without building it / building up virtual spaces – Robert Zemeckis' and Harun Farocki's CGI
Malvina Giordana (Film and Media studies, University of Roma Tre)
10.45 For a grammar of visual esperanto
Angela Maiello (Philosophy, University of La Sapienza, Rome)
11.45 The work of art in the age of differential reproduction
Dario Cecchi (Philosophy, University of La Sapienza, Rome)
12.30 Discussione: Conclusioni, note
Tutti i partecipanti
Moderano: Guelfo Carbone and Philippe Sormani (Istituto Svizzero di Roma)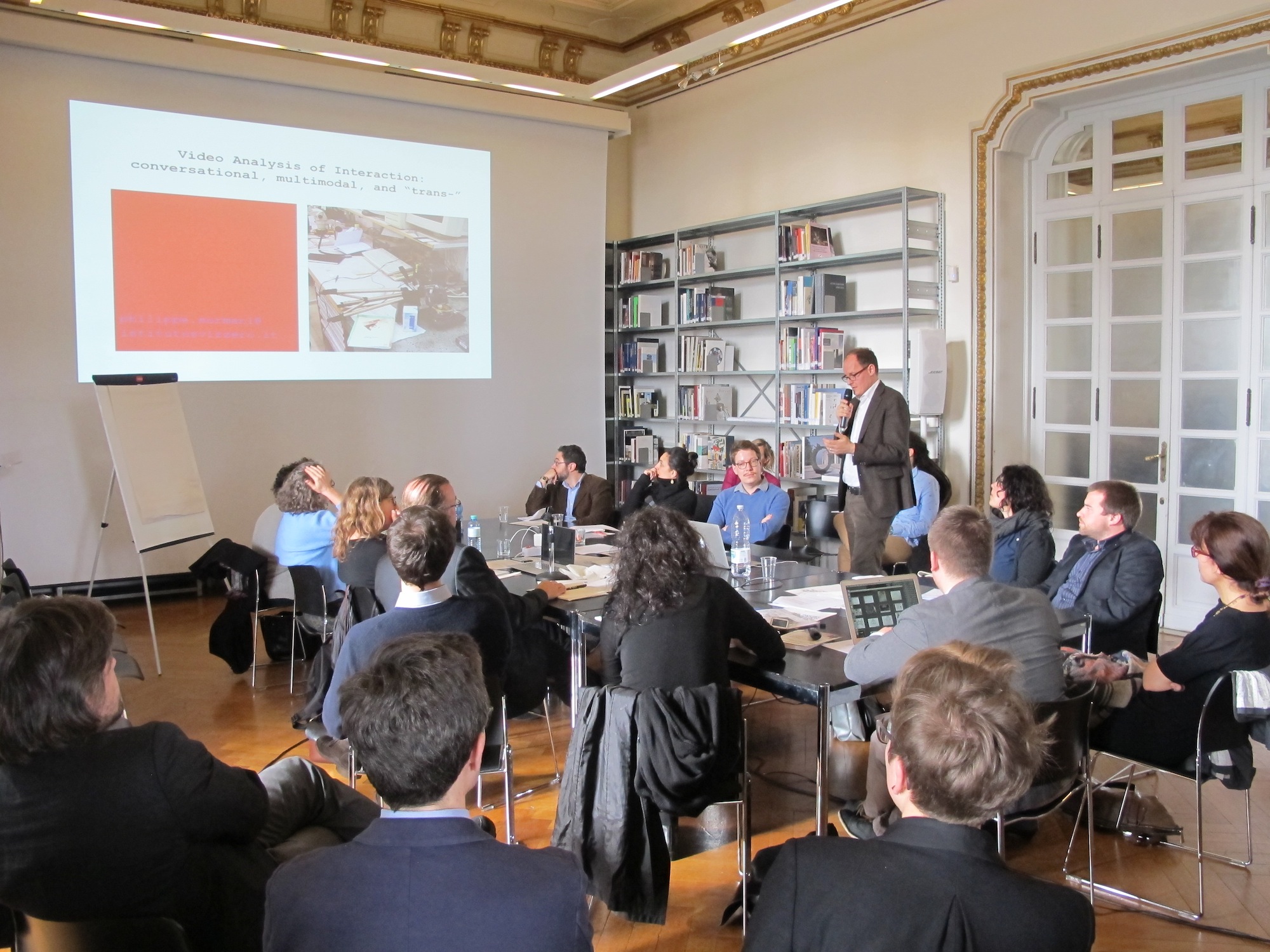 Video integrale della conferenza serale
Martina Merz è professore di Science Studies alla Alpen-Adria-Universität Klagenfurt | Wien Graz, Austria e visiting scholar al Centro di Eccellenza in Filosofia delle Scienze Sociali dell'Accademia di Finlandia (TINT), Università di Helsinki, Finlandia (in entrambe dal 2014).
Dopo aver completato una prima laurea e un dottorato in fisica presso la Ludwig-Maximilians-Universität di Monaco di Baviera, il suo desiderio di indagare le scienze contemporanee come fenomeni sociali e culturali la porta alla sociologia e al campo degli Studi sulla Scienza e Tecnologia (STS) e, da lì, all'Università di Bielefeld. La sua attività scientifica ha portato Martina Merz a Ginevra (per uno studio etnografico al CERN) e da lì a Berna e a Losanna. Dal 2006-2013 ha tenuto una cattedra della Swiss National Science Foundation presso il Dipartimento di Sociologia dell'Università di Lucerna, a capo di un progetto di ricerca sulle nanoscienze come nuovo campo di ricerca in Svizzera. Ha trascorso l'anno accademico 2013/2014 al Centro di eccellenza dell'Accademia di Finlandia in filosofia delle scienze sociali (TINT) dell'Università di Helsinki, prima di trasferirsi in Austria nel 2014.
La sua recente ricerca si concentra sulla configurazione locale di nuovi campi di ricerca, sulle pratiche di rappresentazione della scienza (modelli, simulazione, immagini), e sulla metodologia delle scienze sociali qualitative. Esplora la scienza interdisciplinare non solo come oggetto di studio, ma anche in azione, collaborando di volta in volta con scienziati sociali, filosofi, storici, e, occasionalmente, fisici.