Cinema, Milano
Colosseo Multisala
H20:40
Introduzione
biografia
Sinossi e info
Information
Colosseo Multisala
H20:40
Love Me Tender di Klaudia Reynicke
In occasione de Le vie del cinema, manifestazione che presenta in anteprima assoluta nelle sale cinematografiche milanesi, nei mesi di giugno, settembre e dicembre una qualificata selezione di film del Festival di Cannes, della Quinzaine des Réalisateurs, del Festival del film Locarno, della Mostra Internazionale d'Arte Cinematografica della Biennale di Venezia e del Torino Film Festival, si proietta presso il cinema Colosseo Multisala il film presentato alla 72° edizione del Locarno Film Festival, Love Me Tender in presenza della regista e dell'attrice Barbara Giordano. A cura di Daniela Persico.
Il film è stato altresì presentato alla 19° edizione del Locarno a Roma, che ha selezionato diversi titoli provenienti dal Locarno Festival, tutti proiettati in versione originale con sottotitoli in italiano, per offrire al pubblico romano una finestra privilegiata sulla rinomata kermesse svizzera.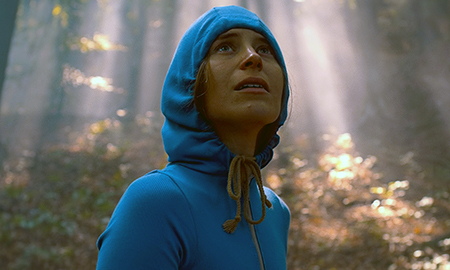 Klaudia Reynicke, sceneggiatrice e regista svizzera peruviana, ha studiato arti visive, antropologia e sociologia. Nel 2005 ha frequentato la Tisch School of the Arts della New York University. L'incontro con la regista Jacqueline Veuve, di cui è stata assistente nel 2006, ha confermato il suo desiderio di diventare regista. Love Me Tender è il suo secondo lungometraggio.
Love Me Tender di Klaudia Reynicke
con Barbara Giordano, Antonio Bannò, Gilles Privat,
Maurizio Tabani, Anna Galante, Federica Vermiglio
Svizzeraa, 1h23, v.o. italiano
Seconda soffre di agorafobia e non se la sente di uscire dalle mura domestiche. Ma quando riesce a lasciare la casa familiare, le si presentano nuove sfide che la spingono a forzare ancora di più i propri limiti.
Potente film svizzero al femminile firmato da Klaudia Reynicke, capace di risultare astratta e incisiva allo stesso tempo. Puntando molto sulla recitazione della sua protagonista, la regista mette in scena il rifiuto di ogni forma di patriarcato, sorprendendo per lo stile fresco e gli spunti originali del copione. L'autrice arriva a descrivere gli stereotipi maschili smascherandone le fragilità con notevole coraggio.
Le vie del Cinema
18-26 settembre, Milano