Cinema, Screening, Milano - Cinema Beltrade
Location
Milano - Cinema Beltrade
Category
Cinema, Screening
Cluster Eunic Milano in collaboration with Cinema Beltrade is pleased to present the short film marathon Animazione in corto – i talenti europei on the occasion of the European Arthouse Cinema Day.
EUNIC Milano is keen to emphasize its commitment to promoting European cultural diversity in its key projects, as it has been over the years with the Festival of European Literature or the more recent Contemporary European Film Days. The initiatives always focus on themes that are as specific as they are universal, such as cultural diversity, social integration and immigration.
The 10 animated short films come from the Czech Republic, Spain, Austria, Romania, French-speaking Belgium, Hungary, France, Switzerland, Poland and Croatia and are made by Europe's youngest talents, a selection that tells of different worlds and visions within the European space.
Istituto Svizzero presents the short film ARMAT, by young Geneva-based director Élodie Dermange.
Armat
Written and directed by Élodie Dermange
2D animated painting, Switzerland, 2022, 11'37
French language, English subtitles
Synopsis:
Élodie tries to find out more about her family's Armenian origins. She interviews her father, her uncle, her great aunt, and discovers a harsh history where violence and the inability to express love are passed down from generation to generation.
---
Tickets:
Full € 7,50 / Reduced over 65 € 6,50 / Reduced under 26 € 5,00
Buy here.
Cinema Beltrade
Via Nino Oxilia 10, Milano
A project by EUNIC Milano and Cinema Beltrade. In collaboration with: Wallonie-Bruxelles International, Consolato Generale della Repubblica di Polonia in Milano, Institut français Milano, Consolato Generale di Ungheria a Milano, Instituto Cervantes Milano, Istituto Romeno di Cultura e Ricerca Umanistica Venezia, Forum Austriaco di Cultura a Milano, Consolato Generale della Repubblica di Croazia, Istituto Svizzero.
Full programme:
Hungary – Fox Tossing  by Zénó Mira, 2023, digital animation, 7'48''
Romania – Dita di vetro by Alina Gheorghe, 2022, digital animation, 3D modeling converted in 2D image frame by frame, 6'58"
France – OROGENESIS by Boris Labbé, 2016, computer animation, satellite images, 3D modeling of the Pyrenees, 7'52"
Croatia – JEŽEVA KUĆA – LA CASA DEL PORCOSPINO by Eva Cvijanović, 2017, stop motion animation, 10'
French speaking Belgium – Medhamme by Léa Acquisto, Elora Coutellier & Sarah Vanderhaegen – Haute École Albert Jacquard, 2023, animation, 11′
Czech Republic – Leaf /Lístek by Aliona Baranova, Czech Republic, 2020, animazione, 5'40"
Poland – 3GENARRATIONS by Paulina Ziółkowska, 2021, animation, 8'34"
Spain – Chimborazo by Keila Cepeda Satán, 2022, 2D digital/stop motion, 7'19''
Austria – Auf dem Grund des Wäschekorbs / Sul fondo della cesta del Bucato by Adele Razkövi, 2021, animation, 7'
Élodie Dermange (1992 in Geneva, Switzerland) grew up between Switzerland and Paris. At the age of 16, she embarked on a training course as an illustrator in Geneva. She worked as an independent illustrator for 2 years and then decided to go backpacking for a year. Upon returning attended the Ateliers de Sèvres in Paris where she learned about animation. In 2016, came back to Switzerland. She graduated from La Pourdrière, France, intake 2017-2019.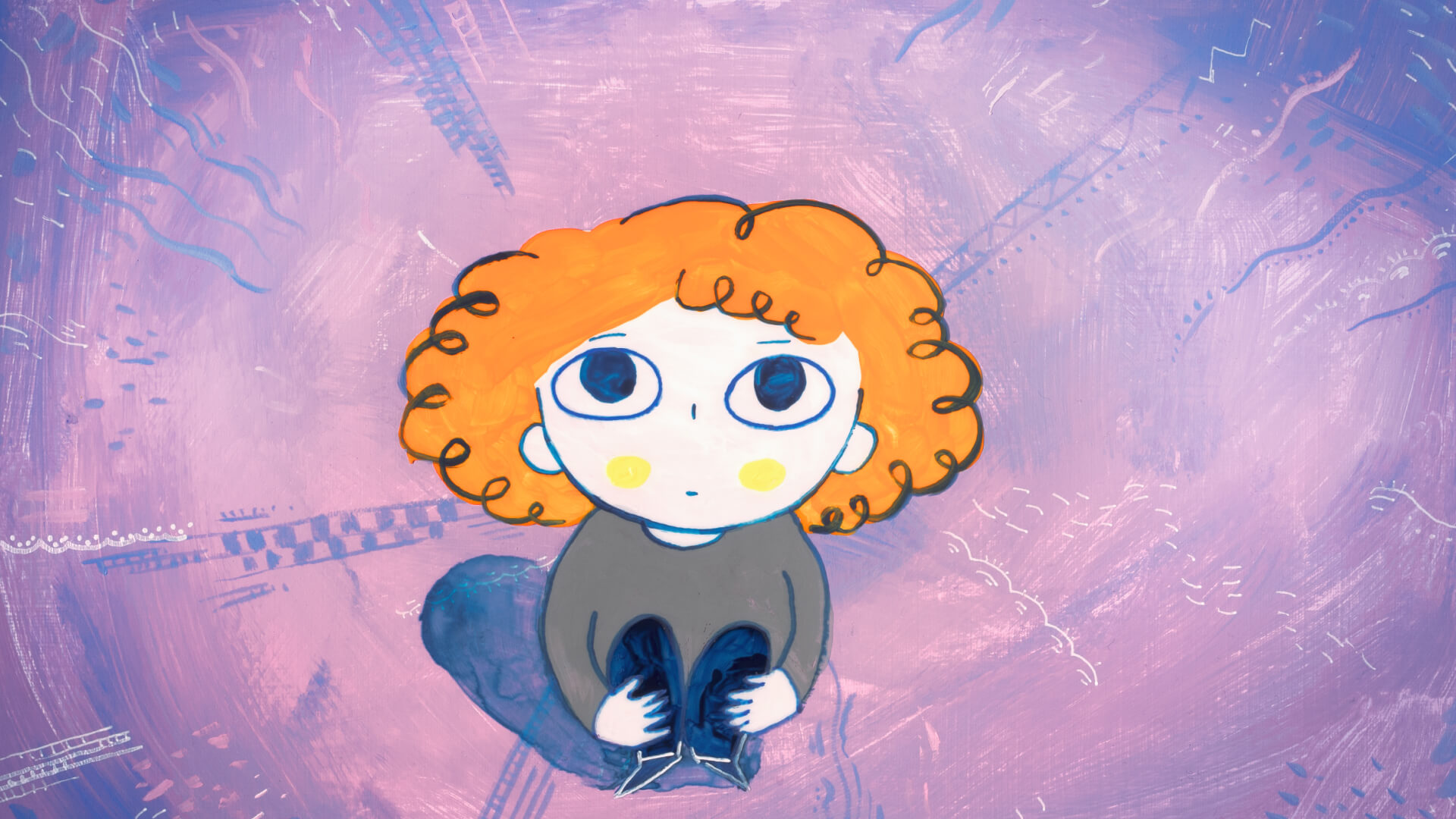 CREDITS:
Written and directed by Élodie Dermange / Animation: Élodie Dermange, Sofia El Rhyari / Colorisation: Yaeka Tabara, Julie Stuyck, Cliodhna Clune / Editing: Aurélie Sprenger / Modelisation 3D: Morgane Bogdanoff / Sound Editing: Jérôme Vittoz / Music: Sam Shalabi / Musician: Hrair Hiratchian / Singing: Elizabeth Anka Vajagic / Voices: Siobhán, Pierette, Olivier / Sound effects: Claire André / Sound recording: Elias Bolughedir / Production company: Nadasdy Film / Producers: Nicolas Burlet, Zoltan Horvath / Coproduction: RTS Radio Télévision Suisse / Financial support: Cinéforom, Loterie Rom