Book launch, Roma
H19:00 book launch of ORTO: by invitation
H21:00 musical selection open air: free entry, by signing-up
Information
H19:00 book launch of ORTO: by invitation
H21:00 musical selection open air: free entry, by signing-up
Every year, Istituto Svizzero invites six artists and six researchers to a unique residency experience, Roma Calling. Over the course of ten months, a multidisciplinary community forms, looking beyond each resident's own field of expertise in the midst of an international network of academies, art institutes and universities.
Last March, life inside the villa and its garden was put on a long halt due to the arrival of the virus. The final event, which marks the end of the residency, has therefore been transformed this year, into a publication, which proposes an imaginative journey through the residents' garden, intended as a physical and metaphorical space to share thoughts, studies and artistic research.
ORTO is the result of a collaborative zeal between art and science and highlights the common desire to cross barriers and overcome distances, albeit symbolically. Conceived in singular circumstances—swift e-mail exchanges and long video calls— the book contains heterogeneous materials able to reproduce the fellows' experience.
ORTO has been designed and published by NERO, Rome.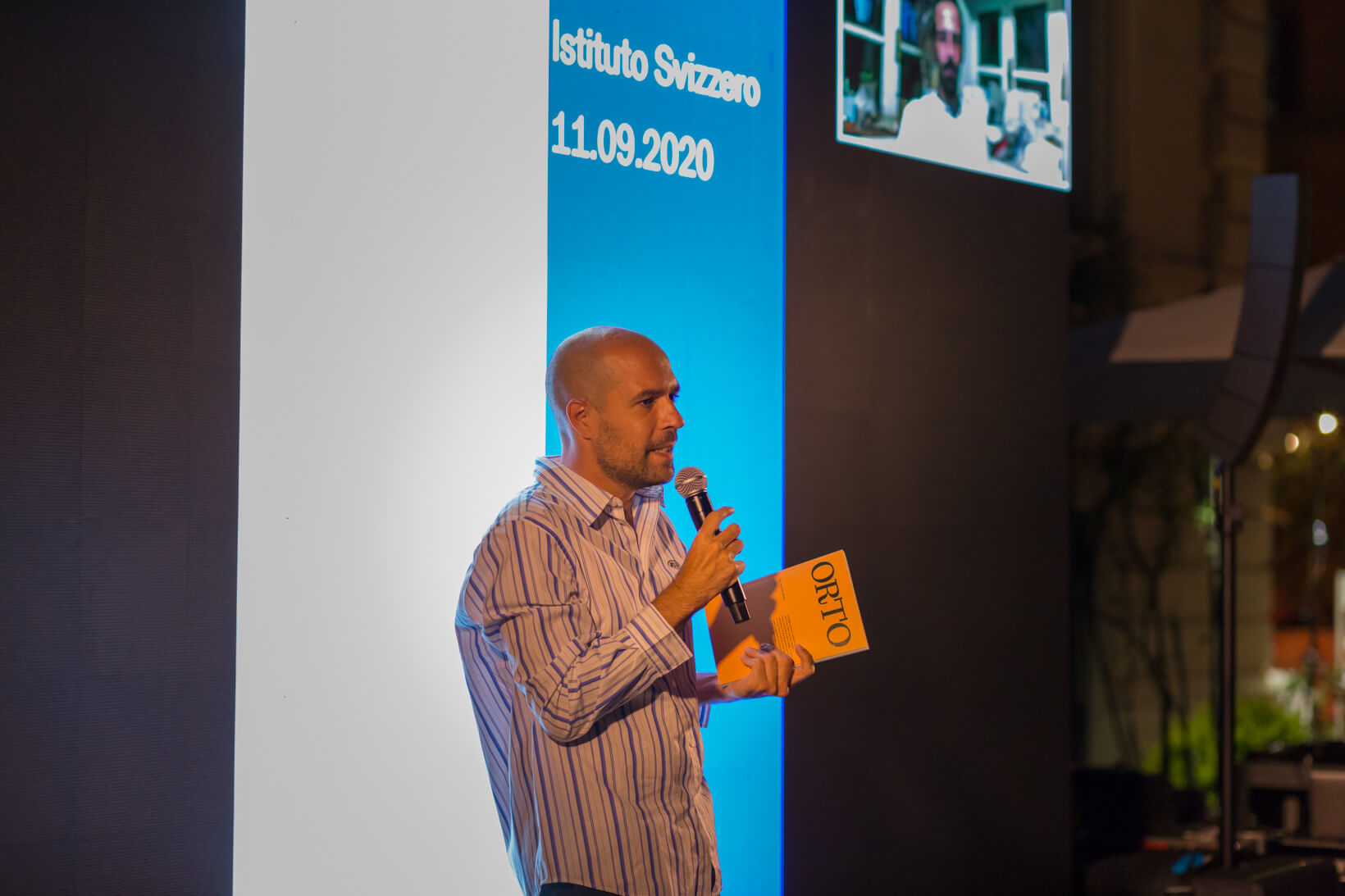 Programme
H19:00 – By invitation
H19.00 Welcome
H19.10 Keynote address – Marcello Di Paola (LUISS Roma): Place, Practice, Performance: the Ethics and Politics of Gardening
H19.30 Book vernissage – Saul Marcandent (IUAV Venezia) in dialogue with the authors of ORTO, the fellows Roma Calling 2019/20
H20.00 Aperitif
H21:00 – Free entry, by signing-up
Musical selection by Nay Thit
The event will be held both in Italian and English.
The event has limited capacity. Please register here. 
Contributors:
Marcello Di Paola is an expert of Environmental philosophy. He studied at London School of Economics, at Luiss Guido Carli and at New York University. Currently he teaches Political philosophy and Sustainable development at Luiss Guido Carli. He is author of Giardini globali. Una filosofia dell'ambientalismo urbano (Luiss University Press, 2013) and Cambiamento climatico. Una piccola introduzione (Luiss University Press, 2015). Together with Gianfranco Pellegrino he co-authored Nell'antropocene. Etica e politica alla fine di un mondo (Derive e Approdi, 2018).
Saul Marcadent is a PhD and curator, now research fellow at IUAV University of Venice. Among his research interests are the relations between magazines, fashion and visual culture. He works on publishing and exhibition projects, using his activities also as a research tool. His book titled Publishing as Curating will be published by Marsilio Editori in September 2020.
Fellows Roma Calling 2019/2020: Armando Bramanti, Johanna Bruckner, Romeo Dell'Era, Francesco Dendena, Pauline Julier, Dominique Laleg, Charlotte Matter, Nastasia Meyrat, Real Madrid, Kiri Santer, Urs Steiner, Anaïs Wenger.
Please find here all the biographies of the contributors of ORTO.
Nay Thit is a DJ and producer, a nascent entity – new alias of the interdisciplinary artist Melissa Tun Tun. Fueled by previous collaborations in electroacoustic composition, live electronics, and computer music (BARE-TT, SD S, TLM), the Nay Thit project stems from an experimental practice. Nay Thit sonic output navigates across genres within a raw and upbeat palette and celebrates the collective momentum of building a radical and inclusive club culture.