Art, Online
A conversation between Gioia Dal Molin, Attilia Fattori Franchini, Raffaela Naldi Rossano, Lara Dâmaso
Dates
16.05.2022
11.06.2022
Information
A conversation between Gioia Dal Molin, Attilia Fattori Franchini, Raffaela Naldi Rossano, Lara Dâmaso
A conversation between artists Lara Dâmaso and Raffaela Naldi Rossano and curators Gioia Dal Molin and Attilia Fattori Franchini on the themes and ideas behind the joint exhibition Undomesticated Voices currently on view at Istituto Svizzero in Milan.
ATTILIA FATTORI FRANCHINI: Your work explores the potentiality that emerges from upsetting familiar relations: Raffaella's complex multi-media installations reveal how language, memory, and spaces—public and private—can confuse power structures and reformulate our experience of the world while Lara's work concentrates on the transformative power of the dancing and singing body. In this framework, how did you approach the exhibition at Istituto Svizzero (IS)?
LARA DÂMASO:
RAFFAELA NALDI ROSSANO: I will not use the word upsetting necessarily and not even familiar but will shift the focus more to researching and presenting ways of constructing life experiences, of making and giving meanings to spaces that embrace complexity and openness outside of norms and definitions.
I've approached the exhibition as an open container of entities in continual transformation. I wanted it to be finished, unfinished, in progress, fragments of the past and the future layered all together in an atemporal space. Since my initial invitation by Istituto Svizzero's Head Curator Gioia Dal Molin during the second wave of the pandemic, my idea for the space has shifted from the necessity to hear voices to one of listening in silence through devices such as light, shadows, and water messages. I would like to let the exhibition space speak and suggest some sort of hidden oracular messages that come unexpectedly through a multitude of elements. These different elements emerge from the desire to mold a place suspended between time, space, and energies. These may be memories, historical events, or fictional and autobiographical experiences that, once condensed, give the exhibition space the possibility to be more than one, to exist in between, as an initiation place—perhaps a temple. A suspended space that might be a shoreline, the last frontier, the constant displacement we all in a way or another are experiencing: in my writings, this became a mantra: "home is a chimera, base your instinct on encounters". My interest in creating chaos, emotions, confusion and perhaps failure derives from the need to question the notions of sanity and normality (vs. defining pathologies as I question my background in psychology). As women have always been defined as crazy, my exercises on MANIA—Follia Mantica in the act of making—are an attempt to centralize desire and a way of understanding a reality made of archetypes and insights as a tool to navigate the incredibly traumatic historical period we are in.
GIOIA DAL MOLIN: From a curatorial perspective, I wanted to invite Lara and Raffaela to a joint exhibition because I see many connections between their artistic research and work. Connections that are sometimes clear and obvious, sometimes hidden and meandering. At the same time, the artists work in different formats or interpret formats very differently. A fact that creates a beautiful and also exciting coming together in the context of the exhibition. I also appreciate Lara and Raffaela very much because they are both interested in forms of collective working, in caring for each other, complicitly. These are things that are also fundamental to my curatorial work and which, I believe, form the fertile humus for great projects. 
AFF: The show is titled 'Undomesticated Voices', can you tell me more about its meaning?
LD:
RNR: I love the word undomesticated. I encountered it while writing about cats and making a video of the house where I was stuck during the first lockdown, a temporary experiment of kinship through residency before being evicted. I first put the word undomesticated in the title of an intro video called Archival spell for an Undomesticated Home, (2020- 2021).
The starting point of Invocation to Sing (2022), the installation I have developed for Istituto Svizzero is a record player cabinet from the 1950s which belonged to my grandmother. I wanted to create an alternative map of the Mediterranean coast materialized as audio tracks inscribed on a dab plate—a matrix that slowly expires after several listenings—by recording a sea journey from Naples to the Fountain of Castalia in Greece. This journey is now continuing in other significant places of spiritual and historical relevance close to the marine ecosystem; it is envisioned to give voice to the figure of the lost siren dating from pre-classic mythology to contemporary times. The voice of my grandma is inscribed in the history of colonization of the south and filled with traumatic events. My need to repair and make her old record player the main device for listening to the audio piece presented in the show comes from a biographical tale of how, as a teenager, she decided to hit a Nazi soldier in the head by throwing a pan from the balcony of her upstairs apartment. I find it fascinating how a domestic tool becomes a weapon of resistance. In response to this act, my grandmother's record player, the family's main source of information and entertainment, was permanently confiscated from her house. During that same period, she was also working secretly as a housekeeper for the Americans to make the money to buy a new record player: a pivotal device in familiar and social connections to fight political repression and alienation. I find this situation extremely close to what is happening now—with media information and austerity in relationships—to having fun, listening to music, singing and dancing: ultimately being together. That's what the piece CET 39°01'31"N 17°12'08"E (2020-2022) is about: creating a moment in which we don't question the borders between identities, and we become "bridges over troubled water". [Bridge over Troubled Water is the fifth and final studio album by American folk rock duo Simon & Garfunkel, (1970)].
GDM: The title came about in an email exchange among the three of us. Lara and Raffaela make a variety of references to it in their artistic works. For me and my work as a curator, the title and, logically, the themes discussed are connected to exhibition projects and research of the last few months. Last autumn, I curated the group exhibition Do you hear us? at Istituto Svizzero in Rome, in which I dealt with 'listening' as a social and political practice, and just this March, the solo exhibition with Mai-Thu Perret opened in Rome, for which I also explored forgotten or overheard voices. It was also wonderful to be able to reread texts by Anne Carson.
AFF: For both of you your work is rooted in extensive research, looking at oral histories and potential signifiers, geographical, social, and architectural. I'd love to know more about your inspiration for this exhibition.
LD: Books and texts:
Anne Carson, The Gender of Sound (1994)
Kristin Linklater, Freeing the Natural Voice (1976)
Audre Lorde, Your Silence Will Not Protect You (2017); Poetry Is Not a Luxury (1985); Uses of the Erotic: The Erotic as Power (1979)
Danielle Goldman, I Want To Be Ready (2010)
RNR: My work is made literally in collaboration with the sea, as I create all of my drawings and part of my sculptures, gestures, audio recordings, and writings close to it, in it, looking at it, speaking with it. Inspirations are many:
– My long-term intensive research on the siren archetype, mythology, and relationship with the foundation of my hometown Parthenope/Naples.
– The sea journey I took from Naples to the fountain of Castalia at the Oracle of Delphi, passing through the territories of Calabria, Puglia, and the Greek coast, which all have their stories of sirens, witches, and female archetypes. Working on a series of sound pieces with performer Chiara Orefice (Ligea) and other traveling companions as part of a temporary collective to rewrite the myth of the three sister sirens. The sea journey is also the archetypical symbol of a new season of my life when I turned 30: during this time Saturn retrograded entirely.
– Living in Tinos.
– Doing experimental therapy to get into other past/future life experiences.
– Having as reading companions by my side Silvia Federici, Federico Campagna, Ernesto de Martino, Paul Virilio, Carl Jung, L'anti Edipo, Etel Adnan and many more.
– Performing not for the public but to create the work as various personifications of Parthenope, inspired by Le Nemesiache.
– My immortal cat Hydra.
– A journey to the Drakospita with Georgia Stellin.
– My daily ritual with the sea.
– Climate change.

GDM: As described it in the curatorial text for the exhibition, for me, Lara and Raffaela's works are inextricably tied to the sea. I don't know if I would call that 'inspiration', but it is definitely a feeling, an element, a memory, and an experience that had been important in thinking about the exhibition. The sea, the water, the ocean. The sea that is so close to the living room of Raffaela's flat in Naples and the sea that rushes and roars in the video work Saudade by Lara.
In this context, I have obviously also been thinking about the concept of fluid bodies and about fluidity itself, of existence and coexistence. Astrida Neimani's text Bodies of Water – Posthuman Feminist Phenomenology accompanied me in this. And: I am writing these thoughts down on the train back to Rome from the Venice Biennale. One thing that has definitely imprinted itself on my mind from all these impressions is the video work Sirens by Nan Goldin. This is not an 'inspiration' but a touching re-encounter, which probably also stays with me because I have talked a lot with Lara and Raffaela about the Sirens and all their sisters from ancient mythology.
AFF: The works presented in the show explore the social potential for a more bodily understanding of community care, changing our relationship to listening while focusing on the ways we move through and take up space with others. The result is an enforcing polyphony operating on the sensorial: how did you calibrate this ensemble?
GDM: From my perspective, I can add that in working with Lara and Raffaela, I was fascinated by her different ways and approaches to storytelling. As you rightly point out, Attilia, Raffaela's stories tend to be linked to objects, whereas Lara's many stories are manifested in ephemeral movements and voices. At the same time, the works of both artists also feed on their own experiences and biographies. This creates a dense, multifaceted, and multi-layered web of references and connections that is multiplied again through the eyes and experiences of the exhibition visitors.
AFF: Is there any special way in which the artistic dialogue manifests in the exhibition?
GDM: I think for all of us the idea of polyphony and the desire to create a kind of polyphonic sounding space was of great importance. What 'sounds' wonderful as an idea and concept (to stay in the corresponding space of meaning) is of course not always easy to actually implement. The question of how we can develop this space of many voices together and how we can give space to all the different voices in the process has been very much on our minds. The result is many-voiced, beautiful, and demanding. The exhibition visitors are invited to dive into this sea of voices with open ears. The sound of Feeling Her Way (2022) resonates within me: the installation by artist Sonia Boyce in the British Pavilion, in which the voices of the invited musicians complement each other in a wonderful way.
AFF: The exhibition changes through time and through the presence or absence of the public. I am thinking of Umberto Echo's notion of 'Opera Aperta', defining works that function as a script, infinitely open to external interpretations. As both your contributions can be activated, would you see the works in the exhibition as 'opere aperte'? I'd also be curious to understand how you set the parameters of these activations.
LD: ​​
GDM: During the preparations for the exhibition, we actually talked more often about the questions of 'participation' by the audience. Umberto Eco's opera aperta idea is interesting. One of the first projects I was allowed to curate within a (more traditional) institution was a solo exhibition by Franz Erhard Walter, who considers his often textile sculptures as works only completed when activated by the audience. This experience resonates for me, and I think that in contemporary art production today, the questions of participation and accessibility are incredibly crucial, especially in these post-pandemic times.
For me, however, the possibility of activation or participation must always remain an open invitation. Together with the artists, I want to create a space in which there are manifold possibilities of participation and also of interpretation. In Undomesticated Voices, visitors can read Lara's script, activate Raffaela's record player, listen, move, stand still. On the level of curatorial mediation, it is therefore important for me to create a narrative that is also open. In the texts I write about the exhibition, I consciously use the first person, the 'I': I put my reading of the exhibition up for discussion, I share it and at the same time emphasize that there are many more approaches and strategies of appropriation.
RNR: I've been always interested in creating a sort of ambiguity between public participation and performative act, employing them as activation tools in my installation, which stands as a composition of movements and actions that had happened before or are in preparation. As Gioia mentioned, we have had long conversations about public participation and I've been wanting to push more strangers to enter the private, almost sacred, dimension I aim to create, but this time it was clear it had to happen as a gentle suggestion through the chaos of many voices. I am not interested in performance as a vertical spectacular presentation, but I envision performance as something that happens in different times and temporalities within or outside the exhibition space: as in a three-week journey; by having the public eat a marzipan coin; by leaving a libretto as an annex to the record including the texts/poems I wrote and we performed during the journey—an ongoing work which will reappear in the next audio and record player presentations; it exists intimately as a secret participatory activation of the space which will become part of a future film. Revelations never arise directly. I have written a little text to accompany the show which asks the public about their desire to enter the space and create a relationship with it. I want everyone to activate the audio which is the core of the installation. Inviting the public to play the record player, a nearly obsolete gesture, creates a relationship with the space and perhaps the memory of a specific time as the one of the audio piece. CET 39°01'31"N 17°12'08"E, (2020-2022) is a sound improvisation made specifically at the Temple of Era di Capo Colonna in Calabria, a striking location where just a pillar is left from the temple; all the marble has been scavenged to build the palazzos of the nearby city. It then connects with the mantra Saremo rocce–Saremmo rocce, extracted from my practice of automatic writing, as the sirens become rocks when they die: all the liminal material contains the hidden sounds of these mistaken voices. Our attempt to chant and declare words of love and caring in these places of extraction and colonization—in order to repair and transform how history is recorded and narrated—materializes in the exhibition as ceramic light holders which contribute to the sounds along the engraved symbols in the extracted marble and the gestures forming a script together with the sea water drawings.
AFF: Lara, can you tell me how the iterative and intimate movements that constitute the performance 'A score for various paths to a polyphony'—presented every Saturday by a different performer—have originated?
LD:
AFF: The show escapes rationality to welcome the immediacy and fragmentation of poetic and corporal language. Is poetry a source of inspiration in your work? If so, could you share some? 
GDM: Reading always accompanies me. Reading nourishes and heals. In recent months, Deborah Levy, Rachel Cusk, Annie Ernaux and many others have accompanied me. Right now, however, I cannot name a poem. But I was deeply touched by these (as far as I know, still untranslated) lines by the German author and philosopher Karoline Emcke: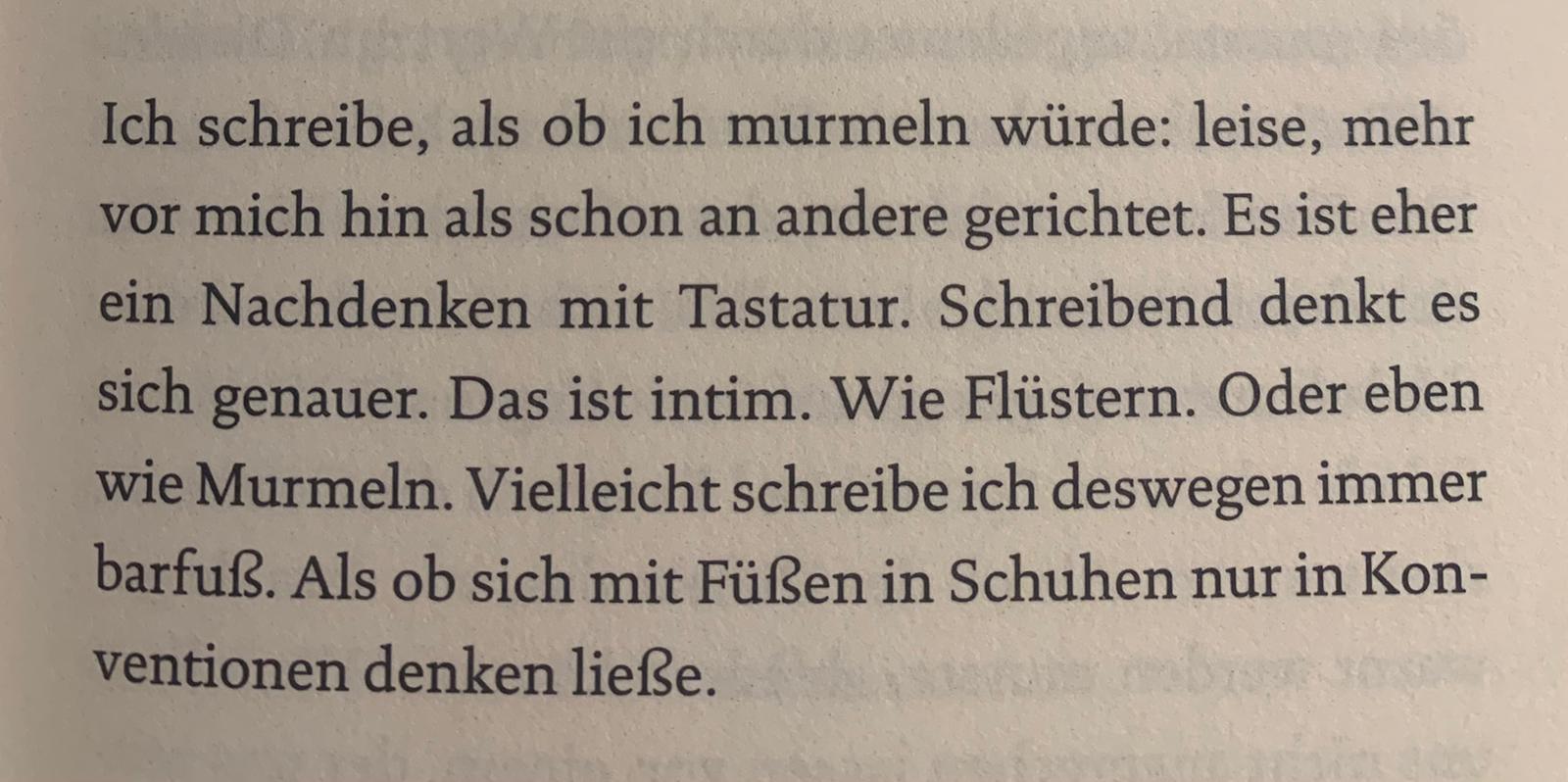 "I write as if I were murmuring: quietly, more to myself than already addressing others. It's more like thinking with the keyboard. Writing makes you think more precisely. That is intimate. Like whispering. Or just like murmuring. Maybe that's why I always write barefoot. As if, with feet in shoes, one could only think in conventions."
RNR: Hard to say one now. I will just quote the title of an Etel Adnan anthology, which is: "To look at the sea is to become what one is".
LD: Poetry, in the way it is described by Audre Lorde in her essay Poetry is not a luxury (1985), is definitely a source of inspiration and perhaps the core of my practice and work: "I speak here of poetry as the revelation or distillation of experience, not the sterile word play that, too often, the white fathers distorted the word poetry to mean—in order to cover their desperate wish for imagination without insight  [Audre Lorde, Poetry is not a luxury (1985)].
AFF: If the exhibition were a sound, what would that be?
RNR: The sound of the particles of clay moving with the sounds inside the ceramic light holder, which is very similar to the sound of a delicate fire and again similar to the sound of a distant wave moving together with a Mediterranean breeze.
LD: This is a very difficult question! I am not sure I want it to be one specific sound only, but if it should be, then an archaic and timeless voice, neither male nor female, sounding deep like the ocean and high the wind in the middle of the night.
GDM: I think for me the exhibition IS (also) sound, namely the voice and sounds I hear when I enter the exhibition space. The singing, buzzing, screaming, unpleasant and beautiful voices from Lara's performances and her video work Saudade, the whispering and crackling and singing voices of Raffaela's Dubplate, the voices of the sirens and priestesses, the voices of the visitors.