Art, Exhibition, Milano
WED/FRI: 11:00-17:00
THU: 11:00-20:00
SAT: 14:00-18:00
Dates
14.04.2022
11.06.2022
Information
WED/FRI: 11:00-17:00
THU: 11:00-20:00
SAT: 14:00-18:00
Istituto Svizzero
Via del Vecchio Politecnico 3, Milan
Free entrance, registration at the door
Opening hours:
Wednesday – Friday: 11:00-17:00
Thursday: 11:00-20:00
Saturday: 14:00-18:00
On the occasion of Milano Design Week, the exhibition will be exceptionally open on the following days:
Monday 06.06.2022 – Friday 10.06.2022 from H11:00 to H17:00
Saturday 11.06.2022 from H14:00 to H18:00
The performance 'A score for various paths to a polyphony' by Lara Dâmaso will be presented on the following dates:
14.04.2022 H16:00 – performer Giulia Termino
23.04.2022 H16:00 – performer Francesca Mariano
30.04.2022 H16:00 – performer Margherita D'Adamo
07.05.2022 H16:00 – performer Martina Nuzzi
14.05.2022 H16:00 – performer Niyayesh Nahavandy
21.05.2022 H16:00 – performer Justyna Chaberek
Lara Dâmaso's audio installation is activated every 90 minutes during the opening times:
WED – FRI: H11:00, H12:30, H14:00, H15:30, H16:30
THU: H11:00, H12:30, H14:00, H15:30, H17:00, H18:30, H19:30
SAT: H14:30
Raffaela Naldi Rossano's multimedia installation is activated:
WED : H14:45
THU: H16:00 / H18:00
FRI: H13:00
SAT: H17:00
In addition the public is invited to activate Raffaela Naldi Rossano's installation if they wish. Instruction from Raffaela:
And so – how deep is your need of exploring another world?
Is desire still the drive for actions – for moving towards the others?
The unknown?
How do we enter a new realm of significance without touching – eating – listen to it?!
Are you going to activate the vinyl player? – are you going to listen to the hidden voices? – find a message through light – Make a gesture – giving meaning to what is caos nothing than caos is more than everything.
Try to eat a marzipan coin – read the words of a journey –
Enter the light and shadows – maybe just for a bit – Speak Sing Scream and then move. Make a prayer. Again probably play the song. Something should happen. 
Activate the vinyl player: moves the lever to the outer, right side. The record will begin to spin. Place the needle on the disc. Listen for 11 minutes until the track ends. Return the needle to the initial position.
 No more clarity is needed you just have to BE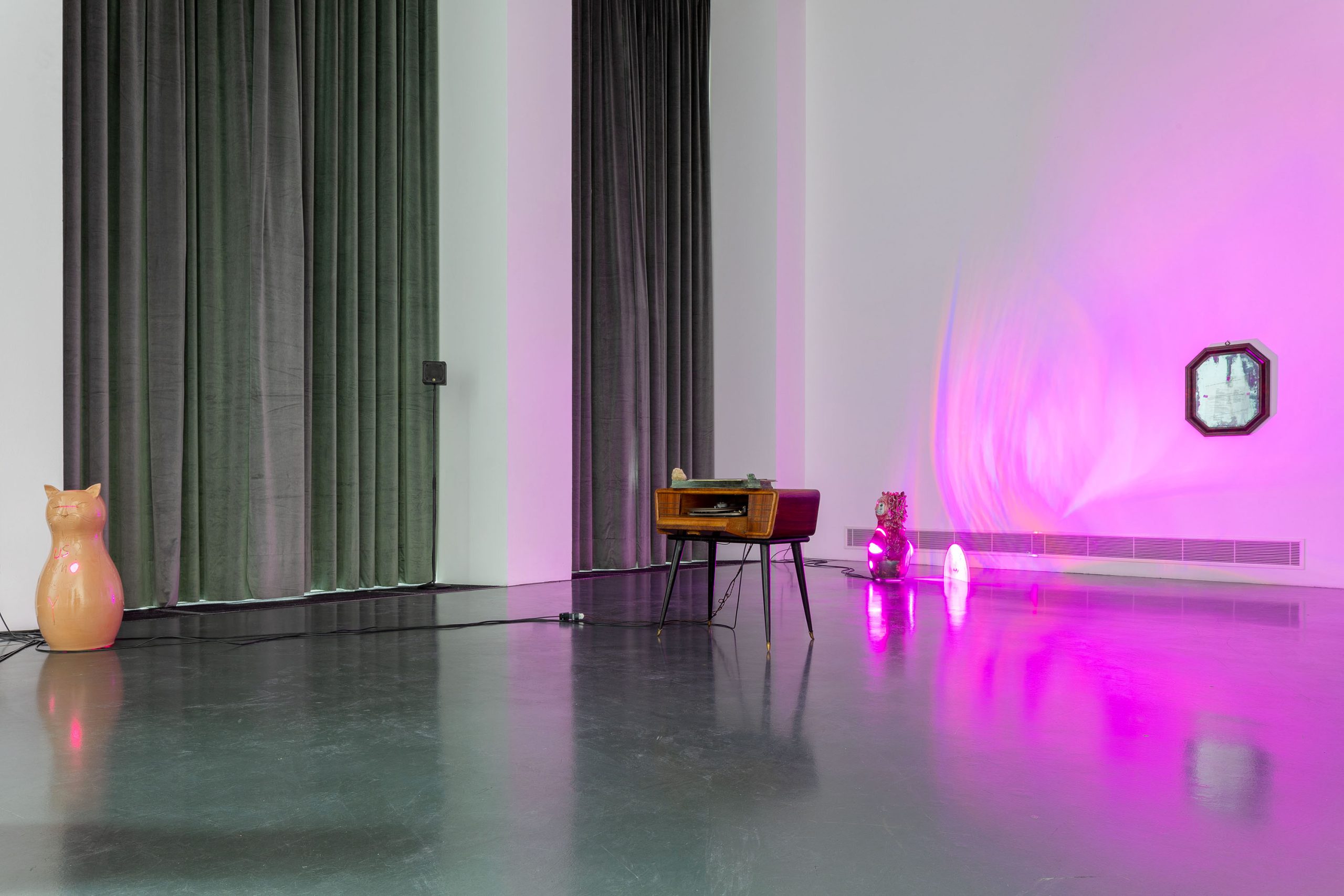 Biographies:
Lara Dâmaso (b. 1996) is an artist and performer living in Zurich. Lara Dâmaso's central medium is the body. She explores the expressive, therapeutic and political potential of the voice. More than an enunciation tool of the intellect, its setting in motion is closely linked to that of the body; it establishes a vibratory link that is more a matter of sensitive experience than of reason. In doing so, the artist bypasses the structures of power embodied in the disciplined use of the voice. Her work exists in the form of live performances, videos, or audio works. Her work has been presented in various institutions, off-spaces and festivals, including les Urbaines, MASI Lugano, Zürich Moves, Kunsthaus Langenthal, Centre d'Art Contemporain Genève, Kunsthalle Zürich, Theater Neumarkt, Cabaret Voltaire, Plymouth Rock, Kunsthalle Bern, Centre Pasqu'Art. She was nominated for the Kiefer-Hablitzel Göhner Art Prize in 2020, for Plattform21 and the Swiss Performance Award in 2021 and for the Swiss Emerging Artist Prize in 2022. As a performer she has worked with and for Monster Chetwynd, Jade Kuriki Olivo (Puppies Puppies), Tarren Johnson, Isabel Lewis, Nile Koetting, Nikima Jagudajev, Dora Garcia, Cally Spooner/Offshore, Debora Delmar corp. and Alicia Frankovich. Lara is associated artist at Theater Gessnerallee in Zurich.
Raffaela Naldi Rossano (b. 1990) lives and works in Naples. Through the activation of transformative processes, she engages in the investigation of new possible relationships and forms of intimacy, care and revelation, both psychological and socio-economical, between spaces, bodies and objects. Her installations, integrating sculptures, moving image, sound, group experiences and poetry, are conceived as spaces of transition where meaning around hidden and suppressed histories, individual or collective, is recreated and exposed. Through them, she aims to pursue a breakdown of the architectural environment and a feminist re-appropriation of space and landscape, in a poetic articulation of the territory. Raffaela Naldi Rossano is currently working on an on-going research and film project which revolves around the myth of the Siren Parthenope — the founding myth of the city of Naples. Raffaela Naldi Rossano was one of the participating artists in the 2020 edition of Quadriennale D'Arte, Rome, curated by Sarah Cosulich and Stefano Collicelli Cagol. Among her recent exhibitions: Utopia Distopia: il mito del progresso partendo dal Sud, curated by Kathryn Weir, Madre, Naples (2021); There is no Time to Enjoy the Sun, Fondazione Morra Greco, Naples (2021); Waves between Us, Fondazione Sandretto Re Rebaudengo, Guarene; I Confess, curated by Chus Martinez, der TANK, Basel (2019); Doing Deculturalization, Museion, Bolzano (2019); Partenope, Aetopoulos, Athens (2019); May the Bridges I Burn, Manifesta, Palermo (2018).