Art, Solo exhibition, Milano
WED/FRI: 11:00-17:00
THU: 11:00-20:00
SAT: 14:00-18:00
Special openings for Milano Art Week
Dates
10.02.2022
03.04.2022
Category
Art, Solo exhibition
Information
WED/FRI: 11:00-17:00
THU: 11:00-20:00
SAT: 14:00-18:00
Special openings for Milano Art Week
Mommie dearest is the first solo show in Italy by artist Jasmine Gregory, taking place at Istituto Svizzero in Milan. As part of a young generation of emerging artists, for this show, Jasmine Gregory presents a series of new paintings and a work that lies between sculpture and 'ready-made'. Working primarily with painting, she engages with iconography and western art history from a critical perspective. Within this context, she explores her role as a young painter, playfully and smoothly combining pop cultural references and contemporary theoretical discourses into her practice.
The opening was accompanied with sound by ALIENI (TOMBOYS DON'T CRY). ALIENI (TOMBOYS DON'T CRY): melting atmospheres and tropical rhythms meet sweet sounds with an R&B taste. Pop culture and experimentation take new forms and are added to the contaminations coming from the city where she lives and works as a photographer: London.
Press inquires: press@istitutosvizzero.it
Istituto Svizzero
Via del Vecchio Politecnico 3, Milan
Free entrance, registration at the door.

Opening times:
Wednesday/Friday: 11:00-17:00
Thursday: 11:00-20:00
Saturday: 14:00-18:00
Special openings:
On the occasion of Milano Art Week, the exhibition will be open:
Friday 01.04.2022: until H20:00.
Saturday 02.04.2022: H14:00-18:00, with the performance Mototeatro.
A motorized performance for objects by artist Anna Franceschini. 
Sunday 03.04.2022: H12:00-H18:00.
Access is allowed only to those who obtained the Reinforced Green Pass health certificate, which proves vaccination or recovery. It is mandatory to wear a Ffp2 face mask within our spaces.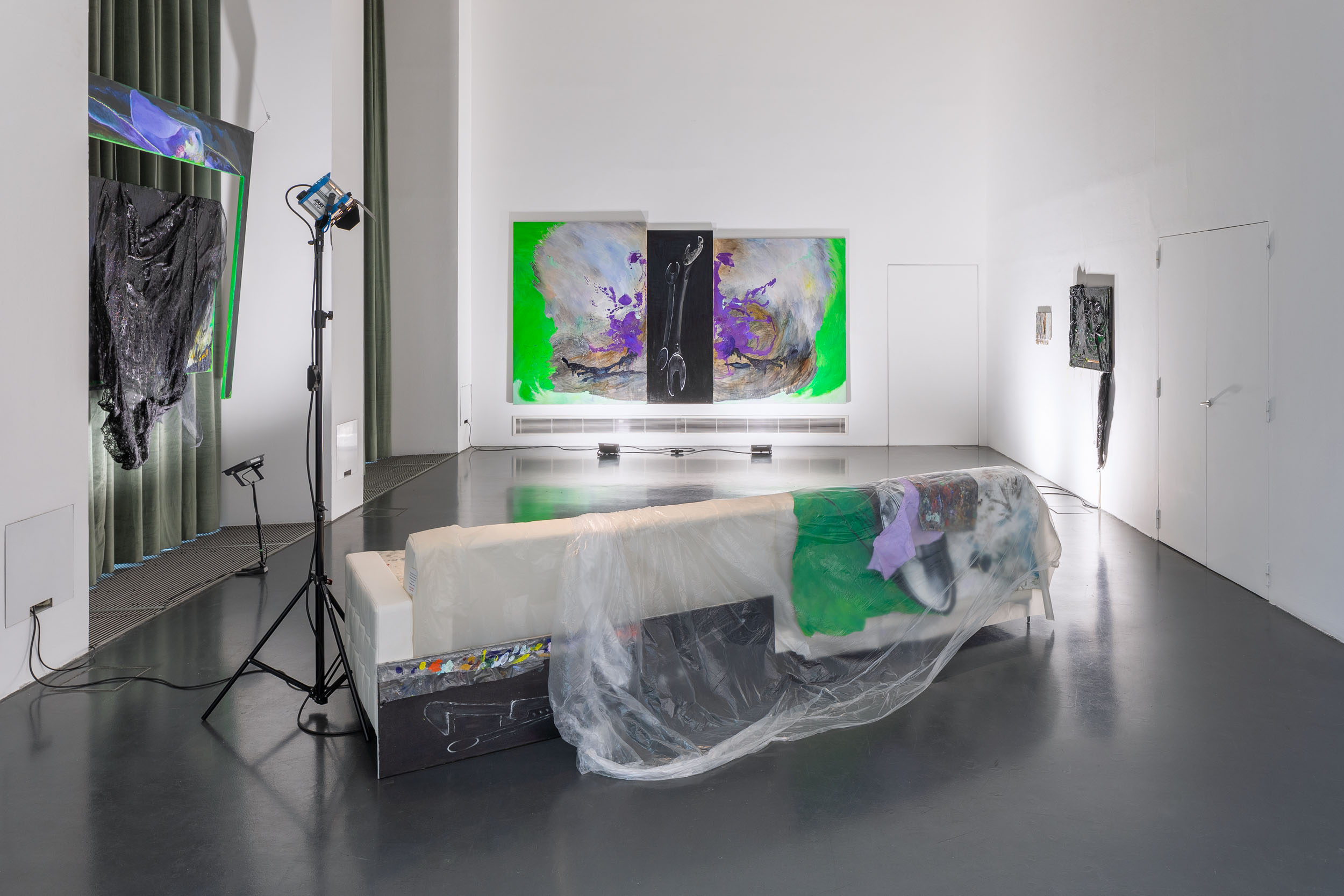 Jasmine Gregory (b.1987 in Washington D.C.) is an artist living and working in Zurich. Jasmine Gregory's work develops various sets of motifs, artistic gestures as well as assemblages to explore the tensions of artistic production, history of painting as well as subjectivity in how it circulates in institutional and commercial contexts. Recent group shows include Werkschau Kanton Zürich 2021 at Haus Konstruktiv (Zurich), Art For Black Lives, Round 4 (Online Exhibition), FOTOROMANZA at Le Commun (Geneva), Sommer des Zögerns at Kunsthalle Zürich (Zurich). Recent solo exhibitions include Home Improvements, Park View with Paul Soto (Brussels) and Trouble at Casa Amor, Karma International (Zurich).