Art, Concert, Résidences, Science, Roma
H18:00-24:00
Final event of the 2022/2023 Fellows & DJ set
Category
Art, Concert, Résidences, Science
Information
H18:00-24:00
Final event of the 2022/2023 Fellows & DJ set
Istituto Svizzero presents ora d'oro, the closing event of the 2022/2023 Fellows. Curated by Ilaria Mancia, the event will pass through the golden hours, from sunset to night, unveiling unexpected apparitions that will open up the boundaries for new possibile imaginaries. An ambivalent space of exchange, of gift, and desire, where a contradictory past coexists with possible new futures.
A DJ set by soungou will close the evening.
---
Final Event
Roma Calling 2022/2023 Fellows
Curated by Ilaria Mancia

23.06.2023 H18:00-24:00
Istituto Svizzero
Via Ludovisi 48/via Liguria 20, Rome
Free entry, register here
Food and drinks will be available to purchase on site.
The event is also the occasion to see the exhibition A different kind of furs by Klodin Erb, on view within the spaces of Villa Maraini.
---
Fellows Roma Calling 2022/2023:
Giorgio Azzariti (History and theory of architecture)
Giuanna Beeli (History)
Igor Cardellini (Performance, visual arts)
Solmeng-Jonas Hirschi (Classics)
Leonie Hunter (Political philosophy)
Sophie Jung (Visual arts)
Tobias Koch (Composition)
Val Minnig (Visual arts)
Marie Petersmann (International law & ecology)
Grégory Sugnaux (Visual arts)
Stefano Rodrigo Torres (History)
Gaia Vincensini (Visual arts)
Michelle von Dach (Social anthropology)
Read the biographies of Roma Calling 2022/2023 Fellows here.
---
Ilaria Mancia is curator, organiser and dramaturg of interdisciplinary visual and performing arts projects. From the end of 2019 to 2022 she was curator, responsible for training projects, production residencies and exhibition and performance events at Mattatoio in Rome – Azienda Speciale Palaexpo. She has worked with several artists and national and international theatre and dance companies — among them Motus (IT), Agrupación Señor Serrano (ES), Cristina Kristal Rizzo (IT), Muta Imago (IT) Big Art Group (USA), OHT-Office for a Human Theatre (IT). She teaches, academic year 2022/23, Performing Techniques for the Visual Arts at NABA Rome, Fashion Design BA and Visual Arts BA.
Hailing from Zürich, soungou (FUBU) is excited to find his place in the nocturnal playground of music and celebration. His style is best described as a mix of diasporic* and black* deconstructed club. His ultimate goal is to create new biotopes for queer BIPOC. As soungou concludes «it's about celebrating ourselves and caring for each other».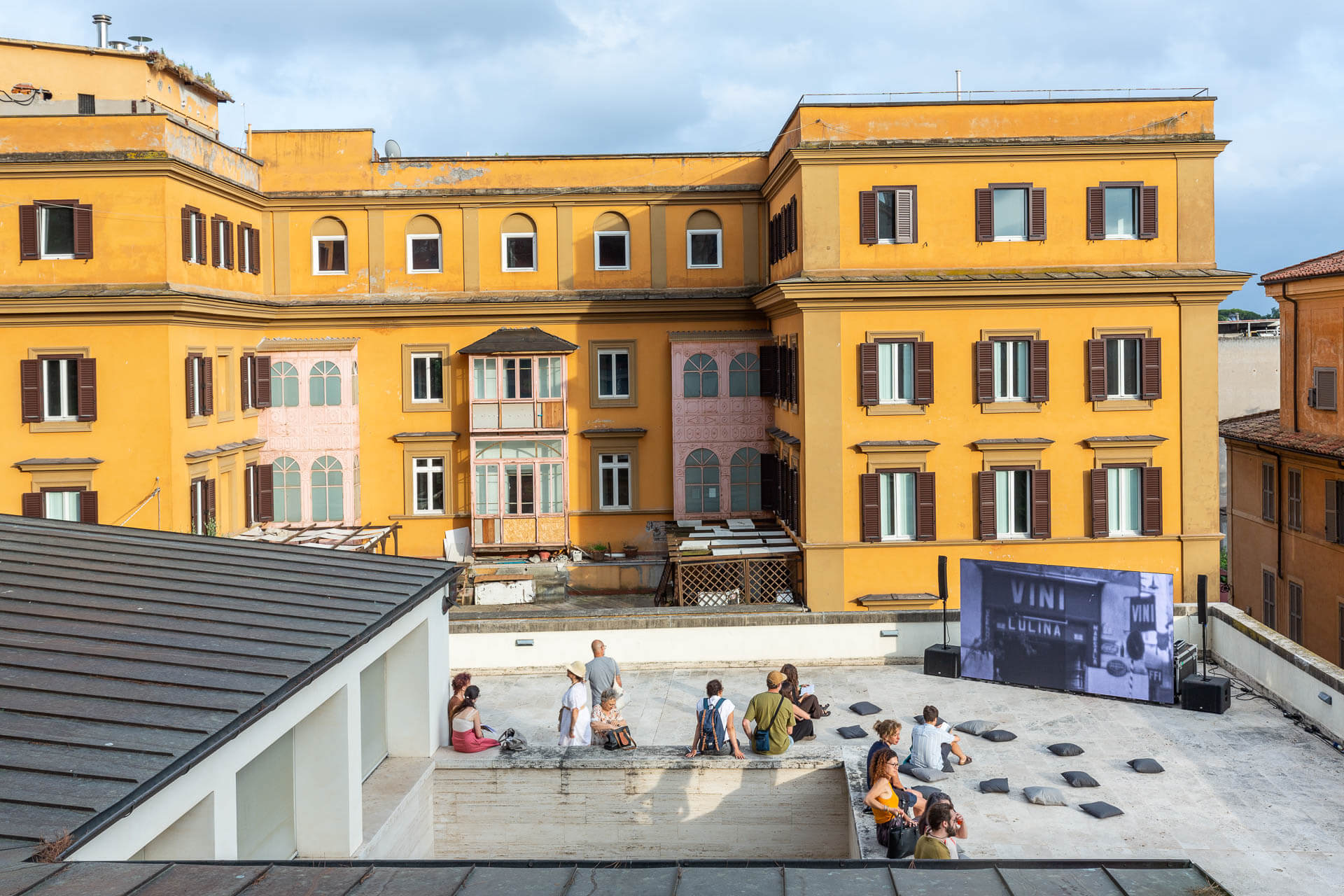 PROGRAMME:
PERMANENT WORKS 
18:00–24:00
Val Minnig
Helado
Gelato-party, dogs are welcome from H18:00 to H21:00
Michelle von Dach
No one is illegal
Installation
Giorgio Azzariti in collaboration with Rä di Martino
Calce al sole (Lime in the Sun)
Video installation
Igor Cardellini in collaboration with Julian Farade and Basile Dinbergs
Under grounds
Performative installation
Grégory Sugnaux
Into the Wolf's Mouth
Paintings
Sophie Jung
Cringe and cringer
Drawings, sculptures, installations
Stefano R. Torres & Gaia Vincensini
Journey of the Brown Gold
Installation
Solmeng-Jonas Hirschi & Grégory Sugnaux
Dispenser
Sculpture, installation
Giuanna Beeli
Esperienze culinarie durante soggiorni Romani tra Seicento e oggi
Installation
Marie Petersmann
Re–member the silence
Audiovisual installation
PERFORMANCES AND ACTIONS
H18:30 – Leonie Hunter
Open House
Lecture performance
Register here
H19:30 – Gaia Vincensini & Stefano R. Torres
Journey of the Brown Gold
Performance
H20:00 – Tobias Koch in collaboration with Emiliano Maggi and Ludovico Franco
Sonic Architecture
Concert
H21:00
Leonie Hunter
Open House
Lecture performance
Register here
Gaia Vincensini & Stefano R. Torres
Journey of the Brown Gold
Performance
Giuanna Beeli
Esperienze culinarie durante soggiorni Romani tra Seicento e oggi
Performative installation
H22:30 – Dj Set by soungou