Art, Exhibition, Roma
WED/FRI: 14:00-18:00
THU: 14:00-20:00
SAT/SUN: 11:00-18:00
Entrance: via Ludovisi 48
Dates
24.03.2023
16.07.2023
Information
WED/FRI: 14:00-18:00
THU: 14:00-20:00
SAT/SUN: 11:00-18:00
Entrance: via Ludovisi 48
ABOUT THE EXHIBITION
Istituto Svizzero presents the first retrospective in Italy on renowned painter Klodin Erb. Encompassing almost 90 works, some of which specifically produced for the exhibition, A different kind of furs celebrates one of the most influential current Swiss artists. Presenting large-scale paintings, collages, sculptures, textiles, and video works dated between 1999 and 2023, the exhibition traces Klodin Erbs' artistic practice through a non-chronological perspective but rather exploring visual connections between all works. Since the late '90s, Klodin Erb's practice revolves around the medium of painting in a free and experimental form, combining current and timeless topics to generate playful and fantastic worlds, often questioning definitions of gender and identity. Her practice also emerges outside the canvases and explores the boundaries of painting through different formats and materials. For this show, the artist particularly reflects on the concept of fur and its associations. In a lively and ironic way, she uses artificial furs sewn onto canvases, painted furs, and wigs to offer a reflection on (stereotyped) forms of gender identities but also as symbols that break these very norms. Influenced by popular and web culture as well as art history, Klodin Erb's A different kind of furs provides an unprecedent and in-depth overview on the artist's vivid universe. 
The exhibition is accompanied by an artist book, in collaboration with Mousse Publishing, designed by Teo Schifferli and with contributions from Yasmin Afschar, Jacqueline Burckhardt, Gioia Dal Molin, Kadiatou Diallo, Dorothee Elmiger, Hayat Erdoğan, Tobi Müller, Filipa Ramos, Michele Robecchi, Adam Szymczyk, and Julian Zigerli.
Curated by Gioia Dal Molin.
Download the curatorial text and floorplan here. 
PRACTICAL INFORMATION
Istituto Svizzero
Via Ludovisi 48, Rome
Free entry
Opening hours:
Wednesday/Friday: 14:00-18:00
Thursday: 14:00-20:00
Saturday/Sunday: 11:00-18:00
Klodin Erb (1963, Winterthur, Switzerland) is one of the most renowned current Swiss painters. In her expressive, fantastic pictorial worlds, she explores the boundaries of painting and simultaneously questions definitions of gender and identity. In an effort to combine topicality and timelessness in her paintings, the artist uses various techniques to 'sample' borrowings from art history with motifs from the contemporary world. Klodin Erb lives and works in Zurich and is a lecturer at the Department of Design & Art at the Lucerne University of Applied Sciences and Arts. Her works are represented in the collections of various museums, including the Kunstmuseum Bern; Kunstmuseum Winterthur; Museum zu Allerheiligen Schaffhausen; Kunsthaus Pasquart, Biel/Bienne, as well as many private collections. Recently she had important solo exhibitions at the Kunsthaus Pasquart, Biel/Bienne; Gluri Suter Huus, Wettingen; Helvetia Art Foyer, Basel; and was included in group exhibitions, amongst others Die Augen der Bilder – Porträts von Fragonard bis Dumas, Museum Langmatt, Baden; Docking Station, Aargauer Kunsthaus, Aarau; Un(certain) ground. Aktuelle Malerei in der Schweiz, Kunsthaus Pasquart, Biel; After Bob Ross: Beauty is everywhere, Museum im Bellpark, Kriens.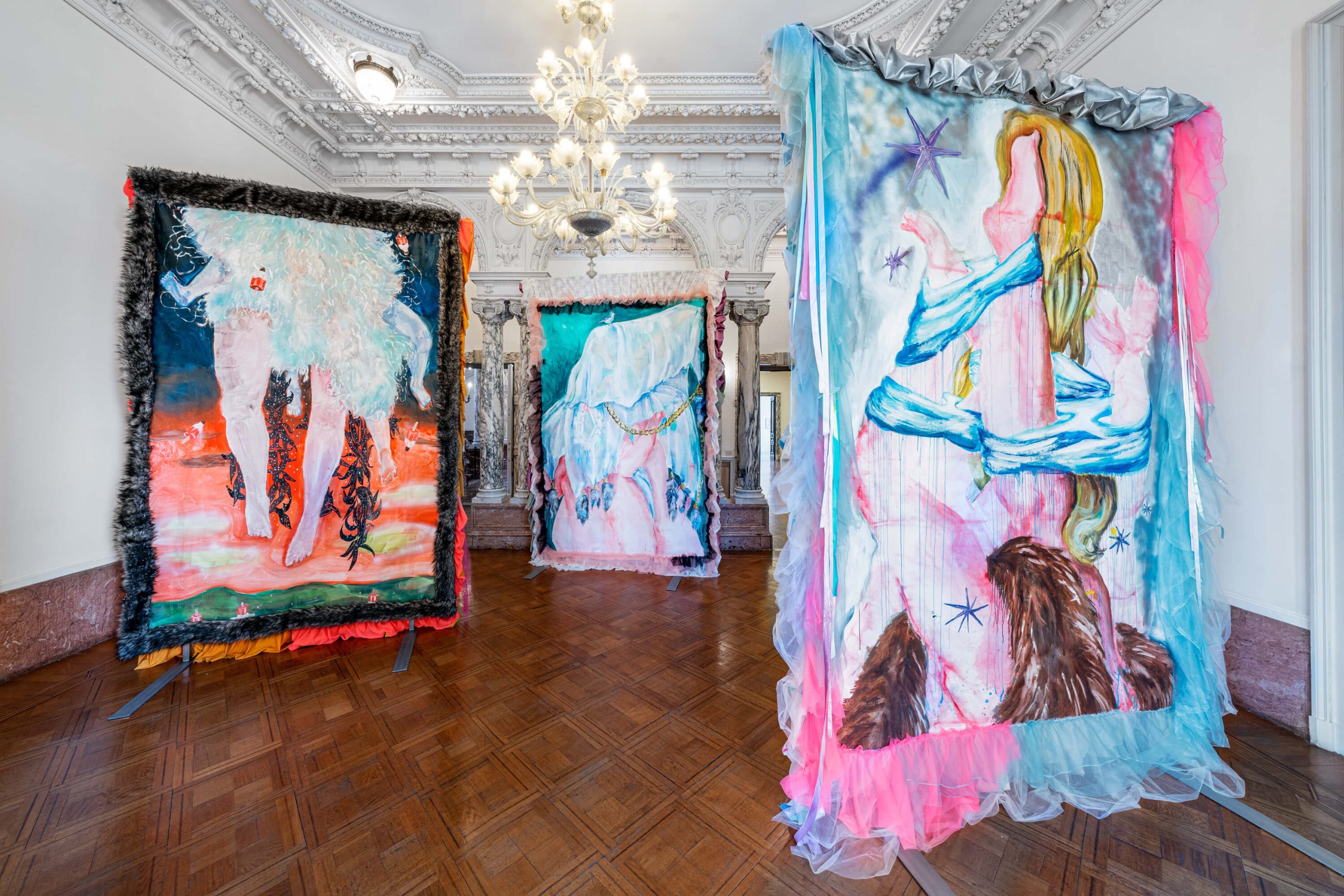 ART EDUCATION
In the context of Klodin Erb's exhibition A different kind of furs, Istituto Svizzero offered entirely free guided tours and creative workshops for children ages 6 to 12 and their families.
The first phase consists of an animated visit (40 min), a participatory journey in which children will be encouraged to interpret the works through short exercises. The children will continue in the practical phase of the workshop (40 min), in which the ideas and techniques used by Klodin Erb will be explored through moments of active exercise. The children will create graphic-pictorial works that will be the result of a new personal vision and an reading of their experience.
Workshops' calendar:
Saturday, April 15 H11:00-12:30
Saturday, May 20 H11:00-12:30
Saturday, June 10 H11:00-12:30
For bookings at the workshop, please email education@istitutosvizzero.it. (SOLD OUT)
Reservations are required by the morning of the day before the meeting.
The workshops are organized in collaboration with the contemporary art research center IUNO and coordinated by educator and art critic Francesca Campli.