Art, Exhibition, Roma
WED/FRI: 14:00-18:00
THU: 14:00-20:00
SAT/SUN: 11:00-18:00
Entrance: via Ludovisi 48
Dates
24.03.2023
16.07.2023
Information
WED/FRI: 14:00-18:00
THU: 14:00-20:00
SAT/SUN: 11:00-18:00
Entrance: via Ludovisi 48
ABOUT THE EXHIBITION
A different kind of furs – this is the title of Klodin Erb's first solo exhibition in Italy, developed for the spaces of Istituto Svizzero in Rome. Since the late '90s, Klodin Erb's artistic practice revolves around the medium of painting in a free and experimental form. Her body of work, including paintings, objects, installations, and videos, question the limits and possibilities of painting in a unique way. For Klodin Erb, who has been awarded the prestigious Prix Meret Oppenheim in 2022, the concept of fur (whether it is real or fake) is linked to all the associations that go with it – she thinks not only of animal fur, but also of the sexual connotations of fur, of Leopold von Sacher-Masoch's 1870 novella Venus in Furs or the namesake song by the Velvet Underground in 1967. As a site-specific display of new and existing works, the exhibition lets us enter the fantastic, wild, sensual, gentle and irresistible universe of Klodin Erb and gives an overview of her artistic work of the last three decades.
The exhibition is accompanied by an artist book, published in May 2023, in collaboration with Mousse Publishing, designed by Teo Schifferli and with contributions from Yasmin Afschar, Jacqueline Burckhardt, Gioia Dal Molin, Kadiatou Diallo, Dorothee Elmiger, Hayat Erdoğan, Tobi Müller, Filipa Ramos, Michele Robecchi, Adam Szymczyk, and Julian Zigerli.
Curated by Gioia Dal Molin.
Download the curatorial text and floorplan here. 
PRACTICAL INFORMATION
Istituto Svizzero
Via Ludovisi 48, Rome
Free entry
Opening hours:
Wednesday/Friday: 14:00-18:00
Thursday: 14:00-20:00
Saturday/Sunday: 11:00-18:00For press inquires, please contact
press@istitutosvizzero.it
.
Klodin Erb (1963, Winterthur, Switzerland) is one of the most renowned current Swiss painters. In her expressive, fantastic pictorial worlds, she explores the boundaries of painting and simultaneously questions definitions of gender and identity. In an effort to combine topicality and timelessness in her paintings, the artist uses various techniques to 'sample' borrowings from art history with motifs from the contemporary world. Klodin Erb lives and works in Zurich and is a lecturer at the Department of Design & Art at the Lucerne University of Applied Sciences and Arts. Her works are represented in the collections of various museums, including the Kunstmuseum Bern; Kunstmuseum Winterthur; Museum zu Allerheiligen Schaffhausen; Kunsthaus Pasquart, Biel/Bienne, as well as many private collections. Recently she had important solo exhibitions at the Kunsthaus Pasquart, Biel/Bienne; Gluri Suter Huus, Wettingen; Helvetia Art Foyer, Basel; and was included in group exhibitions, amongst others Die Augen der Bilder – Porträts von Fragonard bis Dumas, Museum Langmatt, Baden; Docking Station, Aargauer Kunsthaus, Aarau; Un(certain) ground. Aktuelle Malerei in der Schweiz, Kunsthaus Pasquart, Biel; After Bob Ross: Beauty is everywhere, Museum im Bellpark, Kriens.
Acknowledgements:
Lullin + Ferrari, Zurich
Art Collection of the Canton of Zurich
Susanne Annette Flühler-Pégard and other private lenders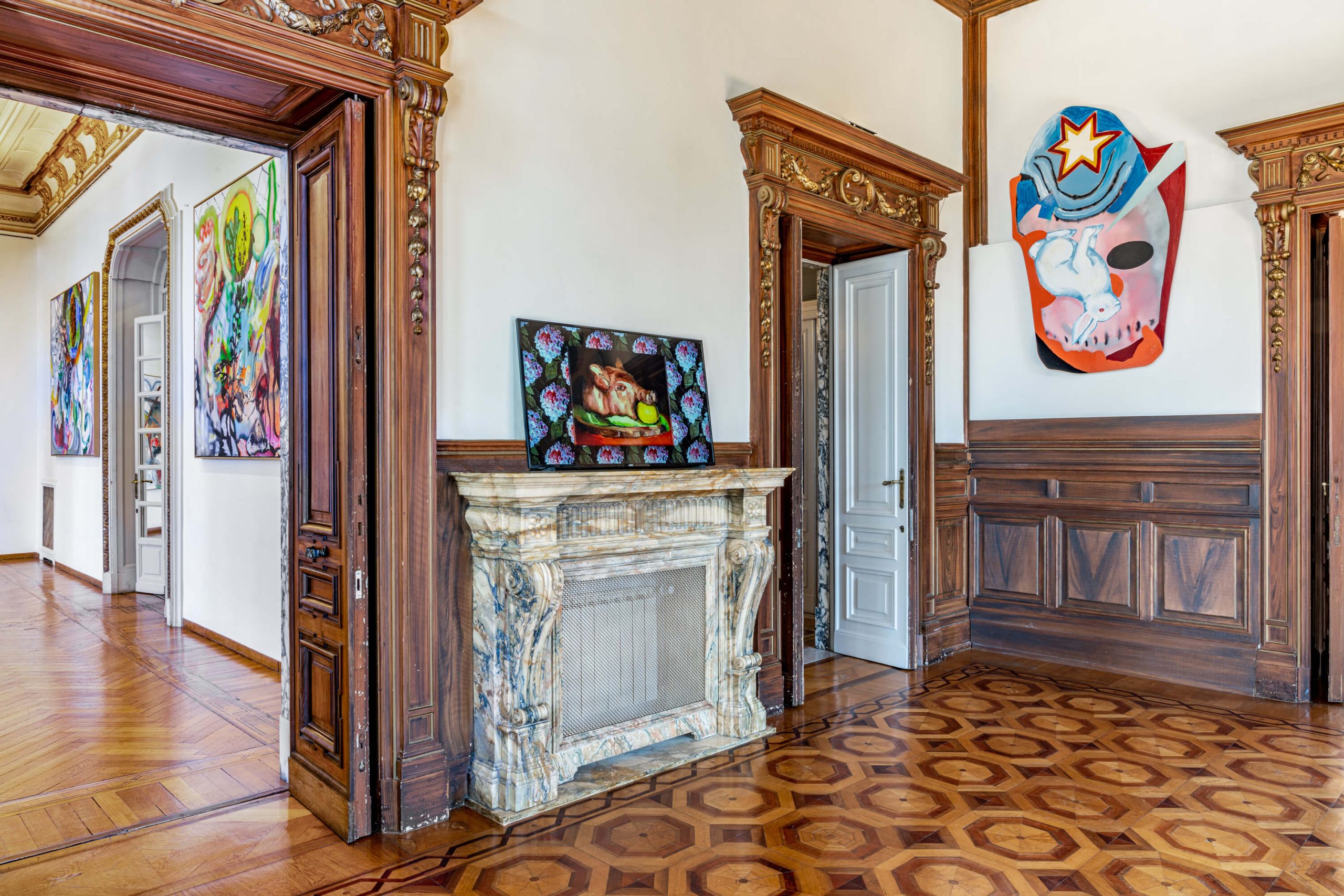 ART EDUCATION
In the context of Klodin Erb's exhibition A different kind of furs, Istituto Svizzero offers entirely free guided tours and creative workshops for children ages 6 to 12 and their families.
The first phase consists of an animated visit (40 min), a participatory journey in which children will be encouraged to interpret the works through short exercises. The children will continue in the practical phase of the workshop (40 min), in which the ideas and techniques used by Klodin Erb will be explored through moments of active exercise. The children will create graphic-pictorial works that will be the result of a new personal vision and an reading of their experience.
Workshops' calendar:
Saturday, April 15 H11:00-12:30
Saturday, May 20 H11:00-12:30
Saturday, June 10 H11:00-12:30
For bookings at the workshop, please email education@istitutosvizzero.it.
Reservations are required by the morning of the day before the meeting.
The workshops are organized in collaboration with the contemporary art research center IUNO and coordinated by educator and art critic Francesca Campli.
SAVE THE DATE
Inscrivez-vous à cet événement pour recevoir une notification par e-mail