Introduction
Biographies
Programme
Biographies
Dates
13.12.2018
14.12.2018
Istituto Svizzero is pleased to announce the third edition of XMAS Market | Music Festival which will take place in Venice (11-12 December), Milan (13-14 December), and Rome (15-16 December).
A week full of visuals, sounds and concerts. LPs of independent Swiss and Italian labels are for sale and much more: our music market will exhibit limited editions, merchandising, t-shirts, posters and other limited collection goods. Once again, we are excited to work together and promote the independent music scene, by creating special moments of encounter between the public, music lovers and producers.
For this year's Milan edition, we will be hosted by O', non-profit association, Milan.
In collaboration with Bad Bonn, Düdingen (Daniel Fontana), Montreux Jazz Artists Foundation (Stéphanie-Aloysia Moretti), SoundOhm, O' associazione non-profit Milan, and Pro Helvetia Swiss Arts Council.
Media partner: ZERO
Swiss labels: Bongo Joe, Ous, WRWTFWW Records, three:four.
Italian labels: ADN (Milano), AlgaMarghen (Milano), Artetetra (Milano/Potenza Picena), Blume Editions (Milano/Ambon), CANTI MAGNETICI (Torino – Taranto – Lecce), Die Schachtel (Milano), ELICA (Ivrea), ERRATUM (Milano), Garino edizioni (Torino), Holidays Records (Milano), HUNDEBISS RECORDS (Milano/Vernasca), INTERVALLO (Milano), Pampsychia (Bergamo/Milano), senufo editions (Monza), Urashima (Milano), Vida Loca Records (Milano), VOLUM E BOOTLEG (Milano), WE INSIST! Records (Monza).
LINE-UP
Thursday 13 December 2018
H17:00 – 22:00  independent labels market @ O'
H17:00 – 22:00  Women in Electronic Music, playlist curated by Johann Merrich, listening chamber @ Studio Matias Guerra
H17:00 Pandour – dj set @ O'
H17.30 OUS – dj set @ O'
H18.00 Furtherset – dj set/live @ O'
H18:45 Ganesh Geymeier – live @ O'
H19:30 Johann Merrich – live/dj set @ O'
H20:15 Julian Sartorius / Manuel Troller – live  @ O'
H21:00 WRWTFWW – dj set  @ O'
Friday 14 December 2018

H17:00 – 22:00 independent labels market @ O'
H17:00 – 22:00 Women in Electronic Music, playlist curated by Johann Merrich, listening chamber @ Studio Matias Guerra
H17:00 Three:Four– dj set @ O'
H17:30 Feldermelder – dj set/live @ O'
H18.15 Alessandra Novaga– live @ PASTRENGO
H19:00 HØJDE – live @ O'
H19:45 Marta De Pascalis – live @ PASTRENGO
H20:30 Jennifer Veillerobe– live @ PASTRENGO
H21:10 Pandour – live @ O'
ADDRESSES
O' – via Pastrengo 12, Milano
PASTRENGO – via Pastrengo 12, Milano
STUDIO MATIAS GUERRA – via Pastrengo 13, Milano
Free entrance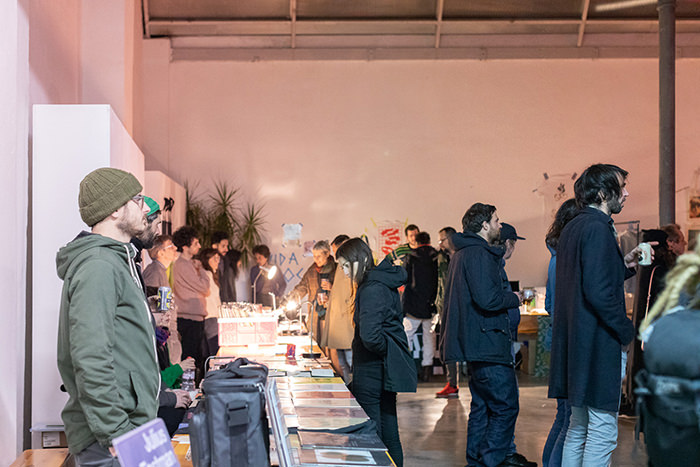 Bongo Joe is a 4 years old record store, café and label based in Geneva, Switzerland. The store offers a wide selection of all music styles on vinyl, cassette and books. The label provides a very personal catalogue of past and present music from all over the globe. Bongo Joe organises as well conferences, showcases, dj-sets and concerts at the store and in bigger venues in town.
Marta De Pascalis is an italian composer living and working in Berlin. Her solo works employ analog synthesis and tape loops, incorporating free playing into steady, repetitive patterns. She has produced two albums of Berlin School minimal synth excursions: the self-released Quitratue (2014) and Anzar (The Tapeworm, 2016). Her new piece 'Her Core' has been published on spring 2018 by The Wormhole. Marta creates densely layered collages of glowing melodic shards and growling bass lines, her hypnotic minimal synth figures warp and whir  around each other before dissolving into entropic oblivion. For her compositions she uses improvisation on a tape-loop system, in which patterns of repetition create a sense of a dense, dynamic and cathartic distance.
Feldermelder is a Swiss musician, sound designer, producer and installation artist. His influences range from the decomposed structure works of old pioneers of Electronic Music to more classic Jazz, electronic and analog music from the now, before and tomorrow. The diversity of the music that inspires him, finds reflection in his own sonic adventures, forming ever evolving sound, combining as map and compass to guide his artistic outbursts. His psychedelic live acts, played on a wide range of analog and controlled digital equipment, made him perform all over the world. Since 2015 he collaborates on audio visual installations with different collectives. The collaboration with the Visual Collective Supermafia let to a new show and to the creation of Encor. In 2015 he co-founded Shutter Music and -OUS Records. He was described as "the lost art of keeping a secret".
Furtherset's music and live performances are an open invitation to immerse oneself into weightless states of mind. As a representative of the "Italian New Wave", his approach to musical aesthetics is both demanding and pleasing: the depth and beauty unveil themselves only to those who listen closely. Furtherset was a participant of the 2015 Red Bull Music Academy in Paris and has played some of Italy's most renowned festivals.
Ganesh Geymeier, who was born in Lausanne in 1984, is among the most sought-after saxophonists of his generation. Far removed from any kind of stereotype, he coaxes powerful, earthy tones from his instrument, usually a tenor saxophone, always giving them as much time as they need to unfold. He works with electronics and has toured with many projects, including Bad Resolution with Christophe Calpini and his new trio Ganesh Geymeier Trio. His inspiration comes from as far away as South Africa and India, and he produces also beautiful photographs and videos.
HØJDE was created in March 2016 by Julien Dewaele (Rennes), after several years of research and experimentation. HØJDE is the translation into Danish of the word altitude, a relationship to height gain, retreat, which makes sense in view of the experiences transcribed in these compositions. The merging of piano and electronics offers an original approach to the use of the instrument. They energize human emotions with a certain melancholy. A soothing music, comforting, bewitching to see inhabited. Like a story which is never told twice in the same way, paradoxical compositions are articulated around a precise atmosphere but leave a real space for improvisation, for letting go. The HØJDE project takes you through ambient, downtempo, electro atmospheres; the piano is at the center of the improvisations and narrates musical stories, without words. HØJDE is recipient of the 2018 Montreux Jazz Talent Awards Solo Keys.
Johann Merrich/electronicgirls. Composer and researcher in the field of electronic music, Johann Merrich has been involved in experimentation music since 2000. She has worked as a soloist and ensemble producing works for contemporary dance and theatre. Her music has been in the line-up of events such as Festival Santarcangelo (Imbosco, 2018), Fabbrica Europa (2018), Biennale d'Arte di Venezia (Padiglione Francia, 2017), Venice International Performance Art Week (2016), and has been performed in Italy and abroad in theaters and art galleries. Since 2010 she has been artistic director of the independent label electronicgirls.org and has published two volumes dedicated to the history of electronic music (Le pioniere della musica elettronica, Auditorium Edizioni, Milan 2012; Brief history of electronic music and its protagonists, Arcana Edizioni, Rome. In the printing phase).
Alessandra Novaga is a guitarist primarily involved in new music, composition, improvisation and performance. She often works with theatre, in particular, collaborating with Elena Russo Arman of Teatro dell'Elfo. She has played in festivals such as Angelica, Donaueschinger Musiktage (DE), Himera Festivaali (FN), All Frontiers, Festival dei Due Mondi, and has presented her projects in Europe and the United States. Among other spaces, Area Sismica, Cafè OTO (London), Quiet Cue (Berlin), O' and Standards (Milan), and in New York: St. Mark's Church, Silent Barn, Spectrum, Zebulon and Transient Series. She is the first and only guitarist in Italy to play the complete « The Book of Heads » by John Zorn. She often plays solo but her past and current collaborations include artists such as Elliott Sharp, Stefano Pilia, Andrea Centazzo, Massimo Falascone, Gianni Mimmo, Sandro Mussida, Patrizia Oliva. As a solo artist she has published the following albums Movimenti Lunari (Blume), La Chambre des jeux sonores and Fassbinder Wunderkammer (Pig's bristle).
Ous is a new label based in Zurich and Milano for wonderfully crafted, electronic music ranging from electronica, over bass-infected beats and deconstructed techno to experimental pop. The first infectious release came from Swiss veteran producer Bit-Tuner in December 2015. The new year will bring the vicious debut LP by IOKOI, an album by tortuous electronic producer FELDERMELDER and a delirious 7"-series with works by SENKING, Hirsch&Eigner.
Pandour. After experiences DJing, Luc Bersier and Michael Francey have pushed their sound exploration a bit further through production. They have integrated another dimension to their live performances: the Fribourg based band expands as they add two guitars to their line-up. With this addition, namely Adrien Clot and Simon Mozer, the equation is complete and Pandour was created. In April 2016, they will release their highly anticipated first EP Ursa Minor (Cheptel Records): beats inspired by Deep House, are enriched with elements of Gnawa music, Jazz, Kraut and Afro funk for an enchanting result that will get you dancing.
Julian Sartorius
The beat has always been the defining element in the life of Julian Sartorius. Born in Thun (Switzerland), he began his first drum lessons at the age of five. With his rhythms pushing the boundaries of new music, hip-hop and a unique form of abstract electronica, Sartorius reveals the endless possibilities and range of his instruments. He often prepares his drums, works with unusual, unprocessed acoustic sounds and develops, beat by beat, an unheard environment of sound.
three:four. Founded between Lausanne and Paris in 2008 by Arnaud Guillet and Gaëtan Seguin, three: four records initially worked on project series (10″ split, compilation) with limited and hand-numbered editions in which there was a special attention to graphics. Since 2010, the only active studio has been Lausanne, and the label has been producing albums. From January 2017, Maxime Guitton, programmer and music pioneer, named ali_fib joined three: four records. Up to today the label has released more than 40 albums (Norberto Lobo, Eric Chenaux, La Tene, Danny Oxenberg, Mike Wexler, Richard Youngs, etc.), including unprecedented collaborations such as Aaron Moore / Thierry Müller or David Maranha / Helena Espvall. The editorial choices are in line with the musical tastes of its members, with genres ranging from ambient to folk, with sounds of repetitive, contemplative or revisited traditional music. Recently several artists produced by three: four have been reviewed by The Wire magazine.
Manuel Troller, guitarist of Schnellertollermeier and collaborator from Sophie Hunger to Michael Fehr and Gerry Hemingway, is actively working in diverse musical genres. Through pushing the boundaries on his instrument with preparations, extended techniques, sound manipulation and a fine sense for the moment, he became one of the most in-demand guitar players of Switzerland. Recent solo performances include Café OTO London, Bad Bonn Kilbi, Bee-Flat Berne and B-Sides Festival (featured artist).
Jennifer Veillerobe is a French-German sound artist. She is part of Eselsohr duo along with Giuseppe Lelasi with whom she co-curates the label Senufo.
WRWTFWW Records aka We Release Whatever The Fuck We Want Records is a Geneva-based label founded by Olivier Ducret (Mental Groove) and Stéphane Armleder (Villa Magica, The Genevan Heathen). It specialises in vinyl reissues of forgotten gems, movie soundtracks, and cult albums, with genres ranging from ambient to jazz, electronic, experimental, musique concrète, library music and more. Its most celebrated releases include Through The Looking Glass by Japanese percussionist Midori Takada and the original 1995 Ghost In The Shell soundtrack.