Kunst, Performance, Sound, Milano
Category
Kunst, Performance, Sound
Also this year, Istituto Svizzero celebrates the winter solstice with a programme of performances and live-sets in Palermo, Milan and Rome. The shortest day of the year: the winter solstice, by convention, is the moment in which, due to the position of the Sun with respect to the equator, the longest night and the shortest day correspond. An astronomical event rich in symbolic meanings – sometimes even controversial – that was celebrated in antiquity by pagan populations before the advent of Christianity: the Romans, celebrated Sol Invictus, the Egyptians the birth of Horus, the Greeks worshipped Helios. After the prevailing hours of winter darkness, the Sun seemed to be reborn and became invincible (from Latin Sol Invictus). A time of year that, ancestrally, marks the passage from darkness to light. And it is precisely to the search for light, for the divine that is in the air, for the myth and the beauty of nature that Istituto Svizzero revolves these three evenings of movement and sound experimentation.
Curated by Gioia Dal Molin.
---
15.12.2022 H18:30-H24:00
Istituto Svizzero, via del Vecchio Politecnico 3, Milano
Free entry
Booking is recommended, register here
Performances by:
Tina Omayemi Reden & Tapiwa Svosve – An entanglement of breathing  (Sonic reading and offering)
Michele Rizzo – REST
Performers: Brianda Carreras, Yaimara Gomez, Francesco Ayrton Lacatena, Ale Sandra
Call Monica – Call Monica
PRICE – I Try My Tongue (sequences)

SAYRI: sound & visuals
With Marta Maglio and Raffaele Capone
The performance by Call Monica is curated by Chiara Nuzzi, Fondazione ICA Milano.
Food by Panzo Milano and drinks by El Caminante can be purchased on-site.
Go back to the SOL INVICTUS main event page.
---
Tina Omayemi Reden (1991), is a Zurich-based transdisciplinary artist and teacher. Working mostly in collaborations, she explores the possibilities in moments of listening and the resulting entanglements, desires and relationships. Her artistic practice employs sound installation, storytelling and performance in an exploration of the potential for communal exchange. She mixes, remixes and quotes bodies, sounds and voices into polyphonic assemblages and fictive or actual collaborations in order to imagine the radical potential of collective practices. These imaginaries explore ideas of how a queer, radical and collective practice and a communal responsibility for caregiving – becomes imperative to building transformational change.
Tapiwa Svosve (1995) is a musician and theorist currently living in Zurich. He is invested with multidisciplinary practices – combining sound to theatre, painting, and historical praxis. Svosve has a unique temperament ranging from extreme avant-gardism to free jazz and noise music. Thinking through silence, negative spaces, solo performance and the negotiations of the body and instruments, Svosve adjusts music and sound to train various physical and performative techniques.
Michele Rizzo (1984) is an Italian artist based in Amsterdam. He studied choreography at the SNDO School for New Dance Development, and later visual arts at the Dirty Art Department Master program of the Sandberg Institute. He has produced works for theaters and exhibition spaces, engaging the aesthetic translation of aspects of club culture and raving. In 2018 Michele Rizzo presents HIGHER xtn. at the Stedelijk Museum in Amsterdam, which has welcomed the work in its permanent collection. In 2020 Rizzo establishes his practice as a visual artist, bringing forward his choreographic language and implementing in it the medium of sculpture, producing Rest (2020), presented at the Quadriennale d'Arte di Roma and acquired by the Fondazione Sandretto Re Rebaudengo. In 2021 he produces his latest performance work Reaching at KW Institute for Contemporary Art in Berlin, in collaboration with Julia Stoschek Collection. Rizzo also produced and directed the film Rest (2021), acquired by the Amsterdam Stedelijk Museum. Since 2020 he engages in the fashion world and as a lecturer and tutor in various art education institutions.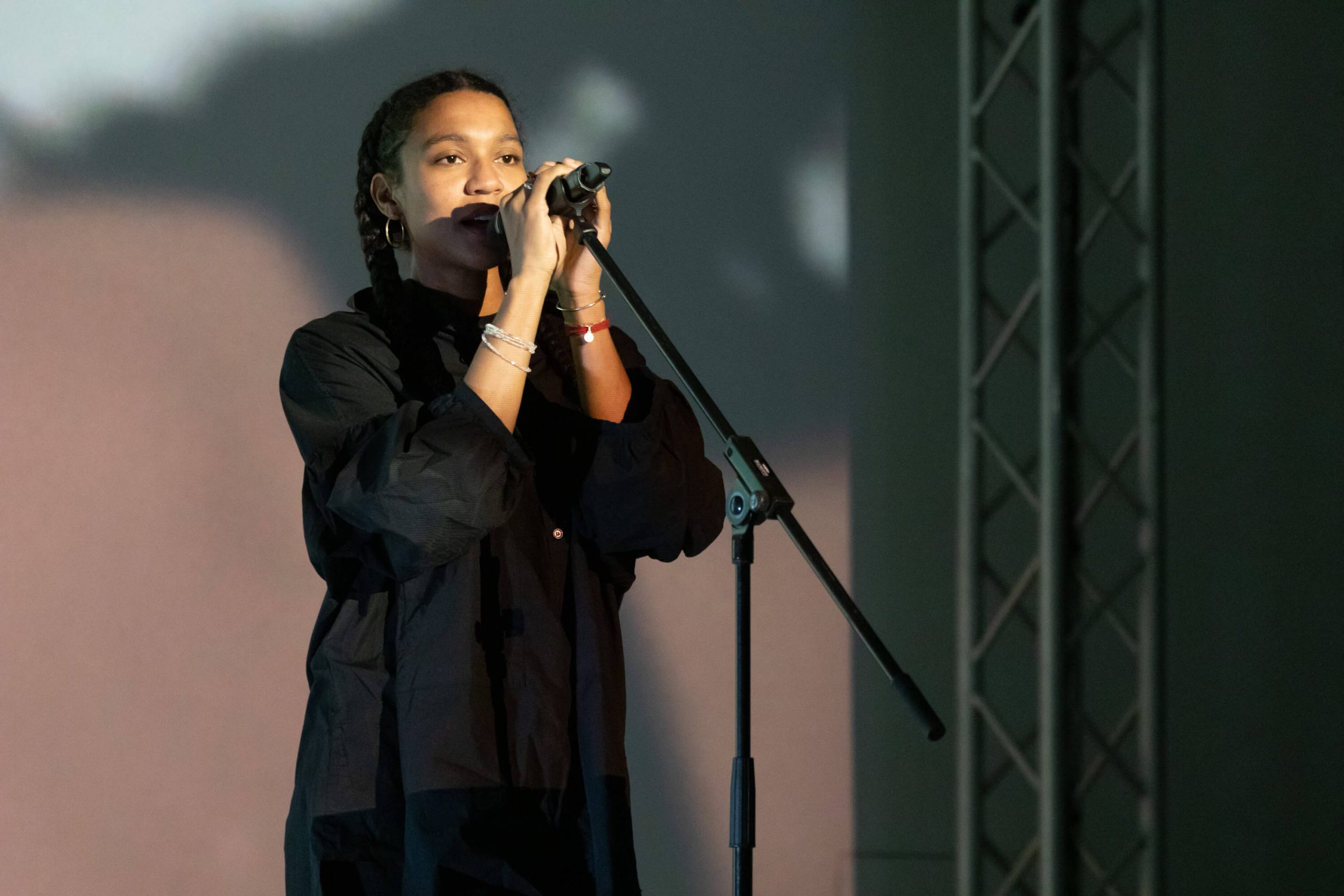 Call Monica is a transfeminist collective founded in venice in 2019. its members are barb bordoni, est coulon, gaia ginevra giorgi, alessandra grieco and theresa maria schlichtherle. the focal point of their work is the multiplicity of the gaze as a receiver as well as a projector of information: a research on the responsibilities of one's own, subjective and participatory vision.
PRICE's work is characterised by elaborated soundscapes, costumes and stage design often developed in collaborative constellations. His productions play with the audience's expectations of the exposed, ostensibly authentic self of the performer, who emotes before their eyes. They are interspersed with pop-cultural set pieces, mechanical sounds, rhythms and his own singing voice. The voice forms a central element of his work. PRICE views it as an acoustic form of emotional communication outside language's imperative to create meaning.
SAYRI is a platform and event format curated by Sonia Garcia and Juana Bel, focusing on the arts and experiences of women and affective or gendered dissidence from Latin America and its diaspora. Launched in Milan in early 2020 as a clubnight, SAYRI celebrates and amplifies indigenous and Afro-descendant futurity from the Abya Yala territory in every artistic and sonic direction.