Architecture, Roundtable, Milano – Casa degli Artisti
Via Tommaso da Cazzaniga
angolo Corso Garibaldi 89/A
H18:30
As part of House of Switzerland
Location
Milano – Casa degli Artisti
Via Tommaso da Cazzaniga
angolo Corso Garibaldi 89/A
Category
Architecture, Roundtable
Information
H18:30
As part of House of Switzerland
The talk will be held in English at H18:30 at Casa degli Artisti, Via Tommaso da Cazzaniga corner Corso Garibaldi 89/A, Milan.
Free entry, register here.
Davide Spina moderates a roundtable that takes up current debates – both in Switzerland and internationally – in contemporary architecture and link approaches from theory/research and from practice.
A second roundtable, Repair and Access – Sustainable Practices in Existing Built Environments, moderated by Marion Elmer, will take place on Tuesday 31.05.2022. 
Cooperative Housing in Switzerland and Italy: History, Development, and Future Prospects
Cooperative housing has garnered new attention following the recent housing crisis and global financialisation of urban space. Created at the end of the 19th century by socialist and feminist reformers to achieve resource efficiency and balance out the division of labour between genders within the household, this model has really taken off in Switzerland in the 1990s, especially in the German-speaking part of the country. Since then, its significance has not gone unnoticed among academics. Major research institutions have been (or are) carrying out large projects on this multifaceted phenomenon. For instance, the History of Architecture MAS programme of ETH Zurich is currently examining Swiss cooperative housing in terms of its relation to land politics and economics. But what about cooperative housing in Italy? How has this model developed in the country? And can Swiss know-how and examples inspire a renaissance of Italian cooperative housing? Drawing on their research and design experience, five speakers will discuss the history, development, and future prospects of this housing model on both sides of the Alps.
Speakers include: Jennifer Duyne Barenstein (ETH Wohnforum), Carla Ferrer & Marco Jacomella (ITER), Rebekka Hirschberg (wohnlabor), Anna Tagliaferri (Politecnico di Milano), moderated by Davide Spina.
The request for the recognition of 2 CFP for architects was made to the CNAPPC for this initiative. In collaboration with CASABELLAformazione and ProViaggiArchitettura.
About House of Switzerland (26.04.2022-12.06.2022)
From the 26th of April, Switzerland will present its innovative and creative side in Milan. In the heart of the historic Brera district, House of Switzerland will serve as a meeting hub between Italy and Switzerland. Until June, the pop-up event platform will be at Casa degli Artisti and in collaboration with several personalities in the fields of economy, science, politics and culture, it will offer a program of panel discussions, networking events, official meetings, workshops and much more around the themes of innovation, sustainability, art and culture.
For the Milan Design Week, House of Switzerland will be dedicated entirely to the world-famous Swiss design. House of Switzerland is a project of the Federal Department of Foreign Affairs, namely Presence Switzerland, the Embassy of Switzerland in Italy and the Consulate General of Switzerland in Milano together with the partners Switzerland Global Enterprise/Swiss Business Hub Italy, Switzerland Tourism and Pro Helvetia.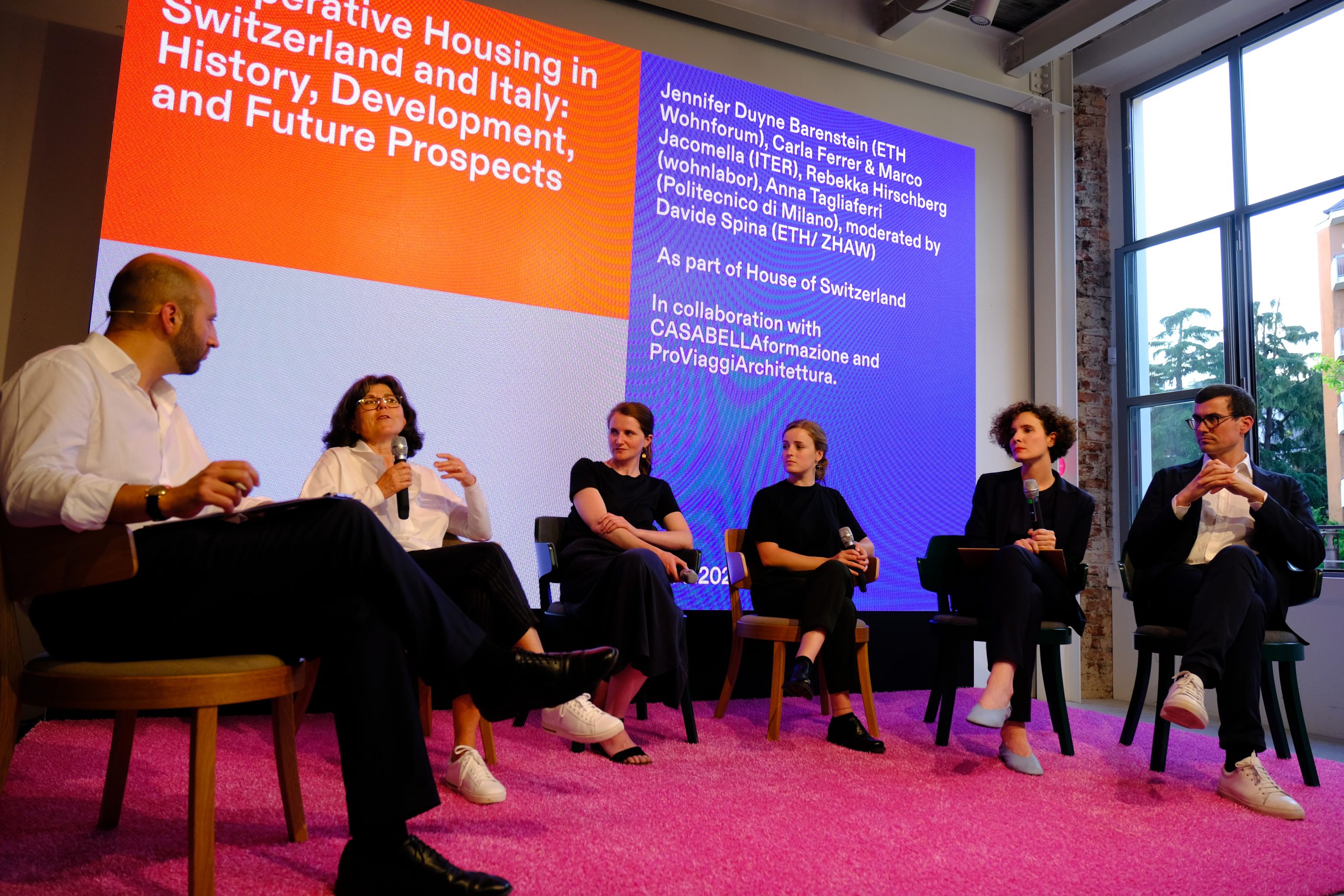 Biographies:
Jennifer Duyne Barenstein is the current Executive Director of the ETH Centre for Research on Architecture Society and the Built Environment and of the ETH Master of Advance Studies in Housing. She is a social anthropologist specialising in the socio-economic, cultural and institutional aspects of housing and urbanisation processes and post-conflict and post-disaster reconstruction. After more than twenty years of professional and research activity in Asia and Latin America, she joined ETH in 2016. Her current research projects focus on housing cooperatives in Europe and Latin America. She explores opportunities and challenges of replicating and scaling up best practices in different socio-economic, cultural and political contexts. She is leading the research project Tackling the Global Housing Challenges: Relevance and Replicability of Switzerland's and Uruguay's Cooperative Housing Policies and Strategies supported by the Swiss Network for International Studies (SNIS) and the project Peacebuilding Through Housing Cooperatives in Colombia supported by the Solidarity Fund of the housing cooperative ABZ and the Swiss NGO urbaMonde. In this framework, in collaboration with the National University of Colombia, she also directed the educational programme School of Architecture for Peace Building and Reconciliation, which was nominated for the prestigious 2022 ETH KITE award for innovative teaching.  
Rebekka Hirschberg studied architecture at the TU Graz, the ENSAP Lille and the Chinese University of Hong Kong. She then completed the MAS in History and Theory of Architecture at ETH Zurich. In 2020–21, she was assistant for the ETH research project Cooperative Conditions. A Primer on Architecture, Finance and Regulation in Zurich, led by Anne Kockelkorn and Susanne Schindler. The project was presented at the 2021 Venice Architecture Biennale and will be published in 2023. In 2019, she worked as a research assistant for Rural Urban Framework at the University of Hong Kong. In 2018, she co-founded the independent research collective wohnlabor. Since then, the group of five architects has been researching (collective) housing, financing models, and urban planning. Rebekka lives and works in Vienna.
ITER is an architecture and urban design practice founded in Zurich and based in Milan. Led by Carla Ferrer and Marco Jacomella, the studio is active in Italy and Switzerland. Recently, ITER designed Common Housing©Bisceglie, a cooperative housing project consisting of 103 units with shared services currently under construction. Bridging the gap between practice and research, ITER is committed to creating synergies across different building cultures and delivering designs that bring equity, diversity and inclusion into the built environment at every scale, from masterplans, to collective infrastructures and individual buildings.
Carla Ferrer is an architect and urbanist with degrees from Harvard University (GSD) and the Polytechnic University of Catalonia (ETSAB). She has been awarded the IKEA Swiss Foundation Grant and the Real Colegio Complutense Fellowship. Prior to founding ITER, Carla Ferrer worked on a wide range of projects in Spain, Switzerland, China, and the United States. In the summer of 2022, she will co-curate and co-edit Touch Wood, an exhibition at the Centre for Architecture in Zurich (ZAZ) and a book by Lars Müller Publishers.
Marco Jacomella is an architect specialising in housing with degrees from ETH Zurich and the University of Ferrara. As a practising architect, he has worked on urban regeneration, mixed-use developments and participatory design projects in Spain, Switzerland and Italy. Marco has received numerous fellowships and awards, including the Milan Fellowship of Istituto Svizzero and the 1st prize of AAA Architetti Cercasi.
Davide Spina is a Postdoctoral Researcher at the Institute for the History and Theory of Architecture, ETH Zurich, where he also completed his doctorate (with Distinction—ETH Medal). Prior to this, he completed the architectural history MA at The Bartlett, UCL. Davide Spina was a Collection Research Grant recipient at the CCA (2016), a Visiting PhD Scholar at the Columbia GSAPP (2017), and a Fellow at Istituto Svizzero in Rome (2018­–2019) and in Milan (2021-2022) and a 2021–2024 SNF Researcher at ZHAW. At ETH, he co-organises The Architecture of Research, a yearly symposium on research methods, and DocTalks, an international online platform for early-stage researchers in architectural history and theory. Davide Spina's writing has appeared in AA Files, Log, and gta Papers.
Anna Tagliaferri studied Urban Planning and Policy at the Politecnico di Milano, where she also worked as a researcher and teaching assistant. Her work focuses on cooperative housing, social inclusion, urban migration, educational inequality, and school dropout prevention. At present, she is a community manager in the 'social projects' department of the Azienda Lombarda Edilizia Residenziale (ALER). In this capacity, she is helping improve housing services to tenants and developing operational and social networks for and within ALER-managed estates.