Concert, Roma
H21:00-24:00
Entrance from H20:30
Via Liguria 20
Information
H21:00-24:00
Entrance from H20:30
Via Liguria 20
The concert will take place in the garden of Istituto Svizzero, Via Liguria 20, Rome, from H21:00. Doors open at H20:30, free entry.
Register here.
Palm Beats
Open air spring concert
As every year, Istituto Svizzero is pleased to present the Spring Concert, which gathers the best of the emerging music scene in Italy and Switzerland. Always showcasing an eclectic and experimental array of talent, the line up features musicians Kush K, Ginevra Nervi and Ester Poly for a vibrant and glowing evening into the wonders of Villa Maraini's garden…
Food and drinks available to purchase.
The concert is also the occasion to see the exhibition Real Estate by Mai-Thu Perret, on view within the spaces of Villa Maraini and in the garden.
Organised in collaboration with Moods Club Zurich.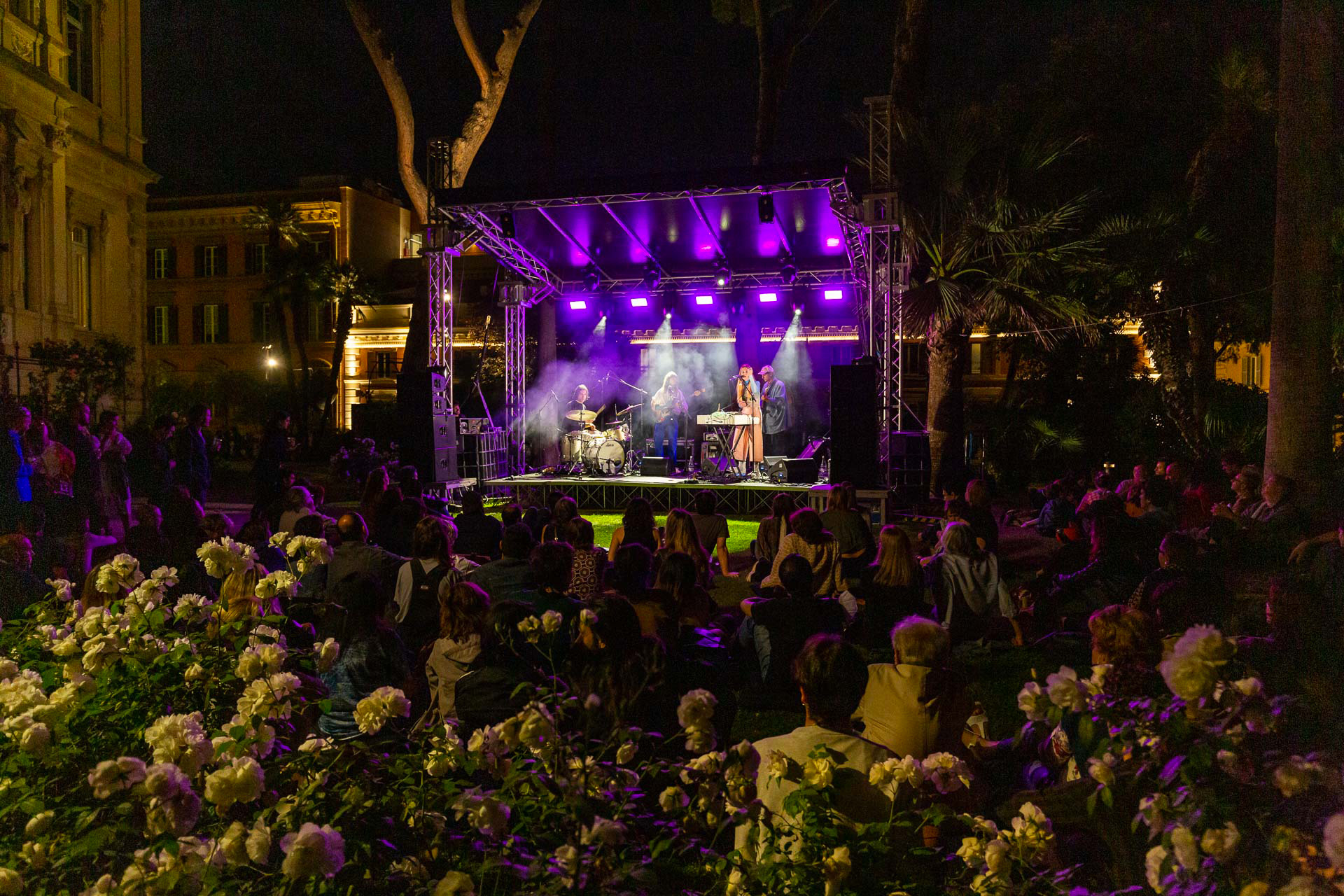 Biographies:
Kush K are Catia, Paul, Pascal and Nicola – a tetragon of all colors. But do not expect funny business: what counts is shape and what counts knows light and shade. Kush K sways back and forth between herbs and ether. And still it's pop, so you can do whatever you want with it. Only one year and a half from their astonishing debut Lotophagi, a second album falls from Kush K's shirt pocket: Your Humming was released in late summer 2021 via Blaublau Records, as a small edition of single piece vinyls for the time being. While the band let their playing abilities shine through well sought out songwriting on their debut, the follow-up releases the anchors and focuses on the moment, gives room to the ethereal. Kush K invented light-footed heavy hearted pop music which is sometimes improvised, a language for the human itself in this odd year. Birds chirp and synthés jump for joy, drums and bass aware of their own elegance, an acoustic guitar, saved from the campfire, a narrating voice owing to no one and a steady communal humming, singing, cooking, cleaning – the polygonal love relationship as music group: this is Kush K from Zurich.
Ginevra Nervi is an anomaly of sorts. An electronic composer, her work ebbs and flows between songwriting and producing sound in all its spiralling forms. With a multi-disciplined approach, her projects include recording and distorting her own vocals to scoring soundscapes for independent and commercial filmmakers. Born in Genova in 1994, Ginevra learned to play the piano and guitar from a young age before studying at a conservatory, where she explored electronic music and grew intrigued with the freedom of the format and took inspiration from avant-garde musicians in her milieu. Today Ginevra's research stems from exploring vocal timbres, paired with sound manipulation techniques. As a songwriter and music composer for films, documentaries, and TV series, Ginevra garners a revered reputation in the film industry: in 2020 she worked on three motion pictures that premiered at the 77 Venice International Film Festival, being nominated at the David di Donatello Awards. She self-released the single P!2, followed by the Klastós EP in 2021, where she created a collection of broken rhythms in perfect symbiosis with her vocals, based on the theme of reconstruction and connection. In 2022 she soundtracked the documentary Dante, Fuga Dagli Inferi (SKY ARTE) and scored her first original soundtrack for a series on Amazon Prime Video. Ongoing projects include composing the original soundtracks for two films. Ginevra's upcoming album The Disorder Of Appearances will drop on the 10th of June on La Tempesta International. Ginevra Nervi is also a seasoned performer, she took part to Primavera Pro Sound 2021, LucFest, MENT Festival Triennale Milano, Locus Festival and others.
The duo Ester Poly consists of Martina Berther (electric bass, voc, Zurich) and Béatrice Graf (drums, voc, Geneva). The band's music moves between psychedelic rock, punk and new wave and deals with mostly political content. Since its creation in 2013, the duo has given over 160 concerts in Switzerland and abroad (including France, Germany, the Czech Republic, Benin, Russia, Italy and Australia). They have performed in everything from large clubs and festival stages (PROGR Bern, Bogen F Zurich, B-Sides Festival Lucerne, Stadtsommer Zurich, Bad Bonn Kilbi, Jazzfestival Willisau, among others) to small DIY concerts, solo parties and demonstration parades (women's strike 2019). In 2017, the first album Pique Dame was released by the labels Ikarus Records (Zurich), Urgence Disc Records (Geneva) and the queer-feminist label Unrecords (Vienna).