Concert, Palazzo Trevisan degli Ulivi - Venice
Introduction
Biographies
Programme
Biographies
Dates
11.12.2018
12.12.2018
Location
Palazzo Trevisan degli Ulivi - Venice
---
Istituto Svizzero is pleased to announce the third edition of XMAS Market | Music Festival which will take place in Venice (11-12 December), Milan (13-14 December), and Rome (15-16 December).
A week full of visuals, sounds and concerts. LPs of independent Swiss and Italian labels are for sale and much more: our music market will exhibit limited editions, merchandising, t-shirts, posters and other limited collection goods. Once again, we are excited to work together and promote the independent music scene, by creating special moments of encounter between the public, music lovers and producers.
For this year's Milan edition, we will be hosted by O', non-profit association, Milan.
In collaboration with Bad Bonn, Düdingen (Daniel Fontana), Montreux Jazz Artists Foundation (Stéphanie-Aloysia Moretti), SoundOhm, O' associazione non-profit Milan, and Pro Helvetia Swiss Arts Council.
Media partner: ZERO
Swiss labels: Bongo Joe, Ous, WRWTFWW Records, three:four.
With the participation of Indie Mood, Italy.
Line-up
11 December
H19:30 EZIO CASTELLANO – live
H20:30 WRWTFWW – dj set
H21:00 HØJDE – live
H22:00 GANESH GEYMEIER – live
H22:45 BONGO JOE – dj set
12 December
H19:30 RICCARDO GILENO – live
H20:30 PANDOUR – dj set
H21:00 JULIAN SARTORIUS / MANUEL TROLLER – live
H22:00 CAMILLA SPARKSSS – live
H22:45 THREE:FOUR – dj set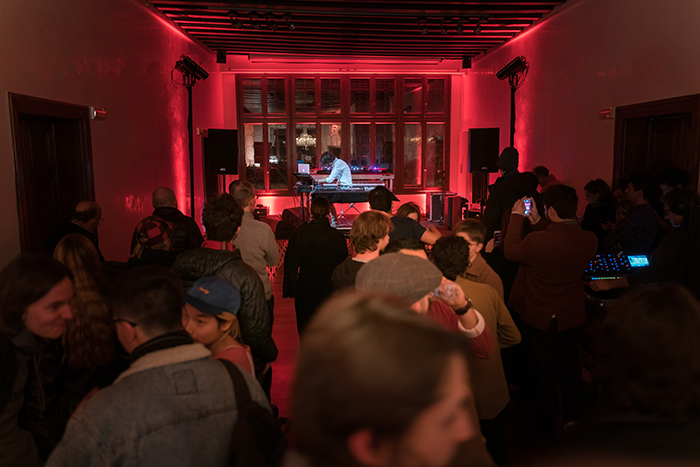 Bongo Joe is a 4 years old record store, café and label based in Geneva, Switzerland. The store offers a wide selection of all music styles on vinyl, cassette and books. The label provides a very personal catalogue of past and present music from all over the globe. Bongo Joe organises as well conferences, showcases, dj-sets and concerts at the store and in bigger venues in town.
Ezio Castellano singer, author and composer was born in Milazzo in the far province of Messina and has lived in Barcelona Pozzo di Gotto until 2007.  A « reckless romantic », he sings—with self-irony, joy and a pleasant melancholy background—of journeys of faraway lands, of lost lovers, of events from different times and anecdotes of life in the suburbs. In 2011 he founded along with Rosario Lo Monaco « La Banda del Pozzo »: the two met thanks to the common passion for swing music and the love for the myth of Buscaglione and Django Reinhardt. His predominant writing style is the « Italian style » singer-songwriter and swing is his compositional form.
Ganesh Geymeier, who was born in Lausanne in 1984, is among the most sought-after saxophonists of his generation. Far removed from any kind of stereotype, he coaxes powerful, earthy tones from his instrument, usually a tenor saxophone, always giving them as much time as they need to unfold. He works with electronics and has toured with many projects, including Bad Resolution with Christophe Calpini and his new trio Ganesh Geymeier Trio. His inspiration comes from as far away as South Africa and India, and he produces also beautiful photographs and videos.
Riccardo Gileno (born 1991) is a singer-songwriter from Trieste who began cultivating his passion for music to the point he achieved quite some success, with the funk group Groove O'Matic, of which he is frontman. After a series of gigs as a bass player for the Free Strangers' Society and as a member of the Family Affair project along with his brother Lorenzo, with which Italian scene covers are re-proposed, from 2016 he took part in The Topix project, lending his voice for the album's track « Madness of Time », released by Epops Productions on March 31, 2017. In 2013 he began to focus on his solo project, which is currently being refined and is giving him great satisfaction. On November 10, 2017, his debut EP The Curse was released, produced with Matteo Brenci.
HØJDE was created in March 2016 by Julien Dewaele (Rennes), after several years of research and experimentation. HØJDE is the translation into Danish of the word altitude, a relationship to height gain, retreat, which makes sense in view of the experiences transcribed in these compositions. The merging of piano and electronics offers an original approach to the use of the instrument. They energize human emotions with a certain melancholy. A soothing music, comforting, bewitching to see inhabited. Like a story which is never told twice in the same way, paradoxical compositions are articulated around a precise atmosphere but leave a real space for improvisation, for letting go.
The HØJDE project takes you through ambient, downtempo, electro atmospheres; the piano is at the center of the improvisations and narrates musical stories, without words. HØJDE is recipient of the 2018 Montreux Jazz Talent Awards Solo Keys.
Ous is a new label based in Zurich and Milano for wonderfully crafted, electronic music ranging from electronica, over bass-infected beats and deconstructed techno to experimental pop. The first infectious release came from Swiss veteran producer Bit-Tuner in December 2015. The new year will bring the vicious debut LP by IOKOI, an album by tortuous electronic producer FELDERMELDER and a delirious 7"-series with works by SENKING, Hirsch&Eigner.
Pandour. After experiences DJing, Luc Bersier and Michael Francey have pushed their sound exploration a bit further through production. They have integrated another dimension to their live performances : the Fribourg based band expands as they add two guitars to their line-up. With this addition, namely Adrien Clot and Simon Mozer, the equation is complete and Pandour was created. In April 2016, they will release their highly anticipated first EP Ursa Minor (Cheptel Records): beats inspired by Deep House, are enriched with elements of Gnawa music, Jazz, Kraut and Afro funk for an enchanting result that will get you dancing.
Julian Sartorius. The beat has always been the defining element in the life of Julian Sartorius. Born in Thun (Switzerland), he began his first drum lessons at the age of five. With his rhythms pushing the boundaries of new music, hip-hop and a unique form of abstract electronica, Sartorius reveals the endless possibilities and range of his instruments. He often prepares his drums, works with unusual, unprocessed acoustic sounds and develops, beat by beat, an unheard environment of sound.
Camilla Sparksss. For You The Wild. The title of Camilla Sparksss' first album says it all. A storm of instinctive, primitive electronic waves, cutting rhythms and scratching vocals. She grew up in a small town surrounded by the endless Canadian forest. All the energy of that vast wilderness, the float planes, the moose and the northern lights come together in Camilla Sparksss. With her first album she toured with John Spencer Blues Explosion across Europe, an odd but purely magical combination. Clearly defining Camilla Sparksss to be an electronic solo project with all the energy and grinding sweat that bursts from any of the best rock concert. October 12th 2018 saw the release of « Quasi Cool", a post-summer single with cuttings hypnotic synths, Egyptian beats and a witty tribute to Vanilla Ice. It is the first single of her upcoming 2019 album Brutal.
three:four. Founded between Lausanne and Paris in 2008 by Arnaud Guillet and Gaëtan Seguin, three: four records initially worked on project series (10″ split, compilation) with limited and hand-numbered editions in which there was a special attention to graphics. Since 2010, the only active studio has been Lausanne, and the label has been producing albums. From January 2017, Maxime Guitton, programmer and music pioneer, named ali_fib joined three: four records. Up to today the label has released more than 40 albums (Norberto Lobo, Eric Chenaux, La Tene, Danny Oxenberg, Mike Wexler, Richard Youngs, etc.), including unprecedented collaborations such as Aaron Moore / Thierry Müller or David Maranha / Helena Espvall. The editorial choices are in line with the musical tastes of its members, with genres ranging from ambient to folk, with sounds of repetitive, contemplative or revisited traditional music. Recently several artists produced by three: four have been reviewed by The Wire magazine.
Manuel Troller, guitarist of Schnellertollermeier and collaborator from Sophie Hunger to Michael Fehr and Gerry Hemingway, is actively working in diverse musical genres. Through pushing the boundaries on his instrument with preparations, extended techniques, sound manipulation and a fine sense for the moment, he became one of the most in-demand guitar players of Switzerland. Recent solo performances include Café OTO London, Bad Bonn Kilbi, Bee-Flat Berne and B-Sides Festival (featured artist).
WRWTFWW Records aka We Release Whatever The Fuck We Want Records is a Geneva-based label founded by Olivier Ducret (Mental Groove) and Stéphane Armleder (Villa Magica, The Genevan Heathen). It specialises in vinyl reissues of forgotten gems, movie soundtracks, and cult albums, with genres ranging from ambient to jazz, electronic, experimental, musique concrète, library music and more. Its most celebrated releases include Through The Looking Glass by Japanese percussionist Midori Takada and the original 1995 Ghost In The Shell soundtrack.