Performance, Roma
H18:30
Entrance: Via Liguria 20
Registration required
Dates
16.10.2021
17.10.2021
Information
H18:30
Entrance: Via Liguria 20
Registration required
CYBERIA
A postmodern fairytale by Adrian Ganea & Maria Guta
Cyberia takes place somewhere in a cold distant East, stretching between and endless imaginary realm and a vast physical space. It is a westwards journey towards a promised future with no arrival and no return. There is no here or there, only a twilight zone between a departure point and a simulated destination.
Between digital video projections and a physical setting, using the mechanics of a video-game engine with a motion capture suit, Cyberia is the simulation of an endless pre-climax state where a performer and a CG avatar dance as one to the rhythms of an imaginary West.
In a world oversaturated by digital data – mysticism and paranormal are as popular as ever. Emerging technologies are increasingly incorporated in a form of postmodern spiritualism, as Arthur C. Clarke points out: «Any sufficiently advanced technology is indistinguishable from magic». Considering the rise of recent reactionary movements that desire archaic appearances and morals, we revisit our personal biographies anchored in the former eastern bloc and the effects of the westwards transition.
The event is organized in collaboration with VRE – Virtual Reality Experience 2021 and GIFF-Geneva International Film Festival.
Biographies
Adrian Ganea in an artist born in Romania in 1989. He was trained as a set designer and his work involves fabricating fictitious worlds, building environments and assembling simulations. His main field of work is performing arts with a specific focus on digital culture. Having a multidisciplinary practice, his activities range from designing theatre scenography to 3D animations and programing simulations. He graduated at UDK Berlin, receiving a master degree in Set Design from the Performing Arts faculty.
Maria Guta (1983, Bucharest) is a Romanian artist based in Switzerland. Her work mainly looks into mechanisms of self-representation which she reenacts by placing herself both behind and in front of the camera. Perpetually constructing and curating alternate cyber-identities, she makes use of immersive digital tools and social media in her work. She holds a BFA in Graphic Design from The National University of Arts in Bucharest and a MA in Art Direction from École cantonale d'art de Lausanne (ECAL).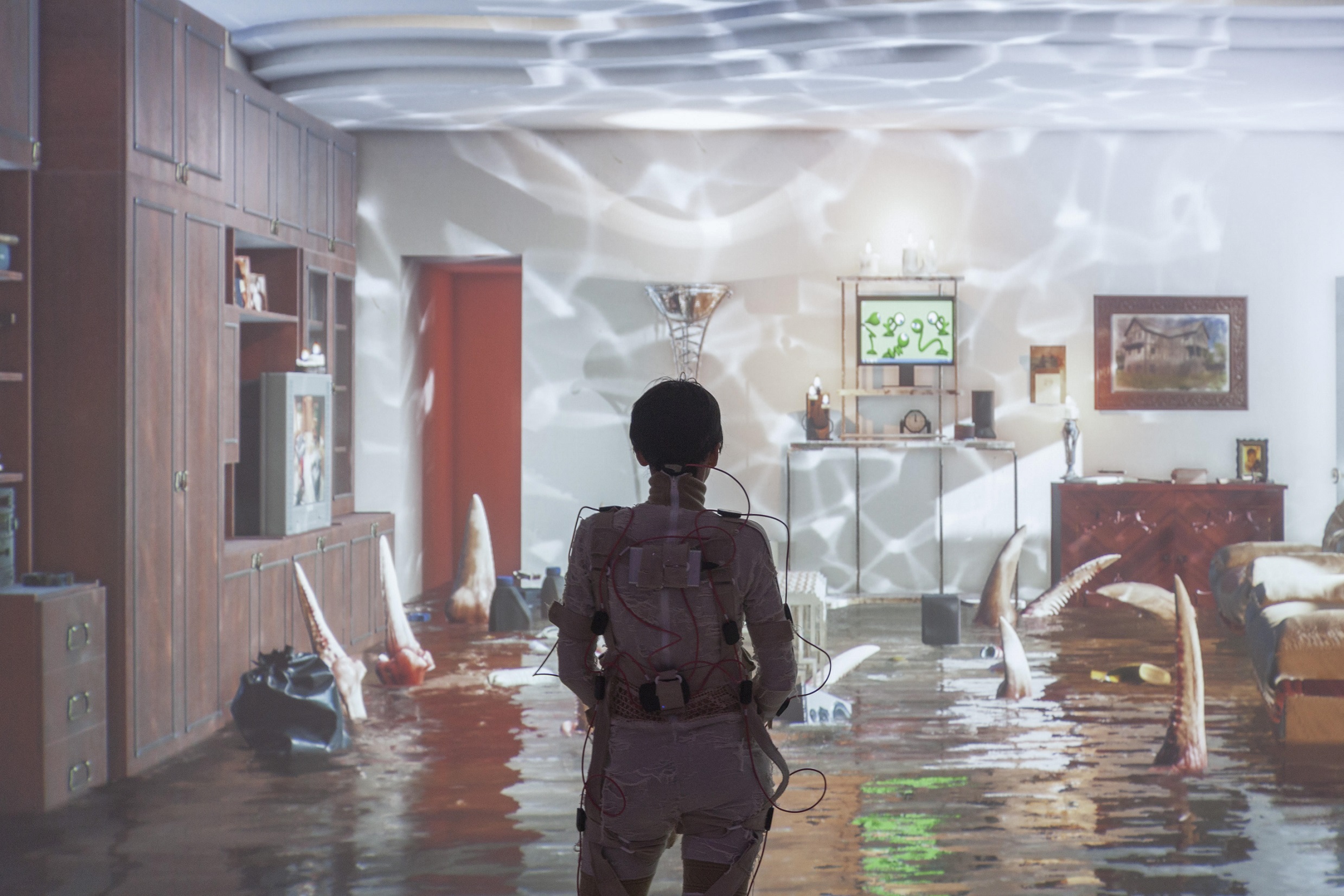 In accordance with current regulations, the public is required to present a Covid Green Certificate at the entrance in order to access the event. This includes one of the following:
• You have received the anti-COVID-19 vaccination, with proof that you have received the first dose of vaccine at least 15 days previously or that you have completed the vaccination cycle;
• Recovery from COVID-19 within 6 months prior to the date of the event;
• Present a rapid antigenic or molecular test with a negative result within 48 hours prior to admission.