Veranstaltung, Residenzen, Roma
Studio Roma 2014/2015 closing event
Introduction
Biographies
Category
Veranstaltung, Residenzen
Information
Studio Roma 2014/2015 closing event
To conclude the program of Studio Roma 2014-2015, the resident artists of Istituto Svizzero present a series of works, performances, actions and results of the research conducted during their time in Rome.
The meaning of the "bandiera bianca" (white flag) comes from the custom of raising or waving a white flag in a given context, in the middle of an interaction, for a certain purpose. The invitation on the part of several artists to complete, modify and use five banners of white silk made and distributed to the participants of Studio Roma during the research activities this year leads to a deliberately improper use of this symbol. An unusual, transitory use, capable of producing new meanings and potentialities precisely due to this character.
Bandiera Bianca is an event open to the public, held in the spaces and the garden of Villa Maraini.
With contributions by Gina Folly, Ronnie Fueglister, Anne Le Troter, Niku Alex Muçaj, Coralie Rouet, Benjamin Valenza and Hannah Weinberger.
Live set by Vincent Hänni and Hervé Provini, invited by Celine Hänni DJ set by DJ Marcelle/Another Nice Mess

Barbecue in the garden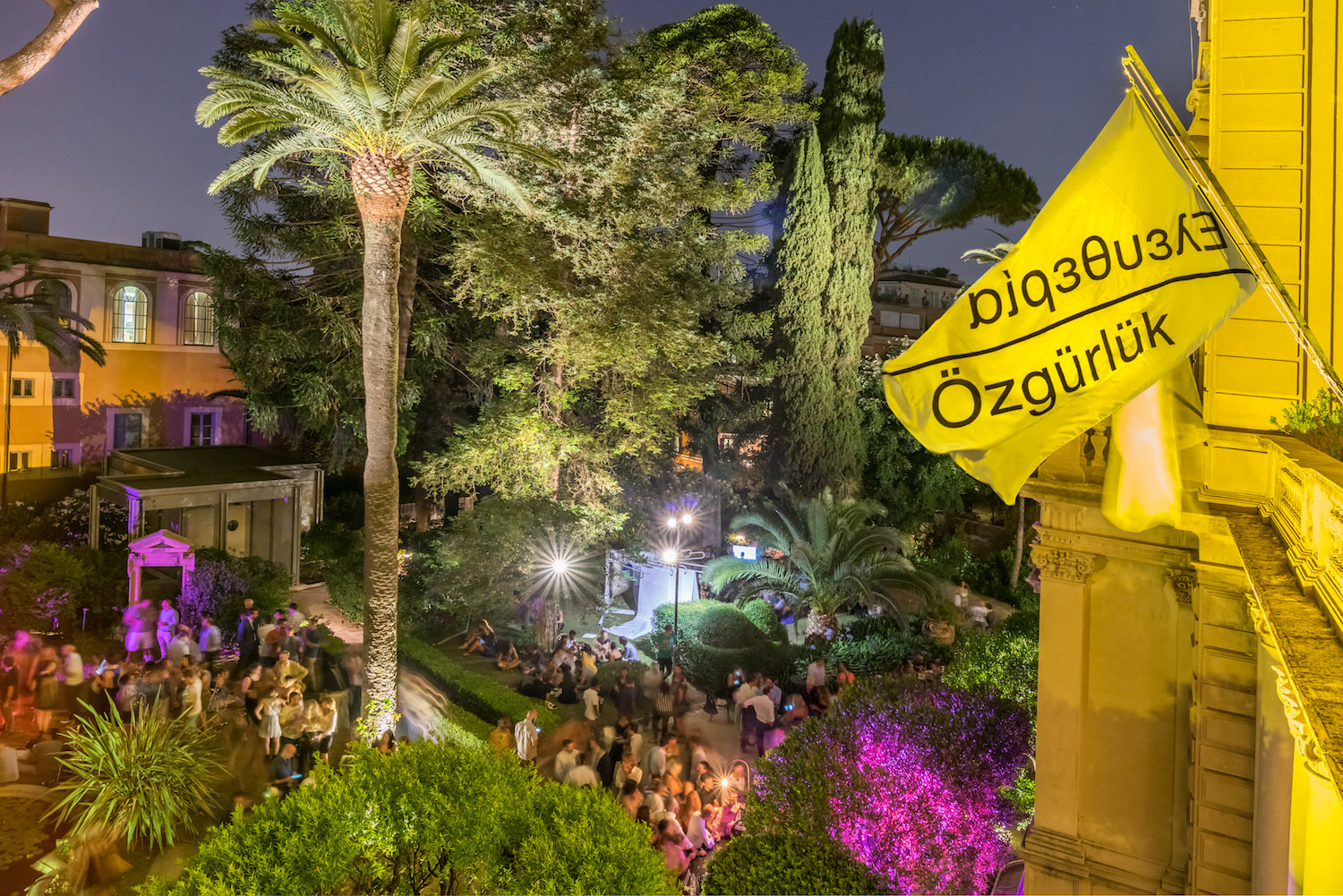 Gina Folly took a masters degree at ZHDK Zürcher Hochschule der Künste, after an apprenticeship as a photographer in Zurich. Since March 2014 she has co-managed the Taylor Macklin project space in Zurich. She has shown work in solo and group shows in Switzerland, Germany and Italy.
Ronnie Fueglister is a graphic artist who studied in Basel and Zurich. Works include the design of the new Kunsthalle Basel website and books designed for the artists Daniel Gustav Cramer, Miriam Cahn, Mandla Reuter, Mike Bouchet and Paul McCarthy.
Celine Hänni after studying at the Geneva Conservatory, has concentrated on experimentation, creation and exchange in music. She has worked with musicians and researchers, exploring the voice with works of contemporary music and improvisation. She has participated in a range of music and theater projects and performed on an international level.
Anne Le Troter studied at HEAD Geneva. Her work takes the form of sound installations, performances, sculpture and video. She has had shows in Switzerland and France, and produced publications, radio programs and readings.
Niku Alex Muçaj studied at Institut Hyperwerk of Hochschule für Gestaltung und Kunst in Basel. His practice comes to terms with social systems and processes, exploring artistic and creative strategies in relation to public space. Muçaj is a co-founder of MAT (Media Art Tirana) and a partner of Transbazar's Laboratory Albania.
Coralie Rouet studied at the University of Paris VIII and HEAD-Haute Ecole d'Art et de Design in Geneva. She works with video and installations and presents her works in different contexts, collaborating with the collectives kom.post and californium 248.
Benjamin Valenza is an artist and professor of sculpture at EBABX in Bordeaux. He manages the projects of Joseph Hannibal (his alter ego), and with Stephane Barbier Bouvet he has created Kaiser Kraft, an agency of services for art, design and the entertainment industry. With Emmanuelle Lainé he is developing the cinema project LongLenght in London, Marseille, Switzerland and India.
Hannah Weinberger took a masters in Fine Arts at the University of the Arts of Zurich. Her work investigates possibilities of social aggregation and the creation of shared spaces, with installations, video and sound performances. She has shown, among other places, at the Swiss Institute, New York (2012), Istituto Svizzero, Milan (2012), Kunsthalle Basel (2012), Freedman Fitzpatrick Gallery, Los Angeles (2015).
________
Vincent Hänni is a guitarist fascinated by sound experimentation, who focuses on modular synthesis. He has composed soundtracks for film, theater and dance; he works regularly with musicians and artists from the Swiss scene of experimental music and theater.
Hervé Provini is a drummer who works on electroacoustic composition and acoustic improvisation, on the Swiss jazz scene. Provini has developed a series of programs that permit computer generation of musical material using genetic and chaotic algorithms and mathematical analysis.
DJ Marcelle/Another Nice Mess is a musician and DJ who defies labeling. In her practice she plays with expectations and gender identities. She has a collection of over 15,000 records mixing clichés of the past, techno, free jazz, African dance music and contemporary underground. She is a resident DJ in many cities, including: Zurich, Vienna, Berlin, Hamburg, Lausanne.