Art, Projection, Milano - Dropcity
Dates
29.11.2022
10.12.2022
Location
Milano - Dropcity
Within the framework of the exhibitions The Most Beautiful Swiss Books and Making Waves – Conjuring of New Forms in Publishing curated by SPRINT at Dropcity, Istituto Svizzero presents the (loop) screening of A story from Circolo della rosa, a film by artist Alex Martinis Roe in collaboration with Libreria delle donne di Milano.
In her film A story from circolo della rosa, Alex Martinis Roe continues her work on feminist genealogies. The film is narrated by the artist's voice and is addressed to a close colleague in the form of a letter, telling a story about two women. It weaves together fragments from her recent oral history research in collaboration with La Libreria delle donne and her experiences of their collective activities, as well as her exploration of related spaces, archives and texts.
The film traces the story of two experimental historians who began working together on feminist pedagogical experiments in the late 1980s and explores the nature of their relationship, which can be described as one of affidamento (entrustment). Affidamento is a social-symbolic practice exercised and theorized by the Milan Women's Bookstore Collective and is a reciprocal relationship of entrustment between two adult women. By referring to one another, each gives the other authority in her spheres of political practice by acknowledging her desires, competences and differences. This practice of acknowledgement involves a commitment to one another, a commitment to each other's sexual difference, and is the fabric with which the collective is formed. Alex Martinis Roe explores the lived history of this practice as a way to narrate her own political relationships, and as a way to imagine feminist futures located in networks and affiliations across different times and places.
The screening of A Story from Circolo della rosa is accompanied by Sitting in the back of the radical feminist classroom, a reflection by Camilla Paolino on the political practice of relations among women, and the role of countercultural publishing and bookselling in forging transgenerational feminist alliances.
29.11.2022-10.12.2022 H14:00-18:00
Alex Martinis Roe
'A story from Circolo della rosa'
Film, 2014, 8'55 », loop
Dropcity, via Sammartini 60, Milano
Credits:
Frame #1:
Written, directed and produced by Alex Martinis Roe
Cinematography: Alicia Frankovich, Alex Martinis Roe
Editor: Alex Martinis Roe
Sound Design: Jana Irmert
Colourist: Ivan Marković
Titles: Chiara Figone
Shot on location at: Libreria delle donne di Milano, via Dogana and other streets in Milan, Palazzo Martinengo, Monforte d'Alba
Archival material courtesy of: Marirì Martinengo, Laura Minguzzi, Libreria delle donne di Milano
Frame # 2
For stories and interviews, many thanks to: Marirì Martinengo and Laura Minguzzi
And also: Luisa Abbà, Pat Carra, Adriana Cavarero, Lia Cigarini, Laura Colombo, Sara Gandini, Clara Jourdan, Luisa Muraro, Renata Sarfati, Traudel Sattler
And for Interpreting and Translation: Paolo Caffoni, Daria Carmi, Chiara Deidda, Simone Frangi, Melanie Sehgal
Frame # 3
Many thanks to: Valerio del Baglivo, Paolo Caffoni, Simone Frangi, Fiona Geuß, Stefano Raimondi, Melanie Sehgal, Archive Books, Berlin and Alicia Frankovich
This film was produced with the support of: Samstag Program, Adelaide; Viafarini-in-Residence, Milan; Graduiertenschule, Universität der Künste, Berlin and Einstein Foundation, Berlin; The Blank Residency, Bergamo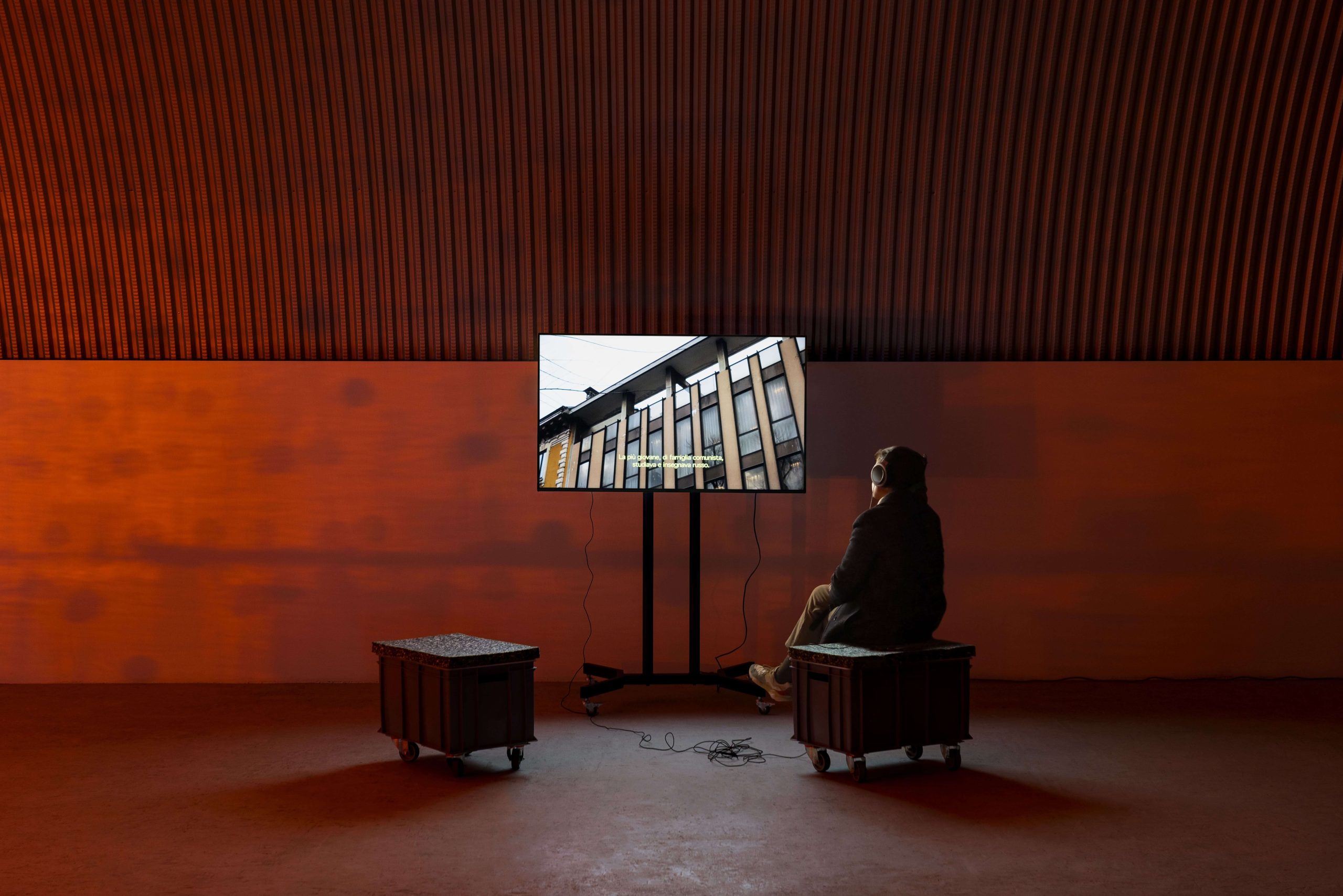 Alex Martinis Roe is an artist researching genealogies of feminist political practices of difference. Her projects seek to foster solidarity between different positions and generations as a way of participating in the construction of feminist histories and futures. Recent exhibitions include: Coming Home, Perth Institute of Contemporary Art (solo), Alliances, GfZK – Museum of Contemporary Art Leipzig (solo), Fabriques de contre-savoirs, Frac Lorraine (Metz), and Sex, Taxispalais – Kunsthalle Tirol. Her project To Become Two (2014-2018) was co-commissioned as a series of solo exhibitions by If I Can't Dance (Amsterdam), Casco Art Institute (Utrecht), The Showroom (London) and ar/ge kunst (Bolzano) and has also been exhibited at Badischer Kunstverein (Karlsruhe) and Samstag Museum (Adelaide). In 2018, To Become Two was presented at the Centre George Pompidou, Paris, was the recipient of the Kunstpreis Europas Zukunft [Future of Europe Art Prize] and Archive Books (Berlin, Milan, Dakar) published her monograph To Become Two: Propositions for Feminist Collective Practice. Alex is Head of Drawing and Printmaking at the Victorian College of the Arts (University of Melbourne).
Camilla Paolino lives and works in Geneva, where she is pursuing a PhD in contemporary art history at the University of Geneva, exploring the material nexus between reproductive and creative work in 1970s Italian art practice. To date, her research has been presented at Ruhr-Universität in Bochum, INHA in Paris, and Kunsthalle Bern (2022), as well as at the University of Fribourg (2021), FRI ART-Kunsthalle of Fribourg (2020), and IHA in Lisbon (2019). Currently, she co-runs the web-radio channel CANALE MILVA, with Giada Olivotto, as well as the artist-run space one gee in fog, and collaborates to the 7 Winds research project at Kunsthalle Bern. Camilla's recent curatorial projects include HEAD Grad Show at HEAD-Genève (Geneva, 2021 & 2022); PALAZZINA#11 at PALAZZINA (Basel, 2021); FOTOROMANZA at Le Commun (Geneva, 2021); Universo 25: L'odore della Convivenza at Sonnenstube (Lugano, 2020); PLATTFORM20 at Fri Art Kunsthalle (Fribourg, 2020); PLATTFORM19 at Centre d'Art Contemporain d'Yverdon-les-Bains (2019).