Art, Musique, Performance, Online
A x-mas edition of online performances
Programme
Biography
Programme
Programme
Dates
16.12.2020
31.01.2021
Category
Art, Musique, Performance
Information
A x-mas edition of online performances
1000 Spaces. A x-mas edition of online performances
1000 Spaces is this year's edition of Istituto Svizzero's Christmas performance and music programme, which takes place exclusively in the virtual space. 1000 Spaces, thus 1000 virtual, real or imagined spaces.
The last months have made us experience spaces in a different way. As the public space suddenly became less and less accessible, many of our activities shifted to the private one. Here we have worked, eaten, loved, hoped and doubted. The Zoom conference's window and our computer's camera provided insights into perhaps intimate, perhaps staged spaces. To the same extent in which the real space somehow moved away, the virtual space moved closer again, with all its promises and unfulfilled promises. In terms of artistic and curatorial work, it is both and it drives us to rethink about our practices.
1000 Spaces is a compilation of performative works developed specifically for the digital space, which in turn lead us into countless, possibly real or imagined spaces, even worlds.
Programme
16.12.2020
Benni Bosetto (lives and works in Milan)
Bit-Tuner (lives and works in Zurich)
Caterina De Nicola (lives and works in Zurich) – live jam session, in collaboration with Czarnagora, hosted by Megahex.fm, H21:00
Julie Monot (lives and works in Lausanne)


La lezione di danza (2020), 12' 09''
Benni Bosetto uses drawing, performances or sculptures to create display-like settings, even spaces that oscillate between reality and fiction. For the digital x-mas event 1000 Spaces she takes us into a magnificent ballroom. A strict dance teacher instructs a young dancer, introduces her to the movements and steps of classical ballet. Inspired by the film Die Klage der Kaiserin (The Complaint of an Empress, 1990), the only film realized by Pina Bausch and the fairy tale Snow White, Benni Bosetto addresses the limits of the human body and the discrepancy between the fragile elegance of dance and the training, which is full of sweat, maybe even tears. At the end, a masked figure enters the stage and shows us a series of drawings—figures from the Lascaux cave, religious paintings and biological cells. The linearity of the narrative is once again jumbled and our perception of the space and the bodies moving in it, shifts into the surreal realm.
Courtesy the artist and ADA Roma
Video: Alberto Sansone
Music Composition: Vito Gatto
Performer: Elisabetta Bosetto, Virginia Romanielli Parisi, Benni Bosetto
Bit-Tuner meets Strobosphere (2020)
Bit-Tuner takes us to a club room, with colorful strobe light effects. The almost 30 minutes long set is also a collaboration, a dialogue with the strobe lighting. Sound and light create a perhaps familiar space and evoke memories of long nights, a kind of reminiscence of the time before the pandemic. Bit-Tuner mixes beats, sound patterns, rhythmic samples and sounds from the synthesizer with animal noises and street sounds— Field Recordings, which he recorded in Athens and in Cairo.
Music Performance, Audio Mix & Mastering: Bit-Tuner
Visual Art Director & Light Operator: strobosphere.lighting
Video Director & Edit: Pascal Hofer (yukuki.me)
Camera & Drone Operator: Benjamin Hofer (yukuki.me)
Recorded live at Fabriktheater @Rote Fabrik, Zürich, June 8, 2020
Biographies
Benni Bosetto (Milan, 1987), lives and works in Milan. She graduated from the Brera Academy of Fine Arts, Milan, and studied at the Sandberg Instituut, Amsterdam, NL.
Solo exhibitions include: 2020 – ADA, Rome, IT (upcoming); Almanac, Turin, IT. 2019 – Kunstraum, with Xenia Perek, curated by Giulia Civardi, London, UK. 2018 – Fonderia Battaglia, Milan, IT.  Group exhibitions: 2020 – Quadriennale d'arte 2020, Palazzo delle Esposizioni, Rome, IT (upcoming); Galleria Nazionale d'Arte Moderna, Rome, IT (upcoming); Galleria Civica di Trento, IT (upcoming). 2019 – Villa Medici, Rome, IT; Artissima Special Project, Turin, IT; Horst – Asiat, Vilvoorde, BE. 2018 – OGR, performance, Turin, IT; MAMbo, Bologna, IT; Fondazione Baruchello, Rome, IT. Residences include: Fonderia Artistica Battaglia (Milan, 2018); VIR Via Farini, (Milan, 2014). She received the Pollock-Krasner Foundation Grant in 2020, the Fondazione Fiera Milano Award in 2019 and the Termoli Award in 2018.
Born and raised in St.Gallen (CH), Bit-Tuner (Marcel Gschwend, b. 1978) works and lives in Zurich today. He's been producing electronic music with computers, mpcs, synthesizers, bass guitars and a fleet of analogue effect gear. He has a fondness for samples from old records, movies and has also been discovering field recording. Bit-Tuner works with heavy beats, blown up bass sounds, gloomy atmospheres, acid-driven melodies and uproaring soundscapes. His musical field of expression reaches from Experimental Hip-Hop to Electronica, from Bass Music to Noise, Theatre Productions, Fashion Shows and Shortfilm Soundtracks. His continuous work is widely recognized, which led to him being nominated for the renowned Swiss Music Prize in 2015, alongside artists like Bruno Spoerri, Joy Frempong (OY), Joke Lanz and Nik Bärtsch. In his energy-driven concerts, Bit-Tuner oscillates between Downbeats, Electronica and Techno, while he pulls his tracks together to become a gloomy, but still euphoric bass monster. Live he has shared the stages with Acts like Kelpe, Jon Hopkins, Otto von Schirach, Ben Frost, Jimi Tenor, Modeselektor, Shackleton, Actress, The Haxan Cloak, or Zomby. Bit-Tuner has collaborated with various artists like !Mediengruppe Bitnik, Audio88 & Yassin (Berlin), IOKOI (-OUS), Bleubird (Florida), Sensational (NYC) or Islam Chipsy (100Copies Music).
Caterina De Nicola is a visual artist and musician born in Ortona (IT) in 1991, and currently living and working in Zürich (CH). As a DJ and producer, she is mostly affiliated with the Zürich based music label and collective Czarnagora. In her practice she resorts to fiction, writing, sound investigation and object design, to shape formal and discursive patterns, by developing an analysis of cultural symbols and motifs, as well as their circulation in a larger cultural system. After obtaining a Bachelor degree at Brera Academy in Milan, she took part in the CSAV at Fondazione Antonio Ratti in Como. In 2018, she graduated with a Master degree at ECAL in Lausanne, where, after being active as event organiser and DJ together with local emerging actors galvanising the local scene, she has been invited to take part to Les Urbaines festival. In 2018, she took part in the CASTRO studio program in Rome. In 2020, she won the residency program at Cripta747 in Torino. Recent exhibitions include: FUORI, 17a Quadriennale d'arte (Palazzo delle Esposizioni, Roma) 2020, Whispering Walls (Last Tango, Zurich), Sommer des Zögerns (Kunsthalle Zürich), Surgeons and Gluttons (Palazzina, Basel), Embarrassed and conciliatory, bored and noncommittally (Il Colorifcio, Milano), Café Spit (Galerie PCP, Paris), Crisis of Glass Bell (TANK, Basel), Capriccio 2000 (Fondazione Sandretto, Torino), Le ciel, l'eau, les dauphins, la vierge, les fics, le sang des nobles, l'ONU, l'Europe, les casques bleus, Facebook, Twitter (Forde, Geneva), Bay Wetter (Wishing Well, Lausanne), and Ending Explained (Le DOC, Paris).
Julie Monot graduated with a BA in Visual Arts at the HEAD of Geneva (2017) and an MA in Visual Arts at ECAL Lausanne (2019). Her artistic practice moves between different mediums such as performances, installations, sculptures and videos. Her research focuses on, among other things, the borderline zones of bodily exteriority and its modes of representation. The notion of the figure is part of her specific interests, for its polysemic and vigour characteristics, but above all because it allows a figurative and critical space on our social constructions. Accessories of transformation, costumes, prosthesis, corporal « furnitures" and objects related to this praxis are part of her daily reflections.
A hole with a view
For 1000 Spaces, artist and musician Caterina De Nicola has created the new work A hole with a view. The four new tracks and text form the basis for the live jam session on MEGAHEX.FM, with other musicians and performers also adding new sounds and voices. The sung and read text passages tell of an erotic encounter and a sexual desire and intermingle with the computer-generated sounds created through morphing and the instruments played live in the jam session.
Performed with: Valentina Demicheli, Yesh, Dominic Michel, Ronja Varonier and Urban Zellweger
Jam session recording, in collaboration with Czarnagora, hosted by Megahex.fm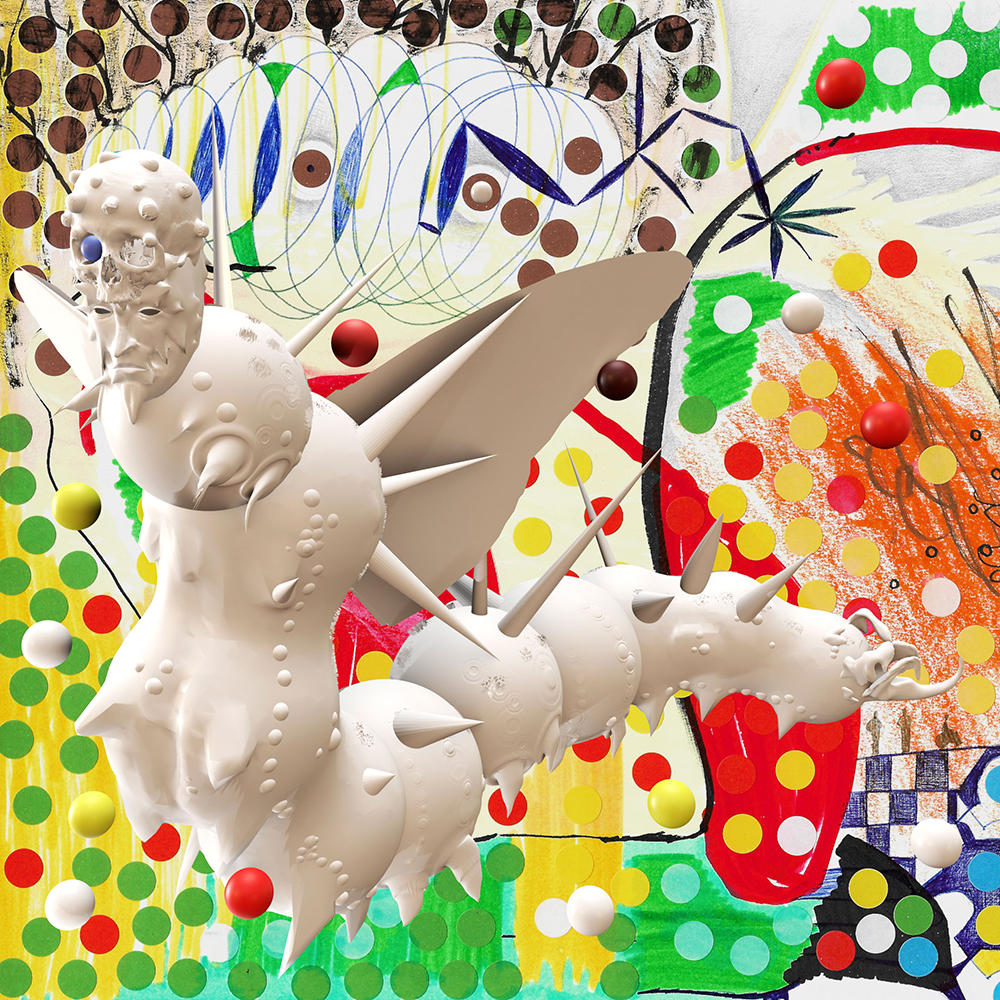 Aurore (2018) & Showmustgoon (2020)
Julie Monot presents two video works for 1000 spaces, Aurore (2018) and Showmustgoon (2020). Aurore portrays Milo Martin's huge sculpture (1957) and the city of Lausanne in movement. The roman goddess, located in the city centre, was often a playground for children. The work toys with the moving image in the background, where a girl lies over the sculpture's head creating a wig, and the heavy primary strokes which slowly colour the foreground and bring to life the desaturated image while creating spaces in the interstices.
In her new work Showmustgoon, Julie Monot addresses the borderline zones of bodily exteriority and its modes of representation. The projection is superimposed with new actions such as additions, transformations, repetition, editing and plays with the notions of scale and perspective. Her characters belong to the collective imagination and are personified—often objects and with monster-like attributes—and have a surrealistic flavour. The dramatic sound of the work, The Great Illusion (Jean Renoir, 1937) soundtrack, sets the pace to the movements within the space, leaving us with new shades of meaning.