Art, Exhibition collective, Roma
THU-FRI: H14:00-18:00
SAT-SUN: H11:00-18:00
press release
Biography
Dates
11.10.2019
19.01.2020
Category
Art, Exhibition collective
Information
THU-FRI: H14:00-18:00
SAT-SUN: H11:00-18:00
Istituto Svizzero is pleased to present "Retour à Rome", a group exhibition presenting artists: Anne-Laure Franchette, Vidya Gastaldon, Clemens Klopfenstein, Marie Matusz, Gianni Motti, Uriel Orlow, Denis Savary, Rico Scagliola & Michael Meier & Ian Wooldridge.
Through a non-conventional installation, the exhibition offers an unusual view on the idea of landscape as a painting genre. The landscape genre, which proliferated in Rome from French painters in the nineteenth century, has shaped, since then, our depiction of the world.
As today the genre is no longer identified with painting, « Retour à Rome » toys on the idea that the moving image is the medium that most of all today is able to evoke memories.
Anne-Laure Franchette encloses in small slabs of transparent resin—which resemble translucent film—fragments of vegetation collected in the garden of the Institute.
Vidya Gastaldon's new abstract film acts as a portal for our inner landscapes' perception; rhythm and music permeate her work which depicts a series of introspective visions. For Clemens Klopfenstein it is a real return to Rome. The Swiss director shot part of his famous film Geschichte der Nacht by night during his stay at the Istituto Svizzero in 1979.
Marie Matusz's camera is not merely a gaze but an eye, that is an apparatus which enables to see;  her work reflects on how the production of images and sound condition human behavior, in particular when space is filmed, examined and monitored.
In the garden, Gianni Motti's clock relentlessly marks time until the end of the sun's. During his career, Pasolini tried several times to film in Jerusalem. After many failed attempts, no other city—in terms of landscape—seemed more evocative than Rome: this is what Uriel Orlow's installation narrates. Often a single incongruous object is enough for the urban space to become more poetic; as the classical painters deliberately included it in their views, in the same way, Denis Savary has produced a video work for the old city of Geneva which includes a hot air balloon.
Cemeteries are parks where memories wander; in a slow and melancholic film, Rico Scagliola and Michael Meier follow the paths of a beautiful place of their memory in Zurich.
Even the web today produces its own windows: this is what Ian Wooldridge presents in his installation, which groups together part of his collection of empty porn webcam recordings.
At the entrance to the Institute, a neon by Mario Merz humorously reminds us that the rest of the world is closer than what it seems.
In the dipendenza's courtyard the work Coda (a fountain for a filter) by Tumasch Clalüna and Kilian Rüthemann has been installed, a fountain-shaped sculpture that questions the staging of water in the city of Rome.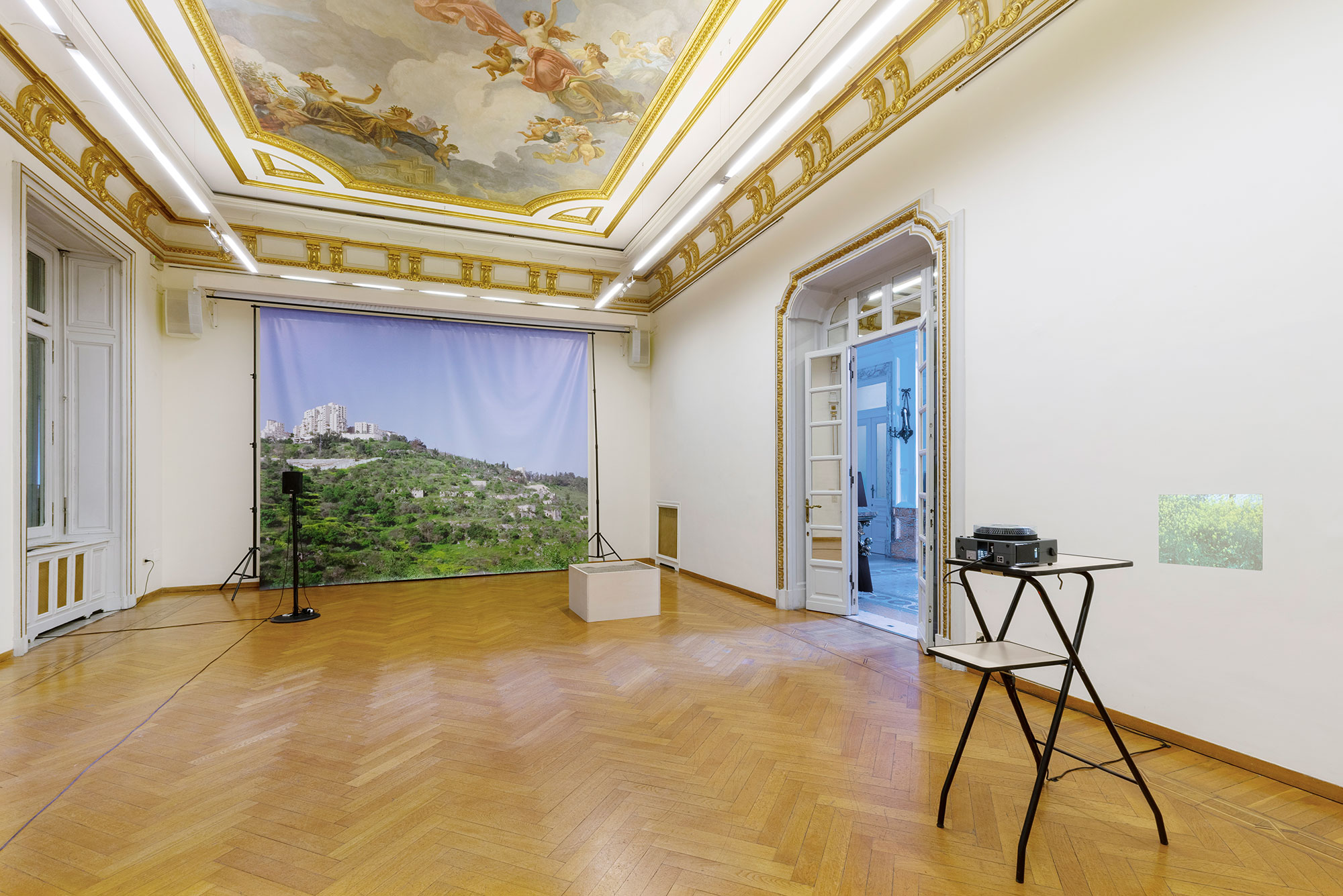 Tumasch Clalüna (1980) lives and works in Basel.
He is a director, writer and creative producer. He writes and directs plays for his independent theatre group Kurzer Prozess.
Anne-Laure Franchette (1988) lives and works in Zurich.
Her present research is concerned with hidden layers and the systems of meanings that have been applied to nature, flora and seeds.
Vidya Gastaldon (1974) lives in Grange Neuve and works in Geneva.
In her works (drawings, installations or videos), there are references to Hindu divinities and Christian cultures, elements from the natural world, symbols of oriental religions and hippie culture, as well as objects of daily life.
Clemens Klopfenstein (1944) lives and works in Bevagna (IT).
Swissfilmmaker, screenwriter, director of photography, film producer, trained artist and painter. In his films he develops new and fresh impulses from his environment, his experience, his dealings with friends, and his engagement with the film medium.
Marie Matusz (1994) lives and works in Basel.
Her works are preceded by a critical examination of forms and practices of research.
Mario Merz (1925-2003) lived and worked in Turin.
Merz' research had developed and evolved towards an artistic experimentation that led him to produce "volumetric paintings": canvas constructions enveloping objets trouvés, organic or industrial materials, whose appearance in the work contributed to place the artist amongst the protagonists of Arte Povera.
Gianni Motti (1958) lives and works in Geneva.
He is a conceptual artist who contextualizes ready-made objects in unexpected ways in works of sculpture, video, and site-specific installations, inflected with what has been called "disarming simplicity."
Uriel Orlow (1973) lives and works in London.
Orlow's work is concerned with spatial manifestations of memory, and it looks to the botanical world as a stage for politics at large.
Kilian Rüthemann (1979) lives and works in St. Gallen
Whilst Rüthemann's process-reflective, event-indexing sculptures are clearly in conscious discussion with Minimal and Conceptual art of the '60s and '70s, the mutability of his materials introduces a narrative of dissolution and decay.
Denis Savary (1981) lives and works in Geneva.
Savary's practice weaves narratives steeped in childhood fantasies and adult phantasmagoria, notably through a vision of exhibition as a domestic place that the spectator can inhabit.
Rico Scagliola (1985) e Michael Meier (1982) live and work in Zurich.
Scagliola and Meier's work is centered on the exploration of the aesthetic self-concepts of individuals or specific groups of people and how these are correlating with the self-perception of a larger social collective.
Ian Wooldridge (1982) lives and works in Zurich.
He works with familiar genres, tropes and topics, dichotomies such as: Pornography and Boredom; Comedy and Depression; the Terror in Polite Aesthetics. He appropriates and re-works found material, skewing and queering media, unhinging the structures, narratives, vocabularies and space.