Archéologie, Architecture, Art, Cinéma, Concert, Événement, Performance, Projection, Conversation, Roma
H16:30 doors open
H17:00 – H00:30
Entrance via Ludovisi 48
Information
Press image
ALL Day Programme
Day programme
Biographies
Category
Archéologie, Architecture, Art, Cinéma, Concert, Événement, Performance, Projection, Conversation
Information
H16:30 doors open
H17:00 – H00:30
Entrance via Ludovisi 48
Istituto Svizzero is pleased to present « MIRACLE/LACRIME ». The culminating event of our residency programme Roma Calling (2018/2019) will be staged in Villa Maraini's garden, that all visitors are invited to explore and inhabit for a wondrous evening.
The programme has been conceived collectively by the 2018/2019 fellows: Oscar De Franco, Rahel Meier, Robin Meier, Lora Mure-Ravaud, Enrico Petracca, Christine Pönitz-Hunziker, Timothy Pönitz, Davide Spina, Laurence Wagner, Manon Wertenbroek, Ian Wooldridge, and Célia Zuber, in conversation with writer and curator Barbara Casavecchia.
The title, proposed by Célia Zuber, reacts to Sylvie Fleury's work Miracle: an auspicious and monumental Pop purple neon sign installed permanently above the entrance of the Villa since 2016. All the projects are hence orchestrated around the twin and elusive themes of MIRACLE/LACRIME, although not taken too literally. Nor too seriously.
One of the features of this year's event is its transdisciplinary approach: researchers ventured into the creation of installations, podcasts, and fictional lectures, while artists and curators generated poems, group readings, critical epiphanies and even VR transubstantiations. Many projects are the result of joint collaborations. Many happen in viva voce (word of mouth), and quietly ask to be listened to. A few rely on closeness and empathy. Creating time and space for new encounters and conversations is, after all, one of the possible goals of a residency.
The evening will feature performances by special guests in the garden of Villa Maraini: Iranian/American poet Jahan Khajavi, Italian composer Caterina Barbieri and Dutch producer DJ Marcelle/Another Nice Mess.
It will also be a chance for the public to view Sylvie Fleury's exhibition « Chaussures italiennes », which will be open from 11:00 – 21:30.
In collaboration with Welookaround.
Installation and video/audio works (all day)
De La Fuente Oscar De Franco
Higher Transsexual / Transgender Visibility (during the day)
Higher Transsexual / Transgender (at night)
2019
PVC, double face print, helium
De La Fuente Oscar De Franco & Ian Wooldridge
Institutional Fatigue
2019
hand-blown glass balls (diameter 15 cm), silicone, latex and other substances
Rahel Meier
L'invenzione della leggenda della terra santa miracolosa
2019
podcast, 9 min 10 sec.
link to audio ∞
Lora Mure-Ravaud
Transe in and out
2019
video on three monitors, 35 min. Extracts from Out 1 of Jacques Rivette (1971)
Enrico Petracca & Ian Wooldridge
Extreme Cognition
2019
publication
Davide Spina
Un santo in paradiso
2019
prie-dieu in wood (from: Famiglia Cristiana n. 5, 31 January 1960), 5 recommendation letters
Célia Zuber
MIRACLE/LACRIME
2019
laser projection in loop
Biographies
Caterina Barbieri is a Milan-based composer who explores themes related to machine intelligence and object oriented perception in sound through a focus on minimalism. Caterina explores the psycho-physical effects of repetition and pattern-based operations in music, by investigating the polyphonic and polyrhythmic potential of sequencers to draw severe, complex geometries in time and space.
https://soundcloud.com/caterinabarbieri
https://www.youtube.com/watch?v=W25FTlO42VY
Barbara Casavecchia is an art writer and independent curator based in Milan, where she teaches at the art academy of Brera. Contributing editor for Frieze, her articles and essays have appeared in Art Agenda, Art Review, D/La Repubblica, Flash Art, Mousse, South/documenta 14, Spike, among others, as well as in several artist books and catalogues. In 2018, she curated the exhibition « Susan Hiller. Social Facts », at OGR, Turin.
Jahan Khajavi (born 1986 in Fresno, California) is an Iranian-American poet who lives in Rome and hosted the weekly reading Suddenly Every Wednesday at Associazione Garbo, a queer cocktail bar in Trastevere. 
« DJ Marcelle is an artist with a mischievous, rule-bending and almost ironic approach to her DJing, producing and radio hosting – cut with her trademark wit yet supported by an unquestionable amount of skill. Well known for her three-turntable setup, DJ Marcelle makes compositions out of songs and symphonies out of mixes – colliding disparate genres, appropriated vocal snippets and warped soundscapes into a giant Frankenstein-like melting pot. Her performances are inventive, euphoric and above all powerful. » in Resident Advisor
https://soundcloud.com/marcelle
DJ Marcelle | Boiler Room x Nyege Nyege Festival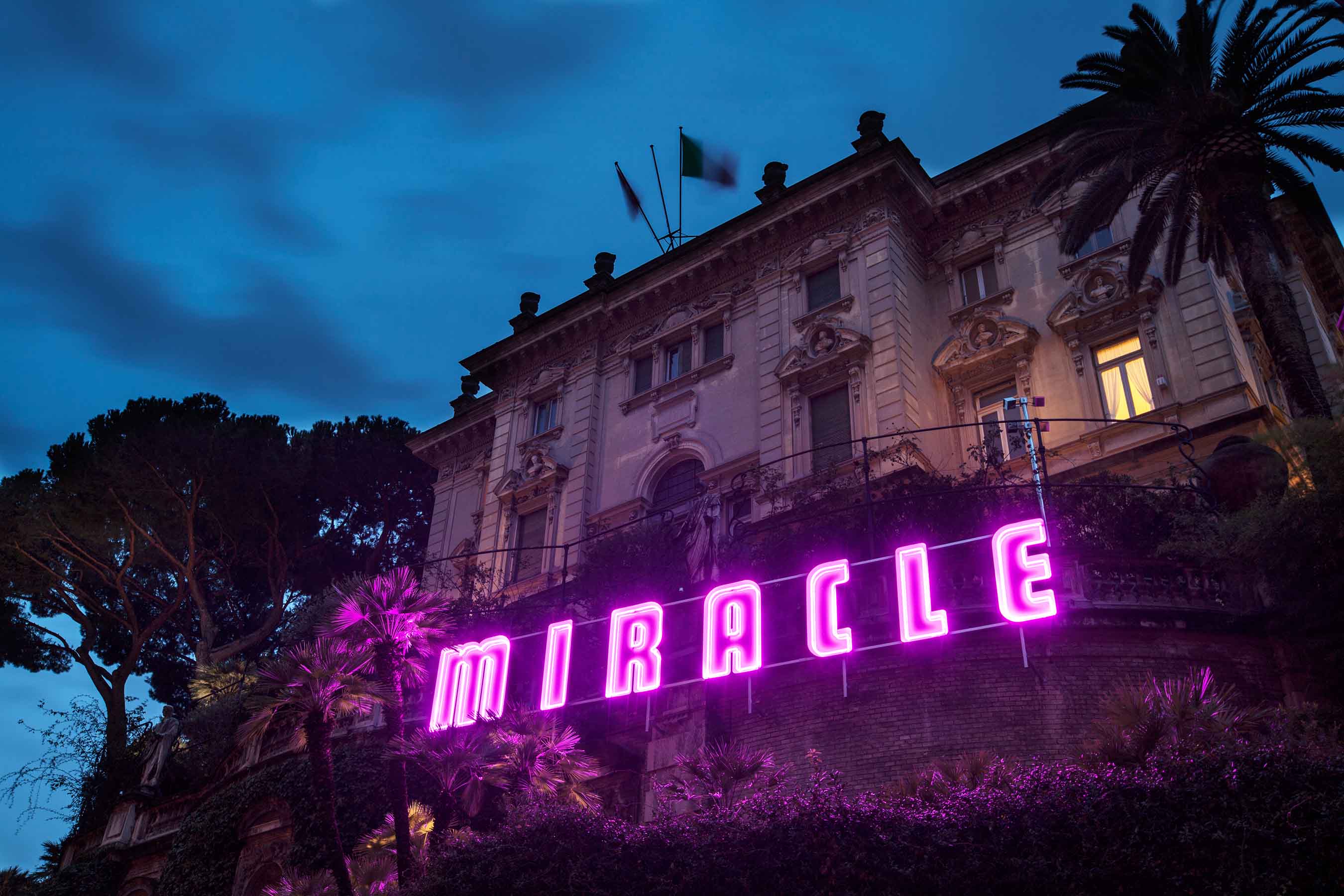 Talks, VR experience, readings and screenings 
H17:00-19:00 Robin Meier
Translation
2019
audio composition, ca. 20 min., SD card, "digitalbird" acoustic bird control system

H17:00-21:00 De La Fuente Oscar De Franco
Untitled
2019
Interactive Virtual Reality, work in progress
By signing-up only
Slots: 17:00 – 17:30 – 18:00 – 18:30 – 19:00 – 20:00 – 20:30
H17:30 Christine Pönitz-Hunziker & Timothy Pönitz
Platone, Stargate e Aquaman: Alla ricerca di Atlantide
2019
conference in Italian, 40 min.
H18:15 Rahel Meier
Conversation: Viaggio al Akeldama di Gerusalemme
2019
H18:45 Laurence Wagner
Lettura collettiva: a proposal by Laurence Wagner in collaboration with Barbara Casavecchia, Lora Mure-Ravaud, Enrico Petracca, Manon Wertenbroek, Ian Wooldridge, and Célia Zuber
2019, texts and voice
With contributions by: Conference Report Faggots and Class Struggle, Albert Cohen, Lydia Davis, Clarice Lispector, Jenny Marx, Andreï Tarkovsky, Elio Vittorini, Laurence Wagner, Manon Wertenbroek, and Célia Zuber
Musics by Anne Clark, Luigi Tenco, Sequoyah Tiger & Maria Violenza
H20:00-21:15 Robin Meier
Translation
2019
audio composition, ca. 20 min., SD card, vocal dissuader device "digitalbird"
Manon Wertenbroek
H20:30-00:00 Make A Wish
2019
assemblage, candles
H21:15 Poetry reading by Jahan Khajavi followed by Ian Wooldridge's screening: Alone in Conversation 6: Amateur Dramatics
2019
video, 10 min 10 sec.

Music: Live-sets – special performance for Istituto Svizzero
H21:50 Caterina Barbieri 
H22:45 DJ Marcelle
Food and beverages provided by Welookaround.