Film, Screening, Roma - Casa del Cinema
H19:00 & H21:00
Official selections at Visions du Réel Festival in Nyon
Dates
14.12.2021
15.12.2021
Location
Roma - Casa del Cinema
Information
H19:00 & H21:00
Official selections at Visions du Réel Festival in Nyon
Doc Nights: a selection by Visions du Réel Film Festival
Istituto Svizzero is pleased to collaborate with Visions du Réel Festival in Nyon and present a programme of screenings at Casa del Cinema in Rome, Largo Marcello Mastroianni 1 (free entry).
Four exciting documentaries recount different realities in different parts of the world: the story of a community living in the mouth of the Tiber, a scientific adventure at CERN, the transformation of a married couple in Iran, the encounter between a Sicilian boy and migrant from Nigeria. The documentaries were officially selected at Visions du Réel Festival in Nyon and, for the first time, will be screened in Rome.
Programme:
Tuesday, 14.12.2021 
H19:00 – Punta Sacra, by Francesca Mazzoleni, in the presence of the director
H21:00 – Way beyond, by Pauline Julier
Wednesday, 15.12.2021
H19:00 – Il mio corpo, by Michele Pennetta, in the presence of the director
Registration at the entrance
H21:00 – Radiograph of a Family, by Firouzeh Khosrovani
Registration at the entrance
Casa del Cinema di Roma
Largo Marcello Mastroianni 1 (free entry)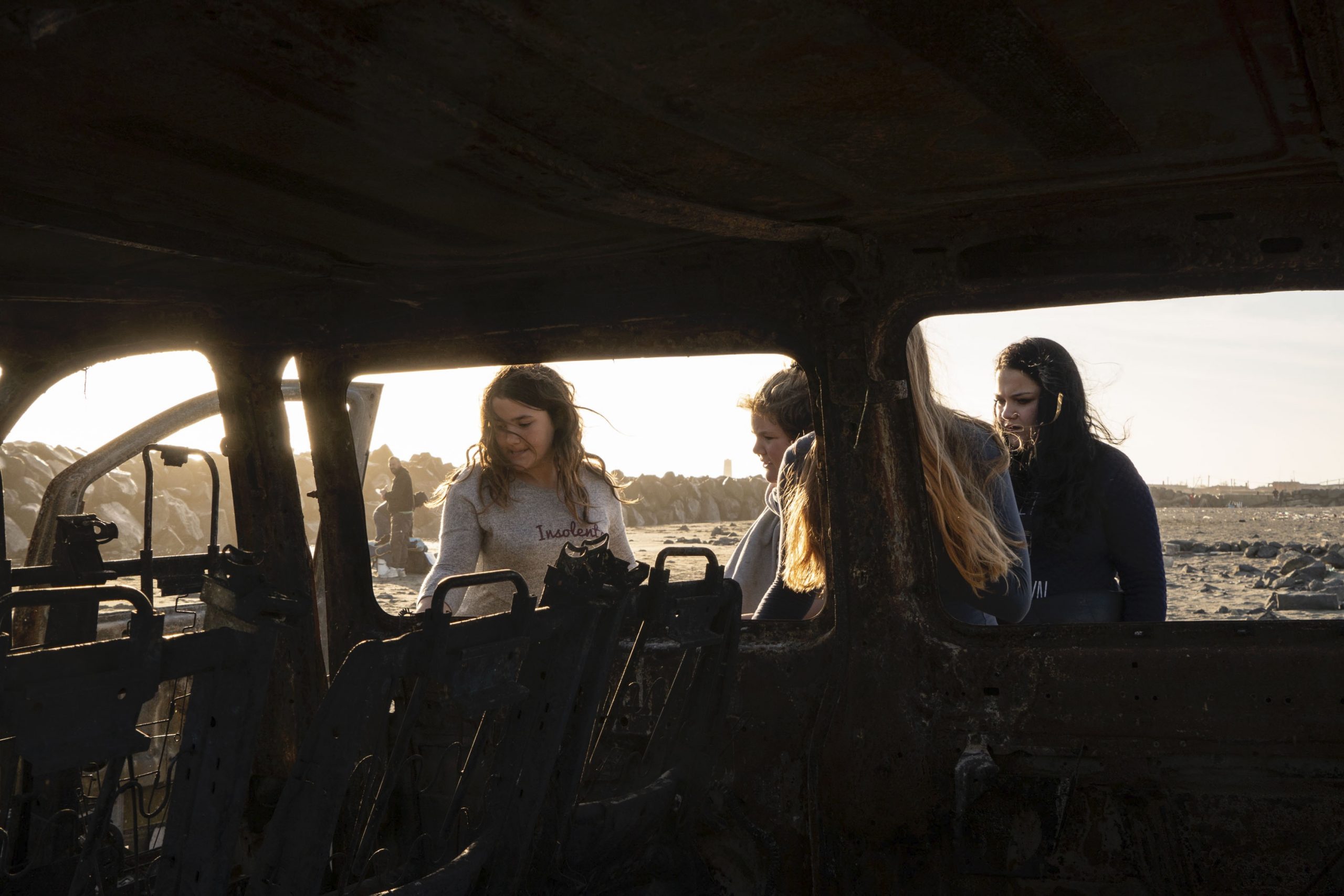 In accordance with current regulations, the public is required to present a Covid Green Certificate at the entrance in order to access the event. This includes one of the following:
• You have received the anti-COVID-19 vaccination, with proof that you have received the first dose of vaccine at least 15 days previously or that you have completed the vaccination cycle;
• Recovery from COVID-19 within 6 months prior to the date of the event;
• Present a rapid antigenic or molecular test with a negative result within 48 hours prior to admission.
Punta Sacra
By Francesca Mazzoleni, 98 min.
Italian, sub eng tbc.
At the edge of Rome, at the mouth of the Tiber, the small district of Idroscalo di Ostia juts right out over the sea. The women who live there, such as Franca and her daughters, bear its stories, with the natural force of the site, between wild realism and popular imagination. This sacred point becomes a theatre for the resistance of a community that expresses its right to live there.
Francesca Mazzoleni is a director and screenwriter born in Catania in 1989. She graduated from the Centro Sperimentale di Cinematografia of Rome in 2015. She has directed short films and documentaries that have won several awards, like Nowhere, I Know You Can Hear Me, 1989. She was the assistant director to Marco Danieli in his production Worldly Girl (2016). In 2018 she directed her first feature film It Happens. Her latest film, Punta Sacra, which took seven years to produce, received the jury award for the best feature film at the Visions du Réel International Film Festival Nyon in April 2020.
---
Way Beyond
By Pauline Julier, 60 min.
Sub ita.
At CERN, an international commission of experts closely follows the FCC (Future Circular Collider) project, the colossal and possible successor to the current particle accelerator. With precise and elegant writing, Pauline Julier provides us with an exciting document, not bereft of humour, on this scientific adventure in which the thirst for knowledge challenges human understanding.
Pauline Julier was born in Geneva in 1981. She graduated from Institut d'Études Politiques, Grenoble in 2002, and in from École Nationale Supérieure de Photographie, Arles, in 2007. She was awarded the Prix d'art fédéral suisse in 2010 and had a solo exhibition at the Centre Culturel Suisse in Paris in 2017. Her previous film, NATURALES HISTORIAE (2019), was selected in competition for Visions du Réel Nyon and DocLisboa.
---
Il mio corpo
By Michele Pennetta, 82 min.
Sub ita. 
Oscar – little more than a child – collects scrap metal for his father, who is in charge of reselling it. He spends his life in the illegal dumps where the scrap metal is deposited. At the other end of the spectrum we find Stanley. He cleans the village church in exchange for hospitality and some food. He picks fruit in the fields and takes the cattle out to pasture, just to keep his estranged body busy. Apparently very different from each other, Oscar and Stanley share a strong desire for emancipation.
Michele Pennetta was born in Varese in 1984. He attended the École cantonale d'art de Lausanne (ÉCAL), where he obtains a Master's degree in Film Direction. A iucata (2013), his first film shot in Sicily, was presented at Locarno Film Festival in the section Pardi di domani – Concorso nazionale, where it was awarded the Pardino d'Oro. Pescatori di corpi (2016) is his first feature film, was presented in the section Cineasti of the Present. His latest feature film, Il mio corpo (My Body), is a co-production Switzerland-Italy and is the director's third work to be shot in Sicily. The film had its world premiere in the official competition at the Visions du Réel 2020 Festival and has been included in the ACID selection of Cannes 2020.
---
Radiograph of a family
By Firouzeh Khosrovani, 81 min.
Sub ita. 
Against the historical backdrop of the Islamic revolution of 1979, Firouzeh Khosrovani recounts her parents' marriage between Switzerland and Iran. A clever combination of family photographs and archive footage conveys with great sensitivity the transformations, conflicts and intimate events of a married couple caught up in history. With strength, precision and poeticism, the director reflects on the Iranian society.
Firouzeh Khorovani was born in Tehran and settled in Italy to pursue her artistic studies at the Accademia di Belle Arti di Brera. After graduating in 2002, she returned to Iran and acquired her Master's degree in Journalism. She made her debut as a filmmaker in 2004 with Life Train, a documentary on the 'play' therapy provided for the traumatized children of Bam in the aftermath of a devastating earthquake. She then worked on various projects, such as Rough Cut (2007), Cutting Off (2008), 1001 Irans (2010),  Espelho Meu (2011), Iran, Unveiled and Veiled Again (2012) among others.