Per il suo ultimo appuntamento, Popular Helvetica – la rassegna dell'Istituto Svizzero di Roma dedicata al rapporto tra cultura popolare e musica – torna a ragionare sul concetto di musica folk e su come questa continui a reinventarsi coniugando recupero delle tradizioni e derive impreviste, strane e bizzarre, specialmente nel contesto delle musiche underground di inizio millennio. I protagonisti di Bards & Weirdos popolano una galassia europea che lega assieme realtà geografiche diverse – Svizzera, Italia, ma anche Regno Unito e Portogallo – tutte accomunate dall'appartenenza a uno dei sottoboschi più vivaci degli anni 2000: quello della cosiddetta nuova cultura weird, un'estetica capace di mescolare sperimentazione e gusto per l'eccentrico, l'arcano, il naif, in stretta relazione a quei linguaggi che la critica ha catalogato alla voce oustider.
Popolar Helvetica Live è una rassegna di concerti e live-set diviso in tre appuntamenti (23-25 settembre 2014; 30 novembre 2014) ed è parte della rassegna Popular Helvetica – dalle tradizioni folk ai nuovi riti urbani, curata da Francesco De Figueiredo e Valerio Mattioli per l'Istituto Svizzero di Roma.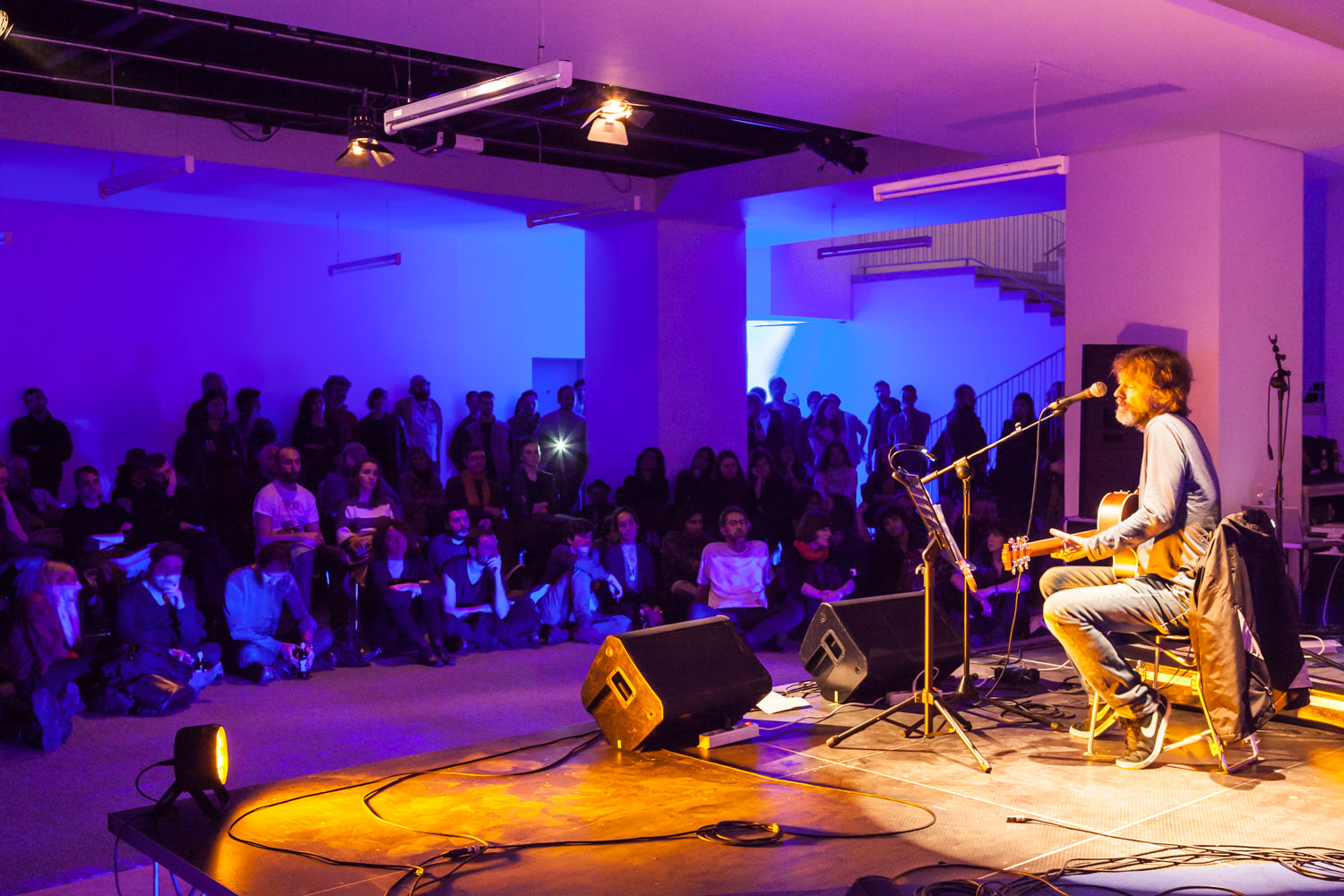 Richard Youngs (UK)
L'inglese (ma residente in Scozia) Richard Youngs è una presenza di primissimo piano dell'underground internazionale sin dai primi anni Novanta. La sua discografia, che è arrivata a contare centinaia di titoli tra edizioni "ufficiali" e collaborazioni di vario tipo, spazia senza soluzione di continuità dalla rilettura di antichi canti scozzesi agli esperimenti per elettronica concreta, dalle jam psichedeliche alla trance in salsa minimalista sulle orme di Steve Reich e Terry Riley, dalle ballate per voce e chitarra alle improvvisazioni free form. Molti dei suoi dischi sono stati pubblicati per la nota etichetta indie Jagjaguwar, oltre che per etichette ormai leggendarie come Table of the Elements e Chocolate Monk. Tra i suoi collaboratori storici, oltre al principe dell'outsider music Jandek, altri mostri sacri dell'underground britannico come Matthew Bower (Skullflower) e Neil Cambpell (Astral Social Club, Vibracathedral Orchestra). Secondo il mensile inglese The Wire, proprio Youngs, Bower e Campbell "hanno tracciato le mappe di quanto accaduto nel post-punk inglese per tutti gli anni Ottanta e Novanta".
Gala Drop (P)
I Gala Drop sono una formazione portoghese che mescola psichedelia e decisi accenti tribali, in un ideale abbraccio panetnico capace di legare assieme tradizioni dalle più svariate provenienze geografiche (Africa, India, America Latina). Capofila della scena underground di Lisbona, i Gala Drop sono l'ideale proseguimento di quanto ipotizzato a suo tempo dalla cosiddetta "Fourth World Music" di musicisti come Jon Hassell e Brian Eno: un'utopia neoprimitivista capace di proiettare la propria potenza arcana nell'evo delle macchine e delle tecnologie elettroniche.
Dimensione (CH)
Più che un gruppo, i Dimensione sono una piccola family proveniente da Basilea. La loro musica è un bislacco incrocio tra naiveté trasognata e folk giocattolo, in perfetta continuità con quell'estetica freak che tanto ha segnato i percorsi dell'underground anni 2000. Descrivono la loro musica come "bassa fedeltà in 3D" e hanno pubblicato per l'etichetta locale A Tree In A Field Records.
Old Bicycle Records (CH)
L'etichetta svizzera Old Bicyle Records nasce nel 2011 in quel di Piazzogna, Canton Ticino, e da subito si è fatta notare per una spiccata predilezione per il formato "su nastro": le sue cassette in edizione limitatissima sono gioielli di piccolo artigianato che musicalmente spaziano dal folk al noise, dalla musica etnica a quella elettronica. Tra gli artisti pubblicati, lo statunitense Arrington De Dionisyo assieme al collettivo indonesiano Javanese Music Ensemble, l'inglese Mike Cooper, e gli italiani Sparkle In Grey, Harshcore/Luca Sigurtà e Futeisha.
Golden Cup (IT)
Progetto dell'italiano Luca Massolin, Golden Cup è una presenza costante dei sottoboschi europei da almeno un decennio. La sua mistura a base di folk, minimalismo ed elettronica povera si basa sull'uso 'creativo' di una varieta' di strumenti acustici ed elettronici, voci, samples e fields recordings. Ha inciso per etichette cardine dell'underground "weird" come la statunitense Digitalis e l'inglese Blackest Rainbow, oltre che per la propria 8mm Records.
Trapcoustic (IT)
Una delle mille sigle dietro le quali si nasconde Stefano Di Trapani, musicista e agitatore a tutto tondo capace di spaziare dal noise alla poesia concreta fino a bislacchi lavori concettuali di varia natura. Trapcoustic è il suo progetto acustico, che paga pegno alla grande tradizione dei folksinger outsider à la Jandek.