Concert, Roma
H20:00 DOORS OPEN
ENTRANCE: via Liguria 20
Introduction
Biographies
Line-up
Other info
Information
H20:00 DOORS OPEN
ENTRANCE: via Liguria 20
Villa Maraini opens its doors till midnight to its second musical event for this fall: Carte Blanche to Montreux Jazz Artists Foundation.
Long time partner Stéphanie-Aloysia Moretti of Montreux Jazz Artists Foundation has invited for this occasion to Rome artists HØJDE (winner of the Montreux Jazz Talent Awards), Afra Kane (Nigerian-italian pianist, singer and songwriter), and Stade (Pierre Audétat and Christopher Calpini) with "Remember Swiss Movement-Compared to What ". In 1969, the album Compared to What recorded in Montreux during a concert by Eddie Harris and Les McCann became a planet-wide success. Pierre Audétat and Christopher Calpini are the latest artists inspired to revisit this mythic album.
Line-up:
H20:30 HØJDE
H21:45  Afra Kane
H23:00 Stade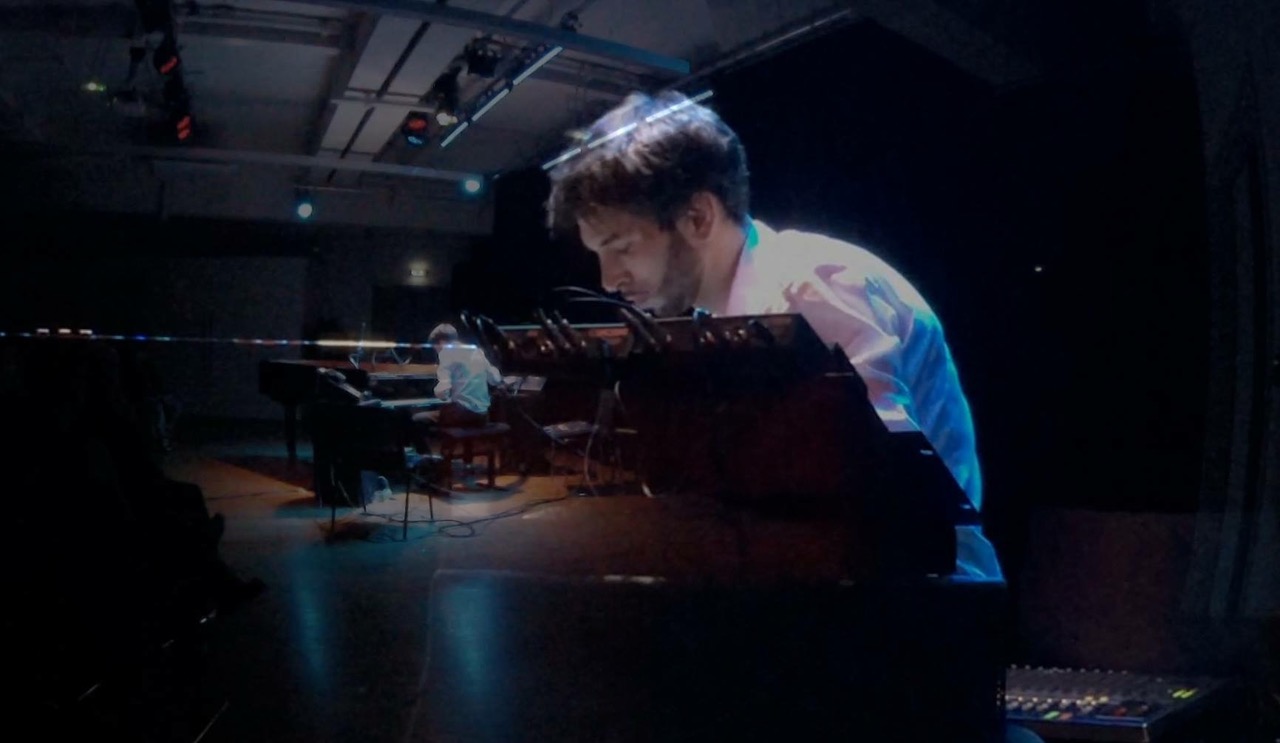 HØJDE was created in March 2016 by Julien Dewaele (Rennes), after several years of research and experimentation. HØJDE is the translation into Danish of the word altitude, a relationship to height gain, retreat, which makes sense in view of the experiences transcribed in these compositions. The merging of piano and electronics offers an original approach to the use of the instrument. They energize human emotions with a certain melancholy. A soothing music, comforting, bewitching to see inhabited. Like a story which is never told twice in the same way, paradoxical compositions are articulated around a precise atmosphere but leave a real space for improvisation, for letting go.
The HØJDE project takes you through ambient, downtempo, electro atmospheres; the piano is at the center of the improvisations and narrates musical stories, without words.
Afra Kane is a pianist, singer and Italian-Nigerian song writer. Her style includes a mix of classical music, Soul, RnB, Jazz, inspired by its Motown idols (Al Green, Staple Singers, Gladys Knight, Aretha Franklin, Otis Redding). "Her voice is reminiscent of the great women of jazz, Afra Kane is not to be missed under any circumstance. […]: a deep and silky voice that winds on jazzy rhythms, cajoling the hearts and minds of the public like a hot drink on a rainy day". (La Case à Choc, Neuchâtel). Influenced by soul music and R'n'B, Afra Kane composes her first songs at the age of 13. She trained in classical piano at various conservatories in Europe and graduated from the University of Music of Geneva. She has just released her new single "Twenty-II", from her new Ep Scorpio (2019) produced in collaboration with Christophe Farine. In 2016, she released two songs "No pain, no gain" and "Stand Still" aired on former radio show "Soul Check" on Couleur3. She plays in solo concerts, or accompanied by three musicians: Emilio Vidal on guitar, Manuel Linder on drums, and Gino Berchicci on bass. She regularly gives concerts in French-speaking Switzerland and in Italy such as the Bar King, Swing in the Wind Festival, jazzzed festival, Gallery YD, Petit du Gros, Entourloop, out of tribe, Festival de la Grand Praire, and "Le Cantine dell'Arena ", in Verona.
Stade is comprised of the brilliant blend of Christophe Calpini's live drumming and Pierre Audétat's live samples and concrete sounds, a set-up that allows to improvise like a conventional rhythm section with electronic devices. This electroacoustic composite is resolutely jazz, yet flirts with the syncopated vocabulary of hip-hop and the beats of electronica, all that combined to the acoustic input of the guest musicians. The heir of Miles Davis' electric experiments, Stade creates the resolutely electronic side of improvised jazz music.
For this evening, the duo will invite two friends and together they will dust off and re-appropriate the famous theme "Compared to What-Cold Duck" of Eddie Harris & Les McCann, the very first jazz gold record, released after their Montreux concert in 1969.
Entrance: via Liguria 20
Free entry. Please note that places are limited and entrance is on a first come, first served basis.